2009 IN THE REARVIEW
Julie Myatt's 'Happy' Premiere and
a 'Noises Off'-Off are highlights
My year's attendance in 2009, admittedly selective and not as frequent as I would wish, managed to put me in front of two productions of Michael Frayns's Noises Off, one of the rare occasions where I had seen the play in a groundbreaking and universally loved Broadway production. I hadn't cared for it much then and South Coast Repertory's production did nothing to change my mind, although it did include a performance by Jenn Lyon that revealed her comic genius.
Then came the production at A Noise Within, and I laughed all the way through. Joint direction by Julia Rodriguez-Elliot and Geoff Elliot was perfect, and with Geoff, cast as the offstage director, proved especially effective.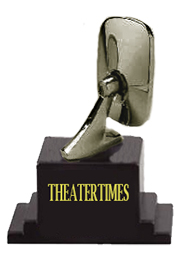 Despite losing the Noises Off-off, South Coast Repertory did put forth three solid world premieres this year by Richard Greenberg, John Kolvenbeck and Julie Marie Myatt, with the last of these earning our 'Rearview' for best new play.
In the acting areas, Joe Spano is singled out for his role as Will Shakspere in Bill Cain's Equivocation, the one production I was grateful to attend twice during its run at the Geffen Playhouse. Kirsten Kollender gets the nod for the other front-seat Acting 'Rearview,' for her performance in Teresa Rebeck's Mauritius. Jessica Kubzansky gave the suspense play a fine outing, with Ms. Kollender providing, with one minor quibble, a terrific lead performance. In the featured category, Ms. Lyon is caught in the 'Rearview' along with French Stewart. Mr. Stewart is such a solid actor that he repeatedly raises the value of a staging. Here, in both Matthew Modine Saves the Alpaca and Voice Lessons (the latter aided by the supremely gifted Laurie Metcalf), he did just that.
The musical category gets a personal favorite with a personal attachment. I was on hand for the birthing of Octavio Solis - Marcos Loya's birth-of-Jesus parable, La Posada Mágica. In a dozen years it was beautifully produced at South Coast Repertory, and yet, it never worked as well for me as it did here, with many of the old cast and friends, mounting it with less resources at the Odyssey Theatre in West L.A.
These personal citations of appreciation are intended to be made each January for the just-concluded year and are based the opinion of Theatertimes' lone critic. They may salute a landmark production that is seen as historic or simply note an individual achievement, even if it came in an otherwise forgettable production.
[one_half last="no"]
PREMIERE:
'THE HAPPY ONES'


by Julie Marie Myatt | South Coast Repertory
---
REVIVIAL:
'NOISES OFF'


by Michael Frayn | A Noise Within
---
MUSICAL:
'LA POSADA MAGICA'


Octavio Solis " Marcos Loya | Odyssey Theatre Ensemble
---
DIRECTOR:
ANDREW J. TRAISTER


Waiting for Godot | A Noise Within
---
FEMALE LEAD:
KIRSTEN KOLLENDER


Mauritius | Pasadena Playhouse
---
MALE LEAD:
JOE SPANO


Equivocation | Geffen Playhouse
---
FEATURED FEMALE:
JENN LYON


Noises Off | South Coast Repertory

[/one_half] [one_half last="yes"]
FEATURED MALE:
FRENCH STEWART


Voice Lessons | Zephyr Theatre
---
SET DESIGN:
ROBERT BRILL


Creditors | La Jolla Playhouse
---
SOUND DESIGN:
IAN CARNEY & CORBIN POPP


Darwin: An Adventure for All Ages | Kirk Douglas Theatre
---
COSTUME DESIGN:
DANA REBECCA WOODS


Crowns | Pasadena Playhouse
---
LIGHTING DESIGN:
KURT LANDISMAN


Around the World in 80 Days | Laguna Playhouse
---
ENSEMBLE:
'OUR MOTHER'S BRIEF AFFAIR'
Matthew Arkin, Arye Gross, Marin Hinkle and Jenny O'Hara / South Coast Repertory
[/one_half]
2009 REVIEWS
Around the World in 80 Days / Laguna Playhouse
August: Osage County / Ahmanson Theatre
Creditors / La Jolla Playhouse
Crowns / Pasadena Playhouse
Darwin: An Adventure for All Ages / Kirk Douglas Theatre
Eclipsed / Kirk Douglas Theatre
Ella / Laguna Playhouse
Equivocation / Geffen Playhouse
Farragut North / Geffen Playhouse
Frost/Nixon / Ahmanson Theatre
Goldfish / South Coast Repertory
The Happy Ones / South Coast Repertory
How Theater Failed America / Kirk Douglas Theatre
Ixnay / East West Players
La Posada Mágica / Odyssey Theatre Ensemble

---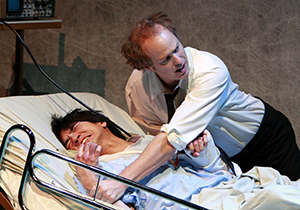 THE HAPPY ONES
FAVORITE NEW PLAY
Above, Greg Watanabe and Raphael Sbarge
---
Lydia / Mark Taper Forum
Matthew Modiine Saves the Alpacas / Geffen Playhouse
Mauritius / Pasadena Playhouse
Moonlight and Magnolias / Laguna Playhouse
The Night is a Child / Pasadena Playhouse
Noises Off / A Noise Within
Noises Off / South Coast Repertory
Our Mother's Brief Affair / South Coast Repertory
Parade / Mark Taper Forum
Pippin / Mark Taper Forum
Richard III / A Noise Within
Sammy / Old Globe Theatre
The Savannah Disputation / Old Globe Theatre
The Seafarer / Geffen Playhouse
Stormy Weather / Pasadena Playhouse
Time Stands Still / Geffen Playhouse
Voice Lessons / Zephyr Theatre
Waiting for Godot / A Noise Within