2013 IN THE REARVIEW
A year of stand-out new work from
Hwang, Gionfriddo, Hunter and more
Though attendance was down, the rewards for theatergoing in 2013 were up and that is primarily due to being in the right place for good writing. And, the work leaned towards the new, with world premieres by David Henry Hwang and Samuel D. Hunter, and relatively recent work by Gina Gionfriddo, Stephen Adly Gurgis, and Joanna Murray-Smith.
For Hwang, it was Chinglish at South Coast Repertory following a run at Berkeley Rep and before its presentation in China. Also premiering at SCR was Samuel D. Hunter's The Whale, directed by Martin Benson and anchored by a heart-breaking performance by Matthew Arkin, matched by Helen Sadler as his bitter, dares-you-to-like-her daughter. It was indeed a daring turn for Sadler, which gets more impressive in hindsight, especially having seen her not long before in A Noise Within's Cymbeline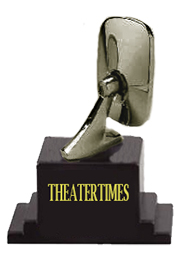 I was in lonely company liking Murray-Smith's Gift. The 24 area theater critics worthy of Bitter-Lemons rankings averaged a 55% Bitter rating. This outsider found that the play's "healthy mix of similarities and differences have the couples seeing reflections and inversions of themselves in each other, and the attraction of opposites quickly takes hold." That, rather than a melodramatic plot and often windy philosophizing, was what made this intriguing.
The Geffen produced the American premiere of The Gift, as it had Murray-Smith's earlier, more popular, but for me less interesting Female of the Species and it was also the site for Gionfriddo's Rapture, Blister, Burn, which I also found to be "an engaging comedy of ideas." It was also an opportunity to reconnect with the production's lead, Amy Brenneman, who phoned in an update to her earlier interview during one of her commutes to the theater.
And, leave it to Antaeus Theatre Company to field a pair of alternating casts that both demanded attention. Only managed to see one, which had Anne Gee Byrd, making the most of a great part for a woman of years, as Mrs. Warren and Rebecca Mozo as her daughter. Robin Larsen did the directing and the production earned its share of nods and noms at year's end.
[one_half last="no"]
PREMIERE:
'THE WHALE'

by Samuel D. Hunter | South Coast Repertory
---
DIRECTOR:
TEA ALAGIC

'The Brothers Size' | The Old Globe
---
FEMALE LEAD:
ANNE GEE BYRD

'Mrs. Warren's Profession' | Antaeus Theatre Company

[/one_half] [one_half last="yes"]
MALE LEAD:
MATTHEW ARKIN

'The Whale' | South Coast Repertory
---
FEATURED FEMALE:
HELEN SADLER

'The Whale' | South Coast Repertory
---
SET DESIGN:
ROBERT BRILL

'His Girl Friday' | La Jolla Playhouse

[/one_half]