2014 IN THE REARVIEW
A first visit to the Rogue Machine
nets an rewards for company and critic
Even with only a sampling of Southern California productions, one could justify calling 2014 a good theater, with a couple repeat performances that earn double takes in the rearview.
Among these were an institution, a writer and an actor.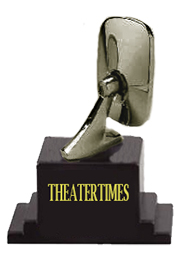 My first visit to the Rogue Machine Theater company, operating in its Theater Theatre space on Pico, was to see Gruesome Playground Injuries by Rajiv Joseph. This was in a dorm-room size that might be uncomfortably close for painful experiences but was exhilarating here. Intimate is the common description these days to spin a space that is claustrophobically confining. Here, with plenty of room between you and the person next to you, it's with only enough seats to accommodate billionaire fans of cock fighting.
The introduction was made more memorable by that rare theater experience of having a two-person cast's understudies getting their token performance and running away with it. Read the review.
I was apprehensive that lightening could strike twice successfully, but was encouraged to see Walsh's Penelope and was rewarded with another unique afternoon, enhanced by the presence of a large group there to see an actor who is on TV's Scandal. Rabid TV fans coming for a television star can make for disappointment, especially with a play that sets Greek myth in an empty swimming pool. But credit all around, the women were completely absorbed. Read the review.
The final trip was to see Cock. The review offered the seldom-used "award-worthy" as praise for the lead performance, and the recent L.A. Drama Circle Awards managed to echo that thought. Read the review.
Please, note: Reviews are being imported from previous Theatertimes design. If the link at right is broken, and for any other information, send an email to the editor.
[one_half last="no"]
PREMIERE:
'THE WHALE'


by Samuel D. Hunter | South Coast Repertory
---
DIRECTOR:
TEA ALAGIC


'The Brothers Size' | The Old Globe
---
FEMALE LEAD:
ANNE GEE BYRD


'Mrs. Warren's Profession' | Antaeus Theatre Company

[/one_half]
[one_half last="yes"]
MALE LEAD:
MATTHEW ARKIN


'The Whale' | South Coast Repertory
---
FEATURED FEMALE:
HELEN SADLER


'The Whale' | South Coast Repertory
---
SET DESIGN:
ROBERT BRILL


'His Girl Friday' | La Jolla Playhouse

[/one_half]