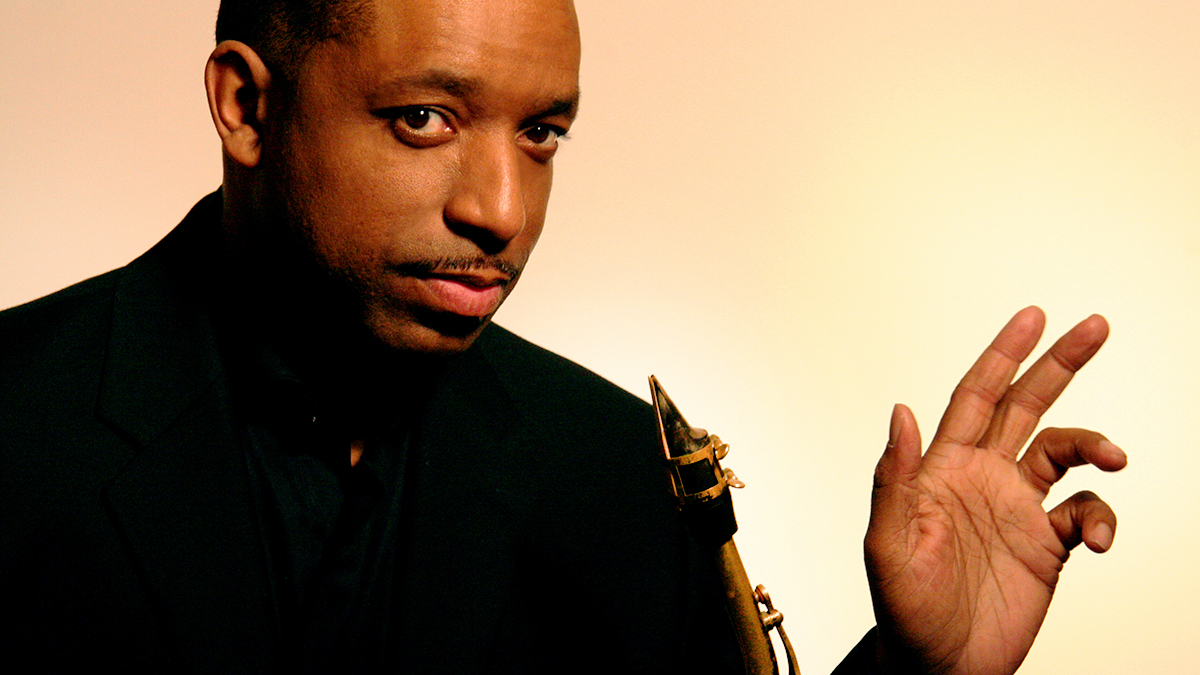 JAZZ GUMBO
Finding unity in the musical universe of saxophonist Donald Harrison.
by CRISTOFER GROSS
---
RECORDINGS
Click image to shop Amazon for CDs and LPs.
New Orleans Gumbo (2013)
Dr. John Meets
Donald Harrison
Quantum Leap (2012)
Donald Harrison
This is Jazz (2011)
Donald Harrison, with
Ron Carter, Billy Cobham
Spirits of Congo Square (2000)
Donald Harrison
Nouveau Swing (1997)
Donald Harrison
The Power of Cool (1993)
Donald Harrison
Indian Blues (1991)
Donald Harrison
Once upon a time, saxophonist Donald Harrison was told by an executive at his record company that if he continued to play "all the different types of music I wanted to play, it would be the kiss of death for me." He didn't stop and was dropped.
The salesman's kiss of death was the soul man's breath of life. As vibrant as ever, Harrison returns to Los Angeles on January 31 with his current quartet for a night at Catalina's Jazz Club in Hollywood. [tickets]
The 56-year-old musician, composer, bandleader, and educator may have a blind spot for executive commandments, but for jazz and how it radiates into forms past, present and future, he has 360-degree peripheral vision. Life after his kiss-of-death sentence has been varied and rewarding. He keeps very busy and highly visible growing his 25-plus discography [A sample can be purchased at left], touring internationally, and working in television and film, notably on HBO's "Tréme" and in Jonathan Demme's Getting Rachel Married.
His upcoming Catalina show – with pianist Zaccai Curtis, bassist Max Moran and 21-year-old Darryl Staves Jr. on drums [social media links at right] – will be his first appearance at Catalina's since the 1980s, when he appeared there frequently, with Art Blakey's Jazz Messengers, in the group he co-led with trumpeter Terence Blanchard after leaving Blakey, and with his own band after that.
"What's memorable about Catalina's," he said by phone from New Orleans, "is that one night Sarah Vaughn came and sat inches from me in the front row. For some reason, when I played 'Body and Soul,' I really got nervous: I would say it was one of my three most nervous nights playing music. But I made it through and she was incredible: Very encouraging and happy we were playing jazz music."
The other two times, he said, were "the first time I played with Miles Davis and the first time I played with Art Blakey.
His previous appearance in L.A. was the 2016 Playboy Jazz Festival last June when, according to JazzTimes' Matt Lohr, he "gave an ebullient jazz history lesson, climaxing with a rousing "Iko Iko" backed by colorfully festooned representatives from the Crescent City's Congo Square Nation tribe." [review]
"We had the audience up dancing," he said. "We had Jamie Foxx and [emcee] George Lopez dancing through the house. The whole crowd really was engaged through the entire set and we got a standing ovation. That's hard to do there."
A personal history of New Orleans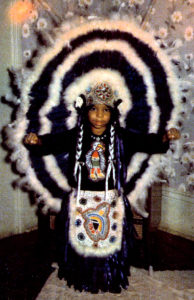 Born in 1960 into a New Orleans home alive with the city's cultural history, Donald Harrison Jr. inherited more than a name from his father, a renowned folklorist and Big Chief of four different NOLA tribes. Harrison the Younger would study with Ellis Marsalis at the New Orleans Center for the Creative Arts before attending Berklee College of Music, where he still returns to run workshops.
After graduating in 1981, already accomplished on alto and tenor saxophone, he was invited by Roy Haynes, Jack McDuff, and then Blakey to join their bands. He and Blanchard were part of the Jazz Messengers line-up following the years that it featured Wynton and Branford Marsalis.
"I've had the chance to play with those I consider to be the greatest of many styles of music and learn from them," he said. "Then I've been able to mix it together – make a gumbo out of it so to speak – and play it straight up and down."
With jazz and "Afro-New Orleans traditional music" as his base stock, Harrison has concocted a wide range of musical gumbos including "Quantum Jazz" and "Nouveau Swing," which merges jazz with r&b, hip-hop, soul, rock and modern dance music. In both the albums Indian Blues and Spirits of Congo Square, he features such signature New Orleans ingredients as second line drumming and call and response chants.
Harrison's embrace of musical dualities has had a curious parallel in his identity. It began at baptism with the sharing of a name. Father and son also shared lifelong participation in the Mardi Gras Indian tradition that traces back to New Orleans' Congo Square in the mid 18th Century. Senior, who died in 1998, was Big Chief of the Guardians of the Flame and several others. Junior became the Big Chief of The Congo Square Nation Afro-New Orleans cultural group in 1999. [Read more about Donald Harrison Sr.]
A gathering of musicians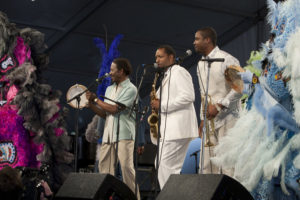 Television took the Donald Harrison identity 3D in what is perhaps his most visible work. On "Tréme," David Simon ("The Wire") and Eric Overmyer's character-driven series based in post-Katrina New Orleans, it was Donald Harrison in triplicate.
"There were two characters based on me," he said, "a father, Albert Lambreaux played by Clarke Peters and his son Delmond Lambreau played by Rob Brown. Plus, I appeared as myself in about 11 episodes. [In photo above right, all three appear together.]
"I was also a musical consultant for the show and am proud that David decided to use as many musicians as possible," he said. "I don't think there's ever been a TV show that had authentic music like 'Treme' has. And, it's historical, with that many musicians including Ron Carter, myself, Dr. John and Allen Toussaint, Trombone Shorty, Ivan Neville and so many more. The list goes on and on."
As a gathering of musicians, "Tréme" reflected Harrison's ongoing effort to bring together individual players and styles. As he told "Inside Berklee"'s Kimberly Ashton in October 2015, "I look at myself as having the full spectrum of American music, maybe from an African American perspective, because it was Congo Square that became the only place where Africans were allowed to play drums in America." [listen to podcast]
The breadth of life
Harrison's upcoming 2017 release may be his biggest step towards bringing together all the music in his field of vision. The double-CD's title, Eclectic Jazz Revolution of Unity, declares the mission right up front.
"The first CD starts with Nouveau Swing jazz, then Quantum jazz and then straight ahead fare with Dr. Lonnie Smith, my daughter Victoria Harrison and others. Then we go through R&B, Funk, soul and Hip-Hop leading up to the final three-movement orchestral piece."
The orchestral piece is an original composition he was able to record while on a tour of Russia with The Headhunters.
"I had been on tour over there once before and so I called the tour promoters and asked 'Do you think you could get a symphony for me?' They said, 'Yeah we can get a symphony for you if you want to record a piece.' And they got the Moscow Symphony Orchestra. That was at the end of the tour and I spent all the money I had made to record it.
"The first movement is a New Orleans chant with percussion and me singing lead," he continued. "The symphonic piece is the second movement, which places the melodic themes from those chants into a classical orchestral mode. That leads into the third movement where I take elements of the chants and elements of the orchestral piece and mix them together with my jazz band."
He thought a moment. "I just wanted to make a record that exhibited a lot of the things that I like to do," he said. "Hopefully it's a kind of beacon to help bring the music, and musicians and people together. That's my goal.
"I've always enjoyed all music." he added. "I've always felt like jazz musicians have played all types of music, going back to people like Louis Armstrong and the early guys. In New Orleans, everybody plays everything. The industry doesn't really understand how to deal with people like that. It hasn't been the easiest road but I'm still here."
---
PHOTOS (Top to bottom) Donald Harrison; 2-year-old Donald Harrison Jr., Lil Chief of The Creole Wild West; Clarke Peters, Harrison, and Rob Brown in "Tréme" (Paul Schiraldi/HBO)