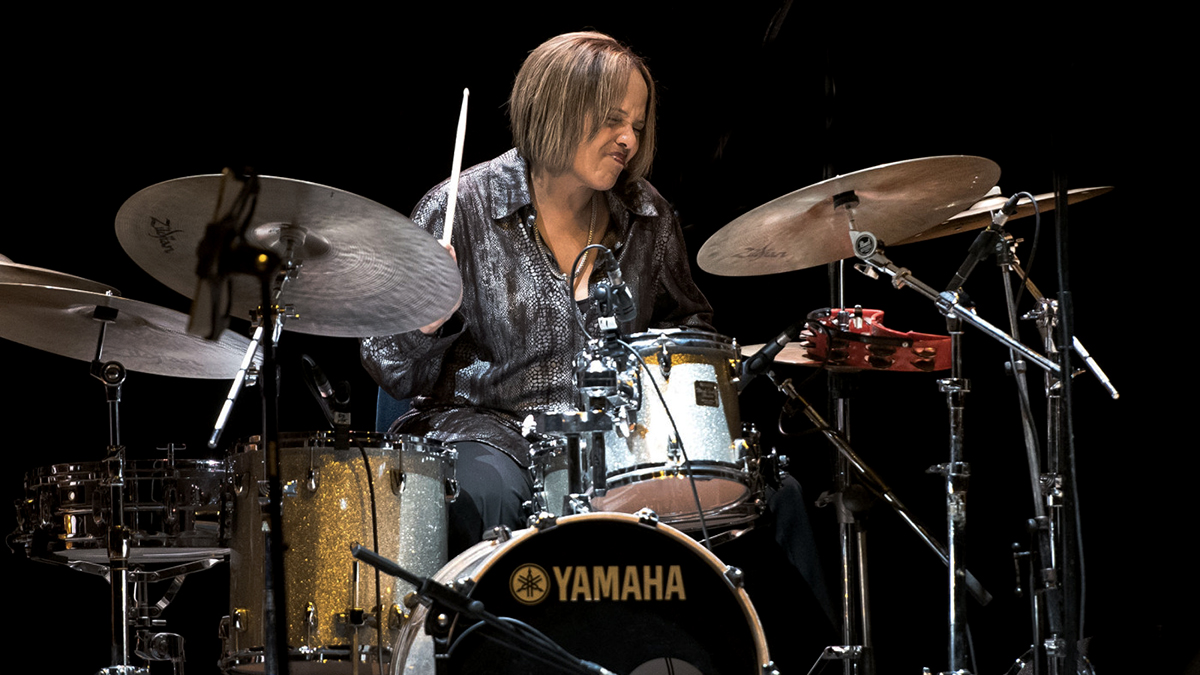 A BI-COASTAL TLC WEEKEND
Drummer-Composer-Educator Terri Lyne Carrington to perform in Los Angeles on November 9 and Newark on November 11
by CRISTOFER GROSS
On Friday evening, November 9, drummer-composer-educator Terri Lyne Carrington will headline a special concert in UCLA's Royce Hall. Two days later she will be at the New Jersey Performing Arts Center in Newark for her half of another special concert entitled "Jazz Vinyl Revisited."
In addition to having Carrington on the bills, there is a thematic connection between the two events. Both include tributes to Joni Mitchell, who turns 75 today, November 7, 2018.
On Sunday, "Jazz Vinyl Revisited" will offer live performances of two records: Duke Ellington's 1962 Money Jungle, which Carrington reimagined with her Money Jungle: Provocative in Blue release in 2013, and Mitchell's 1979 jazz landmark, Mingus.
But first, on Friday night in Los Angeles Carrington has organized a celebration of the music of Mitchell, Tina Turner and Nancy Wilson. Vocalists Jazzmeia Horn, Ledisi and Lizz Wright will perform songs made by or made famous by these legends. The six-piece band will include Carrington, trumpeter Ingrid Jensen, Marvin Sewell on guitar, and Solomon Dorsey on bass.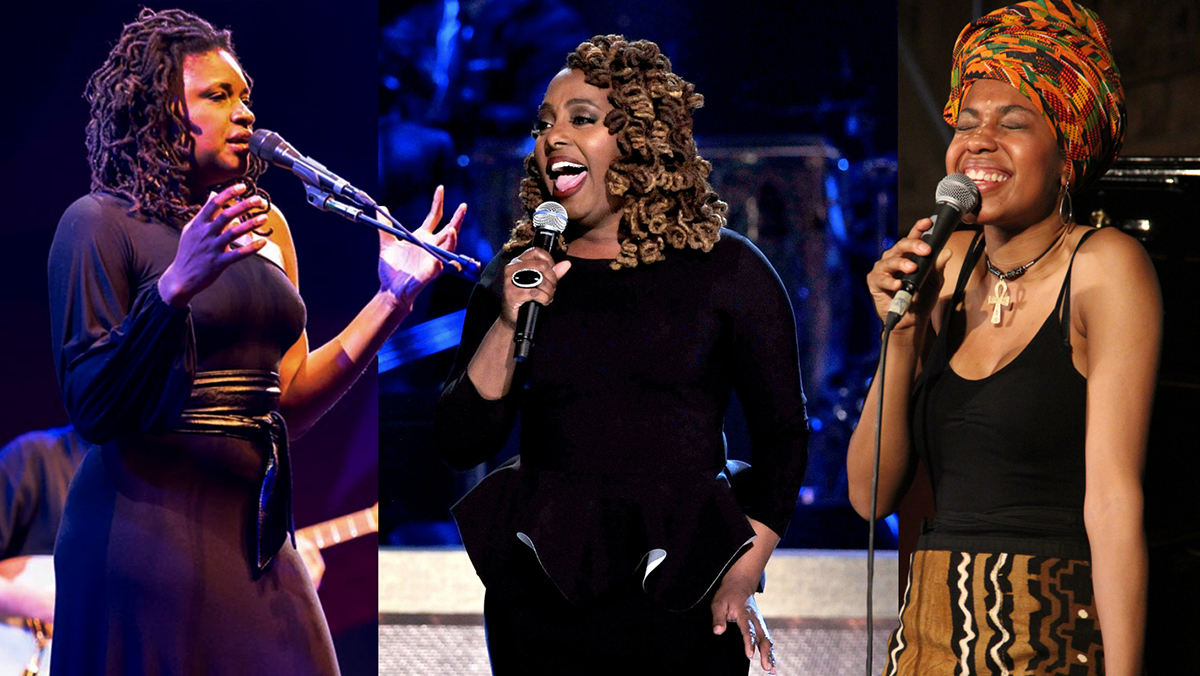 "Basically," Carrington explained in an interview last weekend, "I decided on celebrating these three living artists because I wanted to make a conscious effort of starting to celebrate people that are still with us. We celebrate so many people after they pass away. I just picked three people that I felt were senior members of the music community and wanted to give them their props."
While Wilson is unquestionably a jazz artist, Carrington noted that the other two, especially Mitchell, have contributed to jazz music in their own ways.
"Of course Nancy Wilson has a jazz aesthetic, but so does Joni Mitchell," she said, citing the Don Juan's Reckless Daughter release, which preceded Mingus and includes "Paprika Plains," one of her "absolute favorite Joni Mitchell tracks."
"And the way Tina Turner sings 'Edith and the Kingpin' on Herbie Hancock's River album of Joni Mitchell songs, just so sounds cool. She is like a jazz singer. She has also had a lot of association with Wayne Shorter, so I just felt like there was some synergy there.
"The three singers that I'm presenting," she continued, "are three voices that I know and love, and who I thought were all very different and would put their own spin on songs by the artists we're celebrating. I have been working with Lizz Wright for years and she is a close, dear friend of mine. Jazzmeia Horn is a young, new talent who is amazing. We have just played together once. And Ledisi and I have done a few things together. She guested on one of my records."
This is the second UCLA visit this year for Carrington, whose work as an educator now includes serving as founder and artistic director for the Berklee Institute of Jazz and Gender Justice.
"I tend to get there once every two years to be an Artist-in-Residence for UCLA's Thelonious Monk Institute of Jazz," she said.
Her past Royce Hall appearances include a "very memorable concert with Herbie Hancock" and, most recently, a tribute to another legendary singer.
"Actually, I'm just now remembering that the last time I was there was with Nancy Wilson," she said. "We did a tribute to Billie Holiday and she hosted it. It will be great to be back in that space."
MITCHELL AND MINGUS AND DUKE
For "Money Jungle: Provocative in Blue" on Sunday, Carrington will be joined by alto saxophonist Antonio Hart, pianist Santiago Bosch, and bassist Jared Henderson. Pairing Money Jungle with Mitchell's Mingus creates another connecting thread for the week. Charles Mingus, the inspiration, collaborator and namesake of Mitchell's album, also played bass on the original Money Jungle, with Ellington on piano and Max Roach on drums.
In 2013 interview, Carrington said that she first heard Ellington's album a dozen years earlier and "briefly thought about covering some of the songs, but not the whole album."
"That has [come] in the last five years," she said then. "People ask me why and I still don't have a good answer. I was just compelled to."
Her Money Jungle includes oral history with the recorded voices of Rev. Dr. Martin Luther King, Jr., Presidents Bill Clinton, Barack Obama and George W. Bush, author Michael Ruppert and Condoleezza Rice.
"It wasn't anything partisan," she said in 2013. "It was just finding quotes on the economy. I think using spoken words to relay your messages can be important in jazz, since most of it is instrumental and you're leaving a lot to interpretation. But you add just a few words and your intention becomes clearer."
She performed Money Jungle numerous times when it first came out, but revisits it occasionally now.
"I did do it twice earlier this year," she said. "But it can definitely be revisited, because that record is still something that people reflect upon and gravitate to and l am looking forward to that."
For tickets and more information visit UCLA's Terri Lyne Carrington event page or the New Jersey Performing Arts Center's Jazz Vinyl Revisited page.
---
PHOTOS: Top, Terri Lyne Carrington in Birmingham, England, May 2017 (Photo: ©John Watson/jazzcamera.co.uk); Center, composite of Lizz Wright, Ledisi, and Jazzmeia Horn.
Posted November 7, 2018