---
RECENT ARTICLES
---
A Bi-Coastal TLC Weekend
The first part of the early November interview with Carrington provided this preview of her UCLA and New Jersey Performing Arts Center concerts on November 9 and 11, 2018. READ
_______
Revue: The Power of Three
The preview article that appeared in the Segerstrom Center for the Arts online magazine in advance of the October 2013 appearance by ACS – Geri Allen, Terri Lyne Carrington and Esperanza Spalding.
_______
Charged Particles
Bonding with Chick Corea Elektric Band's high-speed fusion at L.A.'s Catalina Jazz Club • READ
Chick Corea Elektric Band
---
INSTAGRAM STORIES
---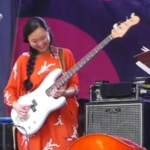 Linda Oh in Atlanta
November 24, 2018 A clip of Linda May Han Oh, who was just here in L.A. with Pat Metheny, and her quintet at the Atlanta Jazz Festival last May 26. The rest of the band is Fabian Almazan, piano; Greg Ward II, alto sax; Matthew Stevens, guitar; and Rudy Royston, drums. FULL VIDEO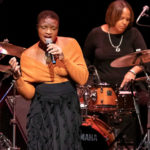 Leveling Fans and Playing Fields
After flooring a jazz concert crowd with her celebration of legendary women at UCLA Terri Lyne Carrington launches a new Jazz and Gender Justice program at Berklee College of Music. … READ STORY
---
PODCASTS
---
Music
In the Groove, Jazz and Beyond
From Jazz masters of past and present to emerging new artists performing modern jazz and fusion.
The Checkout
WBGO's Simon Rentner covers new music with concert broadcasts and interviews.
_______
Artist Podcasts
Dave Douglas
Trumpeter Douglas talks with significant jazz artists on music, composition, improvisation, and concerts.
Chick Corea Music Workshops
MusicMagic with Chick Corea, "A Podcast for Musicians," includes conversations with Herbie Hancock, Gary Burton and others.
_______
History
A History of Jazz
This is the website for Daniel Tiger's ongoing project to explore jazz history "one record at a time." It began in February 2017, with
this first episode
_______
Profiles
NPR: Jazz Proviles
Nancy Wilson hosts a documentary series profiling the legends and legacy of jazz. A starting point is this 2017 look at the career of
Ella Fitzgerald
_______
Interviews
Jazz Corner
JazzCorner.com describes itself as the largest portal for the official websites of hundreds of jazz musicians and organizations. This is the link to its Innerviews podcasts with established and up and coming jazz musicians.
_______
INSTAGRAM 4-1-2019 – JAZZ APPRECIATION MONTH
I'LL REMEMBER APRIL
A 1985 Berlin Jazz Festival performance, with Dizzy Gillespie and Woody Shaw joining the Freddie Hubbard Quintet (Carl Allen, drums; Donald Brown, piano; Ira Coleman, bass; and Kenny Garrett, sax).
For its lofty place in discographies of the greatest jazz musicians, the oft-recorded standard, with music by Gene de Paul and lyrics by Patricia Johnston and Don Raye, made its debut in the unlikeliest of ways. In 1942, Dick Foran sang it in Abbott and Costello's Ride 'Em Cowboy.
INSTAGRAM 3•25•2019 – MILLER'S TIMING
ALLISON MILLER'S BOOM TIC BOOM
A studio concert sample of the band's 2019 release, Glitter Wolf