JAZZ GUITAR FOR OCTOBER
Lage, Rosenwinkel Play L.A.
It's the Julian Lage Trio with Bad Plus at Disney Hall; Kurt Rosenwinkel Quartet at Holden
by Cristofer Gross – Julian Lage can play jazz guitar with the fiery intensity of a sorcerer, the intimacy of a singer-songwriter, and anything in between. On October 14, he returns to Los Angeles with his equally capable trio for an 8 p.m. concert in Disney Hall. Opening the evening will be The Bad Plus. [Tickets]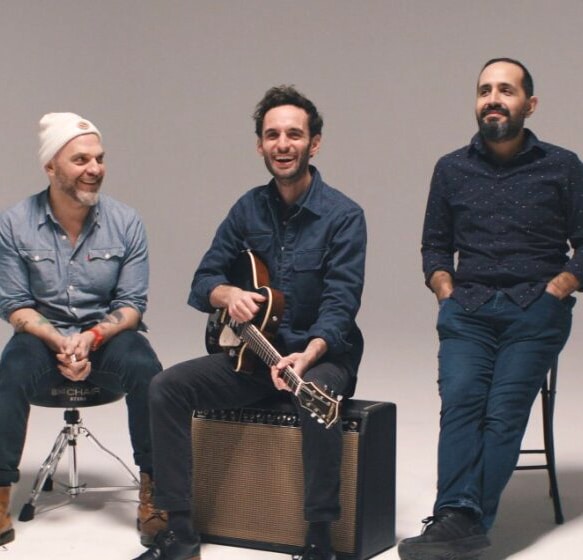 The Trio, including drummer Dave King and bassist Jorge Roeder (left and right, respectively, in photo), arrives on tailwind created by A View with a Room, the September 16 release of Lage's 15th recording as a leader and second as a Blue Note Records artist. Six-string guitar star Bill Frisell guests on View. Several of the album's 10 original songs are available to hear, here: "Auditorium," "Word for Word" and "Tributary."
The Disney show is a top recommendation for guitarists and aficionados of high-end instrumental jazz. Not only is it an opportunity to hear Lage, Roeder, King and The Bad Plus, but to hear them in an acoustically superior hall built for symphony orchestras and chamber groups. [See 'Added Plus,' below]
My admiration of the 34-year-old guitarist is based on two concerts I attended. The first, in 2008 at Segerstrom's Samueli Theatre, was one of his many appearances on stage and records as a sideman. On that occasion he, along with drummer Eric Harland, was part of a quartet led by pianist and fellow former child prodigy Taylor Eigsti. Coincidentally, Taylor is also in town this month, as part of Kurt Rosenwinkel's quartet in a Jazz Bakery show the week before the Lage concert. [See 'The Bakery Cooks,' below]
Last year, however, in L.A.'s black-walled and chairless Terragram Ballroom on 7th Street, I heard Lage leading his trio and it was revelatory. Roeder was there, with Kenny Wollesen in for King. Focusing on songs from Squint, his 2021 maiden Blue Note release as his launch pads, he demonstrated mastery across a wide range of genres. He displayed versatility and virtuosity that would have earned stage-sharing with legends as distinct as Django. Jimi, Knopfler – name your hero. And, because his songwriting and choice of covers has the room to stretch out without sacrificing its unifying voice, he worked the musical gamut from classical acoustic to power-trio with subtly, intensity and precision.
That said, Roeder is worth the price of admission on his own. King, who was not available at Terragram, will have a full night of it this round as he is also drumming in Bad Plus, which he co-founded in 1989.
Prodigy to Prodigious Talent
Lage, born Christmas Day of 1987, was a child prodigy, sufficiently impressive to inspire a 24-minute documentary in 1996. One critic who highly recommended "Jules at Eight," was especially moved by Lage's grade school experience. "While his friends listen to Nirvana and Nine Inch Nails, Jules leans more toward Monk and Coltrane (in fact, the only person that Jules can talk music with at his grade school is the janitor)."
He performed at the Grammy Awards at 12, and just three years later joined the faculty of Stanford University's Stanford Jazz Workshop. He also studied at the San Francisco Conservatory of Music, at Sonoma State University and the Ali Akbar College of Music before graduating from Berklee College of Music in 2008.
In addition, he has appeared on four Gary Burton recordings and seven with John Zorn, two with Harland, Nels Cline and Danya Stephens, and one with Eigsti, Terri Lyne Carrington's More to Say, Charles Lloyd's live 8: Kindred Spirits in 2020, and Yoko Ono's 2013 Take Me to the Land of Hell, produced by her son Sean and worth dipping into for Lage's contribution as well as those by a host of other interesting guests.
In 2021, Blue Note Records president Don Was welcomed Lage onboard for Squint, lauding him in a video interview as "one of the most incredible young artists to grace the Blue Note roster in our 82-year history."
Lage concluded with appreciative perspective on the art form he loves and helps expand.
"We've inherited this art and all we can really do is present it with love and care and honesty," he tells Was. "Through that prism, unpredictable moments are joyous. Forget abiding by my vision. There's a much bigger vision that we're all taking part in and celebrating. That's a beautiful thing."
[Note: A "First Look" video is now available.]
An added Plus
The Bad Plus also arrives at Disney Hall after releasing its 16th recording in September. Two weeks from today in fact. Twenty-one years after dropping their eponymous debut, a second eponymous album signals a new direction. (Preorder it or sample it now from their website.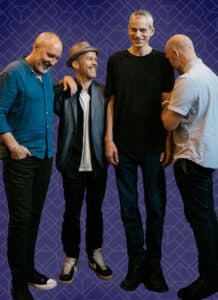 The band was formed in 1989 by King, pianist Ethan Iverson, and bassist Reid Anderson. In his Allmusic bio of the band, Johnny Loftus calls them a "genre-bending jazz trio [that] play a maverick combination of originals and covers that blur the line between post-bop jazz and instrumental rock debut." Among those covers on the debut were ABBA's "Knowing Me, Knowing You," Nirvana's "Smells Like Teen Spirit," and Rodgers & Hart's "Blue Moon."
With 2022's The Bad Plus they shift to a front line of guitarist Ben Monder and tenor saxophonist Chris Speed, who replace pianist Orrin Evans, who replaced Iverson after his 2017 departure over disagreements on how to go forward. (Pictured are, left to right, Anderson, Speed, Mondar and King.) According to the band's website, the personnel change heralds "a new wave of excitement and anticipation within the band that is re-energizing their sound and inspiration. The Bad Plus have constantly searched to bridge genres and techniques while exploring the infinite possibilities of exceptional musicians working in perfect sync.
The Bakery Cooks
Jazz visibility is rising in California and in addition to the October 14 Julian Lage Trio show at Disney Hall, guitarist Kurt Rosenwinkel brings his quartet back to the Bakery, but now at the Nate Holden Theater on Washington.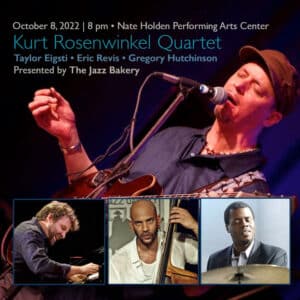 The Jazz Bakery is doing some rising of its own, following the same struggle all clubs and theaters have had since March 2020. In fact, that's the last time news was posted on @TheJazzBakery on Twitter. Coincidentally, one of those last shows was The Cookers, who got things rolling with a Bakery show at the Holden on September 23. (The Cookers are Eddie Henderson, trumpet; Billy Harper, tenor sax; David Weiss on trumpet; alto saxophonist Donald Harrison [who is profiled in these pages]; pianist George Cables; bassist Cecil McBee; and Billy Hart on drums.)
I love the Holden! It was there I was reunited with the Ebony Repertory Theatre and the glorious musical, Gospel at Colonus, featuring a stageful of thrilling voices including Ellis Hall as Oedipus. (Read about that 2015 production.)
So now we'll see the stage as a jazz bandstand and it should be great acoustically. It's not a jazz club, so that element is gone, but it's comfortable and Rosenwinkel is a unique guitarist who will keep your attention. With him are pianist Taylor Eigsti (mentioned in previous story), Eric Revis on bass and Gregory Hutchinson on drums.
The Bakery webpage for tickets quotes a New York Times appraisal of Rosenwinkel that promises he "can say more in a few lines [of music] than most guitarists manage over the course of an entire career." High praise, indeed.
I have seen Kurt in concert only once, in January 2020. He and the late Joey DeFrancesco, bassist Christian McBride and drummer Lil John Roberts convened for a week at New York's Blue Note for a series they called "The Philly Reunion." It was high-flying homage to their high school mentors and music departments – and music education in general. It was a hair-raising and heart-warming jazz showcase that I wrote up for the Blue Jay Jazz Foundation, for whom I had volunteered to attend that month's Jazz Congress hosted by Jazz Times and Jazz at Lincoln Center.
About Kurt's playing I wrote that, "It was on the Monk tune that Rosenwinkle's distinctive guitar sound, one of the night's many marvels with its smooth sustain, brought to my mind the elegant legato of Stephane Grappelli. The guitarist was second to pay tribute to his teachers. But first he acknowledged his peers who, he admitted, had been tough on him and his pursuit of the rock-side of fusion. But they had fostered his interest in jazz, which endured. He recalled how they would play together at night in local clubs like Slim Cooper's, Bob and Barbara's and Blue Note (no relation to their current venue). In the mornings before school he'd find DeFrancesco and McBride "eating 'Giant Steps' for breakfast." Rosenwinkel made a point of thanking his instructors, several of whom had come up from Philadelphia to attend this performance together for arranging master classes and/or performances for the students by Grover Washington Jr., Max Roach and others. (You can read that story on bluejayjazz.org and purchase tickets to the gig here.)
This Bakery-at-the-Holden performance is supported, in part, by the Los Angeles County Board of Supervisors through the Department of Arts and Culture.