THEATERTIMES REVIEWS

|

INDEX
---
THE LATEST REVIEWS
Disgraced | Mark Taper Forum
A powerful Pulitzer Prize-winner is both exceptional drama and insight into the roots and ramifications of one of the most mystifying and polarizing issues in the world today. Photo: Hari Dhillon, Emily Swallow
Bull | Rogue Machine Theatre
Mike Bartlett's surrealist nightmare comedy makes its West Coast premiere as part of the 2016 Hollywood Fringe Festival.
Photo: Lesley Fera
Romeo and Juliet | A Noise Within
Damaso Rodriguez and A Noise Within have given Shakespeare's love story muscle and maturity to open 2016 with institutional assurance.
Photo: Donnla Hughes
Barcelona | Geffen Playhouse
Bess Wohl's seemingly straightforward play has plenty of laughter and wisdom within it. In its West Coast premiere, director Trip Cullman creates a carefully delineated, highly enjoyable staging with a performance likely to be this site's 2016 favorite. Photo: Betty Gilpin, Carlos Leal FULL REVIEW
Sex with Strangers | Geffen Playhouse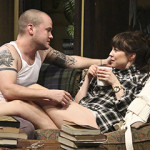 Laura Eason's play, in a well-realized staging by Kimberly Senior, begins with all the hallmarks of the classic pulp thriller: a beautiful woman alone in a large house when car headlights suddenly sweep the frozen panes followed by the crunch of approaching footsteps and a forceful knocking on the door. But this is a whodunit more concerned with authorship in an era of Internet anonymity and new questions about partner profiles.
Photo: Stephen Louis Grush, Rebecca Pidgeon
FULL REVIEW
Cloud 9 | Antaeus Theatre Company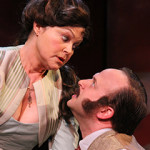 The sun, it was said, never set on the British Empire during the 19th and early 20th Centuries, but Caryl Churchill set her 1979 comedy to show how a misguided, patriarchal mindset would lead to the Empire's unraveling while maintaining social repression for another 80 years back in England.
Photo: Laura Wernette, Adam J. Smith
FULL REVIEW
Women Laughing Alone with Salad | Kirk Douglas Theatre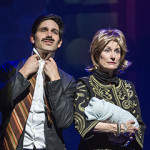 Sheila Callaghan gives the play a flywheel heart that sparks numerous inter-related issues: The brighter ones land; the purely playful are just for show. The main target here is the pervasive power of image-based marketing. Photo: David Clayton Rogers, Lisa Banes FULL REVIEW
ARCHIVES
Click year for index
---