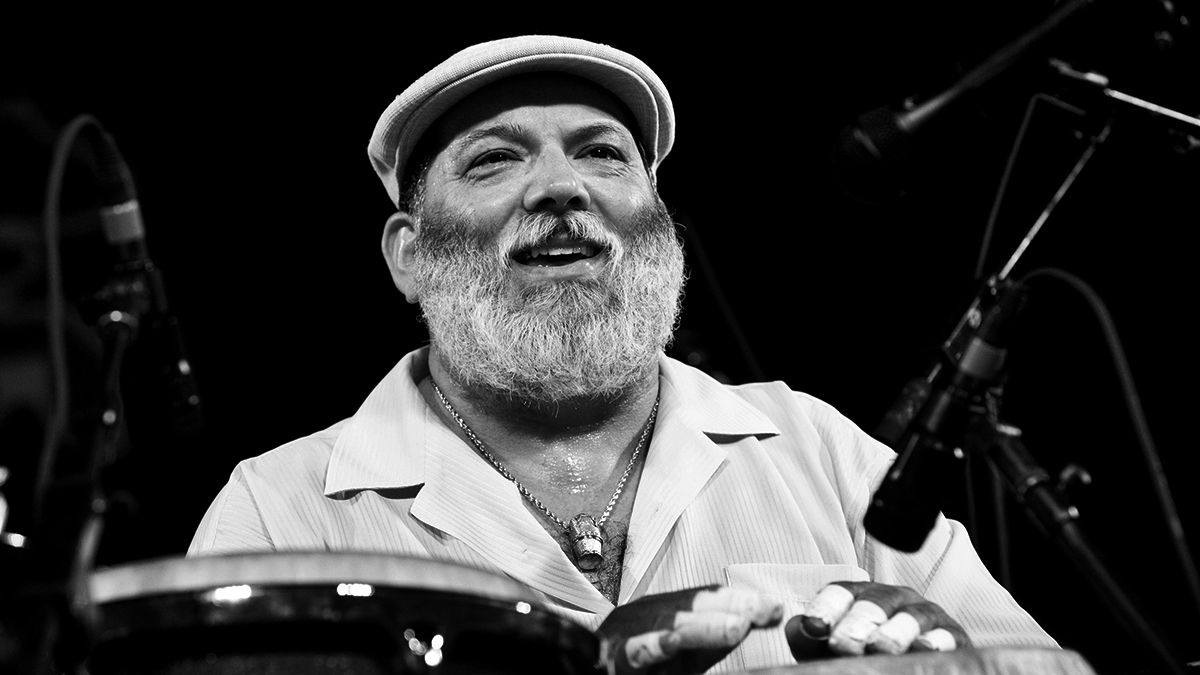 INTERMISSION | 15 minutes with …
Poncho Sanchez
Heart of the Conga: Southern California's own conguero carries on the traditions of Tjader, Puente and Santamaria.
DISCOVER THE MUSIC
Purchase recordings mentioned in interview
Click image to shop Amazon for CDs and LPs or the Apple Music button for iTunes digital.
Poncho Sanchez
Latin Soul
Poncho Sanchez
Conga Blue
Poncho Sanchez
Psychedelic Soul
Poncho Sanchez
Live in Hollywood
Eddie Palmieri
The Sun of Latin Music
Cal Tjader
Grace Cathedral Concert
Poncho Sanchez was born October 30, 1951, the fifth son and last of eleven children. Before he was four, his family moved from Laredo, Texas to Norwalk, California. It was 1955, the year Bill Haley's "Rock Around The Clock" became the first nationwide rock 'n' roll number one record and both Little Richard and Chuck Berry were scoring major hits. He absorbed that new music along with the evolution from bebop and big bands to hard bop, cool jazz, and most significantly, Latin Jazz.
He began as a guitarist and vocalist, even serving as lead singer in a high school band before teaching himself to play the flute, drums and timbales, then settling on the congas of his idol, Mongo Santamaria. Today he has 19 Concord Picante albums to his credit including Latin Soul, his 1999 Grammy winner for Best Latin Jazz Performance.
We spoke by phone in May 2015 as background for a preview of his Segerstrom Center for the Arts show on October 9. A quick, sincere laugh came frequently as he colored his answers with recollections from an extensive library of personal experiences. The stories provided insights into the many legends he has worked with and known.
THEATERTIMES – The show in October is part of a three-night jazz weekend that your Latin Jazz Band opens on Friday with Eddie Palmieri's Big Salsa Orchestra. I'm sure you have shared the bill with him before.
PONCHO SANCHEZ – [Laughs.] Oh yeah. Eddie's an old friend of mine. We met years ago and have played opposite each other many times. We did a week at the Blue Note in New York City, and to keep everything equal he opened for me one night and we'd alternate two sets each and then I'd go first the next night. My band has enough music to play two shows a night for almost two weeks without repeating songs, but Eddie was doing the same songs in the same order at both shows each night, all that week. By the second night we already knew what was happening with his show.
Now all the cats in his band all great players and they took different solos every night and it was great. It was great. But after five nights of that Eddie walks into my dressing room and I say, 'Hey Maestro Eddie' and he says, 'Poncho, Fuck my band.' [Laughing] I said, What? And he goes, "We've been playing the same fucking show every night. I'm playing with you guys tonight!"
THEATERTIMES – Crazy. Isn't he the man calling the shots?
SANCHEZ – Yeah. I don't know. This was like ten years ago and maybe he had that certain music for that period or that group.
But, no: Eddie's a monster, man, get out of here. He could write anything. His La Perfecta, the early stuff he did, and The Sun of Latin Music? If you don't like The Sun of Latin Music you don't know what music is. You know what I mean? That was a killer record, with Vitin Paz on trumpet and Lalo Rodriguez singing. That was a great band, man. I love Eddie.
THEATERTIMES – Tell me about the L.A. scene and Latin Jazz when you were growing up?
SANCHEZ – So many things have changed. When I first grew up in the Norwalk area, hardly anybody knew what Latin Jazz was, or Afro-Cuban Music. They didn't even call it Salsa at that time, they called it musica Latina, or musica Cubana, or they just called it the mambo or cha-cha-cha.
My brothers and sisters caught the first wave of the mambo and cha-cha-cha music that came from Cuba and Puerto Rico, and even Mexico City, by way of New York City because they used to listen to Chico Sesma on the radio. I went to his house in Boyle Heights about two years ago. He is still alive, man! He must be about 90. He was the first Latin disc jockey on the airwaves here in Los Angeles in the late '50s and he was the first one to play Machito, Tito Rodriguez, Cal Tjader, and of course Tito Puente.
We were from Texas and of course our basic music is Mariachi music and Mexican corridos and all that. But my brothers and sisters liked the sound of the mambo and cha-cha-cha they heard on the radio and bought those records. Then Chico started having Latin dances at the Hollywood Palladium once a month, copying the New York Palladium dances. I talked to him many times about this. He brought in bands from New York, Benny Moré, and Cal Tjader from San Francisco and he used the L.A. bands from that time namely René Touzet's band and the vibe player Bobby Montes. My brothers and sisters would go to those dances and learn the new steps like the pachanga and the marenge and so I grew up watching that and knew the latest stuff.
And all my friends down the street, they didn't know what that was. Nobody really knew about Latin Jazz or what they call salsa now. Across the street from my house was a drive-thru hamburger stand and the guy had a speaker on the side that faced our house and he played the current music all day and night, man, and I could hear it throughout my house! [Laughs]
THEATERTIMES – Another thing that seems to have changed is, while there is no shortage of great musicians coming up now, the network to nurture them seems overshadowed by the appeal of instant exposure through posted videos and audio files. It was harder to get direct exposure to buyers, and there was a big gap between hearing an artist on the radio and seeing them in concert – or even looking at them! I only saw players on the back of an album cover, assuming there was a photo.
SANCHEZ – Hello! That was me! That's how I learned to play, by looking at the positions of Mongo's hands on the back of his album covers. That's how I learned and listening to the sound he played, because I was too young to go to a nightclub at 15. I came from the beginning of all this and it has changed a great deal, which is good and bad. Now there are so many new ways to make music and electrify it. I still record my music the way I did from the beginning, live and in separate booths like we're on a live gig.
GO HEAR CAL
THEATERTIMES – When you were 24 you played with Cal Tjader, and this is the 40th anniversary of you joining his band.
SANCHEZ – Yeah, I joined Cal Tjader New Year's Eve 1975. Hooo. Thanks for saying that. I'm playing a tribute to Cal Tjader Friday [May 8, 2015] in Pittsburgh at the Craftsman Guild, with some of his music and now I can honestly say it's 40 years, right?
THEATERTIMES – Yeah.
SANCHEZ – Son of a gun. That's beautiful, man. It's a nice round number. Forty years ago I joined the Cal Tjader, wow. I learned my trade by myself and when I got the chance to play with Cal I knew my shit. When I sat in with him the first time he said we're gonna do a song I haven't recorded it yet, so when the breaks come just lay out. But I had seen him play six months before that at the old Lighthouse in Hermosa Beach when I sat in I played the breaks. And he looked at me like I was nuts and asked me after how I knew. I said I seen you about six months ago and I learned them then. "You learned them by watching me one time? Wow."
THEATERTIMES – So that's when he decided you could join the band?
SANCHEZ – I was going to play one song and then he asked me to play the rest of the set. He asked for my phone number and I thought he was just being nice and sure enough two weeks later he called and said he wanted me to play with him for one week, starting New Year's Eve 1974-1975 at the Coconut Grove opposite Carmen McRae and then four nights down in San Diego. And after the first set at Coconut Grove he said, "You're on, man: You're in the band." I couldn't believe it, man. After a while I was the one to tell the new guys what's happening. Cal wouldn't even come to rehearsals.
THEATERTIMES – Was Grace Cathedral Concert your first appearance on a record of his?
SANCHEZ – Yeah, and the way that happened was strange. Cal was told the church was going to record us for their archives. We had to sign some waiver. A week later, the guy who recorded it called Cal and told him he should come hear it. When he did he said, "Wow it is a nice concert" and he took it to Fantasy [Records, his label,] and they listened and Boom!, said, "This is an album!"
THEATERTIMES – Was it true that it had been scheduled as a Vince Guaraldi show, but he died?
SANCHEZ – Yeah, he was going to play with his own band and, I think, guest on a couple of our tunes. But he passed two or three days before. He'd already made a record there. But you know what was more far out? His wife was there, man, in the front row of the cathedral. I guess she felt she should be there.
THEATERTIMES – Wasn't Cal the one who helped you get your contract with Concord?
SANCHEZ – Yeah. After Lonnie Hewitt left the band, Clare Fischer, who'd been in the band in the 1960s, came back. That's when I met Clare, who was a great composer, arranger, writer and harmonic genius. He liked the way I played and said, you know I have a friend, Albert Marks, who owns Discovery Records and he's looking for new young artists to sign. He had him come and see me play with Cal, and Albert Marks signed me and that's when I did my first two records, Poncho and Pa'lante Straight Ahead for Discovery.
I was recording with Cal all this time and then he won a Grammy in 1980 when he signed with Concord's new label Concord Picante. And then, the same thing as with Clare, Cal brought in Concord's Carl Jefferson to hear me and then they asked if I wanted to sign with Concord and of course I said, "Yeah, man I'd love it." So Cal got me that contract with Concord, and that was just nine months before he died.
PICKING FAVORITES
THEATERTIMES – You have so many albums and I'm sure each one has its special place. But is there one or two that are your favorites?
SANCHEZ – Yeah, I like 'em all for one reason or another and I'm blessed to say they're all pretty good. But I have to say the one with Mongo Santamaria, Conga Blue because of Mongo, you know? Mongo was my hero and he had become a very good friend of mine and we were very tight. Matter of fact, I named my first son Mongo. That's how much I love and respect Mongo. So when I got to do a record with him it was great, and of course we did some of his tunes, "Para Ti" and all those classics. And, I gotta say he was already slowing down by then. He wasn't the Mongo that we used to see and hear, but he did a pretty good job and it was an honor to have him.
And the hit off of Conga Blue, "Watermelon Man," that thing hit all over the world again! It was on a commercial in Germany for a train for a year or two. I was getting fat royalty checks for that and so was Herbie [Hancock, who wrote it]. When I see Herbie from time to time he says, "Poncho, man, thank you for 'Watermelon Man'."
Another favorite was the Grammy one, Latin Soul, also because it was a live record. That one was just my band live and it won the Grammy.
THEATERTIMES – Well it's great they all got in there because Garibaldi and Prestia are so tight.
SANCHEZ – Oh, yeah and of course I used George Ortiz on timbales from my band and Francisco Torres on trombone and myself.
THEATERTIMES – A favorite of mine, Do It! includes members from another favorite band, Tower of Power.
SANCHEZ – The thing with Tower of Power, that was cool because we also have Hugh Masekela on that record. And the way that happened was the president of Concord himself, Hal Gaba, who has now passed also, called me one morning and said, "I just heard this version of 'Squib Cakes' on the radio and you gotta do that tune." And I said, "Oh you heard Tower of Power?" And he goes, "No. It's a big band from Japan." And he sent it to me and they did a version like Tower of Power but big band style and I said it's great. But Hal didn't know the original was Tower of Power. And he said, "Oh, I'm going to get that one." And of course he heard it and loved it and I dug it back up and I listened to it and when I heard it I heard that little 6/8 thing, between myself and Francisco Torres we changed the arrangement around just a little bit and those musical ideas came up. What happened was Hal said, "Poncho, I want you to see if you can get the Tower of Power horn section to record with you," and I said, "Oh, I know Emilio [Castillo, the band's leader], because I did the 8th Annual show for David Letterman with him." I was the percussionist in the band as a guest and Tower of Power was a guest with the Paul Shaffer Band and Stevie Ray Vaughan as a guest.
So I called Emilio and said maybe we do that and do an old Dyke and the Blazers tune, "Funky Broadway" or something. And so we talked it over and Emilio said, "Poncho, it'll be an honor we want to play on your record, everything's good. There's only one bummer about that. When I tell the rhythm section in the band that the horn section is going to record with Poncho Sanchez they're going to be pissed off." And I said, "I don't know about that, how can I afford the whole band from Tower of Power and then my band?" That's a big bill, right? So I called Hal back and said, Hal, everything's good they'll do it, there's only one problem, the whole band wants to do it. He said, let me think about that. He called me back in about half an hour and said, "Poncho, you got it. You're on." So I used the whole band, man.
THEATERTIMES – It's a great record. And of course Chester Thompson, the guy who wrote "Squib Cakes," went on to play with Santana for years and years.
SANCHEZ – Oh yeah, exactly, for sure.
THEATERTIMES – And Santana, there's a whole other amazing Latin music legend. Totally carved out a world unto himself.
SANCHEZ – That's another whole story, man, and that's of course more in rock.
THEATERTIMES – But I'm not sure he gets credit for pioneering and claiming that whole genre.
SANCHEZ – It's some heavy shit, man. He really did it, man, and he's doing it right now today.
THEATERTIMES – Let me ask quickly, do you have another album out soon?
SANCHEZ – Right now what I have ready to go into the studio is to do a tribute to John Coltrane. That's my latest thing. And we are doing some of the music now. We're doing "Iberia," and of course we're doing "Giant Steps," we're doing like an old-fashioned rhumba. And "Blue Trane" is a cha-cha, and stuff like that. We've been playing some of the music for about a year.
THEATERTIMES – That's great. I'll let you go. I know you have to get to the doctor. I sure appreciate the time, it's been a gas.
SANCHEZ – Hey, nice talking to you man. And looking forward to that gig. And, you know, we're gonna jump shout and shimmy.
THEATERTIMES – [Laughs] Alright. I'll put that down.
SANCHEZ – Alright. Later. Bye.
VIDEO
VITALS
Excerpted from AllMusic
Poncho Sanchez is one of the most influential conga players and percussionists in Afro-Cuban jazz. In addition to recording as a soloist, Sanchez has been featured on albums by the Jazz Crusaders, Eddie Harris, Freddie Hubbard, Tito Puente, Mongo Santamaria, Dianne Reeves, Joey DeFrancesco, and Terence Blanchard.
Becoming a member of vibraphonist Caj Tjader's Band in 1975, Sanchez remained with the group until Tjader's death on May 5, 1982. By then, he had already planted the seeds for his own career as a bandleader. He recorded two solo albums – Poncho in 1979 and Straight Ahead in 1980 – and began performing with his own group in 1980, during Tjader's vacations. A native of Laredo, Texas, Sanchez moved to Los Angeles at the age of four, where he was deeply influenced by the music he heard in the Chicano neighborhood in which he lived. Initially a guitarist, he played with a series of junior high school and high school rhythm & blues bands. Teaching himself to play congas, he spent hours practicing to Caj Tjader, Machito, and Tito Puente records. He was also deeply influenced by the hard bop sounds of the Jazz Crusaders.
After more than two decades in music, Sanchez's efforts paid off when his album, Latin Soul, received a Grammy Award as Best Latin Album of 1999. Throughout the next decade, Sanchez continued to record, releasing such albums as 2000's Soul of the Conga, 2001's Latin Spirits, 2003's Out of Sight!, 2005's Do It!, 2007's Raise Your Hand, and 2009's hard bop-influenced Psychedelic Blues. In 2011, he paid tribute to the innovative Afro-Cuban recordings of Dizzy Gillespie and Chano Pozo by teaming up with trumpeter Terence Blanchard for Chano y Dizzy! Sanchez followed it up with a concert set entitled Live in Hollywood, with his Latin Jazz Band.