TIME BEYOND THE TIME
Art Podell's Folk Music Revival Revival
by CRISTOFER GROSS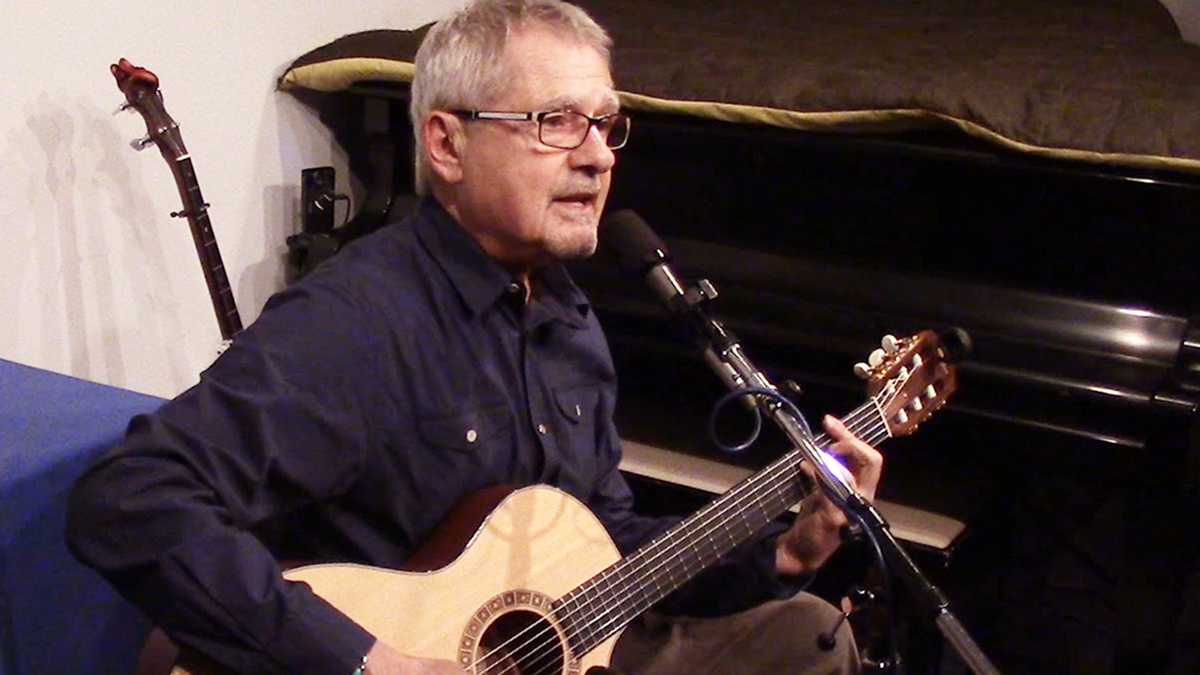 Once a month, the Tudor House in Lake Arrowhead presents a live Saturday night taping of JP Houston and Julie Van Dusen's "American Parlor Songbook." It's an evening of humor, song and cultural pulse-taking whose broad perspectives owe to an unapologetic embrace of bygone and bye-bye-going eras.
On April 1, that perspective was widened by musical and comedy guests whose active careers stretch back to the 1960s.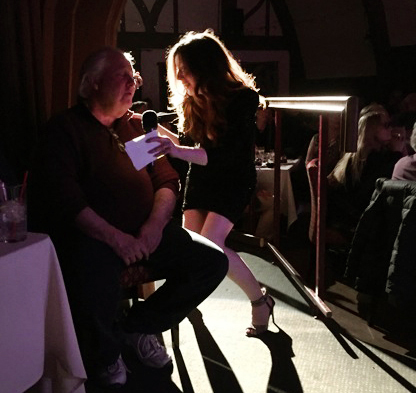 The live American Parlor Songbook shows, here and at other venues during the year, provide material for two hour-long radio programs that air Sundays at 4 p.m. on San Bernardino's NPR-affiliate, KVCR, and on a nationwide network of primarily public radio stations. It is also posted as a podcast on the APS website. (See all links at right.)
After an audience-participation warm-up identifying a song snippet and then singing along with Van Dusen (right), they "roll tape," Each of the show's three segments includes a well-crafted story-song by Houston and performances from each guest artist. Houston's first act contribution is a satiric look at the national news and his second, the evening's centerpiece, is observational autobiography from his Canada childhood. The youngest of nine, he received firsthand coming-of-age stories along with his older siblings' second-hand clothes. Those experiences, along with his own, are spun into vivid, wise-beyond-the-years narratives with a kid perspective that recalls Jean Shepard.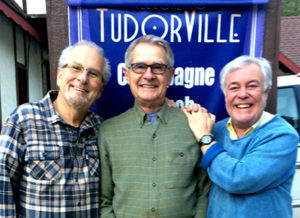 Just as impressive as the couple's ability to craft these shows is their knack for picking interesting guest artists. Back for its third appearance was Boomers on a Bench, the comedy duo of Phil Proctor and Jamie Alcroft. Proctor is a quarter of The Firesign Theatre, half the team of Proctor and Bergman, and a busy stage and voiceover actor for film and TV. Alcroft, also a constantly working voiceover actor, was half of TV's "Mack and Jamie." Parked on a bench, their noses in newspapers, the Boomers share head-shaking reactions to the latest devolution in politics and culture. Sprinkling the routine with some well-told jokes.
NOT JUST YOUR FOLKS' FOLK
Making his first APS appearance was folk singer Art Podell (At right with Houston). Part of the mid-20th Century Folk Music Revival, notably with the hugely popular New Christy Minstrels, Podell doesn't so much recall a time past as help us hear and feel its ongoing presence. Though now binned with other out-of-fashion mid-century vinyls, the songs and artists of the 1960s Folk Music Revival were just the protruding commercial tip of a musical form that extends back before recording history and forward in a wide variety of styles.
As writer-musician Kim Ruehl explains it, "The music of the folk revival was narrative pop music with a social conscience. Since then, community-driven musical forms (punk rock, hip-hop) have evolved from this combination of folk and pop music."
Omnipresent session guitarist Waddy Wachtel, according to James Taylor, referred to its influential time in the limelight as "The great folk scare of the Sixties." Beginning in the 1950s it seeped into the homes and developing consciousness of millions of young Americans. First on radio and then records, The Weavers and Pete Seeger, then Peter, Paul & Mary, Joan Baez and Bob Dylan were the stars that opened doors for the whole genre. Even television, with "The Smothers Brothers Comedy Hour," played a big part in promoting the social self-examination that led to the era's tectonic cultural shifts.
As Podell told me, "It was a time when the flood of newly discovered traditional music and lore from rural southern America brought raw energy to hungry urban college age students who were looking for music that expressed more than teen-age angst. Greenwich Village in the late '50s and early '60s was a cauldron bubbling with the excitement the new music generated."
THE FLAME STILL BURNS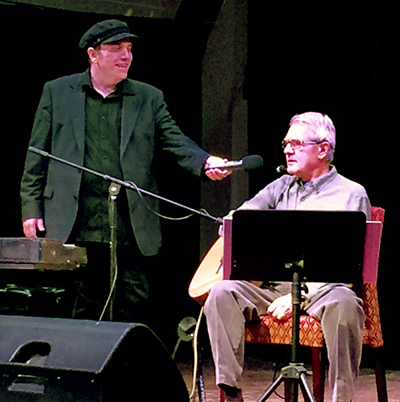 The opening sweep of the Tudor House stage curtains wiped away the intervening decades to reveal the dapper, unpretentious Podell, seated quietly with his guitar balanced on his lap. Although it wasn't used this night, he is also a consummate banjo player. He began by explaining that his first song was a new one. It wasn't just new. It had been written that afternoon at the request of Mr. Houston, who asked if Podell had something that fit the evening's theme privacy and the invasion of it.
Podell's apology was unnecessary. Songwriting skills honed over half a century had given the song musical and narrative shape as well as humor and insight Houston wanted. He followed that up with "the song I originally intended to open with," another original, both conversational and confessional, about an old songwriting partner whose bubbling-over creative mind regularly had him on middle-of-the-night rambles that included rambling phone calls to Podell.
The second set confirmed Podell's mastery of the form. it included "Golden Apples," also featured on his new From the Village to the Canyon CD. He introduced as something he wasn't sure what it meant. However, like the power of the music, and the impact of the era that it influenced, its meaning doesn't need to be understood to have a lasting effect. It ends with …
Some times I hear it, in the strangest places,
And I wonder where I've been.
And in the time
between the time
between the time
between the time …
the gypsy sings again.
---
Top photo: Art Podell. Inset photos, from top: Julie Van Dusen with audience member; Jamie Alcroft, Podell, and Phil Proctor; and JP Houston interviewing Podell
TAKE THE TIME
radio network
JP and Julie return to the Tudor House June 24. Reservations below
BOOMERS ON A BENCH
Youtube