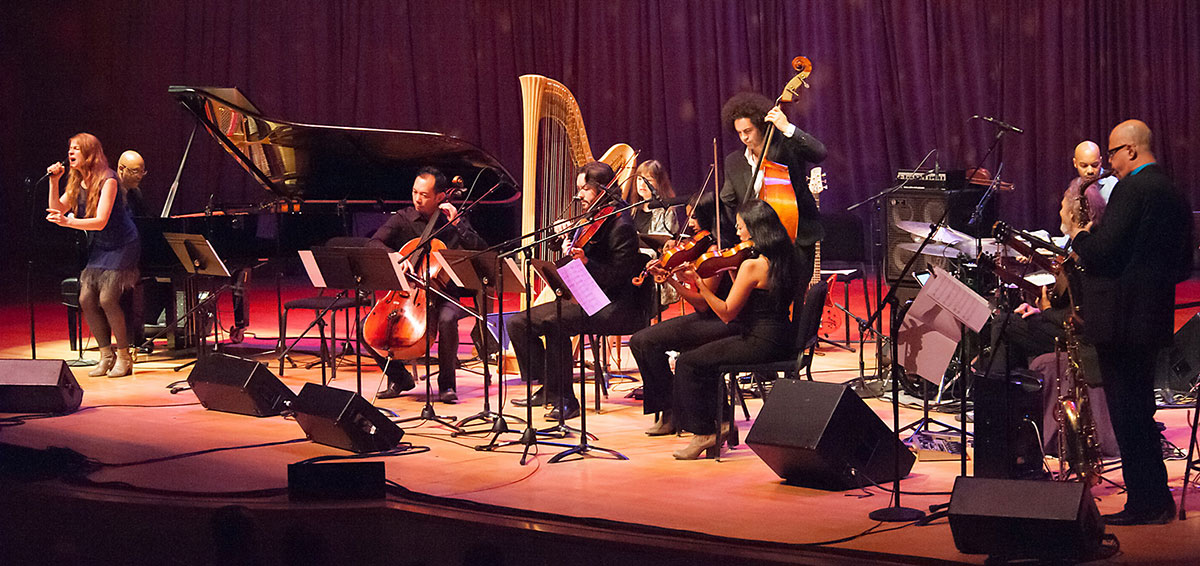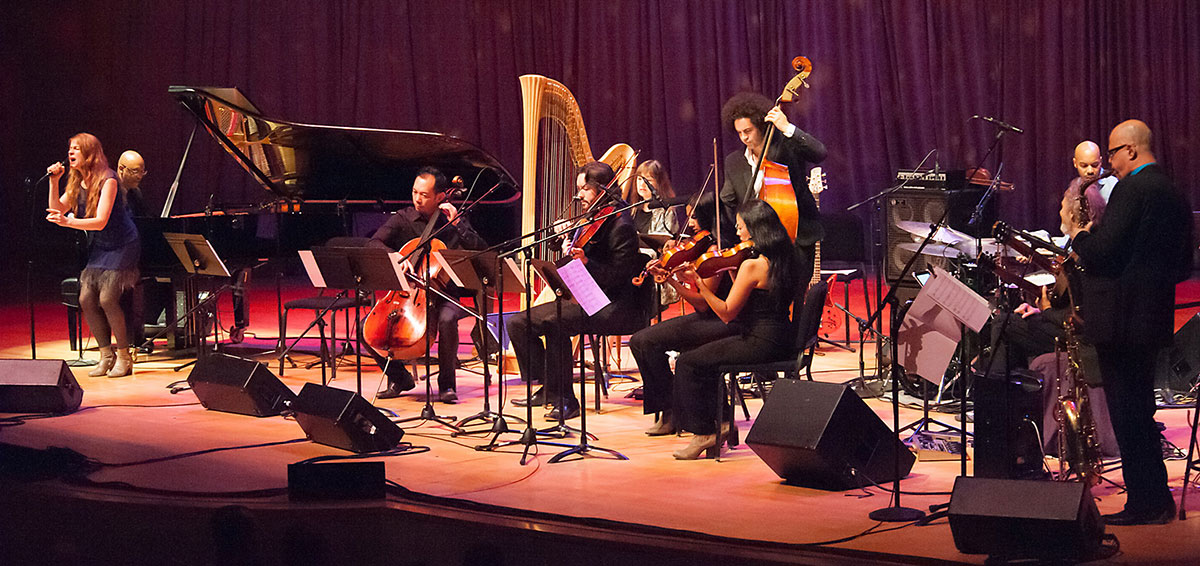 TREASURE FOUND
Billy Childs brings Laura Nyro's music back to the glory river.
by CRISTOFER GROSS
Lianist-composer-arranger Billy Childs brought two "Map to the Treasure" tours to the Renee and Henry Segerstrom Concert Hall on October 17. The first was the Costa Mesa stop on his nationwide tour supporting Map to the Treasure: Reimagining Laura Nyro. That CD, released last month, features Childs and a score of marquee musicians, including Chris Botti, Renee Fleming, Rickie Lee Jones, Yo-Yo Ma, Wayne Shorter, and Esperanza Spalding, exploring ten tracks from the singer-songwriter's first four albums.
Childs' chamber-jazz arrangements, performed with three vocalists and a ten-piece orchestra, proved Nyro's highly personal lyrics and genre-blurring compositions continue to provide fertile material for both contemporary artists and their audiences.
About half the musicians who appeared on Friday night also participated in the recording: vocalists Lisa Fischer and Becca Stevens; harpist Carol Robbins; bassist Carlitos del Puerto; and violinist Alyssa Park and violist Luke Maurer, who are half of L.A.'s Lyris Quartet. They were joined by violinist Shalini Vijayan and cellist Timothy Loo, the other half of Lyris, vocalist Moira Smiley, cellist Maksim Velichkin, guitarist Peter Sprague, drummer Donald Barrett, and Bob Sheppard on saxophones and flute.
Nyro, who died of ovarian cancer in 1997 at the age of 49 and was inducted into the Rock and Roll Hall of Fame 15 years later, wrote many songs that provided Top Ten hits for others, including The Fifth Dimension, Three Dog Night, Barbra Streisand and Blood, Sweat & Tears. Three of those chart-toppers, "And When I Die," "Save the Country" and "Stoned Soul Picnic," are among the ten chosen for this project.
Words and music
With "The Book of Laura," as Childs called Nyro's collected works, comprised of equal parts words and music, the three vocalists were responsible for much of the evening's impact. Performing one or two songs in rotation, they drew us inside Nyro's lyrical garden, sharing a world where "trains of blossoms and trains of music" run among beds of rebirth and demise.
Among the standouts was the second number, Smiley's "Gibsom Street." She gave Nyro's ominous warning about life's dangers a sense of both mystery and beauty. It also featured a jazz piano break that established the template for Childs' balanced blend of jazz and orchestral music. Smiley also energized "Save the Country," Nyro's urgent, optimistic message for an America reeling from riots, assassinations, and war. Fischer, one of the stars of 20 Feet from Stardom [read more about her], rendered a heartbreaking "Been on a Train," a song from the darkest corner of Nyro's garden. In it, the singer watches helplessly as a rebounding friend slips back under the influence and away from her for a final time.
Childs generously shared the spotlight with the other musicians. Velichkin, Robbins, del Puerto, Park and Shepard all soloed. He ended the first half and began the second with his own "Into The Light" from Lyric (2005) and "The Red Wheelbarrow" from Autumn in Moving Pictures (2009). The latter, a duet with Sprague, was another high point.
The second "Map to the Treasure" tour actually took place in the late 1960s and early 1970s. But it is redrawn at every performance in the collected introductions Childs gives the ten songs. He explains how each affected the adolescent Childs, creating an "alternate universe" filled with imagery, sound, guidance, and inspiration. As each new description was added, a map emerged that revealed much of how Childs developed as an artist and a person. So much he heard and visualized would become indelible, including the debt he feels he owes to this songwriter.
Childs' CD should earn a Grammy® nomination. Co-producer Larry Klein was involved in a similar, ground-breaking effort by Herbie Hancock. His River: The Joni Letters is the first Album of the Year win for any jazz recording. But, as the live performance made clear, at the heart of the music is Childs' interpretations, which have done more that reimagine Laura Nyro. They have revived her.
---
Photo: Left to right, vocalist Moira Smiley, Billy Childs, cellist Timothy Loo, violist Luke Maurer, harpist Carol Robbins, violinists Shalini Vijayan and Alyssa Park, bassist Carlitos del Puerto, guitarist Peter Sprague, drummer Donald Barrett, and saxophonist Bob Sheppard; (bottom) Lisa Fischer joins Childs. Credit: Doug Gifford/Yamaha.