Timed release
This season the Pasadena Playhouse had an artistic achievement in Cornerstone's As You Like It. But it did not muster the business it deserved. It attracted better audiences with Diva and Sherlock Holmes, but that also got deservedly negative reviews. Finally, with Jason Robert Brown's The Last Five Years, in repertory through August 6 with I Do, I Do under the chuppah of The Marriage Plays, they have a production of quality that should generate a healthy quantity of sales. The Last Five Years combines an intriguing structure, Brown's semi-confessional story set to engaging music and lyrics, and director Nick Degruccio's ability to whip it together to showcase the irresistible talents of his stars, Misty Cotton and Daniel Tatar.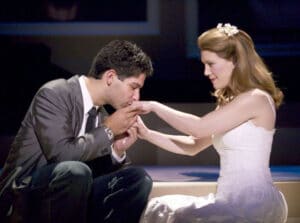 The self-mocking Sondheim characters who sang, "Are we a pair? Me here at last on the ground; you in mid-air," would get a kick out of the elaborate teeter-totter Brown has devised to motor The Last Five Years. The play has two timelines: Cathy's, which moves backwards through the past five years, and Jamie's, which begins five years ago and proceeds forward to today. The equal time formula, however,doesn't translate to even-handed stories, as Brown stacks the deck in Jamie's favor. When we meet Cathy(Cotton), to open the show, she's tearfully tearing the last letter from Jamie (Tatar), a man with whom she evidently has been deeply involved and will now greatly miss. Jamie then bounces in on air for his first tune. Which of the two would you want to spend the show watching? The woman who just lost her man or the guy who's met the girl of his dreams? What's more, Jamie's getting some traction on his writing career. As one will make his way in the world; the other will retreat into memories of better times.
Director Degruccio keeps it moving with musical director-pianist David O – last seen as musical director-pianist of A Noise Within's gleeful Ubu Roi – and cellist Sarah O'Brien. The singers and musicians keep the ballads lush and the up-tempo tunes jumping. The two singers excel in different but complementary styles.Cotton has great power, but colors the delivery of each song with the right emotion. She has to start the show on the losing end, but manages to mitigate that by maintaining her strength. The sadness, though it can definitely be felt, never compromises her clarity of character. Tatar, while not as strong a singer,particularly at the top and bottom of the registers, also packs his numbers with personality to burn. His special knack for blues and rock inflection is layered on his charisma. The whole show has that kind of appeal.
Part of the reason this production may seem weightier than the off-Broadway premiere a few years back is simply the theater itself. Crowded in a corner of the Minetta Lane, the New York set's upstage wall felt jammed in. Here, Tom Buderwitz's series of 15 empty frames is hung on a large broken rectangle that is comfortably framed by the proscenium. It tells its own tale of the marriage. Photos of the couple from happier times are shown one by one to illustrate songs. These snapshot memories will survive, Degruccio and Buderwitz allow, even when the big picture of the relationship is in pieces. As time moves along, each character will come to appreciate the good times. For the Pasadena Playhouse, Last Five Years is a good time they'll benefit from immediately.
THE LAST FIVE YEARS
written and composed by JASON ROBERT BROWN
musical direction, additional arrangements by DAVID O
choreography by LEE MARTINO
directed by NICK DEGRUCCIO
PASADENA PLAYHOUSE
June 30 through August 6, 2006
CAST Misty Cotton, Daniel Tatar; and David O, piano, and Sarah O'Brien, cello
PRODUCTION Tom Buderwitz, set; Jean-Pierre Dorleac, costumes; Steven Young, lights; Frederick W. Boot, sound
---
Daniel Tatar, Misty Cotton
Craig Schwartz
O
Peak experience
O
The Pyrenees that give David Greig's play its title and backdrop, while not the highest mountains in Europe, provide plenty of height from which to fall. And missteps that lead to falls, whether from a mountain peak or from a marriage vow, are what Mr.Greig has in his viewfinder here. Unfortunately, the view is blurred with enough ambiguities, intentional and/or inadvertent, to cloud the mystery with mystery.
We're lost in the mountains with a two-sided map that ultimately may not be of any use. Under Neel Keller's careful pacing, which sometimes treads too slowly, this American premiere by the author of The Cosmonaut's Last Message to the Woman He Once Loved in the Former Soviet Union, remains intriguing, however, thanks to a quartet of actors who give the drift real mooring.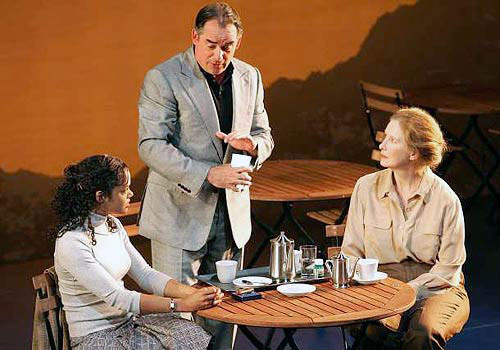 A middle-aged man (Tom Irwin) has fallen from a precipice and landed without identification or memory. He does have a briefcase full of money, however. As the play begins, Anna (Tessa Thompson), a young British Embassy official dispatched to help him regain his bearings, is questioning him. His speech has been enough to signal the British in nearby Marseilles that he is one of them. This is the second time this year that we have had the curtain rise on a principal character who does not know who they are. In Lee Blessing's wonderful A Body of Water at the Old Globe there were two, and neither knew themselves or the other. In that case, there was one person with memory and two without. Even though the person who knew herself changed her story occasionally, a sense of what was real did emerge by play's end. Here, there are three people with memory, and their motives and roles in the confused man's life are undercut by one another and themselves. There is even a hint of an otherworldly presence, hidden in one character's illness.
In a provocative Mark Wendland letterbox design that recalls Maxfield Parrish composition, we are set on the terrace of a hotel overlooking the Pyrenees. Something about Anna is odd. She speaks as if she's conducted similar interviews before, but her familiarity with equipment and protocol indicates she has not.Also odd is Anna's willingness to cross the diplomatic line with the older man, who is understandably smitten.
There are two other people at the hotel, the proprietor (Jan Triska), an infuriating passive-aggressive, and a mysterious middle-aged woman named Vivienne (Frances Conroy). Vivienne and the man are able to see beyond the proprietor's quirky, hostile or helpful intrusions. Audience members, like Anna, will be less successful. Triska is as over the top as Conroy is steady. It's a nice teeter-totter balance that helps shifts the mood beyond the central man and Anna. But how the older folks ever embraced him to understand his habits is another mystery.
This all sets the stage for the series of revelations that are counter-balanced by uncertainty over the people making the disclosure or the information itself. Mysteries abound and viewers can stitch together alternate maps to the heart of the matter. Ultimately, Greig says, we can not escape who we are. The man has probably faked his death and, to stay anonymous, headed off with nothing more than a suitcase full of money and no identification. His plan was to appear to have drowned at sea and leave not trace of a body. But despite literally losing his mind, the past followed him. In the final analysis, there feels to have been too much moving the goal posts for a clear sense of the finish line. However, with such a fine cast as this to give these people solid footing on such slippery slopes, it as a beautiful theatrical landscape as its dramatic namesake.
PYRENEES
by DAVID GRIEG
directed by NEEL KELLER
KIRK DOUGLAS THEATRE
July 2 through 30, 2006
CAST Frances Conroy, Tom Irwin, Tessa Thompson, Jan Triska
PRODUCTION Mark Wendland, set; Allison Leach, costumes; Geoff Korf, lights; Robbin E. Broad and Michael Hooker, sound
---
Tessa Thompson, Tom Irwin, Frances Conroy
O
Wendy's world
O
Six months after Wendy Wasserstein's death at 55, the Old Globe Theatre has given her 1991 The Sisters Rosensweig a production that is a warm reminder of her contributions. Now, her book closed, assessments can weigh her work for its social significance, its artistic strength, and its entertainment value. In San Diego, underthe direction of David Warren, we feel the solid structure, glimpse its political ambitions, and are completely caught up in its humor and heart.
The play's four women (three sisters and one's daughter), able to unyoke from historic subservient roles, aren't any happier for it in Wasserstein's world. In fact, they haven't moved very far beyond The Constant Wife, Somerset Maugham's social comedy set 70 years earlier and staged several months earlier at the Globe. As far as the Jewish question of concern to Rosensweigs and Wassersteins the world over, its specifics do not break it from the universal message for any immigrant, minority or family group that we are strongest when we remain true to who we are. Because Warren lets the story play without heavy underscoring of points to be made, The Sisters Rosensweig emerges as a fairly old-fashioned, big-hearted, eight-character comedy about love and loss and how balancing that equation gets harder as years advance. And, for the coup de grace, she's created a scene stealing, crowd-pleasing character that Noel Coward could not have written any better.
Like Constant Wife, Rosensweig has a large, single set that is the high-ceilinged sitting room of a wealthy home in London. This one is owned and operated by Sara Goode (Janet Zarish), the bright and independent single mother of a bright and independent coed, Tess (Stephanie Nava), about to bolt the nest for a Balkan war zone with her boyfriend (Mark J. Sullivan). A successful Hong Kong banker (as evidenced by the rich but impersonal decor), Sara will cross the threshold into her 55th year during the play's two-day time frame. To celebrate the event are her two sisters, the bright, independent and globetrotting travel writer Pfeni (Deirdre Lovejoy) and the married, mother-of-four sister Gorgeous (Jackie Hoffman).
Gorgeous, while embracing her family ties, is still bright and independent enough to have her own talk radio show back in Boston. Also along is Pfeni's theater director boyfriend. Jeffrey (Tom Nelis),and his friend Merv (Mark Blum), a Jewish furrier from New York in London for business and visits with the old friend whose shows he helps costume. Everybody's got somebody to love, except Merv, whose wife died a few years earlier. Sara's choice, however, is the arrogant, distant and possibly anti-Semitic Nick (Marty Lodge). Merv makes his move to the Goode when he senses the man Sara has chosen is not "emotionally available," while making herself unavailable to her own Jewish heritage. Mervmoves to reconnect her with her roots as he moves to connect himself with her.
The performers are all excellent, with Nelis milking the bisexual Jeffrey for all he's worth on both sides of the bed. As Gorgeous, Hoffman is more of a question. Her voice and delivery are instantly winning, but they don't vary from situation to situation. This adds to the odd sense that the sisters – when they finally get a scene alone near the end of the play – resort to schtick. Eventually, that is dropped for the kind of heart to heart you'd expect from them in private. It's a minor defect in a script that in the final analysis is more mid-Century than end-of-the-century. And, when it provides the satisfaction it does, who's to kvetch.
'Seinfeld' fanatic tip: Zarish is the woman at the rental car counter who gets Jerry's explanation of the difference between "taking" a reservation, and "holding" a reservation. [ WATCH]
THE SISTERS ROSENSWEIG
by WENDY WASSERSTEIN
directed by DAVID WARREN
THE OLD GLOBE
through August 20, 2006
CAST Mark Blum, Jackie Hoffman, Marty Lodge, Deirdre Lovejoy, Stephanie Nava, Tom Nelis, Mark J.Sullivan, Janet Zarish
PRODUCTION Alexander Dodge, set; David Woolard, costumes; Jeff Croiter, lights;Paul Peterson, sound; Cris O'Bryon, music arrangements and vocal direction
---
Deirdre Lovejoy, Janet Zarish, Jackie Hoffman
Craig Schwartz