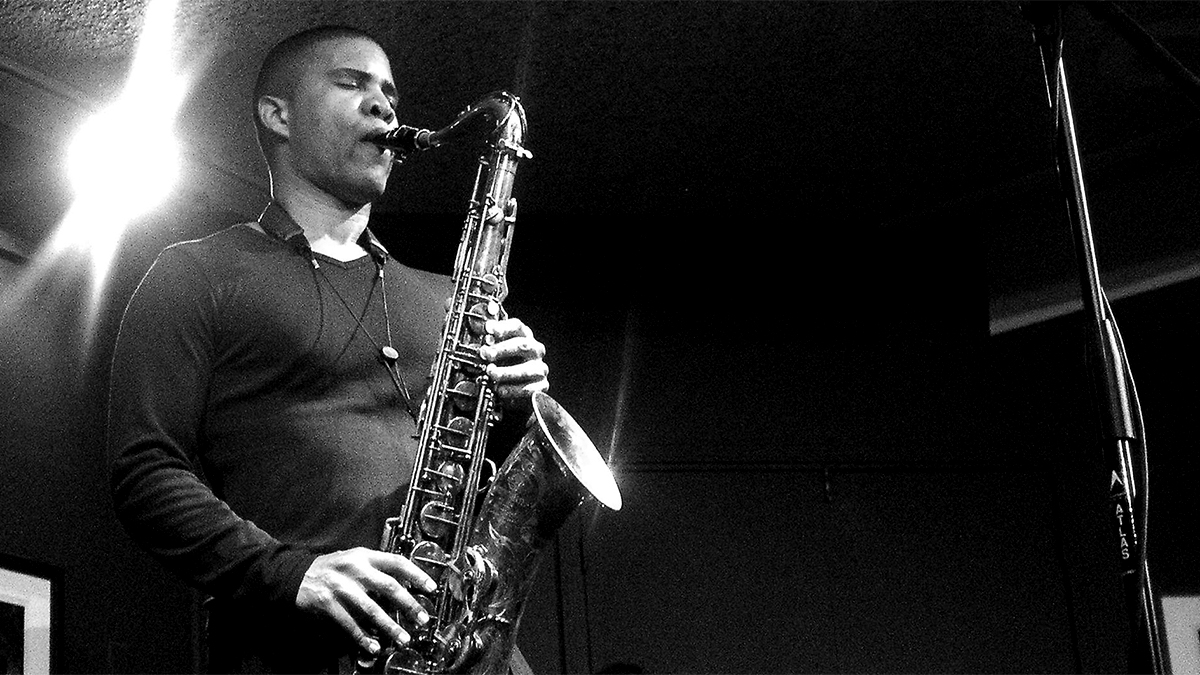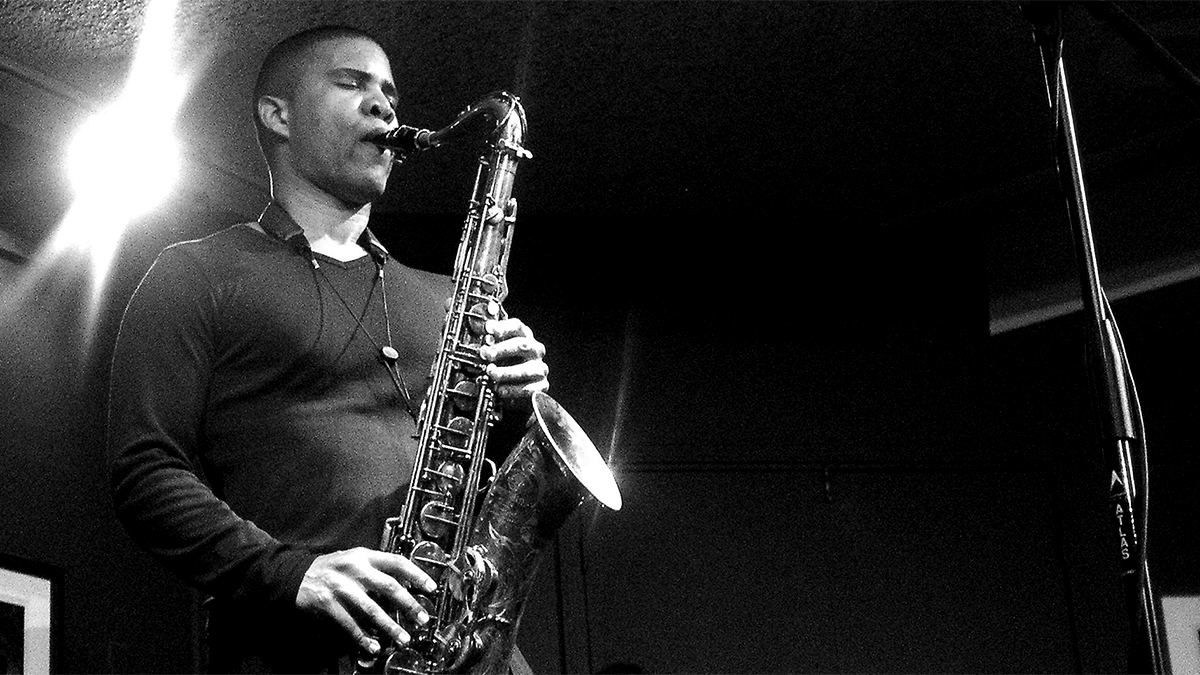 INTERMISSION | 15 minutes with …
David Sanchez
A Cuban musical summit connects the saxophonist with Stefon Harris and SFJazz.
Puerto Rican-born David Sanchez was a veteran jazz saxophonist with 20 years in the business and an impressive discography of his own recordings and session work when he was invited to a Havana studio to join vibraphonist Stefon Harris and trumpeter Christian Scott in a collaboration with Cuban artists.
Excited about a project with those two great band leaders, he signed on and the CD Ninety Miles was the result. That well-received 2010 release spurred a follow-up tour. But the chemistry just kept evolving, and Harris and Sanchez wanted to follow it. Scott had obligations to support a solo effort, and so with luck they landed trumpet great Nicholas Payton as the third headliner and launched a 2012-13 tour.
Months before the 'Ninety Miles' show would come to Orange County in January 2013, Sanchez spoke with Theatertimes' Cristofer Gross for an article on the band. They spoke by phone, with Sanchez again heading in the directions of Havana – driving from his Atlanta home to the Orlando residence of his parents.
CRISTOFER GROSS: The New York Times' Ben Ratliff wrote that, "When a lot of jazz's younger saxophonists are backing away from the music's old requirement of a strong tone, Mr. Sánchez maintains one of the strongest; it's broad and dark . . ." Is tone something as important as he says?
DAVID SANCHEZ: Well, generally speaking, I try not to focus too much on the opinion of the critic. I try to focus on where I'm coming from as an artist and as a person. I think that's the best way for me.
That said, I feel that tone is very important. It always has been. Our tone is our voice, just like a singer's. When I go back to the artists that I have always loved and who have influenced me in one way or the other – all have great tones. From Dexter Gordon to Lester Young, Joe Henderson, Coltrane, Sonny Rollins, Charlie Parker . . . and Miles Davis. It doesn't have to be my instrument.
So tone is very important. It's like in speech, where the first thing people hear is the voice, and after they tune in to the voice, then they hear the message.
GROSS: You played with Dizzy Gillespie in 1990. He is given a lot of credit for connecting Cuban and American musicians and developing Afro-Cuban music. Does he still have relevance for this musical dialogue that 90 Miles continues?
SANCHEZ: That's a pretty interesting question. I think it's inevitable. I mean the blueprint of what they did was so strong, and their courage in actually doing it. You have to have the vision to be able to do that. Dizzy could have just stayed comfortable – he had no connection with Mario Bauza or Chano Pozo until later. But he felt this obligation to do something with Afro-Cuban music.
Knowing he did something like that, I think, was his biggest influence on me. The bigger message is to have the vision to look ahead and to look at all the cultures. That's the beautiful thing about jazz. I mean to understand we have that platform that can generate so many other things. You have music of Brazil. You could have music from the Middle Eastern and European countries. You could have music from Argentina, or from wherever it might be. The bottom line is to have the view, the vision that he had. That's something that is a truly important.
It's not like he was going to change the way he played. He found the way to meld them into whatever he was doing and something new would come out of that merge. That is really critical. Then there is also his direct influence, which is in our DNA. Jazz musicians say, I don't play like Charlie Parker or Louis Armstrong. But I think those influences are so strong that even when you're playing your solos it's inevitable. Those people are there: They're in the DNA.
GROSS: Anything specific about being with him on the stand or backstage?
SANCHEZ: Yeah, well, for me, the biggest example he had was in sharing. It's just the way he was. He would sit at the piano a lot and explain a chord thing, how they would see the chord back in those days. Phrasing was one of the biggest lessons that he gave. He talked about how Charlie Parker actually came with this whole new configuration, this whole new code of a way of phrasing, and he was talking about how important it was, rhythmically to Bebop. Harmony and melody were very strong, but rhythmically it was a whole different thing and I do remember clearly him talking about that and talking about stories back in the day. I learned so much from him. He's incredible.
GROSS: Going through your excellent CDs I'm reminded of the conversation with Rollins about the storytelling, the narrative, through soloing.
SANCHEZ: Oh yeah, yeah. I think it's really important to have the narrative and the climax that you're developing. It's like a story so it's important that you focus so you don't lose the line of the story, just as in a movie, a novel, a painting, or any piece of music. When is the moment in the story that we lay back and make it pop, and create the space that will create this whole energy? That's really important: the most beautiful part of our improvisation. It happens in a fraction of a second, so we have to be very focused. And, because it comes from within we really have to be attuned with ourselves to be able to effective enough to catch those little things. Otherwise, we could lose the story.
Sonny Rollins, he's another one. You go back to all his solos. His construction is incredible. People out there don't realize what improvisation is and they think that he's just making it up and no organization. It isn't that at all. It requires a lot and it's truly beautiful. It's alive.
GROSS: How did you get involved with 90 Miles? Were you in on the development?
SANCHEZ. At the very beginning it was an idea that came from the record company, to do a project with Stefon Harris and Christian Scott. I was completely excited about this. I thought Oh wow, finally I'm going to be able to do something with Stefon, because we go way back and we never did anything together. I was also excited about being with Christian because he's like a younger artist, and a whole DIFFERENT path in music.
It was later that they said, By the way, it's going to be in Cuba. And, the Cuban part was great but it could have been anything. I was just excited that I was doing a project with Stefon and Christian. I had done the Crisol recording with Roy Hargrove, Chucho Valdes [watch video, Horacio "El Negro" Hernandez, a great master drummer from Cuba, and Angá Diaz, another key figures on congas. We did that back in the '90s. So, I was more excited about having the chance to work with these two artists who happened to be on my same label. The Cuba part was just the icing on the cake.
And it was a different idea, by the way, because these were actually younger basically upcoming Cuban musicians. The only guy I knew before going into the studio was Harold López-Nussa, a brilliant young Cuban pianist who had been working with Omara Portuondo and Orlando Valle Maraca, a great flutist from Cuba.
We just initially got together in the afternoon, sat down, went over what the material we had for the recording to create shape to this record, how the textures really mix with the other ones. I would say that was my main role. I had to go back and shape for what we already have. And the rest was collectively, especially with Stefon, Christian and I, and Harold and Rember Duharte, the other pianist. Very interesting, that guy, with a very interesting way of writing: very roots. It sounded like Africa or something that was very powerful, too. But it was fun.
Once we were there, we came to the realization that some of these guys were pretty young. So we brought a little leadership to the recording. That was my main role.
GROSS: Moving from the studio out onto the road. Have the original musicians been able to play with you in any countries on the road?
SANCHEZ. No man. We were going to do it in France and something happened . . . I mean it's amazing how sometimes politics and policies could ruin so many human relations. You know? Things are much more simple than we have set them to be. And that's the beauty of music, that quality in general. It really reminds us constantly that our differences are pretty much non-existent. I mean like you have a different appetite than mine, but we both are the same. We both get sad. We both get happy. We both fall in love. It's exactly the same except for the stupidity that sometimes systems, the barriers, the frontiers that systems create between human beings. It's unfortunate because seeing something as simple as this became so hard. They charge extra for everything that comes out of there, and then the visa, and then to deny the visa then you not only without the visa, the money too but you are already impoverished and then they deny them. So we made a decision that for the sake of the tours we would have plan B and we would have people from the United States and not have to deal with visas.
GROSS. And the other big change is adding Nicholas Payton. Has he joined with the idea of keeping strictly to the 90 Miles blueprint you established in the studio? Or has it just become what it is?
SANCHEZ. No, no, no. That was the whole objective. One of the recording cycles, basically and then the album itself. We always agreed – are we going to keep this going or are just going to keep it as a record, one-time thing that's it. And we all thought that it would be really interesting to hopefully go on. The subject, you know, doesn't have to be Cuba. Now it's going to be really anything that we want. It could be another place in the Americas, or perhaps nothing it could just be a group that started with this recording project and to see how far it takes us. And that would be the group which gives us a lot of freedom because all these guys are completely bi-lingual. When we were doing the recording we were bilingual, but some of the other players were talking in their code and then we adjusted to that. Here, it's not like that anymore. Here we're all like completely bi-lingual people. Meaning they could go this world, to the other world, they could go to the jazz world very easily. Latin America, they have a broad understanding and what brings us is a lot of freedom to go any place it's like a passport and you have all of a sudden to go these places. And that's what we said with bringing Nicholas forget about it. Not only is there his experience his group all these years in his career he's done a little bit of everything, literally. So it's huge for us because it's like wow. Now we have Nicolas with all his experience, Stefon, Ed, which brings all his experience working with all these great jazz artists and doing the project trio that he does himself, and bringing a ?? own perspective, so ??? the American in Venezuela.
Wow. That alone makes it incredible interesting now that we have this group. We're just starting now. The journey actually has began and our projection is to make another record but instead of the umbrella, the recording idea, what we're going to do like that, now we're going to go forward with our own perspective and I can't wait, I'm really looking forward to that.
GROSS. So is the septet going to record something with another name?
SANCHEZ. I think we'll still call it 90 Miles, but the question of will the Cuban thing be the subject, no it will be like a link. It's like food. You know? We need the food in our bodies, but you get vitamins and it becomes blood, so it's part of you. So the Cuban part is in the blood right now, but it's not the food.
GROSS. So, if you did a recording that came out in 2013 after the tour, would the band be 90 Miles?
SANCHEZ. That's a really tricky question. I'm not sure. We were discussing changing the name. But we already made a little bit of noise out there and then people kind of identify the name with us. If we change it, then we have to start again explaining what it is again. No this is already defined. I think our challenge is going to be more communicating that it's not only about Cuba, now it's going to be that and some more. I think we're going to keep the name. And why start all over again. So we're going to keep it.
GROSS. It makes sense to keep it 90 Miles, especially when you each have other groups you're part of already. And, you're now part of SFJAZZ Collective. It's a Chick Corea year. Have you started?
SANCHEZ. Yes, yes. That's the next subject. That's been decided. That's focus of the next project.
GROSS. So do you have your tune yet?
SANCHEZ. Yes. I'm going to do Crystal Silence, it's a beautiful thing. It's so calm, maybe not that well known or popular piece but I just love it, when ever he plays the recording, I always loved the pace of that song. It's so peaceful . . . I love the song. I love the song. The version with Gary I love it, and the original one with RTF. It's a beautiful piece.
I discovered, and this thing, by the way is crazy. All of a sudden I'm like Stefon and I have known each for years not doing anything together and now we're doing all these things.
GROSS. And Zenon you played with and Ed Simon.
SANCHEZ. Exactly. Actually when Miguel first started in New York he was with my band and we had a little sound. A little bit before Miguel joined my band, Chick actually told me about creating a sound. Not only as an artist but also a group sound. And it's amazing he started that with Miguel and I'm really pleased to say that whatever it is that we started working in those years – 2000, 2001, 2002 almost to 2004 – it created something that continues and that, you know what, that's what it's all about. Creating a little community and then the little family gets bigger and bigger and bigger and we're all connected and it's a beautiful thing.
SFJAZZ came to me out of the blue. I thought it wasn't going to work out because it's been crazy busy with 90 Miles, my own band, and this special project I have with Kenny Werner – which is really exciting. Then they told me about the moving the schedule forward because of the inauguration of SFJAZZ's new building in San Francisco. So they've moved everything up to 2012-13, and that's the only reason I can do it. Usually they pretty much start in February with the rehearsals and begin performing in April, but this year it's starting in October.
---
VIDEOS
---
Don't Stop till you Get Enough

For its 2015-16 tour, SFJAZZ Collective, with David Sanchez on tenor saxophone, honored the music of Michael Jackson. Here is their arrangement of WATCH.
---
VITALS
---
The Puerto Rico-born Sánchez has being hailed as "the most profound young tenor saxophonist working today." World-renown jazz critic Howard Reich saluted the young bandleader saying, "Technically, tonally and creatively, he seems to have it all. His sound is never less than plush, his pitch is unerring, and his rapid-fire playing is ravishing in its combination of speed, accuracy and utter evenness of tone." Such is the acclaim and respect that Grammy Award-winning Sánchez has engendered from critics, music lovers and fellow artists throughout the world as he continues to push the frontiers of mainstream jazz to incorporate a compelling and rich array of Latin and Afro-Caribbean influences, while remaining true to the tenets of the jazz genre.