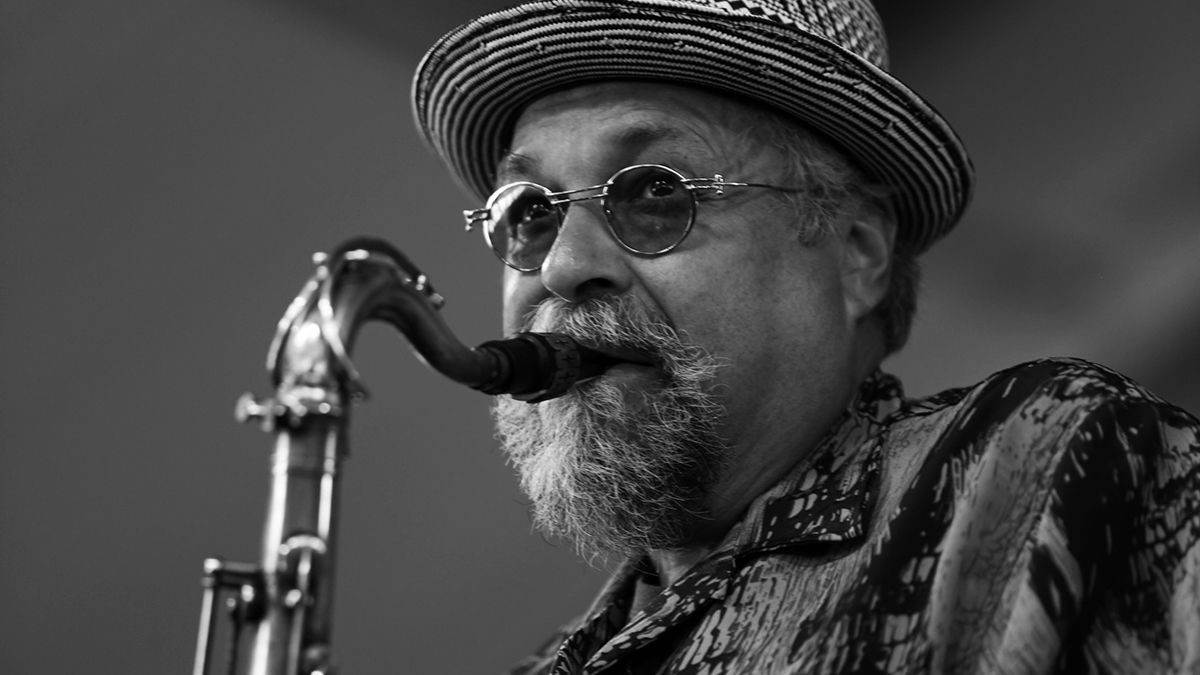 VIDEO
VITALS
Joe Lovano was born in Cleveland, Ohio, on December 29, 1952, to Sicilian-American parents. His father, tenorman Tony "Big T" Lovano, taught him all the standards, how to lead a gig, pace a set, and be versatile enough to always find work. Joe started on alto at age six and switched to tenor five years later. John Coltrane, Dizzy Gillespie, and Sonny Stitt were among his earlier influences. After graduating from Euclid High School in 1971, he developed further at Berklee College of Music, where he studied under Herb Pomeroy and Gary Burton.
After Berklee he worked with Jack McDuff and Dr. Lonnie Smith. After three years with Woody Herman's orchestra, Lovano moved to New York and began playing regularly with Mel Lewis's Big Band. This influence is still present in his solos. He often plays lines that convey the rhythmic drive and punch of an entire horn section.
In the early 1980s Lovano began working in John Scofield's quartet and a bass-less trio with Paul Motian and Bill Frisell. Steeped in the tradition of Ornette Coleman, Motian's recordings show off Lovano's avant-garde abilities. In 1993, at the suggestion of musicologist Gunther Schuller, fellow Clevelander and bebop guitarist Bill DeArango recorded the album Anything Went with Lovano.
Lovano's Quartets: Live at the Village Vanguard, garnered a Down Beat "Jazz Album of the Year" award. Other releases include Trio Fascination and 52nd Street Themes. In the late 1990s, he formed the Saxophone Summit with Dave Liebman and Michael Brecker (later replaced by Ravi Coltrane). Lovano played the tenor saxophone on the 2007 McCoy Tyner album Quartet. In 2006 Lovano released Streams of Expression, a tribute to cool jazz and free jazz. He did this with the help of Gunther Schuller, who contributed his "Birth of the Cool Suite." Lovano and pianist Hank Jones released an album together in June 2007, entitled Kids.
In 2008 Lovano formed the quintet Us Five with rising star Esperanza Spalding on bass, pianist James Weidman formerly associated with Abbey Lincoln and the M-Base collective, and the two drummers Francisco Mela and Otis Brown III. Their initial album Folk Art was the first to comprise exclusively originals by Lovano, that the band was meant to interpret with intense interaction in the spirit of the avantgarde of the 1960s and the successive loft scene.[4] Although the follow-up was not approached as such (according to Lovano), Bird Songs (2011) was a tribute to Charlie Parker.[5] On Cross Culture, the third subsequent album by Us Five, released in 2013 on Blue Note, the quintet was augmented by West African guitarist Lionel Loueke. Lovano saw the occasion to play a variety of reed and percussion instruments he had been colleting since the late 1970s. "Ubergirl bassist"[6] Spalding is replaced by Peter Slavov for six of the tracks, that were again all written by Lovano, with the exception of Billy Strayhorn's "Star Crossed Lovers". "The idea [...] wasn't just to play at the same time, but to collectively create music within the music," Lovano wrote in the liner notes to Cross Culture. "Everyone is leading and following," and "the double drummer configuration adds this other element of creativity."
SIDE NOTES
AN AUDIENCE WITH DEXTER
Another thing about generations is, [after] you're in folks' audiences for years, all of a sudden they're in yours, and that does something to you. Shortly after I got the gig with Woody we played a festival in Germany and Dexter Gordon's quartet opened for us. Afterwards there was a jam session, and I go up to play and see Dexter sitting right in front. And, man it made me really focus and play with a clarity because I wanted him to . . . you know, I didn't want to chase him out of the room.
The next morning I saw him and he kind of waved his finger at me, like, 'Yeah, oh, yeah, I heard you.' He acknowledged that he was there. And I was 23 or something at the time and it was an amazing realization. It gave me the confidence to try and develop always into tomorrow. That's what it did for me.