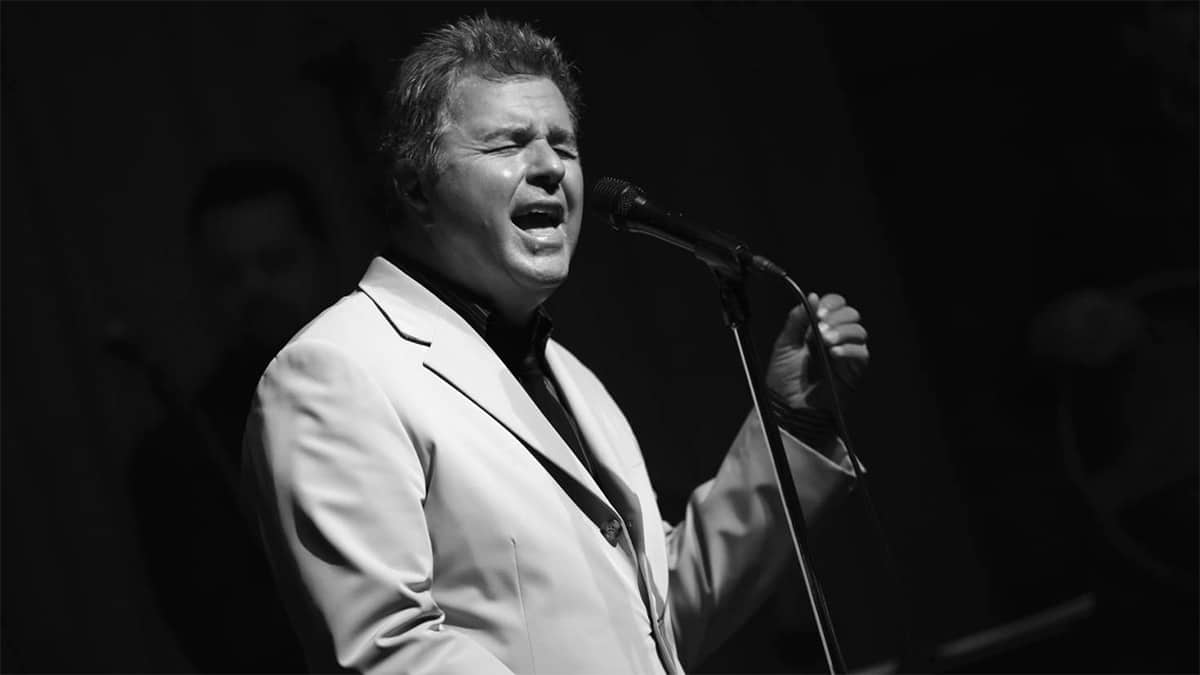 INTERMISSION | 15 minutes with …
Steve Tyrell
'The Good Life': Whether composing hits for others or singing standards, it's an 'artist's life' for him.
Born Stephen Louis Bilao III in Texas on December 19, 1944, and fronting a hit-making r&b outfit at 15, Steve Tyrell would forsake the 'artist's life' by the time he was 20, and spend decades making music behind the scenes with other singers and songwriters. Among them were the great songwriting teams of Ashford and Simpson, Goffin and King, Weil and Mann, and Bacharach and David.
Then, through a Hollywood backdoor he was in the business of opening for others, he slipped in on his first recorded standard and became the 'standards-bearer' for a new generation of devotees of the Great American Songbook. His is a story that brings together some of the biggest names in film, television, rock'n'roll and American popular music from the last 40 years. Featured prominently is a Disney film called Father of the Bridey and its star, Steve Martin.
In September 2011, Cristofer Gross was assigned a profile of Tyrell for the Segerstrom Center for the Arts' December 2011 program, in advance of his six Cabaret concerts in The Center's Samueli Theatre, January 5-8, 2012. [more info]
Tyrell took the receiver from one of the children in the Houston home he now shares with Karen Pulaski, whom he married on Christmas Day 2010. His speaking voice is as marketable as his singing voice. An easy drawl sounds surprisingly country for the man New York's Cafe Carlyle asked to follow the late Dean of Cabaret, Bobby Short. Cheerful and ready with a laugh, it's a voice that recalls another major musical figure from Texas, singer-songwriter Roger Miller.
CRISTOFER GROSS: Let's begin at the beginning, when you were a singer in and around your hometown of Houston at 15.
STEVE TYRELL: Well, I made my first record when I was 15.
GROSS: So you were playing before that.
TYRELL: Maybe a year or two. Within the first couple years I got a record deal. [Laughs.] And the record was a hit, too, man.
GROSS: Does it still get played on Texas oldies stations?
TYRELL: Sometimes. It was a song called "Payday Someday," and it was a Shirelles-y kind of a tune, like the Drifters or the Shirelles with strings. But it was cool, man. It had the sound of that time. I was very heavily influenced by Rhythm & Blues and traditional r&b artists – from Jimmy Reed to Bobby Blue Bland to Ray Charles. But then there was another kind of Rhythm & Blues that I started hearing when I was about that age that really knocked me out. They were doing it in New York, mainly, and it was kind of r&b with strings, like "Stand By Me." And that became what I wanted to do. In Texas, all our Rhythm & Blues tracks were more rootsy, New Orleans sounding. That influenced that first record.
GROSS: Why the name Tyrell? What was wrong with Bilao?
TYRELL: No one could pronounce it, mainly. And it was at a time when I made my first record where nobody used their Italian names – Tony Bennett, Dion, Bobby Darin, Bobby Rydell, . . .
GROSS: Well, it's served you well.
TYRELL: Shortly after that, I moved to New York after being hired by Scepter Records, which was a Rhythm & Blues label. When I started at Scepter I wanted to be more behind the scenes, working with those great arrangers that were on staff. So I quit being an artist.
GROSS: Why was that?
TYRELL: An artist was a different thing. You had to go on the road, by bus in those days. It was much more appealing to work for a record company and make music every day.
GROSS: Well, you could probably learn a lot with the pros at Scepter than being on the road with only your own band, your repertoire, your experience, your audience . . .
TYRELL: Yes exactly. It's just you. And I didn't even know what keys were.
GROSS: [Laughs]
TYRELL: No, honestly. All those songs were high. I'm a baritone and I found out years later when I started singing standards why I used to get hoarse all the time. We would learn the songs in the keys that they were written. We didn't know about transposing when I got started. And I was always singing [shifts to a falsetto] way up here. And at the end of the night I couldn't talk. And I remember I used to say, "Man, I don't know if I'll be able to take a gig next Saturday."
GROSS: Were you a good student? Were you ready to get out of school? It sounds like you got a ticket out pretty quick.
TYRELL: I was an okay student. I was more interested in music and sports, though. I didn't go to college. I went straight from high school to New York.
GROSS: Well, New York's an amazing education in itself.
TYRELL: I say I went to Bacharach University. It was a wonderful time. The Brill Building was going on, and the first record I ever produced after moving to New York was by Carole King and Gerry Goffin. Carole did the arrangement. So I was working with Goffin and King, and in the next room were Valerie Simpson and Nick Ashford, two young writers starting out who had just been signed to our label. They were friends of mine all these years.
And of course my biggest influence in terms of how to make music was from Burt Bacharach and Hal David because they were working with us. They were producing Dionne Warwick's stuff, and I was a kid on the team and I just fell right in with them. I would always tell them what I thought about everything and they listened to me. You always listen to the kid, especially if he's right a few times. And so I just kind of worked for them for 10 years and took that whole ride, bringing B.J. Thomas up from Houston. [Thomas would record "Hooked on a Feeling," and the Academy Award-winning theme to Butch Cassidy and the Sundance Kid, Bacharach and David's "Raindrops Keep Falling on my Head."]
While there, I signed Ronnie Milsap. We signed the Guess Who, and had the Kingsmen, who did "Louie Louie." The Isley Brothers and their "Twist and Shout" was on our label. So it was a nice place to learn. And then Cynthia Weil and Barry Mann became my friends and we moved to California about the same time. Barry and I started our own little company, writing and producing songs for films and television shows, and worked together for 30 years. We did that song "Somewhere Out There" from American Tail, which won "Song of the Year." We worked on lots of TV shows: "WKRP in Cincinnati," "The Famous Teddy Z," and "Beverly Hills 90210" in the '90s.
GROSS: Was your first movie song for The Client?
TYRELL: No. There were many before that. I would write something and make a demo of it and people would listen to my voice and say "Hey man, why don't we just use that?" I sang some TV themes. I sang on Mystic Pizza. There was a show I did that was great, called "Frank's Place." It was an Emmy-winning show by Hugh Wilson, and I sang that theme and the theme to his next show, which was "Teddy Z."
OUT FROM BEHIND THE SCENES . . .
GROSS: The Father of the Bride came out in 1991, but your first album didn't come out until 1999?
TYRELL: Right because I had no intention of making an album. After I did Father of the Bride Disney forwarded all kinds of letters to me from people who wanted more of my music. But I had not made an album and I had no intention of making an album, especially one of standards. The song for the movie was the first standard I'd ever sung in my life. And then we did the second Father of the Bride movie in which I sang "The Simple Life" and "On The Sunny Side of the Street," and Ahmet Ertegun's co-chairman at Atlantic Records, Val Azoli, saw it and called to tell me that his wife flipped out over me. She made him go to the Virgin Megastore on the way home and buy the soundtrack album. He told me, "Man you should make an album of this stuff." And I said Steve Martin's been telling me that since the first movie. Val said he'd played the stuff for Ahmet and he agreed that if I wanted to make an album Atlantic would give me a deal. So I made the album A New Standard kind of on a whim and it sold, I don't know, 400,000 or something.
GROSS: And 50 of them to Steve Martin . . .
TYRELL: He was the most encouraging. He always said I should make an album of this stuff and I remember telling him "Who the hell would buy it?" And he did, "I would," which is exactly what he said. I didn't pay much attention to it. I mean the big trend at the time was grunge music from Seattle . . .
GROSS: Yeah this was before the whole Great American Songbook resurgence.
TYRELL: Yeah, and I really feel like a big influence on the whole thing happening, I'll be honest with you. Because when I made this album nobody was doing it, and it came out and all of sudden Rod Stewart starts coming to my concerts and we became friends. He and his producer asked if I would help them and they ended up using my studio to do his first two albums of standards. Then for the third album Clive Davis called me and asked if I would produce it because he said they needed a fresh . . . something, I don't know. I had just been on the sidelines and I made that album and it was Rod's first number one album in 25 years and everybody said it was by far the best of his standards albums and it won him his only Grammy and me one too.
GROSS: He didn't win a Grammy in the old days?
TYRELL: No. Never. The only Grammy he has is for the album I produced. And then David Foster called me to ask about my album because he and his wife started playing it. And then Paul Anka brought in this young kid from Canada that he thought could make a standards album, and that was Michael Buble. But all that was after me. And then Foster made that album.
Diana Krall was doing it before me. But she's a great jazz singer. But I think my first and second album opened people's eyes as to how to do this music and I'm grateful for that. And I'm still doing that.
GROSS: And you recorded a Steve Martin song?
TYRELL: I did, yeah. He wrote a song and he asked me to do it for him and I made a version. It's a really good song. He put it on his recent banjo album, with the Dixie Chicks, but he always saw me doing it. I thought about adding it to my next CD, but it's kind of a heart-breaking song and I can't put a heartbreaking song on an album called I'll Take Romance or people will want a divorce before they ever get married. But maybe someday there'll be a project for it.
THE BEST OF BACHARACH
GROSS: Your first wife, Stephanie, died of cancer in 2003, which I know was devastating for you and your three children. One of the things you did in her memory was join with Katie Couric to raise funds with an event called "Make The Evening Matter." Has that continued?
TYRELL: We haven't done anymore after 2009. That was kind of a satellite from the events that Katie Couric and I did earlier in New York. Well actually, she did it, I just helped her. Her husband had also died of cancer, and so she and I became friends and I helped her and we did some events. The main fundraiser for that charity was in New York and we did some amazing things. We did one with Sting, James Taylor, and Tony Bennett. And when Katie was on the Today show we could get anybody. We did really well, raising millions of dollars and then we put a satellite one that I did for the cause in Seattle in 2009.
GROSS: When Stephanie was sick, you were finishing an album that you both had started, and you included some of Bacharach's songs, which you interpreted again on your great Back to Bacharach album a few years later. When I thought of you singing some of David's lyrics during that period, they suddenly seemed overwhelming. There must have been times when you had to stop the tape to collect yourself. Some of those lyrics, like . . .
TYRELL: Yeah. "A House is Not a Home" And "I don't know what to do with myself." And Burt was very good friends with my wife and he played at her memorial. And my wife was fabulous and we had a great relationship and we have three great children.
But, you know, life goes on. It has to. Because everybody around you – your children – count on you to move forward. I remarried last year, and now I have five children with Karen's two and my three, and I am trying to start my life in a different way – to put my brain, my head in a different place.
GROSS: Yeah, keep looking forward. There's sort of a metaphor there for the way the standards that lost mass appeal are back again, and in a way stronger than ever.
TYRELL: They're just the greatest songs ever written. I don't care what anybody says. And I think those songs are America's greatest contribution to the arts. They never get old. They allow every artist in any era and in any genre to put their personalities into those songs. And they become new again. And it's really amazing. I don't know anything that does that. You can listen to Frank Sinatra sing "Just in Time," or "Witchcraft," or "Under My Skin." And then you can hear someone do a completely different version.
You know it's funny that you mention this because I just got hired last night to produce the guy who's just won "America's Got Talent." Landau Eugene Murphy Jr. is a black kid with dreadlocks who won a million dollars singing Sinatra standards. And he won by a landslide, man. And he's got a record deal with Sony and they called me to produce his album. And so you go all the way from Sinatra, or Bing Crosby or Nat King Cole or Ella Fitzgerald to a kid with dreadlocks on national television in 2011 singing "Fly Me to the Moon." The song he won with was "My Way" [laughs.] So we're going to make an album of standards.
So what I was saying about songs being America's greatest contribution to the arts, is I don't know what else allows you to love 100 versions of the same song. And people don't say that enough, but that's what makes the standards so great. You might love this guy's album that I'm getting ready to make but it doesn't take away from you loving Louis Armstrong's version of that song, you know. Or Nat King Cole's, or anybody's.
GROSS: And then there's a whole other dimension which is that bebop and all those jazzers took the melody and went off into that whole universe.
TYRELL: Yeah, yeah, that's what I'm saying, or in any genre. I mean almost every standard has been played by John Coltrane, and Miles Davis. You know, every good one. And Dizzy Gillespie. And they take the song somewhere else, too.
GROSS: In addition to the Bacharach-David tunes in your repertoire, are there any other tunes from the '60s?
TYRELL: This new album, I'll Take Romance, has some songs like "At Last" from the '60s, and there's a song that's really a stand out on that album called "Talk to Me" from the '60s, which was a Little Willie John song, and then I did a couple of Barry Mann songs on this album, and one David Foster song. So it's got the standards but with those songs mixed in. I did a song of David's that's really good – But when I say they're modern, except for David Foster's song, which is the most modern one. Still, it sounds like an old standard, while Barry's songs were written in the '60s and they sound new.
GROSS: I asked Tierney Sutton about the adaptability of 1970s singer-songwriter tunes to the Great American Songbook field. She said that, in some cases what made the song so great was the production and that if you take the song out of that and it doesn't really lend itself to a person singing with a piano.
TYRELL: They don't have the sophistication – usually – in the chord progressions and stuff that those standards have.
GROSS: So it's as much the composition as the lyric.
TYRELL: Yeah. Well both. It's a beautiful marriage of both. Now Burt Bacharach's stuff is a beautiful marriage of both. But some aren't. I know what she's talking about. You take the arrangement away and you take the song away. The arrangement was part of the song.
LOOKING DOWN THE ROAD…
GROSS: So the next album, I'll Take Romance will be out in 2012?
TYRELL: Yes, and one thing we're going to do is market it to the wedding industry. The whole Father of the Bride connection was really . . . So many people dance to my songs at weddings now. It's unbelievable. President Clinton and Chelsea did. And I was just hired a little while ago to sing at a wedding for Nick Lachey, the guy who used to be with Jessica Simpson. And I was even called for the Kim Kardashian wedding, but I couldn't do it because I was playing a gig the same night down the road. So I got all that going. So, in addition to the regular edition of "I'll Take Romance," hopefully there's going to be a wedding edition of that album where we sell it directly to the wedding stores. Everybody's looking for alternative ways to sell music and that's a real good one. Cause there's no stores, man.
GROSS: And you are going to have an album of live material from your appearances at Cafe Carlyle?
TYRELL: It's done. I put it out as a limited edition, special edition that you could only buy at the Carlyle or on my website or in person. Concord Records is going to release it eventually so anybody can buy it who wants it.
GROSS: How did you feel when you were asked to take over the Café Carlyle Christmas dates after the passing of Bobby Short?
TYRELL: That is the part that Bobby Short never missed, which is very much of an honor. This year I'm doing five weeks, and I'm going to do another two weeks in May, but because I got married I don't want to do eight weeks anymore. But I used to do November and December. And this year I'm doing five weeks and I always close on New Year's Eve. That's something that Bobby Short did for 36 years. He would play sometimes all year long, or sometimes he would play just those holiday dates and maybe in May, or once at some other time of the year. But he never missed the holiday season in 36 years. So now I'm on my seventh year doing it I've done it every year since he passed away.
GROSS: And you feel pretty committed to that legacy.
TYRELL: Yeah, it's quite a legacy, man and I'll probably do it as long as I can. It's like the more years you do it the more committed you are to . . . I'm honored to have taken it, and I've just signed on for two more years so I'll be into it for 10 years at least.
GROSS: You also have a DVD coming out in 2012?
TYRELL: Yeah. I just did a concert in May at the Opera House in Galveston, which is the oldest theater in Texas, and really beautiful, too. They had that flood and they renovated it. And it's a 1500-1700-seat theater and we filmed it. And that's going to be a DVD called Coming Home.
GROSS: Do you still write songs?
TYRELL: I haven't lately but I might start up again. You never know about my own career.
GROSS: Is that something you would like to do, an album of original material?
TYRELL: I'd like to, yeah. One of these days. But I just haven't gotten there. There's so many more things I'd rather do.
---
VITALS
---
It is no surprise that Steve Tyrell has achieved a special place in American music. Since the release of his first album of standards in 1999, he has helped renew interest in the Great American Songbook as he has become one of its most popular interpreters. With eight successful CDs to his credit, and another, I'll Take Romance, coming in 2012, his jazz and cabaret audiences continue to grow.
Stephen Louis Bilao III was born in December 1944 in Houston, Texas. An "okay student" more interested in music and sports, he was fronting a rhythm & blues band by the age of 15, and soon changed his name to Tyrell. They attracted a local record producer and scored a radio hit with "Payday Someday."
His seasoned baritone bubbles with a husky cheerfulness. It's the kind of voice that can turn a woman's head by whispering "I'm in heaven when we're dancing" (from Irving Berlin's "Cheek to Cheek"), or change a man's luck when it confesses "there is nothing for me but to love you" (from "The Way You Look Tonight" by Jerome Kern and Dorothy Fields).
Before he stumbled into spearheading the resurgence of standards singing, he was happy as a successful producer, a role he continues to serve for himself and others such as Rod Stewart (producing the singer's only Grammy Award-winning recording) and Michael Buble. He will soon produce the debut of "America's Got Talent" winner Landau Eugene Murphy Jr.
In December, Tyrell performs his seventh annual holiday show at New York's Café Carlyle, and January 5-8, 2012 he comes to Southern California for six cabaret performances at the Segerstrom Center for the Arts. [tickets]