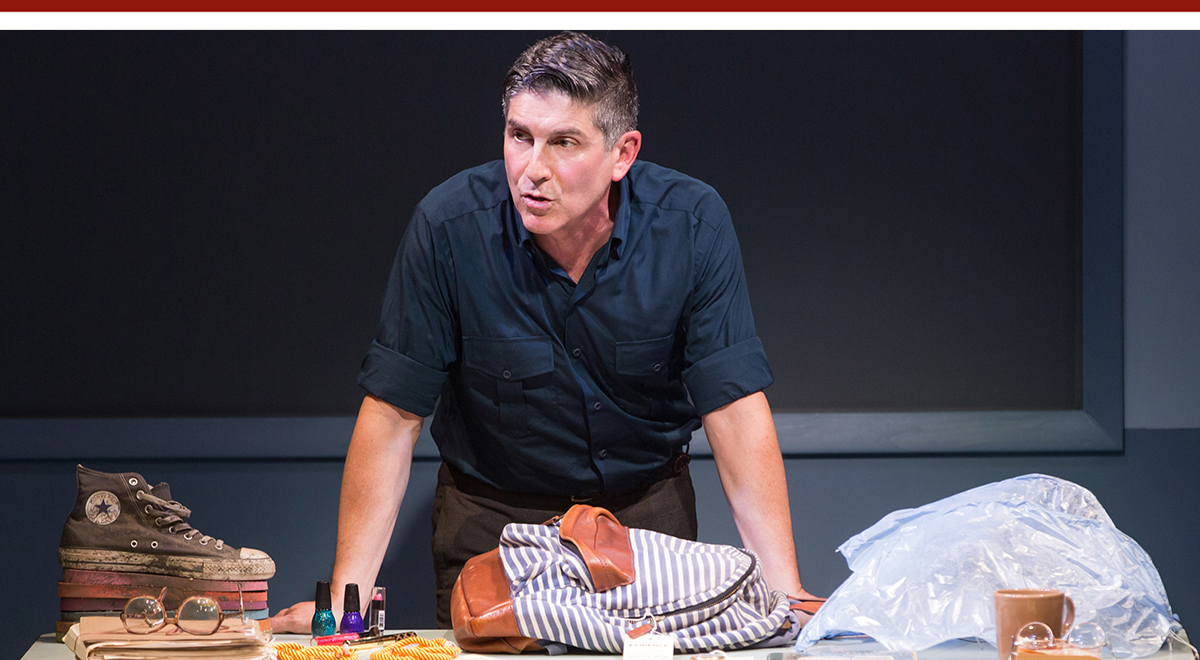 Lights up
Given how much background there is behind James Lecesne's The Absolute Brightness of Leonard Pelkey, it's amazing it's only 75 minutes. In just an hour and a quarter, the guest production now at the Kirk Douglas Theatre (through January 31) is a tribute to individuality, an urgent message of tolerance, and a celebration of theatrical ingenuity.
In the early 1990s, the writer-actor, now 61, was inspired by an NPR feature to write Word of Mouth, an earlier one-person show in which, as he told Teen Vogue in 2012, "I played a number of different characters [including] a 13-year-old boy who, through a series of diary entries, realizes that he's gay. His family and friends ostracize him, and as a result, he tries to commit suicide."
He adapted WOM into Trevor, which won a 1995 Academy Award for Live Action Short and prompted the creation of a national helpline, The Trevor Project, based here in West Hollywood. In 2008, Lecesne turned the story around in his debut novel, Absolute Brightness. Here the teenager is Leonard Pelkey, an openly gay 14-year-old. Though in no danger of taking his life, Leonard is protagonist in absentia as the mystery begins.
Lecesne brought his thematic odyssey full circle by adapting the novel into The Absolute Brightness of Leonard Pelkey. He plays Chuck, the veteran police detective who investigated Leonard's disappearance a decade ago and now narrates the story. Like reciting opening scripture from a pocket Bible, he quotes Shakespeare to set the stage. It's also a way to acknowledge his debt to the missing boy, whom he tracked from his home to the hair salon where he worked, to the drama class where he studied. That trail, which connected many lives he brightened, left a glow like the colorful tail of a short-lived comet, and led to the local lake where it was doused.
Lecesne makes for a believable cop, with a Jersey accent and convincing mug, that give the play a nourish tone against which the contemporary hate crime casts a deeper shadow. An accomplished actor who appeared in Cloud 9 and the 30th Anniversary production of The Boys in the Band at Off-Broadway's Lucille Lortel, I Am My Own Wife at Hartford Stage, and Gore Vidal's The Best Man on Broadway, he brings Ellen, Phoebe, and a half-dozen other men and women to life.
He can't, however, bring back Leonard. "People don't like differences," one character says. "Especially those who are all the same." It's a theatrical alert that, as another character says, "Evil can happen anywhere." And yet, it left the audience with a bittersweet optimism that the day is coming when it won't be necessary – or as necessary. By its reflection, the theater piece helps turn these real world dangers around. A symbolic point of intersection between life's cold brutality and theater's warm acceptance is designer Jo Winiarski's only set piece, an evidence table is also a prop table.
Tony Speciale directs the show to move briskly and yet take time for the dramatic development. The stagecraft that he incorporates includes Matt Richards' varied but unobtrusive light design, Christian Frederickson's sound, music by Duncan Sheik and a projection design by Aaron Rhyne that uses Matthew Sandager's animation and photography.
While the Leonard Pelkey mystery is solved, although the killer's specific motivation is left for us to fill in, a mystery remains as to why the program for a one-man show performed by its creator requires a casting credit.
THE ABSOLUTE BRIGHTNESS OF LEONARD PELKEY
written and performed by JAMES LECESNE
directed by TONY SPECIALE
KIRK DOUGLAS THEATRE
January -31, 2016
(Opened 1/14, Rev'd 1/15)
CAST James Lecesne
PRODUCTION Jo Winiarski, set; Paul Marlow, costumes; Matt Richards, lights; Christian Frederickson, sound; Duncan Sheik, music; Aaron Rhyne, projections; Matthew Sandager, animation/photography; Hannah Woodward, stage management
HISTORY Developed and presented at Dixon Place, New York City. Off-Broadway premiere at Westside Theatre. Produced by Darren Bagert, Daryl Roth, Jane Dubin, Curtis Forsythe, Michael Mayer, Diane Procter, Seaview Productions and Minerva Productions/Joshua Goodman. (Guest production)
---
James Lecesne
Matthew Murphy
Companionship
John Logan's Red, now at South Coast Repertory (through February 21) is a paean to Mark Rothko, the abstract expressionist whose 1970 suicide came the same day a group of his paintings, commissioned a decade earlier for a tony Manhattan restaurant, arrived at London's Tate Museum. He left no note, but the timing spoke volumes about the depth of both defiance and resignation that had driven him to withdraw the art and return the money.
The intermission-less, 90-minute play takes place in 1958 and '59, the years in which Rothko created about 30 paintings from which he planned to choose a dozen for the Seagram Building's future Four Seasons restaurant. It begins with a new assistant's arrival and ends with his dismissal on the day Rothko telephones the restaurant's architect to cancel the commission.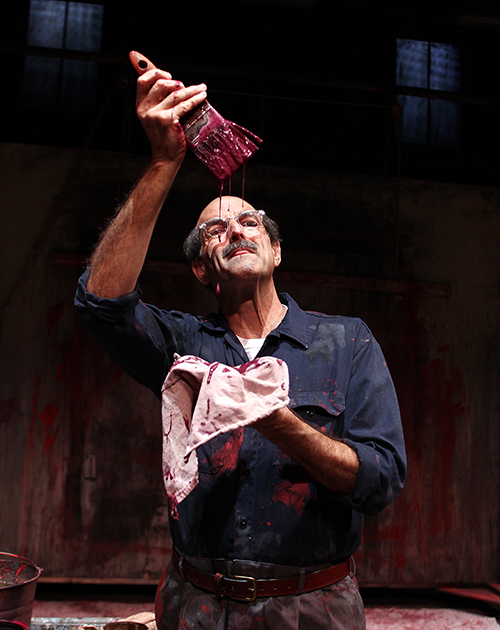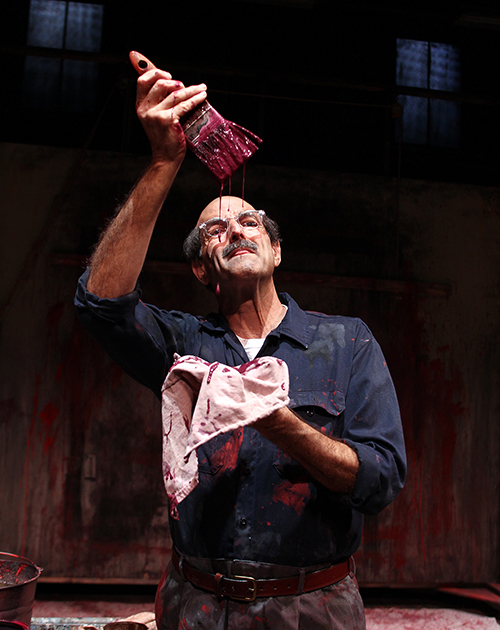 Red is fastidiously researched biography and in SCR's production, under the direction of co-founder David Emmes, we get an equally fastidious representation of the artist in Mark Harelik and of his cavernous studio in a set designed by Ralph Funicello and lighted by Tom Ruzika. The costumes are by Fred Kinney.
The biography is enlivened by dialectical drama that draws on conflicts of artistic philosophy and personality. While Ken, the fictional assistant in his early 20s, is getting a grudging and combative life lesson from Harelik's character, Paul David Story, the young actor playing him, is getting nightly master classes in acting dynamics and precision. For his part, Story keeps Ken balanced despite the five-scene course Logan has charted for him.
"A picture lives by companionship," Rothko tells Ken. "It dies by the same token." Yet Logan's Rothko resists Ken's companionship, immediately distancing with delineations of roles: He is an employer and not a friend, father, rabbi or shrink. Throughout the play, Rothko's entire inner life seems to be comprised of scattered text from a personal doctrine he insists on defending, despite the second marriage and first child waiting beyond the studio walls. As a result, Ken is the one who gets to develop during Red. His maturation is measured between his first and final utterances of that title word, tentatively as he enters the play and confidently as he exits.
Rothko's actual assistant during those two years was a well-connected painter in his early '30s, born and raised in Long Beach, California. Like Iowan Ken he had lost his parents when he was young. Ken's parents, however, were murdered, which Logan suggests as an undressed psychic wound that Rothko is compelled, in his rough way, to press. It's likely Rice was more of a companion. His 2003 obituary, paints him as "a colleague" of many of America's most famous the Abstract Impressionists, who built frames and mixed paints "for some of his more successful artist friends, such as Mark Rothko."
Nevertheless, despite Rothko's insistence he is not there to teach him, Ken grows to self-assurance, going head to head with Rothko on fundamental issues of artistic responsibilities. He even plants the notion that the restaurant commission is a sell-out. "Ever worry it's not the right place for them," he asks, which Rothko quickly dismisses. "How can it not be the right place for them when they are being created specifically for that place, " he says. Later he affirms, it's a "place created just for them," where "they'll always have each other for companionship and protection."
So Ken seems the more insightful. "Just admit your hypocrisy," he tells the master. "The high Priest of Modern Art is painting a wall in the Temple of Consumption. You rail against commercialism in art, but pal, you're taking the money." Is this Logan condemning Rothko, all artists. He is sure to remind us that Dali and even Picasso ended their long lives "signing menus for money."
While here we are left to imagine the seed for Rothko's withdrawal of the commission was by Ken, the influence of others is unknown. Still, the subtext of Logan's play, this vital juxtaposition of paintings and people, is clear. "Look at the tension between the planes of color," Rothko says grandly at one point, talking not only about his paintings but about his own prickly personality. Logan was so successful at infusing Rothko biography with passionate discourse that Red won six 2010 Tony Awards, including Best Play. That he has imbued the fictional Ken with the greater life may be part of the reason the show's one acting Tony went to Eddie Redmayne.
In his tribute to Rothko Logan has paid respect to those consumed by the creative process. Through the metaphor of artwork, however, he cautions about the importance of companionship. The fictional Ken has his place in the legacy. In 1970, it would be Oliver Steindecker, his assistant, and not his wife, daughter or son, who discovered the artist in a drying pool of red.
RED
by JOHN LOGAN
directed by DAVID EMMES
SOUTH COAST REPERTORY
January 22-February 21, 2016
(Opened 1/29, Rev'd 1/30m)
CAST Mark Harelik, Paul David Story
PRODUCTION Ralph Funicello, set; Fred Kinney, costumes; Tom Ruzika, lights; Cricket Myers, sound; Joanne DeNaut, casting; Kathryn Davies, stage management
HISTORY Red was originally produced by the Donmar Warehouse in London, opening December 8, 2009, with Alfred Molina and Eddie Redmayne as Rothko and Ken. It moved to Broadway's John Golden Theatre, opening April 1, 2010. Molina, with Jonathan Groff, appeared in the Los Angeles premiere, at the Mark Taper Forum, in August 2012
---
Paul David Story and Mark Harelik, top; and Harelik at left
Debora Robinson
Years of wonder
Beautiful women serve as bookends to the story of Dallas Burrows. A lonely only child raised in a household held together by his mood-swinging parents' screaming matches and make-up sex, he left home at 16. After too many drunken phone calls from her, he turned his back on the beautiful mother whose black-hole depression threatened to swallow him, only to walk head first into consuming survivor's guilt.
Fortunately, instead of burying Burrows, that inheritance of despair provided a burning desire to become a performer. He taught himself magic, honed a standup routine to Henny Youngman precision, and began touring tiny clubs in New England and the Mid-Atlantic. His humor, borne of abstract silliness essential to the escapist, overflew the heads of his down-market audiences.
By the time he tackled New York in 1950 he had changed his name. An agent-less unknown, he approached Max Gordon, owner of The Blue Angel, on an afternoon when someone had dropped off that night's bill. Gordon offered him the slot, and in the stuff of show business legend, the 22-year-old won over an audience that included America's most influential columnist. The next morning Walter Winchell reported, "His name is Orson Bean. We never heard of him either…. The people applauded for four bows."
That dramatic story, offset by a half-dozen well-told jokes and well-oiled magic tricks, forms the first half of Safe at Home, an Evening with Orson Bean. The 86-year-old's 80-minute show, based on his 2008 memoir of the same name, is back at the Pacific Resident Theatre, where it premiered last October, with weekend performances through March 20.
The rest of the show touches on Bean's Broadway, television and film history. There are stories from his first stage success, Will Success Spoil Rock Hunter? with Walter Matthau and Jayne Mansfield, and his appearances on "The Ed Sullivan Show," "The Tonight Show," and as a panelist on "To Tell the Truth." But at its heart, Safe at Home is a deeply personal story. It's about a son's crippling belief that he could have saved a self-destructive parent.
By 1980 his own marriage was crumbling. There is little detail about his wife or his children, but it's clear the additional guilt, now of a father at risk of abandoning his kids, had added to the burden. Again, magic would offer salvation, but this time it wasn't sleight of hand, but something on a much grander scale. Bean tells an unbelievable story of how, upon receiving the final divorce decree, he sat numb and alone in his 34th floor Manhattan apartment. He absently folded the one-page document into a paper airplane and launched it out the window. Fifteen minutes later, still watching where it had disappeared around the corner at the end of the street, it reappeared, gliding back to him on a reversal of current.
Years later there was another miracle. It came among the fruits and vegetables of his local supermarket. The perpetually happy and well-adjusted produce manager was only too happy to share his trick for contentment. It was a simple prayer of thanks, regardless of belief, each morning and night. The agnostic Bean, willing to try anything, followed the suggestion and within months felt so much better that he did start to believe.
That change of direction put him in position for the third miracle, the second beautiful woman, and closing bookend to his story. He met, courted, and won the hand of actress Alley Mills, best known, appropriately, for playing a mother on "The Wonder Years."
For those who've clocked far more solar laps than we have left, Bean takes us back to a bygone era, but in a way that gives it a hipness and validity we'd been convinced it lacked. Among the hobblers and creakers in the audience there were a few about the age Bean was back in 1950. They laughed along with the rest of us, a testament to the power of an elegantly told joke and well-executed trick. It was that arc at the spine of the story that gives Safe at Home its real value. Bean's four score and six years are a reminder that, if allowed it, life's wonders can triumph over despair.
SAFE AT HOME, AN EVENING WITH ORSON BEAN
written and performed by ORSON BEAN
directed by GUILLERMO CIENFUEGOS
PACIFIC RESIDENT THEATRE
January 22-March 20, 2016
(Rev'd 1/29)
CAST Orson Bean
PRODUCTION Norman Scott, set/lights; Keith Stevenson, sound; Wardrobe by Kirkland; Julianne Figueroa, stage management
HISTORY Produced by Elspeth A. Weingarten and Alley Mills. Premiere at Pacific Resident Theatre in 2015. Return engagement opened January 22, 2016.
---
Orson Bean
Vitor Martins
DIG DEEPER
Three by Bean … a trio of Orson books available at Amazon:
Safe at Home
Too Much Is Not Enough
Me and the Orgone
Theatertimes' review of Stephen Drukman's Death of an Author, featuring Orson Bean, at the Geffen Playhouse in 2014.
An interesting article by Orson Bean.
Driven to distraction
In Will Eno's Thom Pain (based on nothing), now at the Geffen Playhouse (through February 14), a man offers a simple story. His technique is dismissive, distracted, constantly undone by a massive hemorrhaging of scattershot anger and survivor pride. It's unclear why he bothers. Is it for his benefit or ours? When he finishes, it is with a startling stroke of happy appreciation, as if ending a vicious harangue with an affectionate backpat.
Rainn Wilson gives the 80 minutes of turn-on-a-dime, mood-swinging monologue a letter-perfect delivery. In the end it's easy to sift through the splintered, sometimes venomous and frequently comic narrative to find the handful of obsessed-over highlights that, for Pain, define his life and make it illustrative. Wilson's edgy intensity pins us to our seats in silent wonder, allowing just enough wiggle-room for uneasy laughter. While the character is a far cry more troubled than Dwight Schrute, the office paper salesman who shot Wilson into television history on "The Office," there are similarities. Schrute was conniving and sycophantic, falling short of true evil by his incompetence. Pain's off-putting nature and frequent nastiness are due to events he suffered and not evil.
Director Oliver Butler leaves only faint fingerprints on Wilson performance. Purposefully nontheatrical, the presentation allows Eno's text to shudder with its own dark theatricality. Reading the script afterwards enhances the appreciation. (Copies, containing two other very short plays, are on sale as you exit.)
An empty stage stretches before tall black drapes. A batten pipe bearing ten lighting instruments, the first eight unplugged, the last two unused, hovers above. Daniel Ionazzi designed the set and lighting. Candice Cain contributed Pain's "native costume," as he calls it, the simple black suit a midcentury mortician might have worn (an unintentional connection to Wilson's breakthrough role, in 2003, on HBO's funeral home series, Six Feet Under.)
The biographical elements that can be pulled from Pain's fragmented story involve the traumas of his boyhood dog dying and his one love affair ending, prematurely, when the woman did. A third painful memory involves an attack of bees after he accidentally kicked a fallen nest.
Pain wavers between vicious attacks on declining standards, absurdist humor and corny wordplay. The pervasive use of "whatever" reveals "our brainless and simpering tolerance of everything – the breakdown of distinction – our fading national soul," he says. It's in describing his unfortunate affair that he works hardest at burying his feelings behind sophomoric jokes: "'You've changed,' she said, 'the night we met," and [She had] "a doggy sort of way I found very fetching."
The title includes the parenthetical "(based on nothing)," by which Eno suggests there is no source material and/or the play's source material is "nothingess." It's playfully ambiguous, and an open invitation to link the play to philosophies of nihilism, existentialism and absurdism. Pain's dialogue is similar to how philosopher-writer Albert Camus opens his first major novel (quote at right), L 'Estrangement, a title less playfully ambiguous that links the Camus' personal alienation as a poor, fatherless child in Algeria, and man's estrangement. This all feels like something Pain would find painfully familiar. Theatrically, it echoes Brecht's estrangement effect, or Verfremdungseffekt, and "distanciation," forms that seek to alienate the audience into higher perceptiveness of the art's point.
Thom Pain is a bracing hour-twenty of theater. It was a finalist for the Pulitzer Prize for Drama in 2005 following its New York production, and places Eno in a small circle of playwrights willing to strip theatrical convention to the studs and explode a narrative into fragments, trusting that they have enough craft that, when the pieces land, they will have even greater resonance, not despite the seeming dissonance but because of it.
THOM PAIN (BASED ON NOTHING)
by WILL ENO
directed by OLIVER BUTLER
GEFFEN PLAYHOUSE
January 8-February 14, 2014
(Opened 1/13, Rev'd 1/15)
CAST Rainn Wilson
PRODUCTION Daniel Ionazzi, set/lights; Candice Cain, costumes; Chris Moscatiello, sound; Corwin Evans, video; Elizabeth A. Brohm, stage management
HISTORY Originally produced by Soho Theatre Company, Chantal Arts + Theatre and Naked Angels (NYC) in Edinburgh, August 2004; Soho Theatre Company, London, September 2004; DR2 Theatre, New York, February 2005
---
Rainn Wilson
Michael Lamont
---
"Maman died today. Or yesterday maybe, I don't know. I got a telegram from the home: "Mother deceased. Funeral tomorrow. Faithfully yours." That doesn't mean anything. Maybe it was yesterday."
– Albert Camus, 'The Stranger'