JUNE 2015
Click title to jump to review
THE GOSPEL AT COLONUS by Lee Breuer and Bob Telson | Ebony Repertory Theatre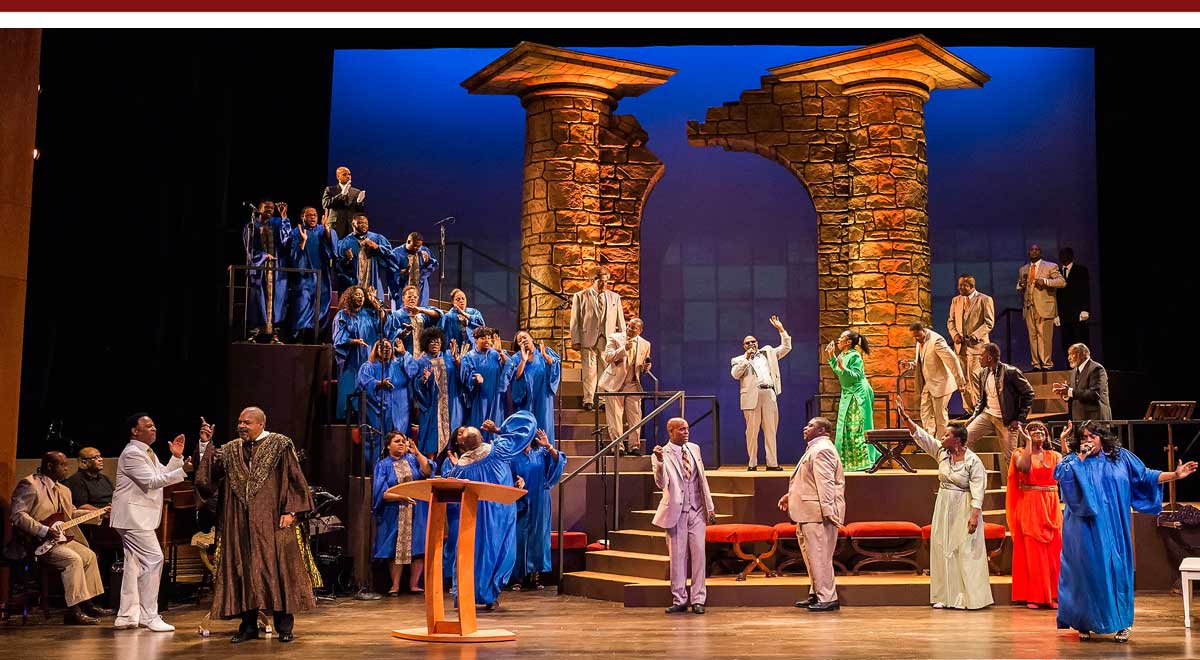 Finding sanctuary
In 1983, playwright Lee Breuer and composer Bob Telson merged Greek myth and Gospel music to create The Gospel at Colonus. By 1985, when it opened at L.A.'s Doolittle (now Ricardo Montalbán) Theatre, it was a Pulitzer Prize finalist and a powerful draw for many Southern Californians. I returned once to share it with my parents. A 21-year-old Wren T. Brown went "nearly ten" times, including his last theater trip with the grandmother he calls "one of the greatest architects of my life."
Thirty years later Brown is the accomplished Artistic Director of the ambitious Ebony Repertory Theatre. Through July 19, at the Nate Holden Performing Arts Center [MAP] where ERT is resident company, the latter-day man is fulfilling the dream of his younger self with a soaring new production of Gospel at Colonus.
A theater revival that doubles as a revival meeting, the production lets a new generation experience what ours did three decades ago. In the way the story moves through tangled bloodlines and cursed generations to reach harmony and sanctuary, the show itself reaches out to offer our multi-cultural, multi-generational community common ground to share, and leaves the young ones something to recall fondly 30 years from now.
Dan Sullivan's December 1985 Los Angeles Times review captured the sense of road-to-Damascus discovery Gospel at Colonus produced in many of us. "It's a find," he wrote, "like cracking the code of the Rosetta stone. Suddenly, we can feel the heat of Greek tragedy in performance."
The production's power is chiefly in the majesty of the music. The lyrics are poetic, dramatic and mythic, often bridging the sermon and the songs. The music is rooted in gospel, though they comfortably embrace soul and r&b, a once prohibitive crossover that Ray Charles, Sam Cooke and others made in defiance of their elders. Reconciling this sacred-secular conflict gives Gospel at Colonus additional resonance, as does the way it merges church and stage and finds agreement between the word of the single Christian God and the warnings of the polytheistic Greek fates.
It is based on Oedipus at Colonus, the middle play in Sophocles' trilogy about the man who innocently fulfills the curse his father brought upon the entire family. Oedipus is now in his final years, long blinded by his own hand after seeing that he had killed his father, King Laius, and married his widowed Queen. With his mother Jocasta he fathered four who are both children and siblings. There is Ismene (Jackie Gouché), Polyneices (Gilbert Glenn Brown), Eteocles, and Antigone (Kim Staunton), who guides him from city to city in search of forgiveness and a resting place in which to die.
It is in this sightless wandering that Telson and Breuer found the central parable for the sermon within the play. A Pentecostal preacher (Roger Robinson) welcomes the many onstage participants as they take their places. Before welcoming the assembled in the audience, he opens a large volume and reads, "Think no longer that you are in command here, but rather think how, when you were, you served your own destruction." It is a lamentation for Oedipus and an advisory for us.
No sooner does he cite The Book of Oedipus as the source for this evening's text than we emersed in the story, which draws on every corner of the gospel music tradition – from plaintive a cappella to rafter-raising, hand-clapping unison by the full company. He is joined by a church evangelist (Staunton), who performs as Antigone; a minister, Pastor Theseus (William Allen Young); five deacons who sing as Choragos (LaVan Davis) and his quartet (Otis Easter, Milton Ellis, Gerald J. Mitchell, and Rickie Vermont) and others including the church's 20-member choir (L.A.'s Young Adults of Gospel Music Workshop, under the direction of Tony Jones, featuring soloist Nicoe "Nikki" Potts).
The rock-solid gospel band, which propels the show along with the music, includes another link to the original production. Guitarist-singer Sam Butler, whose "heartfelt vocal urgings" in the cast recording made "Stop, Do Not Go On, " "a showstopper of its own, " according to AllMusic, is back singing and playing guitar. The decades may have claimed all his hair and some of his lung power, but the soul is intact and intense, providing an emotional touchstone for elders in the audience.
In Robinson, who won the 2009 Featured Actor Tony for Joe Turner's Come and Gone, we easily forget his role's originator. It might have seemed impossible that Morgan Freeman's galvanizing presence in the original production could be matched, but Robinson's narrator gradually builds to unleash enough fiery passion to light a camp meeting. His storytelling partner, who serves as the " Singing Oedipus," is Ellis Hall, a soul singer who served as lead singer for Tower of Power in the 1980s. Hall's voice has octaves of range that sear Oedipus' tormented songs in the memory.
Director Andi Chapman is making her ERT debut, and aside from a couple self-conscious choices, does excellent work keeping the story clear and all the moving parts focused. She has a star cast to work with, from Robinson, Staunton, and Hall, on through Davis, Brown, Gouché, J.A. Preston as Creon, and Dorian Holley. It is a glorious achievement for Brown and ERT, and hopefully it will live as long as it can and make us all as happy as it can.
THE GOSPEL
AT COLONUS
by BOB TELSON and LEE BREUER
directed by ANDI CHAPMAN
EBONY REPERTORY THEATRE
June 10-July 19, 2015
Opened 6/29, rev'd 6/20
CAST Gilbert Glenn Brown, Samuel Butler, LaVan Davis, Jackie Gouché, Ellis Hall, Dorian Holley, J.A. Preston, Roger Robinson, Kim Staunton, William Allen Young, and the Los Angeles Young Adults of Gospel Music Workshop of America under the direction of Tony Jones
PRODUCTION Edward E. Haynes Jr., set; Naila Aladdin Sanders, costumes; Karyn D. Lawrence, lights; Phillip G. Allen, sound; Abdul Hamid Royal, music direction; Keith Young, musical staging; Tom Ontiveros, projections; Elsbeth M. Collins, stage management