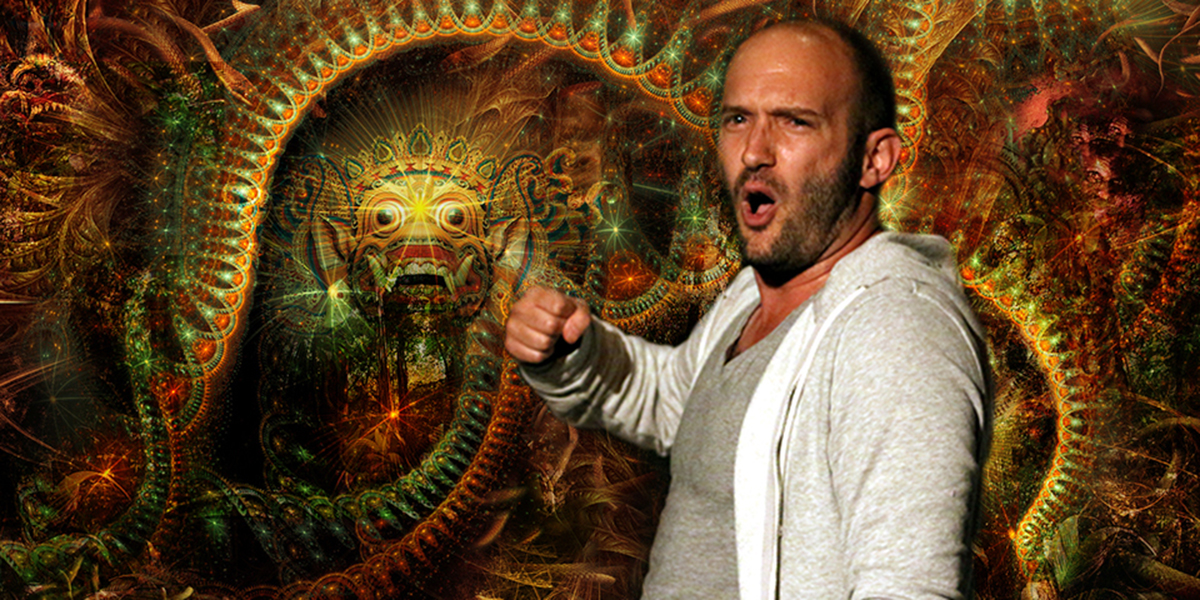 Hitting the high way
In his mid-thirties and a middling job, it took losing his girlfriend to shake Michael Kass out of complacency and on a quest for big-picture answers. Spurred by meaningful coincidences, traveled into the interiors of Peru and his own mind, and gained both greater awareness and this engaging one-man theater piece in the process.
The writer-performer has shaped his tale into a satisfying 55-minute one-act entitled Ceremony. Under the direction of Diana Wyenn, a recent three-performance weekend at the Bootleg Theater (September 26-28) was greatly enhanced by Tony Shayne's lighting and Martin Carrillo sound design. However, the piece is appealing enough to play with the barest production support.
With the Bootleg's highly adaptive space stripped to bare stage and 10 rows of risers, Wyenn's knack for less-is-more enhances Ceremony's accessibility. It feels like the right amount of movement, keeping the storytelling active without being busy for business sake. The only "set pieces" are a half-dozen brightly colored plastic pails placed upside down in a semi-circle to serve as tiny stools and be stand-ins for anything from people to abstract ideas.
The pails might also represent pinball bumpers, as Kass, despite describing himself as an idler, is quickly buffeted in various directions by the slapping hand of fate. There is a comic buoyance throughout, which keeps his self-deprecating asides funny, especially as he experiences a series of coincidences linked around the country of Peru. That the theme of the coincidences is so far out of his normal sphere, raises their significance to what Jung called "synchronicities." He takes them as a sign to quit his job and head to South America to take part in a mystical retreat.
The group is led by a husband and wife and their two adult sons. It's an international group of searchers who have paid for this weeklong retreat. Many of them are returning. The hosts stress that while not without its risk the work will be conducted in safety, openness, and acceptance. The guests will participate in a three-step journey into altered states fueled by Dimethyltryptamine, or DMT [ view recent documentary). The DMT hallucinogenic comes from ayahuasca, a revolting tea concoction brewed from indigenous leaves.
With admirable clarity Kass recalls each of the three "ceremonies" in detail. As they become more familiar and less jarring they become increasingly fruitful. As always, there is plenty of humor, though we aren't spared the occasional terror theses uncharted escapades can produce.
Kass and Wyenn have chosen, for two-person exchanges within Ceremony, to have characters speak to the audience, rather than the often used and more distracting method in one-person shows of turning stage left and then right to signify who is speaking. This method of engaging the audience as the other character was one of the strengths of the exceptional In the Continuum [REVIEW], while the other method has frequently been critiqued in these pages for being cumbersome and excluding.
Kass returns to the states a more centered individual, and then returns to the present for a rousing curtain call that he follows with a kind of three-part mini-ceremony of his own. He leads the audience in three rounds of closed-eye deep breathing exercises. Like Kass' Peruvian experience, by the third round of inhaling and exhaling, the crowd was breathing in unison. It's likely more than a couple left the theater with a heightened sense of oneness.
CEREMONY
written and performed by
MICHAEL KASS
directed by DIANA WYENN
BOOTLEG THEATRE
September 26-28, 2014
(Opened 9/26, Rev'd 9/27)