Thumping Trump
A theater piece about Donald Trump's 2016 run for President might seem doomed to a short life. But Mike Daisey's The Trump Card is more than a penetrating profile of the billionaire political dilettante. While the candidate is at the center of Daisey's red-hot skewering, no party to the process comes away unsinged. What's more, there's a dire take away we'll be wise to remember for a long time.
The Trump Card, which just concluded a short run at La Jolla Playhouse (October 4 through 9) after a late September show at L.A.'s Broad Stage, is the latest from the prolific monologist. Heir to Spalding Gray's table and chair, Daisey turned up the heat on a form his fellow New Englander kept cool. Where Gray's anger just made him more wry and sardonic, Daisey's rage routinely hits the vessel-bursting heights of comedian Lewis Black.
Despite Daisey's assertion that as "an artist" he is "a professional liar," Trump Card's value is as much from its journalistic merits as from its theatricality. The reference to artists as liars, which he attributes to Orson Welles in both the program and script, may now be a standard disclaimer following an embarrassing experience four years ago when challenges to his piece on Apple's Asian labor practices, after airing on "This American Life," prompted host Ira Glass to retract the broadcast because it "contained significant fabrications." [Full statement]
Here, Daisey's portrait rings true, and cites many of the key career twists and twisted characters chronicled in the excellent Frontline segment, The Choice 2016, which aired after Daisey began this tour. If there is significant fabrication, which seems unlikely, it would have to come in how he presents himself and his separated, and somewhat alienated, parents. None of which comes across as particularly flattering.
Coming within the 24-hour news cycle that followed the release of Trump's brag to Billy Bush about his star-powered molesting of women, the matinee I attended could not have been a more current event. After arriving in blackout, taking his seat behind a simple wooden table, straightening his half-dozen yellow-pad pages of outline, and signalling for the stage lights to rise, Daisey sizes up his audience and calmly says, "You, my friends, are fucked."
As merrily tossed off as Margo Channing's "bumpy night" forecast, it's an irresistible opening. How? What? All of us? In the next 100 minutes, under Isaac Butler's light-touch direction, Daisey relates his carefully researched biography of the maniac who would be king. What should give The Trump Card indefinite shelf life, however, is the bigger picture he describes: If this opportunist of Shakespearean-size flaws becomes leader of the Free World, the right-leaning who supported him will be no more responsible than the left-leaning who smugly clucked their disapproval. The left, who Daisey quickly senses make up this audience (and with whom he says he aligns and credits for supporting the American theater and therefore him), have lost touch with the working people who were once their cause. It is a generally white segment of these Americans who now drive Trump's surprising success. Their anger is real and it's not going away.
He will bring this point home in a stinging, "fantasy" scene in which his hourly wage-earning mother addresses a Clinton canvasser: "How dare you sit there in front of me and tell me how much you need me now? … I have watched you people, all of you. You Republicans and you Democrats, there's no fucking difference. You work together and you turned your fucking backs on us."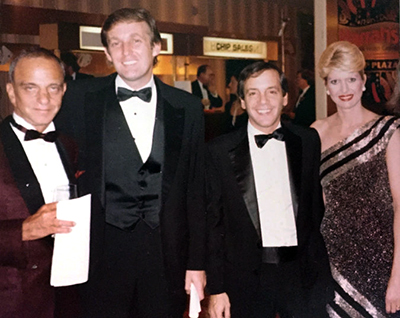 Trump may fail to reach the Presidency, Daisey admits with relief, but he's already won something bigger. It is Roy Cohn, the Joe McCarthy sycophant who became the major Trump mentor and a leading character in Tony Kushner's Angels in America, who explains what has been achieved. It is his claim that really gives The Trump Card its legs: "I taught that kid everything I knew and you fucking soft-headed fucking liberals, … you don't understand how power works. You never understood. … He's won already."
Has he won? Maybe not. Maybe it's just Daisey lying professionally, speaking to motivate. But he conjures the image of a shadowy figure, like something from Stephen King's The Stand, who will emerge without the self-sabotaging lack of discipline to pull the stitches from our repairing racial wounds and cuts in services.
The final way The Trump Card gains a long life is Daisey's willingness to let us download it for free, with rights clearly granted for its performance. [See below] Adapt it, charge what you can, hell, he even has background music he'll send. The art that went into writing the script, the honesty that went into performing it, and the generosity in sharing it are the true indicators of the American character. Daisey's unspoken message may be that our better natures can prevail as long as we don't take the lying lying down.
Related reading: Theatertimes' review of Mike Daisey's 'How Theater Failed America'.
Upcoming free reading: The Trump Card will be read at East West Players on October 23 at 7 p.m. INFO.
THE TRUMP CARD
written and performed by MIKE DAISEY
directed by ISAAC BUTLER
LA JOLLA PLAYHOUSE
October 4-9, 2016
(Rev'd 10/8m)
PRODUCTION Lindy Luong, LJP Production Supervisor; Laura Zingle, LJP Production Coordinator; Dylan Nielsen, Sound Board Operator; Mextly Almeda, Light Board Operator
---
Mike Daisey, top; inset, Roy Cohn, Donald Trump, Steve Rubell and Ivana Trump.
Ursa Waz / New York Times