O
Best men
O
There are some mixed messages in Sam Marks' The Bigger Man, now receiving careful study in a Circle X West Coast premiere, directed by David W. Vegh, at Theater/Theatre. Two buddies who have floated into their mid-30s on casual-to-habitual drug use, non-committal relationships in the guise of 'understandings,' and low-paying jobs subsidized by petty theft, are pulled up short when fate intervenes at the wedding of one guy's ex-girlfriend.
Reality holds an intervention for Len (Matt Ford) and Rick (Richard Augustine) after one of those mini perfect storms of running out of drugs as your girlfriend runs out of patience. Neither ne'er-do-well saw it coming on this weekend in upstate New York at the wedding of Len's former flame Lily (Jen Kays, alternating with Jennifer A. Skinner). It looked to be a party weekend for Rick, while Len expected to swoop in, dazzle Lily with his anti-appeal appeal, and leave her tangled up in regret.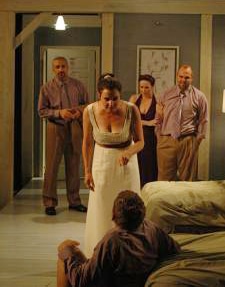 It gets confusing when the agent of overdue change is a repulsive mind-control group called The Foundation, represented on stage by Lily's brother, Jeffrey (Thomas Fiscella). Lily's wedding invitation included a "contract" that Len and Rick returned with their RSVP promising to refrain from mind-altering drug use. Our heroes immediately break their pledge and incur The Foundation's wrath and repression to set the play's opening tone. The Foundation message sounds generic enough: join in and you can achieve anything. It's probably just what social misfits like Rick and Len must finally buy into. Unfortunately it's accompanied by images of a black-robed cabal in the next room, pummeling novices into submission.
This story of two but-by-the-grace-of slackers gets what little appeal it has from Augustine's carefully clouded Rick – a beautifully rendered man-child in denial of the cliff he's dangling over. Len doesn't get as much dimension, so audiences may turn a deaf ear to his cries for sympathy. It's unclear who Marks means to be central here. Rick is first in the cast list, and when he picks up an incoming call for Len, he 'acts' as intermediary for the information. When it's Rick's incoming call, Len hands him the phone immediately and sits down.
While Len and Lily flail their way through a pointless encounter, Rick and his accommodating playmate, Stacey (Linda Bailey Walsh), are hitting the wall.  Stacey's got a seven-year itch from their endless engagement and is tired of asking Rick to scratch it. In her frustration, she is tempted to lay in with The Foundation, and tempts Rick to come along, if he ever expects to lay in with her again. He may or may not actually do it. The play's final moments are a possible indication he's just fooling. However, in what could be a beautifully sly revelation to this confusing play's true depth, the closing scene shows characters dividing up between those willing to throw in with The Foundation and those continuing to fight it. Those in compliance begin acting agreeable and then dressing up in what could be Foundation garments, until we realize these are their wedding party suits and dresses. Could Marks be saying every form of social grouping – from simple marriage on up to complex organizations like The Foundation – requires surrender of some kind? And further, that it can be really difficult for some of us? Or, is he simply saying these kinds of groups are dangerous? That's not as interesting a premise. Most of "cultish" groups – except for real religions or showbiz offshoots like Scientology – lost their status among the upturned coolers and picnic tables in Jonestown.
And a set note. The pillar that blocks crucial scenes at the bathroom door was apparently needed to cantilever the wall so panels could spin to help make the room look like it had been water damaged. I'd rather see the bathroom door scenes than have the reinforcement of which room had water damage.
THE BIGGER MAN
by SAM MARKS
directed by DAVID VEGH
CIRCLE X at Theater/Theatre
September 3 - October 19, 2008
CAST Richard Augustine, Thomas Fiscella, Matt Ford, Jen Kays a/w Jennifer A. Skinner, Linda Bailey Walsh
PRODUCTION Laura Fine, set; Jennifer Koster, costumes; Kristie Roldan, lights; Jacob M. Davis, sound; Lisa Szolovits, assistant director; Vanessa Rundle/Julia Diamond, stage managers
HISTORY World Premiere
---
Thomas Fiscella, Linda Bailey Walsh, Jen Kays, Richard Augustine, Matt Ford, foreground
O
Solid launch
O
For the second time in a single season, the Ahmanson has turned port-of-departure for a major musical bound for generations of cash-generation. The pre-Broadway berthing of Curtains (through September 10), so close on the keel of the now Tony-validated Drowsy Chaperone, suggests that the CLO-busting drought of decades past has passed.  And, for good measure, the form's future is further insured by the fact that both these musicals are subliminal industry promotions: virtually every character in either one is either one devoted to a career in musical theater, or wishing they could be.
Where Chaperone's creators were relative newcomers from Canada, Curtain's composer John Kander and lyricist Fred Ebb are American veterans with Hall of Fame credentials via Caberet, Chicago and Kiss of the Spider Woman. Completing the inner circle, and lowering its mien age are Rupert Holmes, with Broadway and Billboard credits for Mystery of Edwin Drood and Escape, "The Piña Colada Song," and Scott Ellis, on Broadway's short list of A-list directors.
These experienced craftsmen have assembled something so solid and steeped in musical theater trappings that it feels as old and unsinkable as the Queen Mary. It's tidy and facile, and the clip Ellis keeps it at keeps it as frothy as a liner's backwash and just as likely to suck in anyone nearby.
Behind the set's ornate proscenium arch – that resets the stage to a golden era – the curtain rises on the parallel universe of Boston's Colonial Theater. The musical within this musical is also beginning a pre-Broadway run. Its curtain is about to drop on what is the show's opening performance and its talentless star's (Patty Goble) final one. After the audience clears the Colonial, cast, crew and producers assemble on stage – beautifully designed by Anna Louizos and lighting designer Peter Kaczoroski – for the announcement that the star has in fact died. But, they quickly add, the show needn't. Especially since its albatross has been cut from the deck. Just as quickly, Lt. Frank Cioffi (David Hyde Pierce) appears with more news. Cioffi, a cop with a rap sheet of amateur theatricals as long as his perfect trench coat, explains that the star was murdered. His investigation begins now, and no one will leave until the culprit is caught. Curtains proceeds with a dual, interlaced plot that mixes the fixing of the show with Cioffi's investigation. However, much like Chaz Palmieri's thug in Woody Allen's Bullets over Broadway, Cioffi proves as good at dramaturgy and direction as he is at detection.
Everyone in the show is top notch, but three actors deserve extra credit. As Bambi Bernstein, Megan Sikora plays the producer's daughter as little more than most likely to get the T&A number in Chorus Line. However, when she gets her solo number, she expertly delivers the show's most demanding dance assignment. It's important that she earn gasps from the other characters, and Sikora gets them from both sides of the footlights. Otherwise the choreography is all lively and engaging, with an extra dosage of fanny waving and crotch pumping in keeping with the play-within-the-play's saloon and barmaid scenes.
Edward Hibbert's Chris, the show's director, is also nicely delivered. In a role that will certainly be outrageously overdone in the future, Hibbert keeps the queen reined in a funny, funny characterization that still leaves room for heart.
But the show belongs to Pierce, who could have appliquéd his "Frasier" fame onto anything and found backing.  A fine theater actor before television discovered him – his 1988 Himmer in The Public's Zero Positive still haunts – recognized a solid vehicle in Curtains. The effete Niles is all but gone, the slightly Brahman accent shifted downtown for the precinct. But the fastidious gentleman remains. His near apologetic interrogations go hand in hand with his cautious wooing of the cast's second female lead, Niki (Jill Paice). He's as polite and neat as Columbo was rumpled and nosy. In a marathon dance number that has Tony excerpt written all over it, Pierce and Paice recall Hollywood musicals as much as those of Broadway. Similar to Matthew Broderick's first Broadway outing in How to Succeed, Pierce plays the musical star somewhat tentatively. But when he can justify being swept up in the dance, as his infatuation with Niki allows him in the fantasy sequence, he becomes a dashing Astaire gliding across the apron, belting out his number with a genuine smile on his face.  The belting, gliding and smiling are likely to remain fixed, even after the ship sails for New York to dock indefinitely on the Great White Way.
CURTAINS
book by RUPERT HOLMES
music by JOHN KANDER
lyrics by FRED EBB
original book and concept by Peter Stone,
additional lyrics by John Kander and Rupert Holmes
directed by SCOTT ELLIS
AHMANSON THEATRE
August 9-September 10, 2006
CAST John Bolton, Jason Danieley, Edward Hibbert, Michael McCormick, Michael X. Martin, Debra Monk, Jill Paice, David Hyde Pierce, Noah Racey, Megan Sikora, Robert Walden, Karen Ziemba and Nili Bassman, Ward
Billeisen, Jennifer Dunne, David Eggers, J. Austin Eyer, Matt Farnsworth, Patty Goble, Mary Ann Lamb, Brittany
Marcin, Jim Newman, Jessica Lea Patty, Joe Aaron Reid, Darcie Roberts, Christopher Spaulding
PRODUCTION Anna Louizos, set; William Ivey Long, costumes; Peter Kaczorowski, lights; Brian Ronan, sound
HISTORY World Premiere
---
David Hyde Pierce
O
Bard to the bone
O
The anarchists have taken over the theater again and among the hostages – along with those who paid to get in -- are William Shakespeare and The Doobie Brothers.  At the Miles Playhouse in Santa Monica (through September 10 and then in La Mirada on October 1), the Troubadour Theater Company have put some needed cool into our record hot summer by lacing 30-year-old hit records into Shakespeare's Much Ado About Nothing and renaming it Much Adoobie Brothers About Nothing. You don't go to the Troubies to learn Shakespeare and you don't go this year to appreciate the Doobies. You go for a rejuvenating shot of mayhem that somehow reaffirms the life in live theater.
There's a sophomoric glee to this show, as if the campus ne'er-do-wells hi-jacked the Prom planning to inject some healthy irreverence into the staid old ceremony.
Quickly, the story of Much Ado is the one about Benedick (Eric Anderson) and Beatrice (Jen Seifert).  He is a decorated soldier back from battle.  She is a quick-witted woman more inclined to brow-beat men than bed them. Shakespeare works a parallel plot of two lovers who do want to be together -- Hero (Lynette Rathnam) and Claudio (Leo Bwarie) -- as an example of how it's supposed to work. However, their love is nearly poisoned by a subplot involving Don John (Matt Walker), Boracio (Beth Kennedy) and Ursula (Audrey Siegel). In this upside-down world, however, Walker, Kennedy and Siegel steal the show as they fumble their sub-plot and ultimately allow all the play's lovers to unite.
The deconstructionist Troubies stick to this plot, propelling the story with versions of a dozen Doobie tunes, served up by a five-piece band. [Watch trailer]
As Beatrice, Siefert grabs the spotlight with the authoritative beauty of some Meryl Streep - Bonnie Raitt love child. Moving from past chorus roles and last year's Gertrude, she exemplifies the split personality demands of Troubie performance: alternating between handsomely rendered Shakespeare and cold-cocking Vaudeville (as in her hilarious "You're So Dumb" exchange with Anderson's Benedick). Anderson – last summer's Ophelia – turns that memory on its ear as a Greg Allman-coiffed rocker who looks and sounds like a '70s superstar.
Bram Tchaikovsky – a forgotten '80s rocker – once said the fundamental thing about great rock music is that it feels like at any moment it could fall apart.  This is a characteristic in common with Troubie shows.  Except here, they do break down, to the glee of their avid audiences.  In the hands of these able improv artists, especially director Walker and longtime veteran Kennedy (who in running the company get special passes to misbehave), there's no shame in running this 'Ado' into the median.  In fact, there's usually a referee of some kind to milk errors with flags, whistles and so forth.  At the second regular performance, a lengthy digression regarding a hastily completed prop brought tears of laughter to everyone on stage or in the audience. (Everyone except the band, who seem oddly immune.)
The Miles Playhouse is a cozy little venue.  However, whatever the acoustics were aimed at, it wasn't rock 'n' roll.  The spoken language is clear, but when the amps ramp up to full, the little adobe abode feels like a concrete bunker.  Last year's show, seen by this reviewer at Muckenthaler's outdoor amphitheater, did not have any similar constraints.  So, if you have a choice, see 'ADoobie' in La Mirada.  But if you can only see it in S.M., do so.  It would be pure evil to miss it.
MUCH ADOOBIE BROS ABOUT NOTHING
conceived and directed by MATT WALKER
TROUBADOUR THEATRE COMPANY
at Miles Playhouse through September 24
La Mirada Playhouse October 1
CAST Guilford Adams, Eric Anderson, Joseph Leo Bwarie, Cody Chappel, Lauren Gira, Daren Herbert, Beth Kennedy, Lynette Rathnam, Jen Seifert, Audrey Siegel, Mike Sulprizio, Matt Walker, Dan Waskom  BAND: Eric Heinly, Andre Holmes, Robert Martin, Tori Ruffin, Ameenah Kaplan
PRODUCTION Sharon McGunigle, costumes; Jeremy Pivnick, lights; Robet Arturo Ramirez, sound; Nadine Ellis, choreography; Eric Heinly, musical direction, Andre Holmes, vocal direction; Michelle Anne Johnson, assistant director, Corey Womack, stage manager
---
Eric Anderson, Jen Seifert
O
A little off the top
O
The Laguna Playhouse is pushing the theatrical envelope this summer. But it's pushing it up the freeway towards Anaheim or Buena Park, where the current production of Sheer Madness, an event closer in goal and execution to the kind of amusements that once required coupon booklets, might fit better. It's fun, sassy and has the kind of safely naughty spirit that – were the men adorned by handlebar mustaches and the women by garters -- would feel at home in the Golden Horseshoe or Carnation Plaza. Which is not to say it won't be a warmly embraced hit here beside the Pageant of the Masters and sharing Laguna's stage with Sunday night and Monday offerings of Late Nite Catechism 1 and 2.
Shear Madness is a comic whodunit with audience participation. Don't worry, it doesn't mean you risk being called up for a haircut. It means the audience helps solve the case by driving the cast's recreation of events leading up to the crime. Ultimately the audience will vote on who did it. It doesn't spoil the fun to tell you to pay close attention to what happens in the first act.  It just makes it more fun to help with the recreation.
When a theater has a lobby poster with a photo of actors other than those on stage, it means one of three things: either it is using the wrong poster, understudies have gone on for the entire ensemble, or the original production was so wildly successful that it has been franchised out and saving money by reusing the marketing material. (The readers can vote on which of these crimes may have been committed.) Countering the generic poster images, however, the franchise playbook calls for inserting the names of local streets, businesses and personalities into the script to make it seem really homegrown.
The acting is uniformly broad and personable. Leading the shenanigans is director Chris Tarjan, whose accent is slightly more Californian that LA Police Chief Bratton's. Joining him are Tacey Adams, Robin Long, Brett Ryback, Joe Sampson, Kevin Symons and, in voiceover, KOCE anchor Ed Arnold.
Suffice to say, Shear Madness is fun and different, and offers interaction with the actors unlike you'll get outside the canvas of a big top or Red Robin on guest magician night. One combative patron challenged the onstage constabulary's authenticity by asking the breed of the LBPD's mascot, as seen on Pioneer Day floats. Tarjan sidestepped the doggie name-dropping as gingerly as one might sidestep some other parade-route dropping. By the time the reader goes, we bet he's ready to answer.
SHEAR MADNESS
book by PAUL PORTNER
directed by CHRIS TARJAN
LAGUNA PLAYHOUSE
July 11-September 3, 2006
CAST Tacey Adams, Robin Long, Brett Ryback, Joe Sampson, Kevin Symons, Chris Tarjan.  Voice of
newscaster: Ed Arnold
PRODUCTION Bruce Goodrich, set; Julie Keen, costumes; Paulie Jenkins, lights;
David Edwards, sound
---
Chris Tarjan, Joe Sampson
O
Clash of symbols
O
Social criticism and performance – the double features of Culture Clash theater – have fought for the attention of their three dads since Richard Montoya, Ric Salinas and Herbert Siguenza became a threesome in 1984. In their latest, most earnest effort, Water & Power (receiving its premiere at the Mark Taper Forum through September 17), these aspects are at their most complementary and mature. Like their story's brothers, whose nicknames give "Water & Power" its title, Culture Clash demonstrates that their twin agendas have the best shot at success when unified.
Water & Power itself is designed as a series of juxtapositions: power and poverty, assimilation and identity, futility and hope. The one arena that remains boarded up is the battle of the sexes. There are no mothers, wives, girlfriends or daughters, only a distant ex-wife. By keeping gender one-dimensional, Montoya – who takes over writing responsibilities "for Culture Clash" in another advance of single-mindedness – can better focus his cautionary tale on his subject of corrupting power. His point -- that no one is immune to the power or its many guises -- is less likely to be derailed by misinterpretation or other interests.  That main event can come another night.
At 22 years old, this is a more adult Culture Clash that we have seen. Which is not to say that Chavez Ravine – their last premiere here – was less realized or sincere. But here the consciousness embraces the challenges of outsider and insider. These aren't the vato revolutionaries hurling rocks and slogans about overcoming. These characters have come on over. They remain staunchly Chicano, 21st Century Angelenos, and refreshingly responsible grown-ups. They may have fucked up, but there were reasons they understand. This tone is perfect for their first Clash statement in the Villaraigosa era, a new day for L.A. that promises to last as long as the mayor wants it to.
The story takes place in the space between the lightening and the thunder – another reference for water and power. Thunder and lightening, of course happen simultaneously at the point of origin. It's only as you move away from that point, and the speed of light outruns the speed of sound, the gap grows.
Two twins, Gabriel (Siguenza) and Gilbert (Montoya), nicknamed "water and power" by their DWP-employed father, Asuncion (the reliable Winston J. Rocha), are trapped in the kind of no-exit noir night that permeates L.A. fiction from Chandler to Mosley to Waits.  In a Motel Paradise decorated for cooking drugs or turning tricks, Gilbert, a State Senator, has tracked down Gabe, an L.A. cop, to help him out of a jam. The masterful timing between the two actors gets the most from Montoya's gritty dialogue, which includes plenty of local references and inside jokes. Individual flashbacks from the same period in their childhood break into their stand-off, reminding them of their father's teachings and love. Into this room will roll Norte/Sud (Salinas), a paralyzed informant who has become Gabe's eyes, ears and biographer. Here the old Culture Clash dynamic is exercised to new, dramatic effect.
The script is not without its weaknesses. But these are more in the range of what this could be – for audiences beyond L.A. and beyond theater for that matter – as opposed to anything lacking from the experience for those of us here, and especially those of us who have become avid followers of this unique group. The triangle of storytelling – between the brothers, between the brothers and father, and between the brothers and Norte/Sud – provide plenty of material. There is care not to over-inform about the men. This is after all a tale of power more than players. But there are places these relationships can go, in conversations that bear souls without stepping on the secrets that must be maintained for this story's power. John Glore, as dramaturg credited with helping "shape" the piece, no doubt has additional ideas of where to take exchanges between the brothers and Norte Sud.
The company the trio has built around itself is one to savor. Lisa Peterson and Rachel Hauck, the director-designer team responsible for July's beautifully integrated Mother Courage in La Jolla, again keep the performances and setting in scale to showcase the men and their message. Dakin Matthews, the ringers' ringer, creates a one-man embodiment of dark and light, comedy and drama, and pop and classic culture.  Montoya's script needed someone who could straddle that same Clash borderline between spontaneous comedy and sudden threats and he could not have found a more compliant performer. Within a single sentence – by slightly tightening his tone and expression – Matthews transforms from buffoon to executioner. Rocha, one of the best things about Luis Alfaro's Electricidad, here at the Taper, embodies another dichotomy. He is, like many men, one who must inspire pride and independence in his sons at home, then go to work and swallow all that in order to provide for the family. Emilio Rivera deserves kudos, too, for giving his small roles just presence to be real and not distracting. A stunning stage debut by Moises Arias – with whom Montoya worked on Nacho Libre – threatens to steal the show.  A tendency for mugging broke through only once, so it did not diminish an amazing performance by someone who seems to be 10 years old at best. Hopefully, the veterans around him will gently point out when it's too big, and insure that his inevitable commercial success is an artistic one, too.
Culture Clash takes their performances up a notch, here playing single characters throughout the show.  A rarity if not a first. The three never claimed to be great dramatic actors – although Siguenza is – yet they all take big steps forward here.
A final pair of dualities. First, while the Clash clearly understand political power – there is an authenticity to this script that would satisfy any worker in any of the government buildings surrounding the Music Center – they got here by understanding theater power, too. They have stayed true to their identity while working with most if not all the major California theater companies. They and their hosts have all emerged stronger for the relationships. Second, despite the seriousness of this script and their dedication to keeping the drama at the forefront, a current of potential energy races beneath the surface of every scene.  Improv is arguably these artists' most precious heritage. There will always be enough give in a Culture Clash script for ad lib references to the news of the day. And that means the day of the performance. Water & Power is not only a great time to discover Culture Clash, and take new pride in a new potential for Los Angeles theater.
WATER & POWER
written by RICHARD MONTOYA
for CULTURE CLASH
directed by LISA PETERSON
MARK TAPER FORUM
August 6-September 17, 2006
CAST Moises Arias, Dakin Matthews, Richard Montoya, Emilio Rivera, Winston J. Rocha, Ric Salinas,
Herbert Siguenza
PRODUCTION Rachel Hauck, set; Christopher Acebo, costumes; Alexander V. Nichols,
lights; Paul James Prendergast, music and sound, John Glore, dramaturg; Steve Rankin, fights; Jennifer
Sanchez, choreography
---
Deirdre Lovejoy, Janet Zarish, Jackie Hoffman
Craig Schwartz