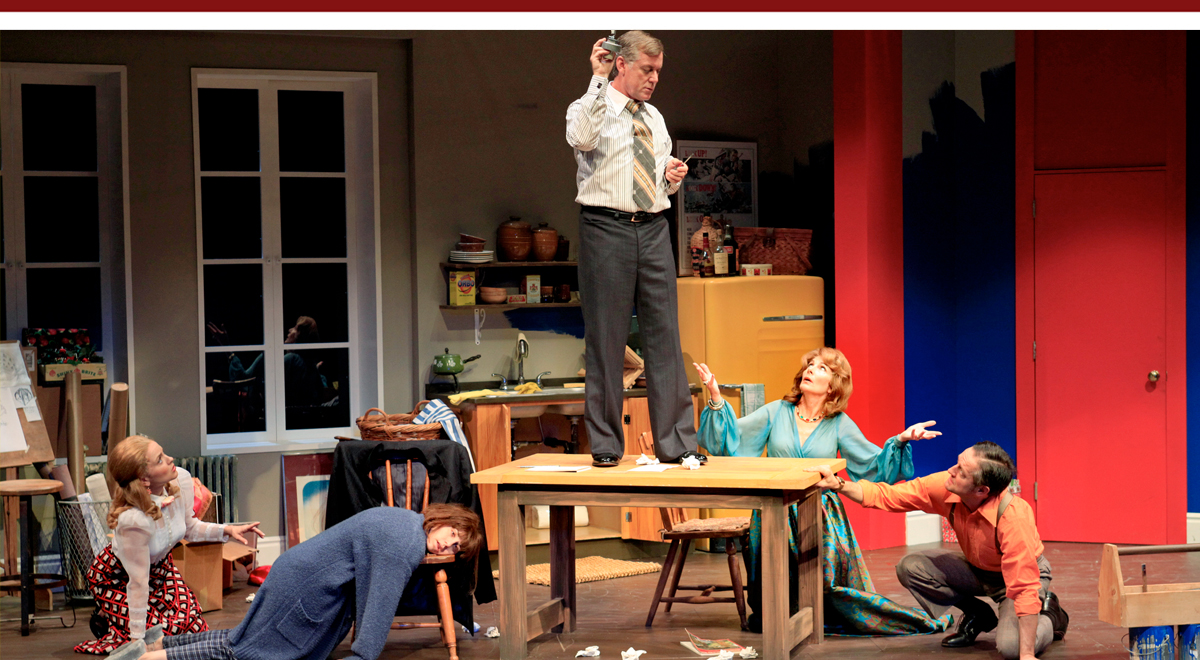 Past imperfect
Alan Ayckbourn's Absurd Person Singular makes its cock-eyed case for marriage over three years of Christmas parties attended by three couples in transition. There are whiffs of social commentary in the script, but director David Emmes puts the focus on the fun in South Coast Repertory's audience-pleasing season-opener.
A cast of five SCR vets and one newcomer deftly handle the demands of Ayckbourn's creaky 1972 comedy, the twelfth title in a near-annual output that reaches 77 next year. Famous for toying with his plays' time and place – such as events on separate days happening simultaneously in the same room – Ayckbourn keeps Absurd Person fairly straightforward. In three scenes covering last year's, this year's, and next year's holidays, he unites the couples in parties that move from kitchen to kitchen on Sara Ryung Clement's turntable set.
Like a Dickens ghost, Ayckbourn shows us the couples' past, present, and possible future, projecting broader changes in gender relations. Second-wave feminism was in the air in Britain and the U.S., where the ERA amendment passed that year. Through the high jinx, we can see Ayckbourn making the point that, although there were no guarantees of ascendancy, women were able to equal and surpass the men. While one wife deals with her husband's pomposity by staying drunk, and another is numb to any sense of an independent identity, after being nearly destroyed by her husband's vow-trouncing, the third rebounds for the play's biggest turnaround.
The stale air of male chauvinism wafts through the opening scene, from "last Christmas," and there's a 1950s sitcom scenario straight out of "I Love Lucy" to go with it. Sidney (JD Cullum) and Jane (Kathleen Early) are throwing the cocktail party to impress Sidney's boss, Ronald (Robert Curtis Brown), and his wife Maureen (Colette Kilroy). A neighbor couple, Geoffrey (Alan Smyth, the one SCR debut) and Eva (Tessa Auberjonois) are also guests, as are Dick and Lottie Potter, the offstage pair of fun-lovers Ayckbourn inserts in many plays.
It's kitchen-based disaster comedy and poor Jane isn't doing well as she runs out of supplies, then runs out to restock and is locked out by Sidney, now hysterical that his ritual brown-nosing has backfired. By setting all scenes in the kitchens, Ayckbourn removes the formality of these forced reunions and lets the folks let their hair down. The other guests routinely pop in to see what is happening to their crazed hosts. On her visits, Eva pops pills to control anxiety. In his, Geoffrey's guy-talk lets his infidelities slip.
"Christmas present" takes place at Eva and Geoffrey's. It's a shift in perspective and comic styles as Eva has bottomed out. After swallowing an overdose of her medication, she gets suicide-note writers block. When the other guests start filing in, they think she's too tired and quickly chip in to clean and repair the neglected kitchen. As they work, she mutely drags herself through a series of suicide attempts that are foiled by the helpful guests. Auberjonois makes the most out of a scene without dialogue, showing off her physical comedy skills. Brown, too, adds fun when his attempt at fixing a light fixture turns into a short-circuit electrification.
After intermission, we move into future tense at Ronald and Maureen's kitchen. The rich have become meek, while Sidney and Jane are now the success. It's less a comment on capitalism as on what has happened to the women, whom Emmes' femmes have fleshed out impressively. While Jane remains obsequious, she's happy with the new status and enjoys lording it over Ronald and Maureen, who has retreated into her alcohol and bedroom. In their relationship, Eva is now in charge and Geoffrey is in the supporting role – at home and in business.
In addition to Auberjonois' scene two silent comedy turn, she creates a believable arc for Eva's development. Early and Cullum show why they are two of SoCal theater's busiest. As she did in another season-opening look at awakening women, Sarah Ruhl's Vibrator Play, Early gets the laughs without going overboard. And, in another showcase turn, Kilroy finds the razor's edge between hilarity and heartbreak in her portrait of a woman over the edge. In scene three she gives Ayckbourn and Emmes their comedy while reaching deep for a glimpse into Maureen's terror. It's a minor miracle as she makes us feel both simultaneously.
Kudos to Emmes and Clements for the scene two set innovation to project Eva's collapse on her kitchen wall. A bold makeover has been attempted, but the vibrant blue paint was only rolled on halfway. It's a metaphor for the life that becomes out of reach. Also, throughout the play, Nephelie Andyondis' costumes help define the characters and their state of progress, with Jane's scene one slicker, fedora, and Wellingtons standing among the best.
Ultimately, Absurd Person Singular suggests that despite how bad things may get for the betrothed, it could only be worse faced alone. If he Ayckbourn wanted to knock marriage, we'd be watching Absurd Person Plural.
ABSURD PERSON SINGULAR
by ALAN AYCKBOURN
directed by DAVID EMMES
SOUTH COAST REPERTORY
September 7-October 7, 2012
(Opened 9/14, Rev'd 9/16m)
CAST Tessa Auberjonois, Robert Curtis Brown, JD Cullum, Kathleen Early, Colette Kilroy,
Alan Smyth
PRODUCTION Sara Ryung Clement, scenic director; Nephelie Andonyadis, costumes; Lonnie Rafael Alcaraz, lights; Sam Lerner, sound; Jamie A. Tucker/Kathryn Davies, stage management
HISTORY Premiered June 26, 1972 at The Library Theatre in Scarborough, England
---
Kathleen Early, Tessa Auberjonois, Rob Curtis Brown, Colette Kilroy, and JD Cullum
Photo | Henry DiRocco