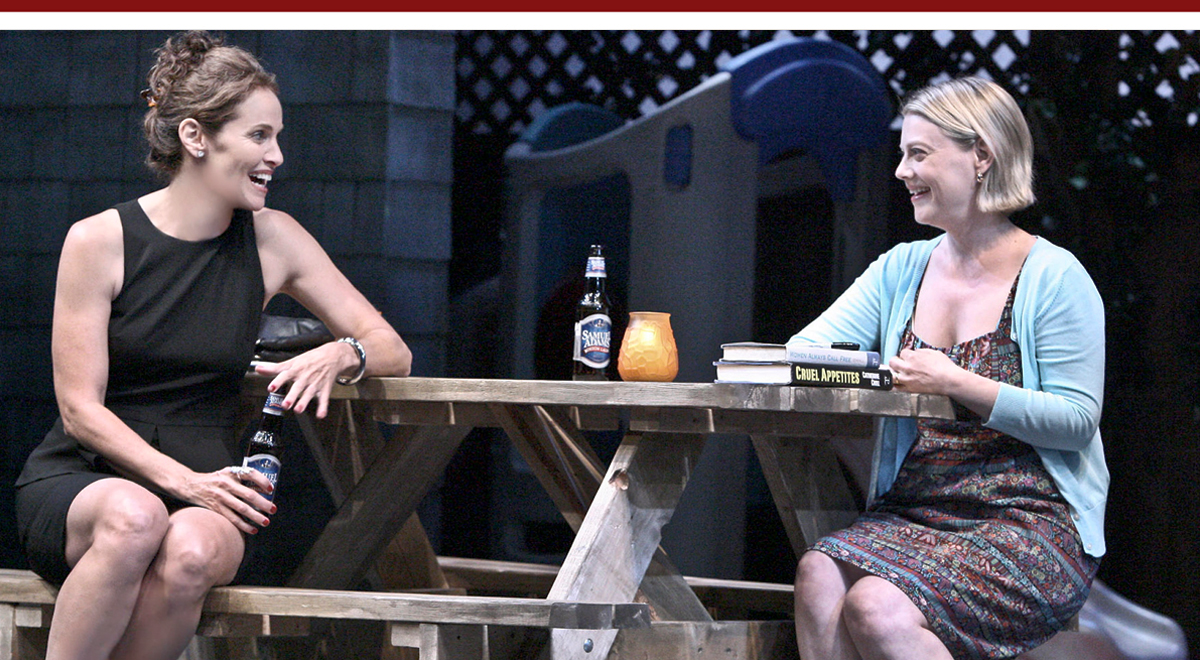 Up the big slide
A slender plot thread is all playwright Gina Gionfriddo needs to support a succession of meaty conversations that make Rapture, Blister, Burn an engaging comedy of ideas. Director Peter DuBois' cast of five is perfect to deliver this multi-generation survey of issues facing women today.
The Geffen Playhouse is presenting the play's West Coast premiere (through September 22) with the original Playwrights Horizons production and cast of Amy Brenneman, Beth Dixon, Virginia Kull, Kellie Overbey, and Lee Tergesen.
Like Bernard Shaw, who epitomized the comedy of ideas in works such as Mrs. Warren's Profession (staged earlier this year by Anteaus), Gionfriddo has sufficient command of dramatic writing that her characters can wade into the kind of deep, muddy debates that Shaw loved to stir up. Also, like Shaw, she respects her characters' intelligence, and separates their views from their values: opinions expressed are persuasive because they are grounded in a belief of what makes things better. It's not the simple slinging of slogans that accounts for so much discourse these days.
It is summer, and Cathy (Brenneman) is back in the New England college town where she attended graduate school. She is tending to her widowed mother, Alice (Dixon), who is bouncing back after a heart attack. Attractive and single at 42, Cathy is a bestselling historian of the women's movement who has appeared on national television programs, including "Real Time with Bill Maher." Her first stop is the home of Don (Tergesen) and Gwen (Overbey), the other members of her hard-drinking trio from graduate school. Don is now a "disciplinary dean" at the school and arranges for Cathy to teach a summer class. He is also her ex-boyfriend, who married and started a family with Gwen when Cathy went to study in England. It's been more than a decade since they spoke, except for a drunken late night call Cathy has forgotten, in which she questioned her successful pursuit of career over marriage and family.
For their reunion night out, Gwen has hired Avery (Kull) to babysit their two boys. A bright university student, she wants to leave school and follow her boyfriend, a wannabe reality TV producer, to L.A.
Cathy's class, which conveniently takes place in Alice's living room, attracts only two students: Avery, who was impressed by Cathy when they briefly met in the opening scene, and Gwen, whose regrets about her life choices create a flipped mirroring of Cathy's. As they go through the syllabus they discuss outspoken figures from Phyllis Schafly to Dr. Phil, Rousseau's philosophy, the addictive pull of porn and pot, and the glaring sexism in slasher flicks. Eventually, each session dissolves into more candid, confessional conversation after Alice shows up with a tray of martinis.
By act two, Don has switched allegience back to Cathy, who throws caution to the wind as she is swept up in the fantasy of instantly rekindled passion with a side order of step-parenting. Gionfriddo lets us understand that part of Cathy's motivation is her belief that, as happened with other women in family, her mother's heart attack means she has only a year to live, and when the year is up Cathy will be alone.
The cast members, who have been living with these characters for a year and a half now, have them in their bones, and the effect is profound. Kull coolly helps Gionfriddo create a stereotype-defying breath of fresh air in Avery. Appearing at first to be a co-dependent victim of abuse, she emerges out of the fog of our misconception as, instead, someone with strength, and the perspective to help the others see their lives more clearly. It's a welcome representation of an upcoming generation's outlook without stridency or cliché. Kull's portrayal makes it especially memorable.
Dixon and Overbey, too, help Gionfriddo make sure their characters cannot be dismissed as retiring stay-at-homes, but equals who chose their path. That the choices were more limited for Alice, and both her husband's and her lives were more affected by social mores, is clear. Tergesen keeps Don likeable despite his boomeranging affections.
Brenneman gets the showcase role, ignoring, then fighting, then succumbing to the lure of a passionate romance she has missed. The reason an attractive, smart, accomplished, globe-trotting woman has never married or enjoyed a serious relationship after college is more the subject of psychology than sociology, and Brenneman hints at Cathy's larger issues. We see her fall back into semi-adolescent romance as a quest for both fun and her fork in the road. When she sees that Don wants the fun and not the fork, she is able to, reluctantly, retreat, eventually finding greater solace in the deeper love of a mother, and understanding friends. [Editor's note: Brenneman talks about this understanding in her Theatertimes intermission, here.]
Alexander Dodge provides a beautiful two-location set. Mimi O'Donnell designed the costumes, and Jeff Croiter and Jake DeGroot collaborated on the lighting. The half-dozen set changes are covered by M.L. Dogg's engaging sound design.
RAPTURE, BLISTER, BURN
by GINA GIONFRIDDO
directed by PETER DUBOIS
GEFFEN PLAYHOUSE
August 18-September 22, 2013
(Opened 8/21, Rev'd 8/23)
CAST Amy Brenneman, Beth Dixon, Virginia Kull, Kellie Overbey and Lee Tergesen
PRODUCTION Alexander Dodge, scenic designer; Mimi O'Donnell, costumes; Jeff Croiter/Jake DeGroot, lights; M.L. Dogg, sound; Young Ji/Michael Vitale, stage management
HISTORY Produced by Playwrights Horizons. Received funding support from The Blanche and Irving Laurie Foundation, the Harold and Mimi Steinberg Charitable Trust (commission), and an Edgerton Foundation New American Plays Award West Coast Premiere
---
Amy Brenneman and Beth Dixon
Photo | Michael Lamont