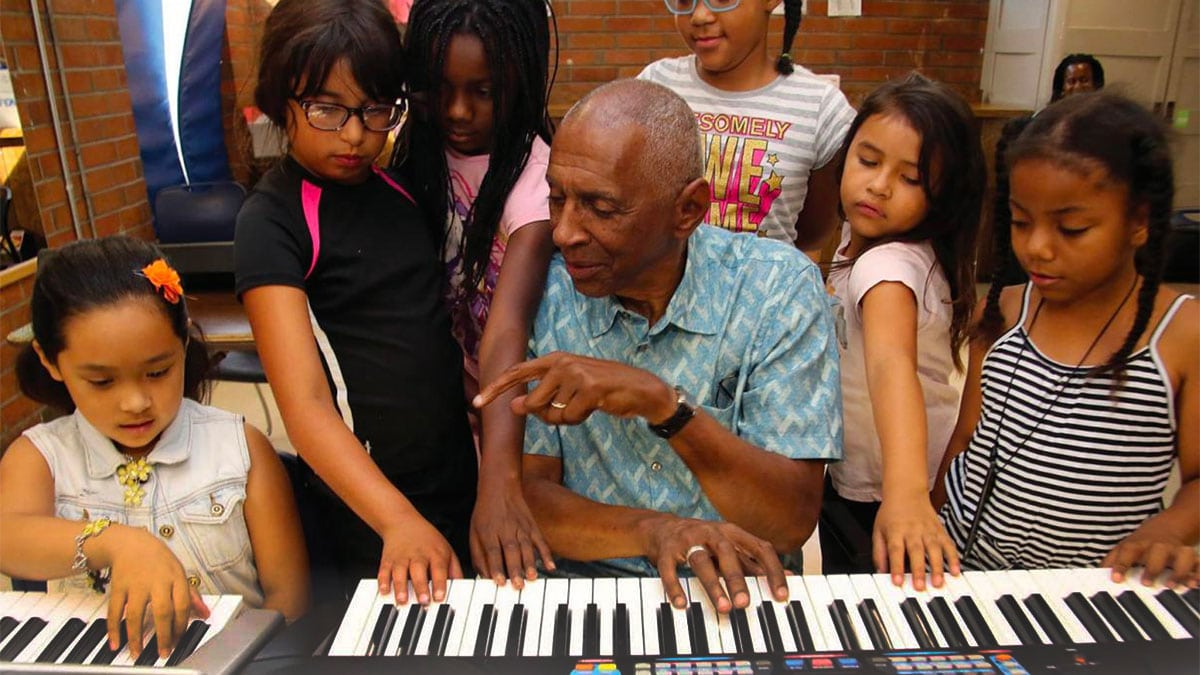 WIDENING THE CIRCLE
Billy Mitchell sparks musical appreciation at concerts and in classes
while entertaining audiences and passing the flame to adolescents.
by CRISTOFER GROSS
Pianist-composer-bandleader Billy Mitchell performs music onstage and magic off. The onstage music usually is played with "The Circle of Friends," a loose association of like-minded musicians who get together for anything from a Sunday afternoon concert in a neighborhood park to a mainline jazz festival.
The offstage magic is the result of his work with children in programs he founded and maintains that let them learn to play an instrument and develop an understanding and appreciation for music.
"I've seen kids change their behavior, their rapport, everything over the course of a year just by being engaged in the music program," he said by phone in a recent interview from his home in Pasadena.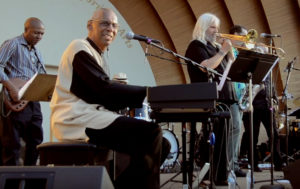 This year, Mitchell was named a "JJA Jazz Hero of 2020" by the Jazz Journalists Association, and on Thursday, May 28, following an introduction by California Jazz Foundation Executive Director Edythe Bronston, the "pianist-composer-arranger and guide of youth to music" spoke with West Coast-based music journalist DeeDee McNeil about his career and ongoing activities. The free Zoom conversation attracted several dozen housebound friends and jazz aficionados for McNeil's intelligent, intimate interview.
"I've been fortunate to align myself with several drummers, several bass players, several horn players and others who are interested in this concept of musicians who are available and interested in performing as a nine-piece group, or as a 10-piece group when we feature a vocalist, often Bili Redd," he told me in 2018, when we spoke about both his education efforts and the circle of musicians he has been building over the previous four or five years.
The interview took place prior to his Blue Jay Jazz Festival debut on August 16 in the San Bernardino Mountains east of Lake Arrowhead and a return to Sunset Jazz at Newport in Fashion Island two weeks later.
"There are not a lot of venues where you have the opportunity to play," he continued. "That means you really have to perfect your music and offer music that people not only enjoy, but can participate in. So, we like to add a little dance component – We like people to party."
That was music to the ears of Blue Jay Jazz Festival regulars, who traditionally arrange the tables and chairs for their event to leave a big area up front for dancing.
FOR THE NEXT GENERATION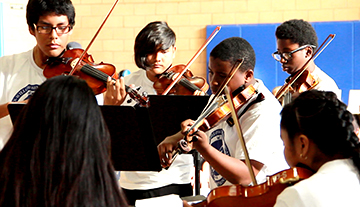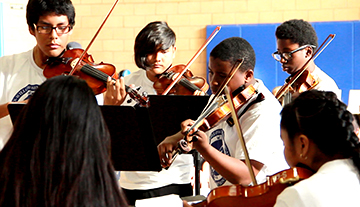 When not on a bandstand entertaining concert audiences, Mitchell is using his jazz talents to make a stand for music education, especially in the inner-city areas of Southern California. Much of this work is under the auspices of his Scholarship Audition Performance Preparatory Academy (SAPPA), described on its website as "a resource center for music scholarships, competitions, schools and programs serving the greater Los Angeles area." Two of SAPPA's major initiatives are a Music Workshop, which takes music education to public parks in order to provide free instruction to students age 7 through 18, and the Watts-Willowbrook Conservatory (WWC), a series of classes at four locations in Los Angeles and Long Beach using methods inspired by the Venezuelan outreach and education program called "El Sistema." WWC classes are twice a week and showcase student progress in two recitals each year.
"Before I started that classical program I really didn't know how music affected kids," Mitchell said. "Now I've observed firsthand how playing a violin, for instance, has changed a lot of these young people. The kids really get involved and wrestle with these little songs. They come to rehearsals and prepare. We work a lot with a great program run by the Los Angeles Music Center, which uses violin, cello, bass – all orchestral string instruments – to teach music."
CIRCLING BACK TO THE BEGINNING
Mitchell understands that people can come to music from many different directions. His own background was not traditional: he didn't get into music to become a professional but simply for the enjoyment of it. As a kid, he played by ear, but remembers one childhood friend in Buffalo who, by comparison, really was into it. That was Grover Washington.
"We were kids together," he explained. "And when we were kids – between 10 and 13 – he was walking around with a saxophone case. And another guy, the organist Dr. Lonnie Smith, and I used to sneak into this nightclub when we were 12 or 13. It had a little Electric Wurlitzer piano and we used to bang and jam on that.
"For me, music started out more as a hobby," said Mitchell, who began playing while attending Morehouse College to earn a political science degree. "Back in the 1960s, jazz was not a popular thing on college campuses, and they didn't have jazz programs like they do now. You were not allowed to play jazz or pop or anything else in the music building. So we had off-campus groups, performed for little events on campus, and more or less learned on our own. It was fun."
Mitchell didn't take any music classes until the 1970s, when he came to Los Angeles and spent a year learning theory and performance at LA City College. But his years of performing with jazz groups during and after college had him ready to work professionally and he began backing up major artists like Gloria Lynn, Esther Phillips, Randy Crawford and Linda Hopkins.
His own recordings go back to 1984, and Blue City Jam, followed in 1987 by Night Theme. These had the urban-flavored funk that would soon become the sound of Quiet Storm radio that helped boost his next releases, Faces and In Focus, in 1988 and 1991, respectively, up Billboard's contemporary jazz chart.
With the Billy Mitchell Group, he has appeared at the Monterey Jazz Festival, Playboy Jazz Festival, Heineken World Music Festival, International Jazz Festival, Pori Jazz Festival, and Sedona Jazz on the Rocks and he can been seen any time in Clint Eastwood's Bird. Another way to catch Mitchell is with the Los Angeles Jazz Orchestra Unlimited, under the direction of jazz guitarist Kenny Burrell, Charlie Harrison, and Dr. Bobby Rodriguez.
A CHALLENGE FOR THE COMMUNITY
Mitchell believes that, as a nation, "the biggest mistake we've made was cutting the arts from schools, because we cut the connection of young people to the creative process."
"When they don't have any experience, they can't appreciate music or art or anything else because there's no connection," he said. "When the country decided to minimize art, we created a whole generation without that connection. We know what music and art does for a person's development.
"These supplemental programs deserve a lot more support from politicians, the media," he continued. "There's no real concerted effort to fill that gap that's separating our young people from the creative process. If a performance goes into the school for one time, and there's no follow-up, then there's no education. The kids can't identify with that performance in the school because they don't know anything about the art form. We've done a very poor job of keeping our kids up culturally. They don't understand a lot of how music has played into their development, and the development of our country. They just don't get any of that in schools anymore."
So Mitchell will keep casting his net around wider circles of young people. One successful program, called Jazz Adventures, is run by Dr. Rodriguez. It goes into schools and is supported by the Los Angeles Music Center. As one of the more-effective programs he participates in, it's a source of optimism for him and a model for others.
"It gives the kids an opportunity to hear and experience the beginning of music," he concluded. "We go back to the turn of the century and play different kinds of music and Dr. Rodriguez explains it to them. He gives them the personalities, names, the types of music, they repeat it, and they get a brief understanding. It's only one hour, but it exposes the kids. And that's a start."
---
For more information on Billy Mitchell, visit his website.
In a circle of friends
in a circle of sound
– Ivan Lins