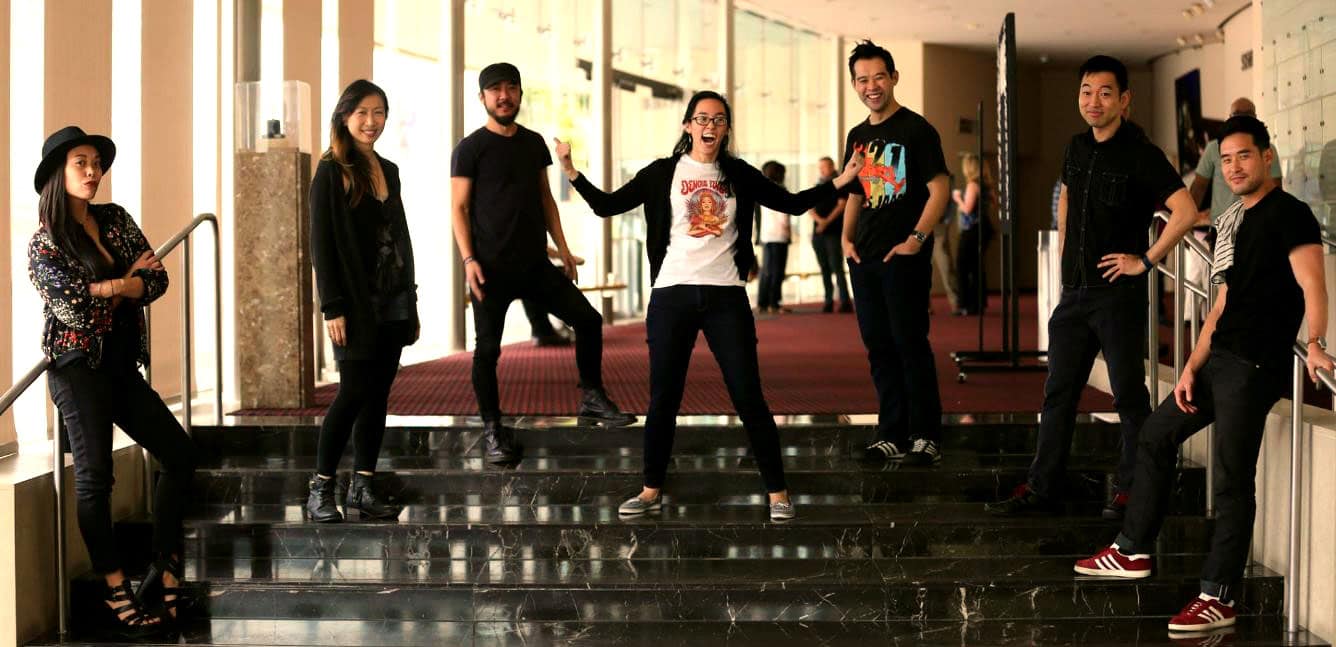 'ROCK' AND A HARD PLACE
Lauren Yee's dive into 1970s Cambodian pop lands her amid standing ovations.
by CRISTOFER GROSS
The audience at the first Saturday night performance of Lauren Yee's Cambodian Rock Band, a new play with music receiving its world premiere at South Coast Repertory through March 25, had remained seated and soundless as a last exchange of tender dialogue segued into a climactic musical number. Then, with the final power chord ringing the hall, they erupted with applause and shouts of "One more song!" The actor-musicians quickly shed their 1970s musician characters, took their gracious bows, and shred through an encore of lively, once-lost Cambodian rock.
In the middle of the house, one of the first on her feet was the playwright. Weeks earlier Yee had told me, in an interview for a preview in the Daily Pilot, the Los Angeles Times' coastal Orange County supplement, that the seeds of the play were planted seven years before, when she was caught up in the excitement of a live concert by Dengue Fever, a band whose sound and six members are a Cambodian-American hybrid.
That first encounter, Yee said, launched her down a rabbit hole to discover everything she could about the music. Now, as she danced and sang in the orchestra section of SCR's Argyros Stage, a standing ovation was quickly rising around her. It was clear that she, and her ambitious, multi-faceted work, had emerged from that seven-year-long rabbit hole, and landed successfully.
Father-daughter reunions
Cambodian Rock Band is set in two periods a generation apart. In the late 1970s, Chum is part of a Phnom Penh rock group that hopes to record their surf-music-inspired Cambodian pop and ride its current wave of popularity to national fame. In 2008, he returns to Phnom Penh from his adopted American homeland to surprise his daughter, Neary, who is on an International team prosecuting Duch, the man who ran a prison of extermination during the Khmer Rouge reign from 1975-1979. With Chum's story lighting the way, Yee leads us into Cambodia's dark years under the Khmer Rouge, and through to a greater understanding of events, and for Chum and Neary, new love and respect for each other.
Brooke Ishibashi, Raymond Lee, Jane Lui, Abraham Kim and Joseph Ngo play the five-member 1970s band, and Daisuke Tsuji plays Duch, the play's lone historical figure. The acting, singing, and musicianship are integrated at such a high level that it would be easy to underestimate their achievement. Miss Ishibashi is as powerful a singer as she is conflicted a woman suddenly caught between independence and parental deference. As the bassist sucked into Khmer complicity, Lee adds musical cred to the impressive range he displayed in the world premiere of Julia Cho's Office Hour, on this stage two years ago.
Tsuji navigates treacherous waters as Duch (pronounced Doik), who is both the play's narrator and nemesis, requiring the actor to fully embody evil while also serving as an engaging emcee. He executes the role with chilling humor. The bulk of his scenes are with Ngo, who, as Chum, the only character to appear in both time periods, plays both sides of the generation gap he shares with his parents. Here Director Chay Yew's superb staging reaches the heart of the reign's darkness. Duch's interrogations of Chum might be even more effective if, finally, the tension cannot be undercut by Chum's humor.
Drummer Kim and singer-keyboardist Lui are also equally adept at delivering musical and dramatic lines.
Space and times
Only a fraction of my lengthy interviews with Yee and Joseph Ngo could fit into the Daily Pilot/Los Angeles Times article. Among the anecdotes that didn't make are several I share here.
The script of Cambodian Rock Band calls for performances of several songs by Dengue Fever, who had been involved with the project from the beginning and happily granted rights. It also called for one instantly recognizable iconic international hit that would immediately set the period and a tone. The dream-example Yee provides is Boy Dylan's "The Times They Are A-Changin'."
"In order to do it at South Coast," she told me, "they like you to have the rights. So we wrote to Bob Dylan's representatives with all the pertinent information and I think they were really moved by the story of what happened to those musicians in Cambodia. And they immediately gave us approval. It was really nice. I like to think Dylan personally reviewed this and approved of our project."
One of the many facets woven into the play is connecting generations within a family. Both Yee and Ngo had insights into this part of the play's development.
As Yee was quoted in the Pilot, "Once I figured out the right combination of circumstances and that at its heart it's the story of a father and a daughter searching for one another. And how a quite natural instinct by one generation is to maybe sugarcoat or obscure part of their story to 'shelter' the next generation."
For Ngo, the story got personal.
The son rises to the occasion
"Working on this play felt like a way for me to tap into my own family roots, even though it's not aligned exactly with my own life" he said. "A lot of textbooks and documentaries do focus on the perpetrators, but the wonderful thing about this play is it really focuses on somebody who was there, and who has suffered a severe trauma from those experiences. The experiences and the secrets that are hidden in my own family history sort of pair up and can mirror some of the experiences of the characters in the play.
"My parents are almost exactly the same age as the character I play," said Ngo, whose parents still live in Monterey Park, where he grew up. "So my experience would be the same almost as Neary. My dad was 20 at the beginning of the Khmer Rouge and my mom would have been about 16."
When his mother her him practicing one of the old 1970s song, quot;I'm 16," she said "that was one of my favorite songs when I was growing up."
"I see a little glint in her eye, and I realize that she was about 16 when that song came out," he said. "So it's pretty amazing."
Perhaps the strangest coincidence for Ngo isn't in how his parents are excited about a play that deals with this part of history, but something he recalls from when he really was about 20.
"When I was in high school, 20 years ago, and I first expressed an interest in becoming an actor, my dad used to always tell me, 'Someday you can be able to tell this story, tell our story in some form or fashion. And he'd say, "I know how you should cast … This is who you should cast. You can play me.'"
---
Cambodian Rock Band continues through March 25, 2018. For tickets or information, visit scr.org, or call 714-708-5555.
---
PHOTO: Playwright Lauren Yee flanked by her Rock Band cast on the first day of rehearsal: (from left) Brooke Ishibashi, Jane Lui, Abraham Kim, Joseph Ngo, Daisuke Tsuji and Raymond Lee. (Danielle Bliss/SCR)