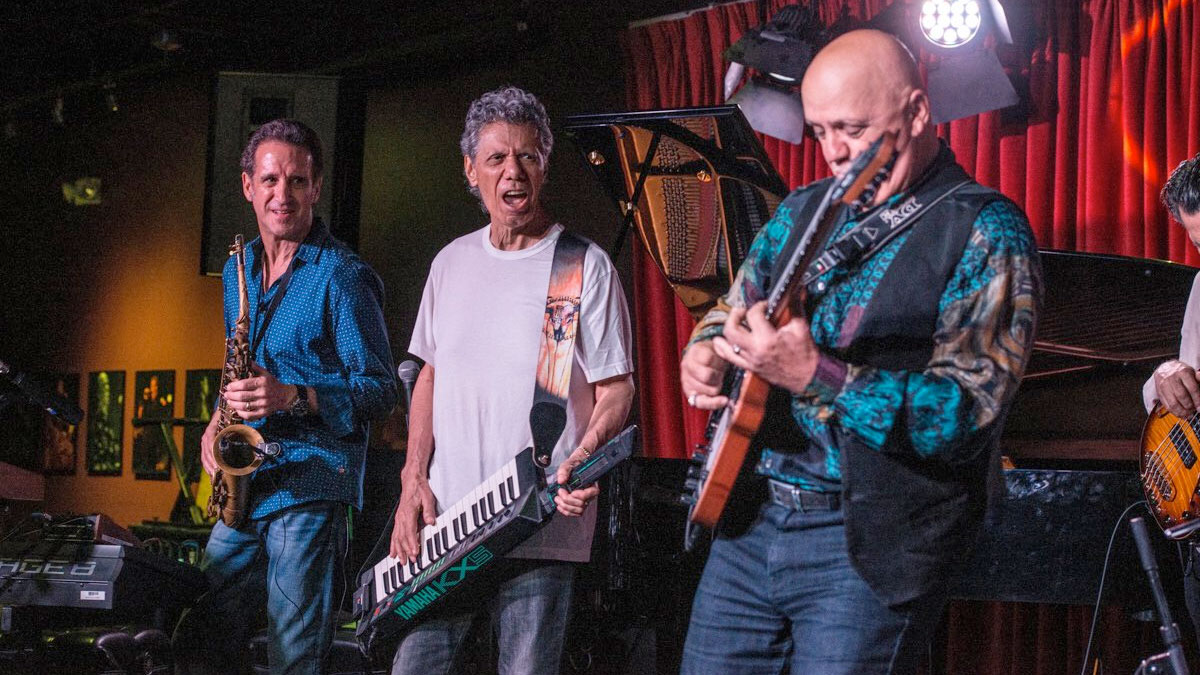 CHARGED PARTICLES
Bonding with Chick Corea Elektric Band's high-speed fusion at L.A.'s Catalina Jazz Club.
by CRISTOFER GROSS
The May 2018 maiden voyage of Jazz Generations could not have had a more apt or exciting setting. For its first outing, the new group of jazz patrons and players out to build pan-genre and cross-generational audiences chose the original Chick Corea Elektric Band's second of five consecutive two-show nights at L.A.'s Catalina Jazz Club.
Corea, who would turn 77 the following week, seemed ageless introducing the group as the original Elektric Band, then playfully misidentified drummer Dave Wickl as Steve Gadd and himself as Herbie Hancock. They opened the set with "Charged Particles" off the group's fourth album, Behind the Mask. The impact was instantaneous as the group struck right at the heart of jazz fusion, which emerged in the late-'60s/early '70s as a marriage of jazz and rock. Guitarist Frank Gambale took advantage of the opportunity and fired off complex chordings with the force of a rock guitar god. Weckl showed his ability to power-drum while maintaining exacting precision.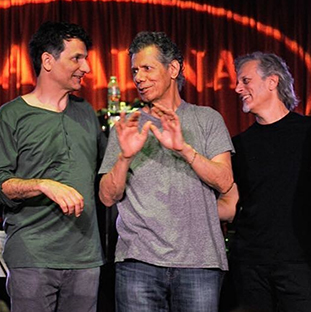 With their second number, "Trance Dance," they backed up to their third release, 1988's Eye of the Beholder, and the other members of the quintet – saxophonist Eric Marienthal and bassist John Patitucci – had their opportunities to blaze away.
They followed that with Jimmy Heath's CTA, which can be found on Heath's 1975 Xanadu Records release, Picture of Heath, but one that had been covered previously by many, many groups, Corea and this band included.
Corea introduced the fourth and final song of the regular set with an overview of "Alan Corday," from the Ekektric Band's 2004 reunion disc, To the Stars. At the time of its release, Corea called this recording his favorite to that point. It is a paean to the science fiction author and Scientology founder L. Ron Hubbard. Stars is Corea's tone poem based on sections of Hubbard's 1954 novel, Return to Tomorrow, a title that may be intentionally echoed in Corea's famous band Return to Forever, a precursor to this group, with bassist Stanley Clarke, guitarist Al di Meola and drummer Tony Williams. With the success of the Elektric Band's 2004 Grammy-nominated release, the book was re-issued as To the Stars. All that aside, the piece was clearly the favorite of many in the room. It changed the concert's pace by shifting to an acoustic piano opening before music revealed a structure clearly in line with a narrative arc.
For the encore, the band went back to a track off its first album, which preceded both Frank and Eric's membership. "Got a Match?"
Two years before, a performance of "Got a Match?" was recorded, with permission, at Catalina's – WATCH.
The history
The Elektric Band had first come together in the mid-1980s after Corea had solidly established his jazz prominence with Mongo Santamaria, Blue Mitchell and Stan Getz in the 1960s, and his first releases, Tones for Joan's Bones in 1966 and Now He Sings, Now He Sobs in 1968. Now He Sings came out the same year he joined Miles Davis' band for a series of milestones including Filles de Kilimanjaro, In a Silent Way, and the landmark Bitches Brew sessions. The first Elektric Band line-up, with Patitucci and Weckl, released the eponymous 1986 debut, Chick Corea Elektric Band, and then dropped its two first guitarists for Gambale and Marienthal. That line-up that would release four more albums.
Over the next half-decade they released nearly an album per year: Light Years (1987); Eye of the Beholder (1988); Inside Out (1990); and Behind the Mask (1991). They went separate ways, though they would reconnect in various forms, and officially rejoin for the 2004 release, To the Stars.
The effects
To be sure, some will dismiss Corea and the band's virtuosic dazzle as nothing more than musical fireworks displays that explode and extinguish without ever landing. Ben Ratliff was respectfully dismissive in his 2003 New York Times review of the band (with Michael Pope in place of Patitucci), concluding, "The band steamed through each tune, making an unbelievable clatter of notes, and when each tune ended it vanished quickly from the mind."
What distinguishes artful intensity from intensity for intensity's sake is just that: art. In the textures of these tunes, as the chromatics and arpeggios fly by like sparks in a windstorm, you can hear the minds at work. It's the key difference between musicians simply filling the space with notes and musicians on a (albeit frenzied) path somewhere. Fusion may be the jazz equivalent of blending science and religion, and these five gave us plenty of fact and fantasy to take home and savor.
---
PHOTOS: Top, Saxophonist Eric Marienthal, Chick Corea, and guitarist Frank Gambale and the tip of bassist John Patitucci, at Catalina Bar and Grill during the five-night stand in May-June 2018. Inset, Corea with Patitucci, left, and drummer Dave Weckl.