CIRCLING LONDON
A map, a shot glass, and a surprising tour of the Britain's hottest theater
by MADELINE KING PORTER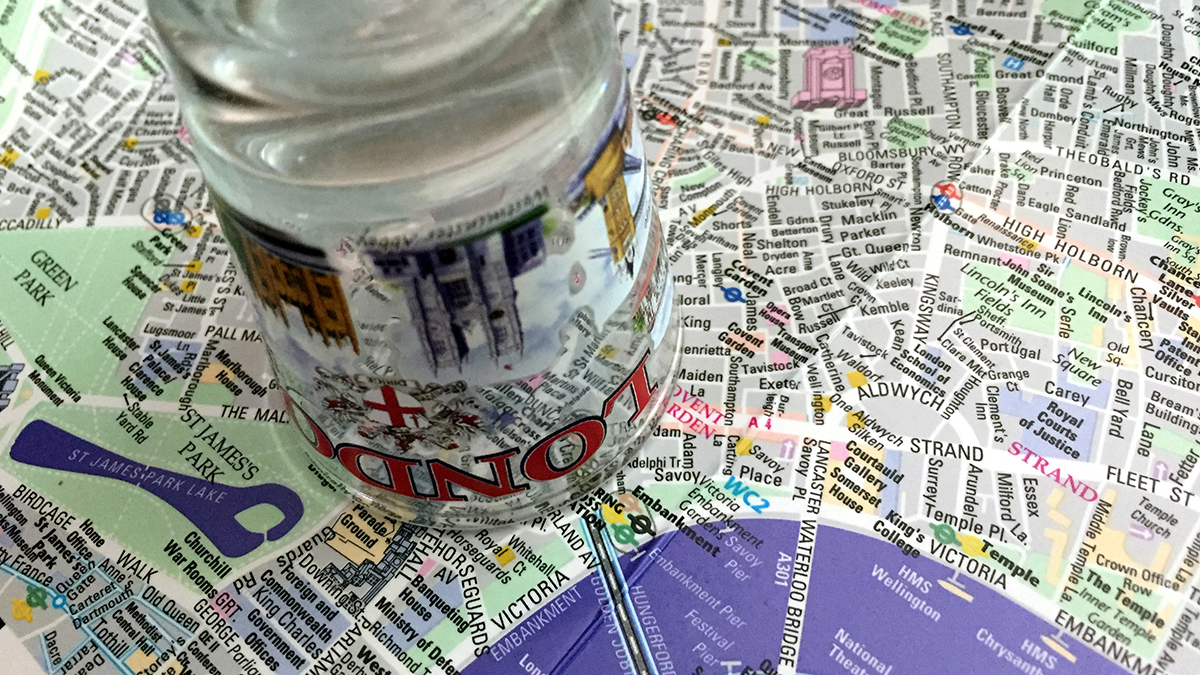 I had no plans to visit London. Then three things happened. Hamlet, Jane Eyre and Farinelli and the King.
London was calling, so I decided to go.
I had explored the city many times, beginning as an "au pair" one distant summer ago, and over the years left no ancient stone unturned. But this trip would be all about theater—no churches, cathedrals, abbeys or palaces; and limited museums, only if they fell within my "circles."
These were literal circles. First, I booked tickets online and located the theaters on "Streetwise London," one in a series of wonderful city maps. Then, using an old souvenir shot glass, appropriately decorated with London scenes, I drew a circle around each one. My plan was to visit only what fell within the circle and only on the day of the show.
The three shows went beyond my expectations, while my circle game added a fun way to focus my sightseeing and still leave plenty of sites.
Benedict in Hamlet
Hamlet (through October 31, 2015 at the Barbican Theatre) is staged on a grand scale. The entire world, it seems, wants to see Benedict Cumberbatch (left) as Hamlet, and he indeed is electric. Every Hamlet is an interpretation envisioned by the director, and this is no exception. I found the result fascinating. Not all critics agreed, and while I don't like to say this about reviewers, I fear the hype around the show influenced them negatively.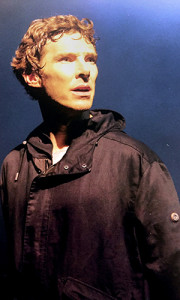 Months ago, tickets sold out online in seven hours, a London theater record. The Barbican Theatre, a huge house seating almost 2,000, held back 20 or so tickets each performance to sell for a mere £10 to those willing to line up in the wee hours of the morning. I had my ticket in hand, having scrambled around various websites and found a package that included hotel and play.
The Barbican Centre alone nearly filled its circle with more than enough to see in a day. Dating from the 1950s, the cluster of buildings that make up the Centre are looked upon more favorably today than they were in mid-century, and architectural tours are offered. A stone's throw away, and reachable by elevated walkways, is the intriguing Museum of London, where I spent the better part of the afternoon happily exploring the city's history, beginning with the fascinating "London Before London" (450,000 BC to the coming of the Romans in AD 50), an archeological marvel.
For dinner, I chose the Gin Joint, one of several Barbican eateries, an upscale restaurant with a downscale name and a most succulent risotto. I started with a martini, to stay in vogue.
Eyre in an evening
Jane Eyre (through January 10, 2016 at the National Theatre) had just opened. Last year at the Bristol Rep it was divided over two nights. Now, cut to three-and-a-quarter hours and presented in a single evening, it looked like a sure hit. The reviews have guaranteed it.
This is a bold, barebones version of Jane's life, exquisitely lit, partly (and powerfully) sung by a small ensemble in multiple roles, including Craig Edwards as Rochester's dog who lies at his master's feet with joyous abandon.
The circle I drew around the National Theatre includes its closest transportation center, Waterloo Station, site of many old movies and a gem of a building. Waterloo Bridge, famous in literature and film as well, has seen some additions in recent times. Beneath the bridge is a vast market — row after row of antique books in every condition on every subject —and next to that, tucked into the curve of the Southbank Centre, a graffiti-painted skate park.
One could live quite happily in the National Theatre with its cafes, restaurants, lounge areas and expansive gift shop, but after an unusually fine cappuccino at the Espresso Bar, I was off to the Tate Modern, a 15-minute stroll along the Thames and well within my circle. Here's the thing about museums in London — they're free. Granted, special exhibits have entry fees, but just being able to stroll through some of the world's great museums without needing a ticket is uplifting, and the Tate's collection is a must-see for lovers of "modern" art. Back at the National for a scrumptious dinner at House Restaurant, I lingered a little too long and barely made the curtain. An early reservation is suggested because the waiters also tend to linger.
Rylance is the King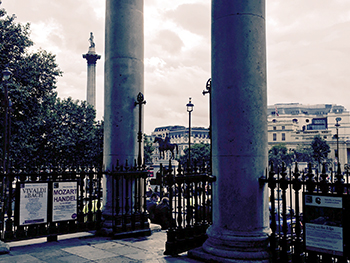 Farinelli and the King (through December 7, 2015 at Duke of York's Theatre) is the story of the melancholy King Philip V of Spain, soothed only by the voice of a famous Castrato. The role is beautifully acted by Mark Rylance and sung by lestyn Davies, who shares the role with two other countertenors.
The circle for Farinelli and the King includes a section of the West End, London's Broadway. From Duke of York's Theatre to the National Portrait Gallery is but a skip and jump so I popped in for a visit, eschewing the oft-visited National Gallery. Consequently, my Trafalgar Square photo (doesn't every trip include one?) is taken from the steps of nearby St. Martin-in-the-Fields, an unfamiliar angle, rarely seen by tourists—and accompanied by an unexpected treat, the strains of the church's chamber orchestra rehearsing Vivaldi.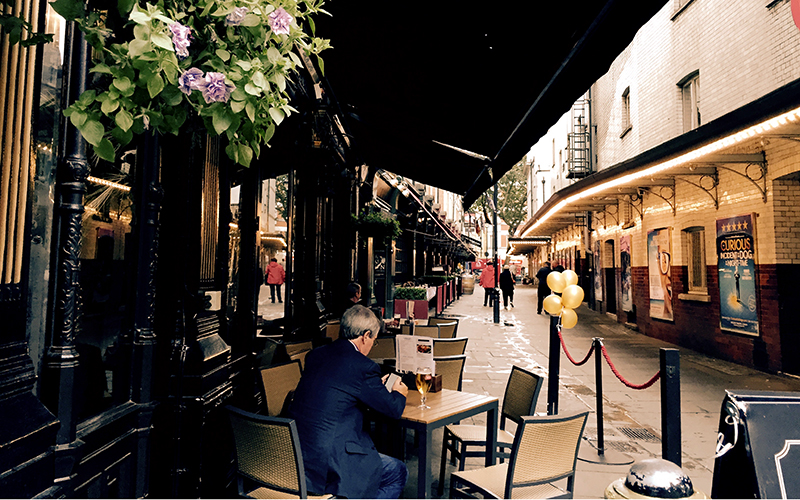 Both the Barbican and the National offer pre-theater dinners, with a set price for two or three courses. However, West End theatres are much like Broadway houses, crowded with no place to hang out and definitely no place to eat. When in London, it's fun to add Indian food to your choices, as do the Brits themselves. I'm not sure who merits reservations at Dishoon, but it must take an act of the Queen. Others of us are advised to arrive very early because the lines outside begin to form at 5:30 pm. With time to spare before the show, stroll along the West End's pedestrian walkways, like the charming St. Martin's Lane, stop for an after-dinner drink or just meander.
This turned out to be the perfect way to renew the acquaintance of an old friend city. So, if you're travelling and want to add a little side trip to your journey or if you're at home and want to add a little theater to your life, try the circle visit.
---
Madeline King Porter has had a checkered career that includes writer/producer (McCann-Erickson, Ketchum, MacLeod & Grove ad agencies in NYC); novelist (32 published books in the categories of mystery, historical, family saga and romance); travel writer (Los Angeles Times, Riviera, Coast, Orange Coast and OC Metro) and a day job at South Coast Repertory.