ON THE THRESHOLDS
In Steve Albrezzi's Commencement, the old and new collide after college graduation.
Because commencement, which means beginning, is also the ceremony at the end of college, the word has a curious duality that puts a yin-yang spin on this symbolic threshold between adolescence and adulthood.
In writer-director Steve Albrezzi's Commencement, Christa, a flawless Amelia Rose Blaire, is the graduating senior whose story drives the film. With her rite-of-passage as both catalyst and cover, threshold events ripple through the lives of all the major characters, reminding us that change is the currency of life regardless of age.
The storytelling bears its own duality. The excellent cast's performances and Joe Pennella's cinematography create a world of realism as detailed as Renaissance portraiture. At the same time, Albrezzi's writing creates fully realized and recognizable characters with the minimal strokes of an impressionist.
The film begins just after Christa's commencement ceremony at a university in upstate California. Unfortunately, some things do not make it through the threshold with her: her belongings are stolen from her packed car while the boyfriend she adores opts out of her future with a curt "Let's take a break."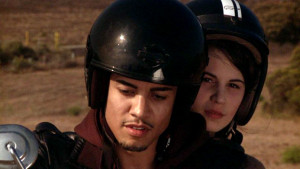 Things only get worse on the drive down the 5 the next day. The broken-into car breaks down in the middle of nowhere. She reaches her parents, Gillian (Marin Hinkle) and Nate (Arye Gross), by cellphone while they are decorating the house and garden for that evening's big Congratulations Christa Party. While sorting out options with dad, she is joined by a motorcyclist stranger who stops to check her fuming engine.
Though Javier's (Rick Gonzalez) kindness is initially rejected by her, Christa will accept a ride home on his bike while his uncle repairs the car. The wall of suspicion she sets between them dissolves during the ride back to Los Angeles, and their parting on her porch suggests there could have been a connection. But, he heads home as she heads in to help.
On his ride back to Central California, he hears her phone ringing in his bike's saddlebag and is soon goin' south.
The various stories within the story will gently unfold. The crossroads that Gillian and Nate face, both as a couple and as individuals, references the economic crossroads America was facing in 2012 when the film was made. Gillian's mother, Jennifer (Jennifer Warren), and Nate's father, Peter (Alan Rachins), are also wrestling with life changes. All these stories are rich, believable, and woven smoothly into the overarching story of Christa's post-Commencement commencement.
Albrezzi, a member of the directing faculty at USC School of Cinematic Arts, has roots in American theater, which deepens his work as he draws on lengthy associations with many of these actors. Blaire, who since filming Commencement gained fame on TV's "True Blood," and Gonzalez have a performance maturity that helps ground the storytelling from the first frame. Plot twists that in less-talented hands might choke the film's flow and stick out as too convenient or unlikely, with Blaire and Gonzalez arouse no more suspicion than a neighbor's home movie.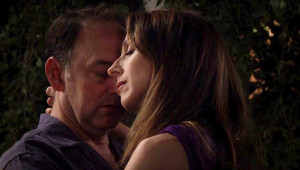 Film and TV veterans Hinkle and Gross are also busy stage actors. Their work is routinely lauded in Theatertimes, including one play, Our Mother's Brief Affair, in which they appeared as brother and sister. Another local stage actor who appears as Gillian's friend Rosalie is Joan Almedilla, who starred in 2012's Tea, with Music, reviewed here.
Commencement is also a threshold event for Albrezzi, whom I met nearly 30 years ago when we were approaching that grandest of transitions, parenthood. We would soon have only-child daughters, who became childhood friends, and were around the age of only-child Christa when Albrezzi began his script. That this film, despite being made on a shoestring, never compromises – whether it's in storytelling, performance, or production – adds to its strength of purpose. Films from the heart, like this one, that honestly capture one individual's experience, can resonate for the rest of us as we navigate through countless thresholds of change. It's likely that, like me, you'll find a change of heart has occurred as you pass through the theater exit and head home.
---
Photos (Top to bottom): Amelia Rose Blaire; Rick Gonzalez and Blaire; Arye Gross and Marin Hinkle