COUCHED CONDOLENCES
'Rabbit Hole' and David Lindsey-Abair's One Degree of Separation
by CRISTOFER GROSS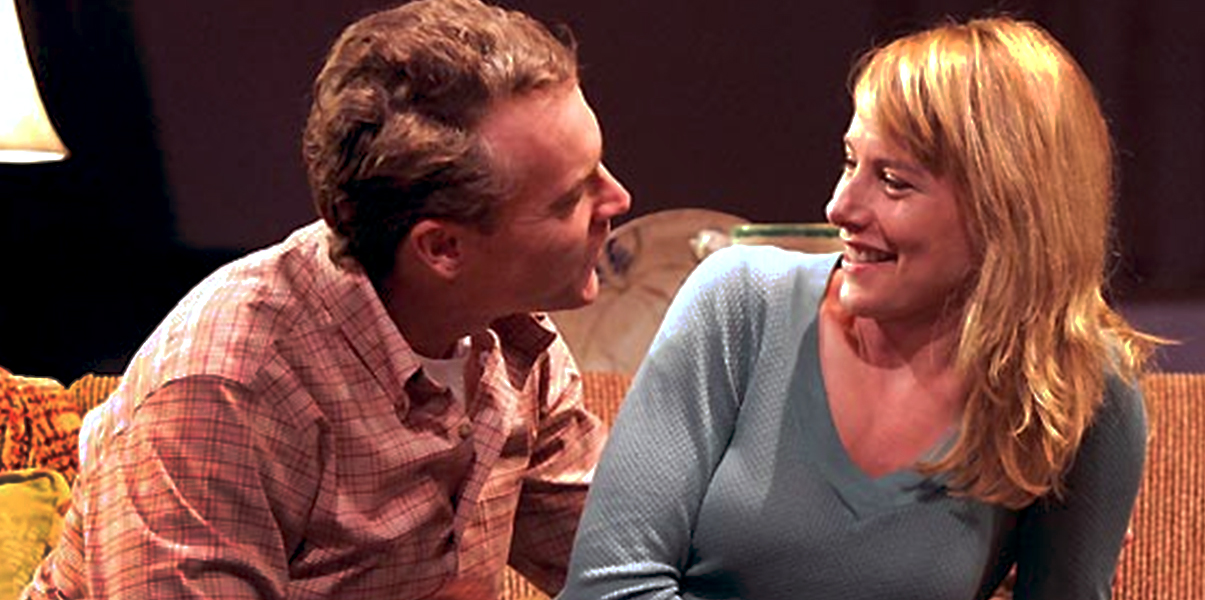 While enjoying David Lindsay-Abaire's 'Rabbit Hole' (at the Geffen through October 13, 2006), the stand-up comedy of Albert Brooks came to mind. Before he started making films in the mid-70s, Brooks, like Steve Martin, was creating comedy not by telling jokes, but by being a joke. Each created characters in his likeness. But where Martin's wildly silly character was obviously 180 degrees from his true personality, Brooks' persona was only off by a tick of the dial. Many did not see the humor. But in that single degree of variance, Brooks managed to be just as ridiculous if not more so. . . .
Lindsay-Abaire's 'Rabbit Hole' is close enough to reality to be mistaken for simple melodrama, especially after the playwright's previous central characters were given 180-degree turns: 'Kimberly Akimbo' is a teenager who looks 50 because she's aging at an accelerated rate and 'Fuddy Mears'' principal characters are an amnesiac and a criminal crippled by limp and lisp. The folks in 'Rabbit Hole' are not only normal looking but quite attractive. But while the damage has been internalized, it has not been minimized. And Lindsay-Abaire and Carolyn Cantor, his director with talent aging at an accelerated rate, offer a versatile metaphor to help us get at it.
Becca (Amy Ryan) and Howie (Tate Donovan) lost their only son when he chased something into the street and was killed by a teenage driver. Jason (Trever O'Brien) was alone, sober, paying attention, but unable to stop his car in time. Though still angry, Howie wants to limit the loss of life to one, his son, and salvage what's left of his and Becca's. She, however, cannot function in that way. She has been blasted out of her orbit by the loss. Though she wanders her home, cooking and cleaning, she has separated from it as cleanly as a capsule from its booster. Floating this way, and to her husband's incomprehension, she gravitates to her fellow damaged drifter, Jason, who has dedicated a story about unseen corridors – the kind the physicists theorize link to parallel universes and the kind Lewis Carroll did link to one – to his victim.
In the way Brooks held his comic mirror up close to our faces, Lindsay-Abaire and Cantor keep Becca unmistakable – as recognizable as any neighbor we might pass in the market. It's impossible to guess the displacement and alienation she is suffering. That tight clutch of normalcy, as Ryan and the rest of the cast (which also includes Joyce Van Patten and a stunning Missy Yager) show, is what makes for such a huge explosion when the fission finally comes. The physical production is also stunning, with a beautiful set by Alexander Dodge, lit by Matthew Richards.
For the record, credit must be given to a first public reading of the play, also directed by Cantor, two summers ago at South Coast Repertory. SCR had commissioned the script from Lindsay-Abaire, as it had done with 'Kimberly,' which it premiered. Anna Gunn as Becca, Kevin Kilner as Howie, and Lynn Milgrim, Sarah Rafferty and Phillip Vaden filling out the rest of the cast proved this untested script so road worthy that its next public performance would be on Broadway. With virtually no visible separation between art and audience, those five actors also reasserted the simple magnificence of great theater. In an auditorium of a few hundred people in casual clothes, five virtually indistinguishable from the rest sat before the others on stacking chairs, turning a hundred or so pages of fresh text into two hours of life experience. They rendered it to such a degree, that everyone in that room was moved.
PHOTO: Tate Donovan and Amy Ryan | Michael Lamont