COUNTER INTUITIVE
A new play and questions of maintaining discipline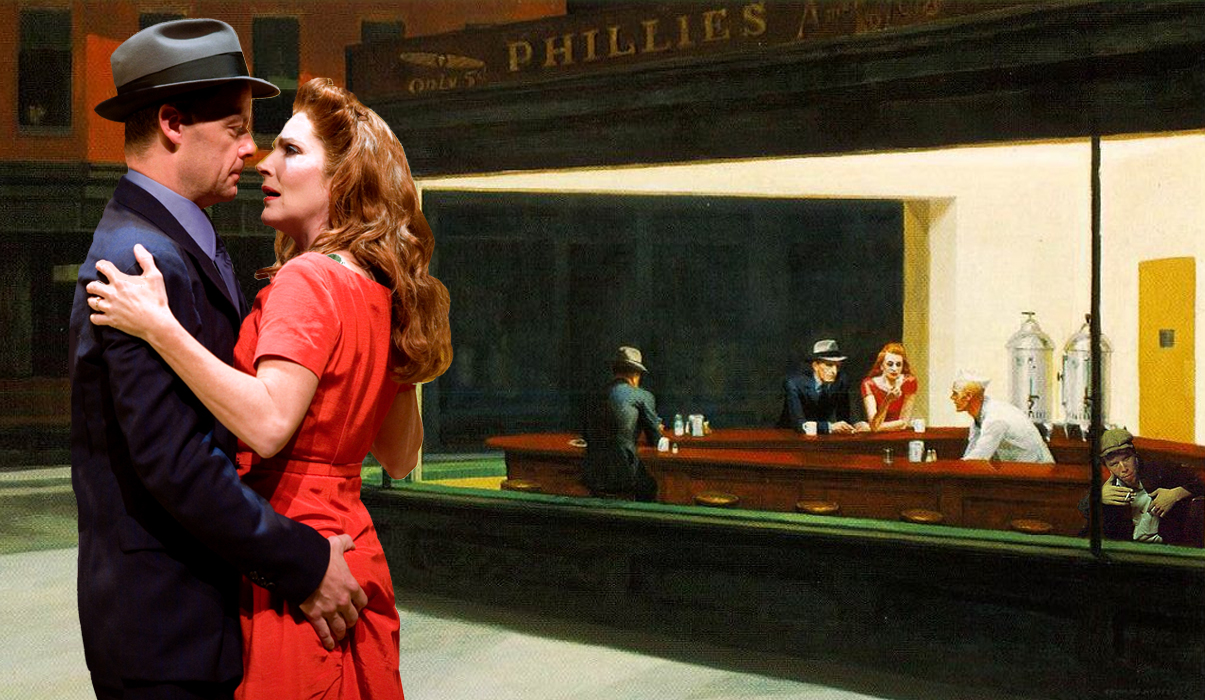 Nighthawks, sang Tom Waits on his 1975 live recording, 'at the diner of Emma's Forty-Niner, there's a rendezvous of strangers around the coffee urn tonight." That sketchy nod to the frozen loneliness of Edward Hopper's 1942 painting was a palatable bit of extra-disciplinary referencing. But according to Los Angeles drama critics, Douglas Steinberg has gone one worse in his 'Nighthawks,' receiving its premiere at the Kirk Douglas Theatre through September 24, 2006. With some inspired in-breeding, Steinberg has apparently produced a mutant child of tableaux vivant and film noir. His reason for doing so is a mystery – in more ways than one – involving the diner's three customers and attendant and a couple "off-stage" characters.
The Los Angeles Times' Charles McNulty suggests that the reason "they don't yet exist in three dimensions only underscores their need for someone with an imagination big enough to hear what they really sound like." In Variety, Robert Verini calls it a 'clumsy, interminable dramatization,' with 'cheap gags in his first act and over-the-top melodrama in the second.' Whether there's sufficient heft in the Steinberg stylus to pull off this sleight, one wonders whether such conversions can ever take.
With due respect to Jon Hendricks and the vocalese set, I'd wager that if Joe Zawinul wanted singing in "Birdland" he'd have written lyrics. Same with Paul Desmond and "Take Five." (The exception that proves the rule is Cassandra Wilson's "Run the Voodoo Down," which eerily expands Miles' universe.) Similarly, a great song is only diminished by becoming a video. I remember losing interest in MTV (even before I lost interest in the next generation's music) because I didn't like limiting the songs of Talking Heads or Squeeze or whomever into a single visual interpretation. I still see Chevy Chase's goofy mug every time I hear "You Can Call Me Al." It's what people complain about when artists sell their songs for use in advertisements. It's not the sell-out we object to, but the way songs that were once important to us are now appliqued over with images of Cadillac SUVs (Led Zeppelin's "Rock 'n' Roll"), Kaiser Permanente health care (Dylan's "The Times They Are A-Changin") and Chase credit cards (The Beatles' "Love is All You Need").
Just as I prefer letting my subconscious throw up images for "Birdland," "The Weight" and "Burning Down the House" each time I hear them, I'm sure I'll be glad I can create my own seedy stories for those denizens of Hopper's diner.
Photo Brian T. Finney and Colette Kilroy, left, and Tom Waits, right, inset into Edward Hopper's Nighthawks.