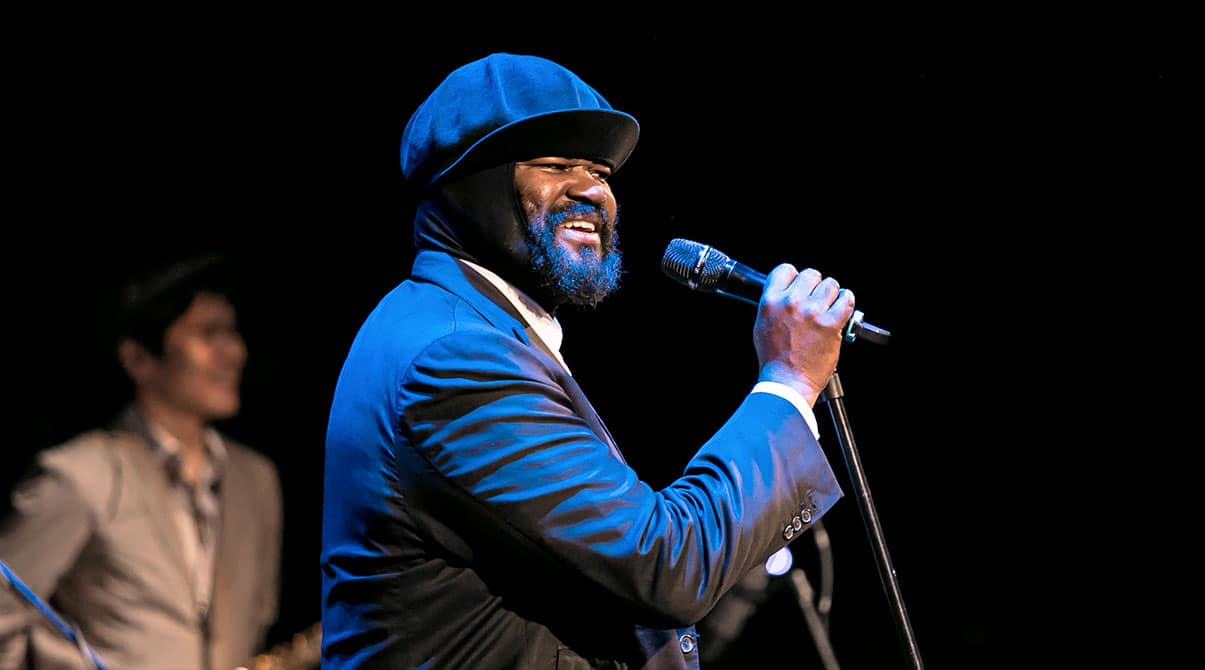 REEVES AND PORTER SATISFY
Dianne Reeves and Gregory Porter share the bill in Costa Mesa
by CRISTOFER GROSS
The Orange County big-venue jazz year got off to an encouraging start January 16, with Dianne Reeves and Gregory Porter each performing solid hour-plus sets at the Segerstrom Center for the Arts. The audience, more age- and race-diverse than usual for jazz series crowds, was also larger, stretching up to fill much of the 2,000-seat Renee and Henry Segerstrom Concert Hall's third balcony.
It was the familiar and the first-timer, as veteran Reeves made her sixth Center appearance, the record for a jazz artist, and the 43-year-old Porter made his debut.
Given Reeves' headliner status (she is one of the few first-generation successors to jazz legends Ella Fitzgerald and Sarah Vaughn) it was surprising that it was her quartet that first took the stage. Sans their singer, pianist Peter Martin, guitarist Romero Lubambo, bassist Reginald Veale, and drummer Terreon Gully got the blood pumping with a romp through Gershwin's "Summertime."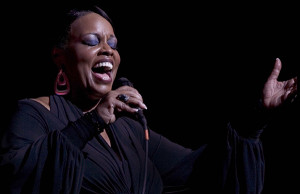 Reeves' singing continues to blend solid jazz vocals with influences of the soul and r&b of the 1970s and '80s when her career began. Her set, which included several songs from her excellent 2013 CD, Beautiful Life, showed this embrace of standards and more recent songwriting. Among the standouts were "Stormy Monday" and "Our Love is Here to Stay" (featuring Lubambo for an uplifting Brazilian vibe), "Cold," co-written by Martin, a sweetly insistent version of Bob Marley's "Waiting in Vain," and Stevie Nicks' "Dreams," with which she began after joining the band.
The audience was most engaged by a wordless vocal tribute to her inspiration, Celia Cruz. She introduced the song by recalling the night in 1977 when a friend took her to an L.A. arena to first hear the Cuban Salsa Queen.
After a break, the debuting Porter and band walked on stage to a surprisingly robust welcome. It quickly became clear why Reeves had chosen to open rather than take the traditional headliner position and close the show.
Porter's voice has a timeless sonority. It resonates with the great traditions of both jazz and soul, bearing echoes of late greats from Lou Rawls and Billy Eckstein to Brook Benton and Teddy Pendergrass. But this is just the packaging with which he delivers original material strong on poetic urgency.
The singer opened with "Painted on Canvas" (see video below). It is a plaintive call for individuality and acceptability, a poetic celebration of childhood in a trance-inducing carousel-waltz rhythm. He moved on to the title track of his 2014 Grammy Award-winning Liquid Sky, which had the energized audience clapping to the strong revival beat.
With his excellent band – pianist Chip Crawford, bassist Aaron James, drummer Emanuel Harrold and saxophonist Yosuke Sato – he held the audience close on a total of eight songs that managed to celebrate and chasten in the way singer poets like Gill Scott Heron, Terry Callier, Curtis Mayfield and of course Marvin Gaye did. "No Love Dying" was a great example, as was the Gaye-invoking "On My Way to Harlem."
His version of "Work Song" included a sampling of "In Crowd," which he has also recorded, and "Hey Laura," a song that evokes Benton's seminal "Rainy Night in Georgia."
But, perhaps it's "Musical Genocide," with its segue through "Wake Up Everybody," a Harold Melvin and the Blue Notes hit for Pendergrass, that brought it all together and left the audience standing and cheering after the lights were up and the musicians bowed out.
Reeves' Beautiful Life includes a duet with Porter, "Satiated (Been Waiting)" (listen to it below), which fans might have hoped would be a stage-sharing, soul-stirring encore for the two stars to come together in an evening finale. But, it was not to be.
---
PHOTOS: Gregory Porter, top, with saxophonist Yosuke Sato, and Dianne Reeves, inset, performing at The Apollo Theater in Harlem, New York. Photo by Keith Estep
• • •
VIDEOS Gregory Porter sings his 'Painted on Canvas'; Dianne Reeves and Porter duet on 'Satiated (Been Waiting),' from Reeve's Beautiful, and Reeves performing 'Waiting in Vain' at Lotos Jazz Festival 2014.