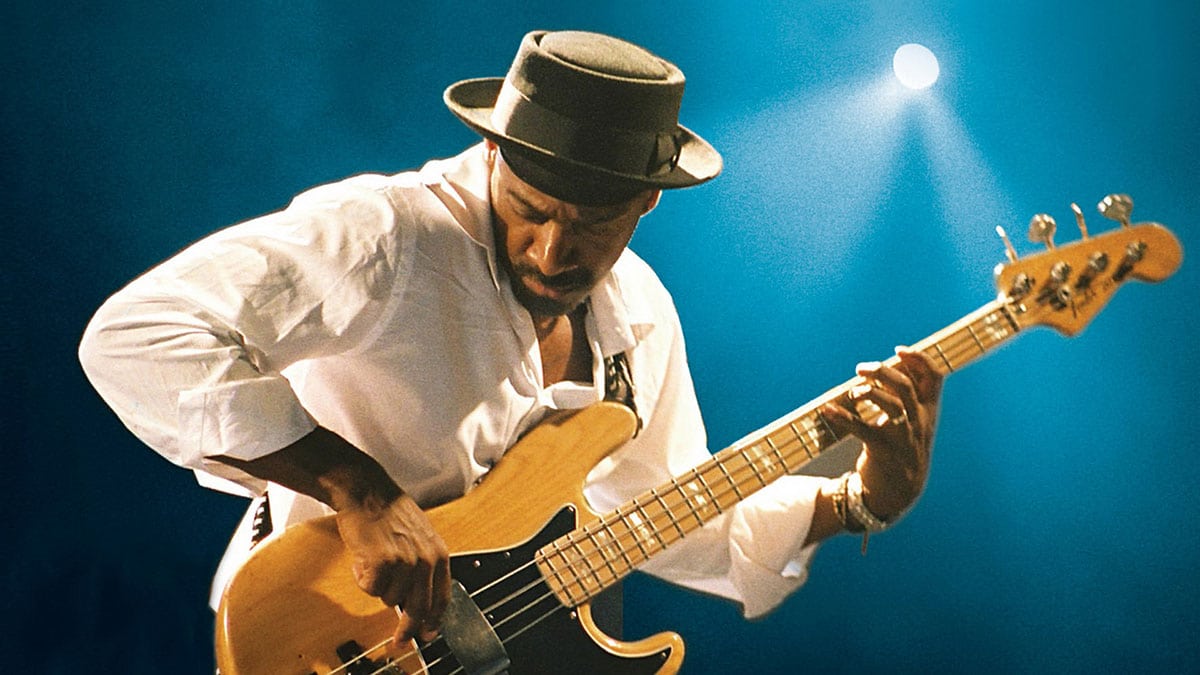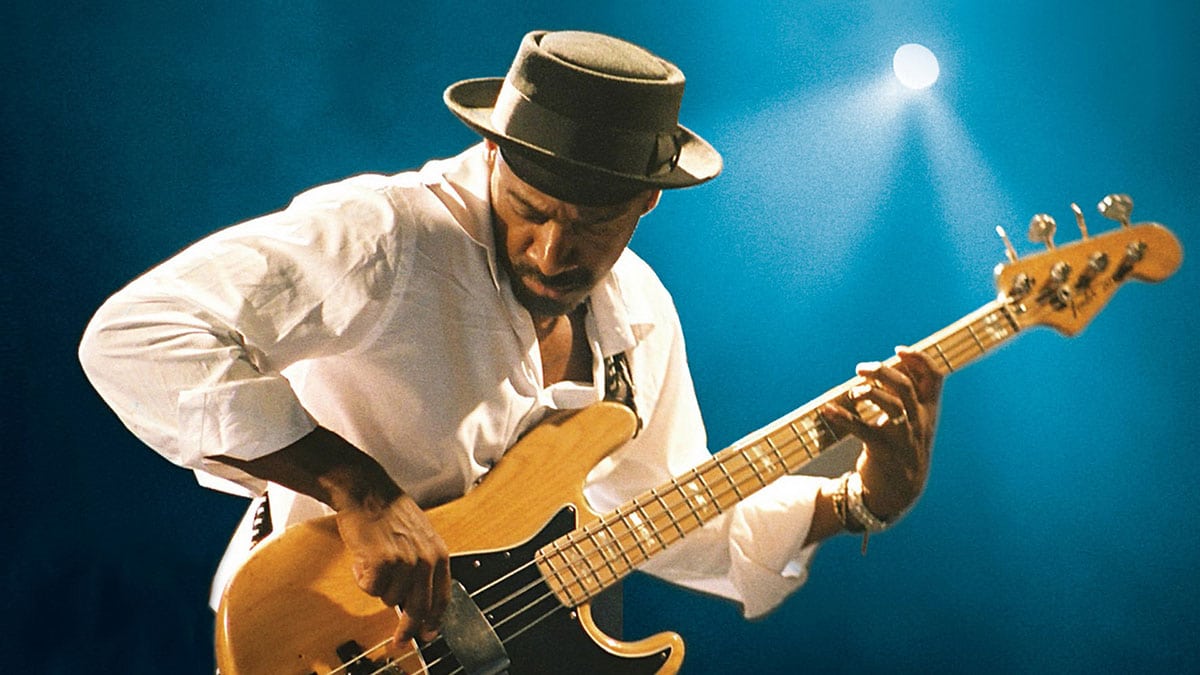 INTERMISSION: 15 MINUTES WITH…
MARCUS MILLER
Jazz and funk basics from the omnipresent musician, composer and arranger.
In 2006, on assignment from the Long Beach Press-Telegram, I spoke to Marcus Miller, the multi-instrumentalist behind Miles Davis' landmark 'Tutu' recording and a bass-playing collaborator with Luther Vandross from his first album, Never Too Much. Miller was coming to Long Beach's Vault 350 for two shows. I was surprised to be calling a Los Angeles area code for the New York-born musician.
---
Theatertimes: Do you live in L.A.?
Marcus Miller Yeah, I live in L.A. Been here for about, ooh man, maybe 12 years. Although I only started letting people know in the last five years . . . [laughs] that I'm out here. Y'know? 'Cause I'm really a New Yorker. I got out here because we were still doing Luther [Vandross] records and he was living out here. So whenever we did his albums I'd spend three months in a hotel. My kids were young, man, and I was tired of being away from home for that long. So, I started renting a house and bringing my family out. And when you got young kids, man, you gotta be careful when you do that. You put them in school and the next thing you know the roots have grown into the ground and you find yourself looking for a house. So I cross-faded into L.A. Then I got into doing movie work, film scoring, and you really need to be out here for that.
Theatertimes: What films have you done and working on now?
Miller: Let's see, I started off with like 'House Party,' and Eddie Murphy's 'Boomerang,' back in the day. I'm doing 'Everybody Hate's Chris' for Chris Rock and working on a movie for him as well, which I'm getting started on – don't even know what the name is yet.
Theatertimes: There's a good reason to be in L.A. For this Friday in Long Beach, who will be joining you and what material will you be drawing from?
Miller: Let's see. I've had a band now for probably about 12, 13 years. We started off doing a lot of work overseas because they had a lot of festivals and they were calling us and saying 'You need to put together a group.' So we've been pretty consistent overseas in Japan, Europe, South America and even Africa, actually. In the last maybe five years we started to concentrate on presenting the music to the U.S. audience, which is kind of weird, going backwards like that. But, the band is good. Poogie Bell plays drums. People know him from Erykah Badu's, you know, Rimshot? He's the one playing that rimshot* [chuckles]. I got two brothers from Dallas, Texas: Bobby Sparks on keyboards and Keith Anderson on sax. You know they play with Kirk Franklin, Roy Hargrove, Les McCann. So I found them in that area of music. I got a harmonica player who's just incredible, from Geneva, Switzerland named Gregoire Maret. He's blowing people's minds. And Patches Stewart playing trumpet. Yeah. Twelve years ago I was doing a lot of music that I had written for Miles, music that I'd written for David Sanborn. But after having two, three or four albums out on my own, now it's a mix of the stuff that I've been doing. Every so often I'll throw in one of those older songs that I've been doing to keep it spicy.
Theatertimes: So does Stewart provide horn to do stuff off 'Tutu?'
Miller: Yeah, yeah. Originally we used to do stuff from 'Tutu' and every once in a while people yell 'Tutu' loud enough.
Theatertimes: You know, on a sidetrack, Manhattan Transfer performs 'Tutu' in concert and Cheryl Bentyne really nails the sound. It's pretty eerie.
Miller: Yeah, She did the whole thing, right?
Theatertimes: Yeah.
Miller: The whole Miles solo.
Theatertimes: Yeah. Do you know about this?
Miller: Yeah I have. They called me because Jon Hendricks, from the great vocal group Lambert, Hendricks and Ross, he wrote the lyrics to that. Which is an honor, because he writes lyrics to the classics. So, to have 'Tutu' considered in that realm is really nice. Al Jarreau and George Benson just did it on their latest album, too.
Miles down the road
Theatertimes: As I recall from your interview on the Miles Davis bio, you endured some shit from people who thought that was a big misstep for him. Has time proven you vindicated?
Miller: Yeah, yeah. Even then, I probably overstated the heat because that was a positive experience. It was a smash for Miles and he really appreciated it. I mean, if Miles Davis thanks you, says, 'Hey man, you brought me back,' there isn't anything anybody else can say. [laughing] You know what I mean. The book is pretty much closed. It was a good thing we did. And, man I went to South Africa and journalists there asked me what it felt like to have made the most important musical contribution to that struggle. You know what I mean. No: 'Tutu's' a good thing and I remember being in that video, and I think the context was the heat that Miles was taking for his direction. So I kind of focused on that. But, it really wasn't about that at all.
Theatertimes: Do you live in L.A.?
Miller 'Silver Rain' is an interesting record. You have all kinds of different songs. What attracts you to a range of songs from Beethoven to Edgar Winter? I think my job's just to show people the other side of music. Because, you know, people are so into, I only like Trip-Hop, I only Hip-Hop, I only like classical. You know? And I came up in an era when, man, you just liked good music. I think it's going to go back to that. Hip-hoppers are starting to learn about other kinds of music. 'Cause they're hearin' it all the time in these samples, you know? And they're starting to get interested in a variety of music. Everybody is. I talked to Q-Tip and he's taking jazz piano lessons. Talkin' to Mos Def and he wants to do a jazz Big Band album with Hip Hop. So everybody's starting to grow. It's exciting. And I think my job is to show people the connection to music: how much all the different styles of music have in common. For me, yeah. We do Beethoven and go right into Hendrix after that. [Laughs]
Theatertimes: And some of the people e you've got. How do you pull an Eartha Kitt together with an Eric Clapton?
Miller Well, Eartha . . . I told you I scored 'Boomerang' . . . and in 'Boomerang' Eartha was always yelling out Marcus 'cause she was trying to seduce Eddie Murphy's character. So when every somebody calls me on my voicemail, they always go 'MAH-cus, dahling.' For maybe the last 15, 20 years people been doing that. And so I figured I need to memorialize that and put it on my cd.
Theatertimes: Now, you can play every instrument. I'm curious how that works, 'cause I haven't interviewed anybody yet who could fill up a whole record themself. I suppose there are times you like to do the whole thing yourself and other times you want to just play bass and let other brains add in.
Miller: Yes. You go through phases, you know. Because I play like on the Miles stuff, for him, I played most of the instruments. But he liked the idea that all the music was coming from one mind. That everything complemented everything else. It never clashed. But then you get to another point where you want people to interact, 'cause that's more interesting. It depends on the mood and it depends on what you want to get from the music. If you do it yourself, it's more like you're painting, because you're rewinding the tape, you know, rewinding the song and adding and writing and saying, 'What more does this need?' You run and get your clarinet or your guitar or, you know what I mean, whatever else you need and you keep going back and forth until you have it exactly the way you want. But with musicians, you're all there to make it happen at one time. It's like we're trying to catch a moment.
Stars launch and re-launch
Theatertimes: How did your relationship with Luther Vandross get started?
Miller: Well, you know, we met in Roberta Flack's band, way back in '79-'80. He was singing background and I was playing bass. And we were already pretty popular studio musicians at that time in New York. I would see Luther passing by in the hallway. We'd just laid down a track and he was getting ready to go sing background on it. But when we got into Roberta's band we started hanging and talking about music. And he impressed me man 'cause he was so astute about singing. A lot of singers are natural singers and they don't quite know what goes into what they do, they just know how to do it. But Luther wasn't one of those guys. He was like a scientist when it came to singing.
Theatertimes: Was he trained?
Miller:
No, but he was so bright about it. He would play Aretha Franklin records and say 'Listen how she does this here. Listen to the vibrato. No vibrato. Okay this one's going to be a little sharp to give you a lot of emotion.' You know what I mean? He would break it down on that level. And it really impressed me because I was a musician and I didn't really consider singers musicians at the time. I was very young, like 18, 19 years old. And he was the one who made me start paying attention to it. And, I played on his first demo [laughs] you know what I mean. He got some studio time on a Sunday morning and we cut some tracks for Luther. He had some other things going on in the '70s, but for him as a solo artist, this was his first demo. And those demo tracks ended up being tracks on his first album 'Never Too Much.' So I got to see the things from the jump street. I got to see him have difficulty getting a record deal because all he really did was sing. There was not really any other gimmick to what he did other than great singing and record company people weren't sure whether to take a gamble on that, at that time, that era. I saw him stick to his guns when they wanted to put him with a producer who wanted to make his music more fancy and more trendy. I got to see him spend more money that anybody advised him to do on his concerts initially. Because he said, hey man, I just want people to always know when they come to see me they gonna get their money's worth. And he lost a lot of money, man, turning the stage into a living room. You know and all that stuff? But he said, hey, I'm investing in myself. He was never, ever, unsure about the quality of what he did or what he needed to do. And I really learned a lot seeing him do his thing like that. A lot of people are confident like that. But what made him interesting was that he was confident and he was also immensely talented. That's a wicked combination.
You can imagine how many tapes I get, having produced with Luther all those years. I get guys all the time saying, 'Hey man this guy's the next Luther.' And there's a lot of guys with that vocal quality. But what made him different was how he saw the world and how he saw music and musical choices he made are as important as his voice. I'll tell you, it wasn't my idea to sing 'Superstar.' [Laughs.] You know what I mean? That song was the most corny Carpenters song I'd ever heard until he got to it. He and Nat Adderly, who played the piano and helped him arrange that song. All of a sudden you just saw the world turn, you saw the world through Luther's eyes and his ears. And that's the thing that made him so unique. All those songs. All those cover songs. 'The House is Not a Home,' 'Superstar.' I'd always go, 'You sure?' [laughs] I remember, one album, the record company guy says, I know you been selling x-amount of records. I can quadruple that 'cause every body likes to hear you sing cover songs. So let me put you with my producer and we'll just do a whole album of cover songs. And it didn't work.
People asked me what Luther wasn't bigger than some of the other singers of the day and I'd say because he interrupts you. You can't keep doing what you're doing when you put his record on – except for making love. If you're washing the dishes or something you have to stop. So he can't be background music, so you have to take time out of your life to deal with Luther. And that was a blessing and a curse.
Theatertimes: You really have an instinct for when to come forward and when to ease back in the mix of a song. Is that something that comes with being in the 'rhythm section?'
Miller: I think it comes from being a studio musician for so many years. Because when you're a studio musician, you're only job is make the artist that you're working with sound good. So you learn to listen and you say, look, this is Bill Withers. There's not much I need to do here, just hold it down and give him some support. And then you have another record where you say, you know, this is a place where the bass can really help. I need to step out a little bit. So you really just learn to do whatever you have to do to make the music sound better. I think that's what I've been doing all my life.
Theatertimes: At what point did you work with Aretha Franklin?
Miller: On 'Jump To It.' In fact Luther and I wrote 'Jump To It.' That was one of the first records Luther and I wrote together. And that kind of got us going on the songwriting thing.
Theatertimes: That was really a bump for her.
Miller: Yeah. All of a sudden people realized she was still the Queen and she could still do contemporary music. Up until then she had been doing a lot of records that were like homage to Aretha records. Then she took off again and did 'Freeway of Love.'
Theatertimes: Another lp?
Miller Yep. You gotta keep that freshness.
VIDEO
Marcus Miller performs Miles Davis' 'So What'
WATCH IT
Marcus Miller, with Herbie Hancock's Headhunters '05 (Full Concert)
Herbie Hancock (piano), Terri Lyne Carrington (drums), Roy Hargrove (trumpet), Munyungo Jackson (percussion), Lionel Loueke (guitar/vocal), Wah Wah Watson (guitar)
WATCH IT