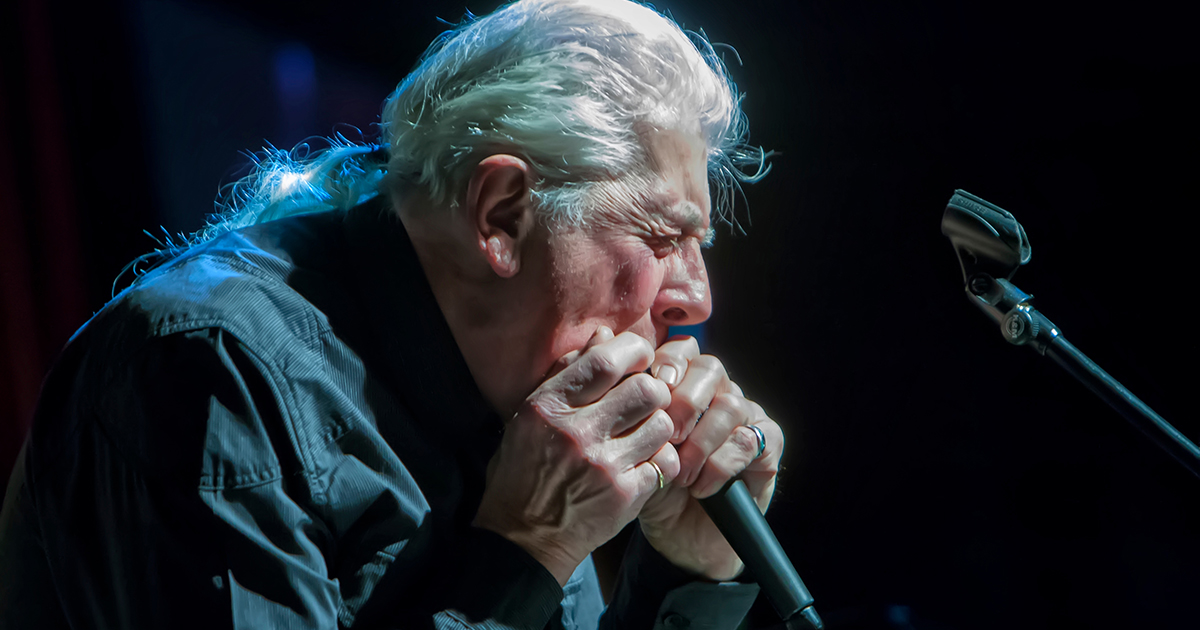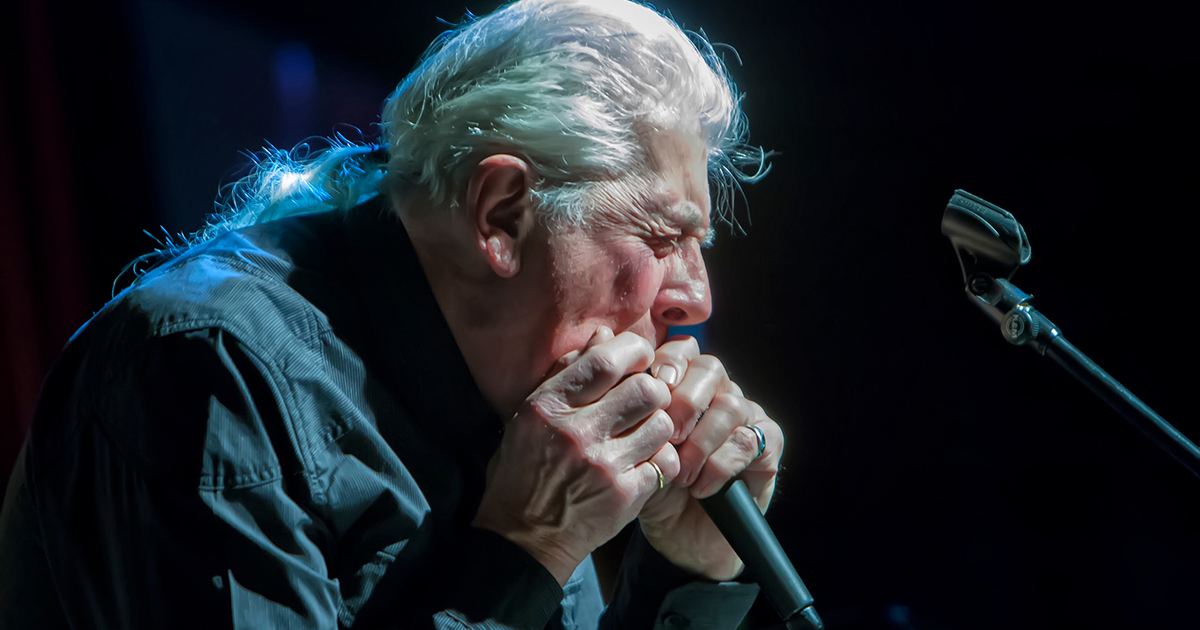 PHOTO: ARNIE GOODMAN
JOHN MAYALL'S BLUES
LONG PLAYER: The 82-year-old 'Godfather of British Blues' has new recordings
and tours as the Blues Hall of Fame inducts him.
by CRISTOFER GROSS
While rock n' roll of the 1950s has long been filed under oldies and the once mighty music of the Sixties and Seventies are hobbled with 'Classic Rock' labels, the blues is un-phased. Born in Southern fields under the glare of sun and supervisors, it bore into the hearts of musicians who, in a kind of musical mutualism, kept it contemporary as it kept them current.
For proof, look at John Mayall. At 82, the British blues icon is as active as ever. This year alone, he will release his third new studio album in as many years along with volume two of a recently discovered 1967 show with Peter Green, John McVie and Mick Fleetwood. On May 4 he will be inducted into the Blues Hall of Fame and three days later join Bettye Lavette and Charlie Musselwhite at the Segerstrom Center. Saturday's blues line-up is followed on Sunday by a soul-jazz bill of Lisa Fischer, Gregory Porter and Dr. Lonnie Smith. [Show information.]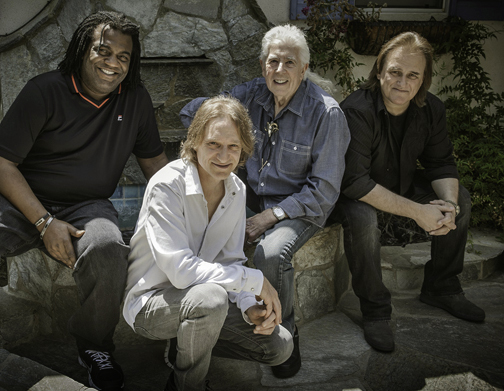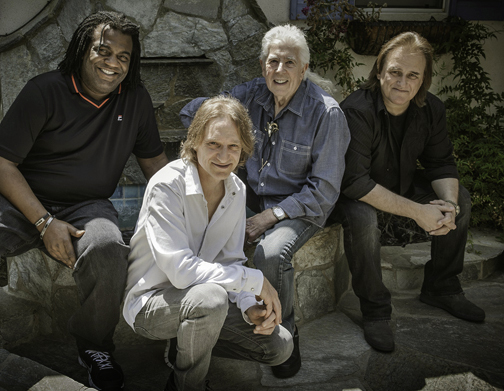 "It moves with the times," Mayall said about blues' vitality. "It reflects what's going on around us and that's why it differs a lot from other forms of music. It's always going to be current. If I play any of my albums going back 50 years, it's like a musical diary that reflects what was going on around me. They all convey the music of their time. Blues is supposed to do that."
Born near Manchester in November 1933, Mayall was 17 when the 1950s dawned. Like many of the major figures of the British blues-rock era, while a decade-long jazz boom was getting underway in Britain, he became obsessed with the American blues records that were being imported, though attracting a much smaller audience. Inspired by his father, a musician named Murray Mayall, he had learned piano, guitar and added harmonica. He found that his natural singing voice had a distinctive, soft-yet-edgy quality that was – and continues to sound – perfect for the music.
After two years of art school he joined the art department of a major department store, all the while collecting blues records. During three years in the service, including time in Korea, he honed his playing before any audiences he could gather. In 1962, the sea change began. The Beatles were at the forefront. That January they made Brian Epstein manager and in April signed with George Martin, in August added Ringo Starr, and in October released "Love Me Do." The significant development for Mayall was the new blues club Alexis Korner and Cyril Davies opened in Ealing. In 1963, Mayall moved to London and got work backing John Lee Hooker, T-Bone Walker, and Sonny Boy Williamson on their first English tours and leading a series of his own hugely influential Bluesbreakers groups.
Among them, the 1965 line up with Eric Clapton would produce the seminal Blues Breakers with Eric Clapton album, still one of the genre's best. But Clapton was soon off with bassist Jack Bruce and drummer Ginger Baker to form Cream and following him were others who after stints in the Bluesbreakers went on to historic groups. Among these were the three on the newly discovered 1967 shows, who then left to form Fleetwood Mac, and Rolling Stones' lead guitarist Mick Taylor.
The year after the show with Green, McVie and Fleetwood, Mayall embarked on his first American tour, arriving in Southern California in January 1968. He was hooked, and returned for a vacation that summer during which he stayed at Frank Zappa's house on Laurel Canyon Blvd. and recorded his landmark Blues from Laurel Canyon.
"That vacation in the summer of '68 was the final piece of the puzzle for me," he said. "By the beginning of 1969 I'd moved here."
BACK ON TRACK
Mayall's current burst of creativity and new material began as he entered his 80s in 2013 after signing with Eric Corne's Forty Below Records. That followed a five-year dry spell with Eagle Records.
"Maybe the sales weren't what Eagle wanted them to be," he explained. "They just dragged their feet, you know. They didn't ask for an album, they kept stalling. It was very frustrating not to be able to have an album for five years. So after getting out of their contracts and joining up with Eric and Forty Below, it's a different ball game all together. It's his record company. He's the engineer. It's a one-stop shop. So, it's perfect for me and it's great for him. We've already been in the studio and recorded the next studio album, and that will come out the end of 2016. We have a perfect situation where we can put out stuff whenever we need it."
The first to be released was A Special Life in 2014, which was well received by critics and fans. Find a Way to Care followed a year later. At the same time, the reel-to-reel tapes of the concert with the future Fleetwood Mac members was uncovered for Live In 1967.
"Sunken treasure doesn't get much better," wrote Classic Rock Magazine. A volume two is to be released later this year along with another studio album that Mayall was unsure how to title when we spoke.
"Haven't totally settled on a name," he said. "I think it's called Talk About That. There's a guest appearance on the album and the same guy who did such a good job with horns on the last album is back with horns on four of the tracks. They're great guys, so we definitely needed to use them again.
At the core of the recordings are his band of eight years, guitarist Rocky Athas, drummer Jay Davenport, and bassist Greg Rzab, who will also be with him at the Segerstrom Center show on May 7.
"I wouldn't do any gigs without them," he said.
So, how does he feel abut the Hall of Fame? Not surprisingly, as one whose relationship with the music has always been about staying in the moment, a museum's value is in what it means for today.
"It's very nice to have," he said. "Anything that will help spread the word is fine by me. Maybe I'll get a bit more publicity out of it. The main thing is to keep the music alive."
---
Photographs: Top banner, John Mayall (Arnie Goodman); center, with his band: Drummer Jay Davenport, bassist Greg Rzab, Mayall, and guitarist Rocky Athas.