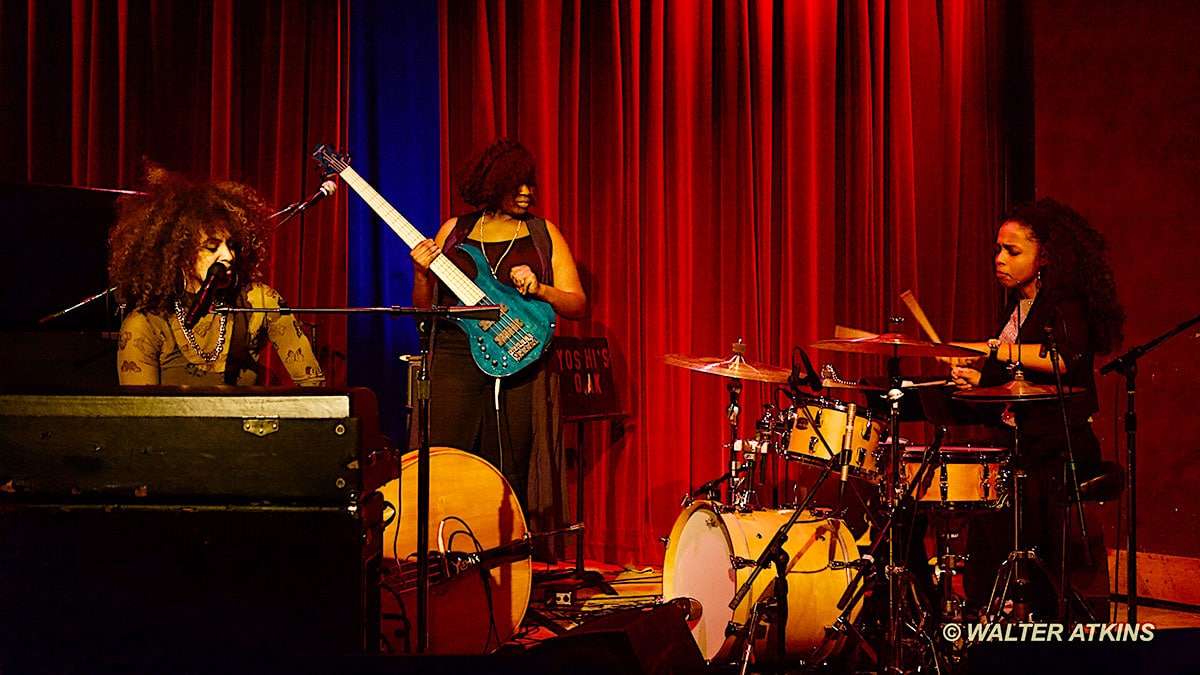 Photo by Walter Atkins
SPRINGS RISING
From her current tour and album to her latest muscle car, things are looking up for Kandace Springs.
by CRISTOFER GROSS
Kandace Springs has always acknowledged those who have contributed to her rise within the jazz world. Now the gifted 31-year-old singer-songwriter-musician is putting it on the record. Though her 2019-2020 international tour, which was to have ended April 1 in Italy, was necessarily cut short due to the COVID-19 pandemic, her fourth Blue Note recording was released on schedule as an A-list thank-you to her main inspirers.
The Women Who Raised Me spotlights about a dozen singers including Ella Fitzgerald, Billie Holiday, Carmen McCrae, Roberta Flack, Dusty Springfield, Sade, Bonnie Raitt, Lauryn Hill, and, perhaps most importantly, Nina Simone.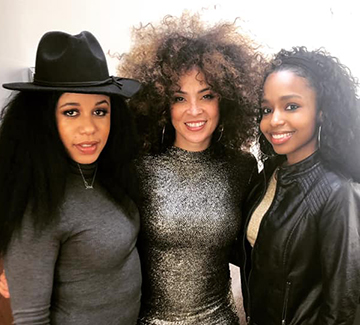 "There's a song for each female artist who inspired me," she recently told me by phone. "It's a tribute to these incredible women, and a lot of these songs are on the set list for Segerstrom."
Her touring trio, which she organized last Fall, features bassist Aneesa Strings and drummer Taylor Moore (left to right in photo: Strings, Springs, and Moore). Springs wanted an all-female band and reached out to bassist Christian McBride, who appears on Women Who Raised Me.
"We reached out to Chris: 'Uh we're trying to make this all-female band thing, do you recommend any chicks you say can play really well," she said. "He named off a few names including Aneesa, who plays bass with José James all the time. So I picked her as soon as she was available. And Taylor Moore came through my producer, and it turned out we have a mutual friend in Nashville. So we kind of felt like we knew each other already: We're all like sisters."
And, Moore and Strings both sing, which makes this is a jazz trio with three-part harmonies!
NATURAL SPRINGS
NATURAL SPRINGS
Springs speaks, as she performs, with engaging ease. In conversation, natural openness and candor are boosted by a full and frequent laugh. Her singing, with minimal embellishment, is careful not to serve the singer over the song. The new release, while a savvy career step for Springs, is a sincere effort to raise awareness for these great pioneers among a new generation.
Growing up about an hour southeast of Nashville, the eldest of Scat and Judy Springs' three daughters had a mix of sensitivity and self-assurance that had her developing her drawing ability from the time she was 3. Her natural art was energized by a fascination with cars that began when she received a Matchbox toy from her dad. At 10, music became another fascination.
Her father, like generations of his family before him, was a professional musician. A soul and R&B singer, he led his own funk band and sang backup when major artists recorded in Nashville, including Aretha Franklin, Michael McDonald, and Garth Brooks. When a neighbor was going to get rid of his old upright, Scat offered to hold onto it for him.
"It was dusty and had keys missing," Springs told Downbeat in 2018. "My mom was like, 'Get this thing out of our house!' But I remember the first time I saw it, after waking up and coming downstairs. To me, it was beautiful."
Immediately drawn to the raggedy keyboard, she tried picking out a tune she'd heard with her finger. Hearing that, her dad joined her on the bench and showed her how to use all ten fingers.
"So I went down and played it for her, like, 'Yeah, Dad's cool, ain't he?'" he told Downbeat's Bob Doerschuk. "I was showing off! She just watched, put her little fingers up there and played it back to me after seeing me do it just that one time."
Ten minutes later, Scat could hear her playing it "faster than I could!" Next time he went downstairs he offered her professional piano lessons.
Judy Springs was happy to chauffer and when the neighbor reclaimed the piano, she went out bought an upright electric. Springs' singing, while naturally beautiful, was of less interest to her until she heard a recording at 13.
"Norah Jones' first album, Come Away With Me, was what made me seriously want to sing," she told JazzIz. She singles out Jones' version of "The Nearness of You."
Springs was flirting with prodigy status by age 15, when she began developing her songwriting. Though all but one of her 16 writing credits listed on her Allmusic.com discography are co-writing credits, her sole solo credit, "Rain Falling&quot on her 2016 Soul Eyes, was written at that time.
It was part of a rush of co-writing and recording she and her father did for a demo duo album that, while never released, did serve as a calling card for producers around the country including Carl Sturken and Evan Rogers in New York. They had discovered Rihanna as a teenager in the Bahamas and were ready to flex their Midas touch with this 15-year-old. They offered the daughter, not the duo, a management contract.
Whether Scat was being protective of his adolescent daughter or of his own career opportunities, he rejected the offer on her behalf.
"I don't wanna put him down in any way," she told Interview in 2016. "but my dad was really protective. I was living in his house at the time and he wanted to be part of the record, help produce and stuff like that. My dad was like, 'If I can't be involved, I don't wanna do this.'"
Within a couple years she would move out and work days valet parking for a Nashville hotel then sing in its lounge at night. Some years later, she would "borrow" her father's phone to secretly get the number for Rogers and Sturken. Rogers asked her if she wanted to be a star and her enthusiastic assurance earned her a trip to their offices and recording of a couple demos. Soon they had interest from record company execs including Blue Note president Don Was.
NATURAL SPRINGS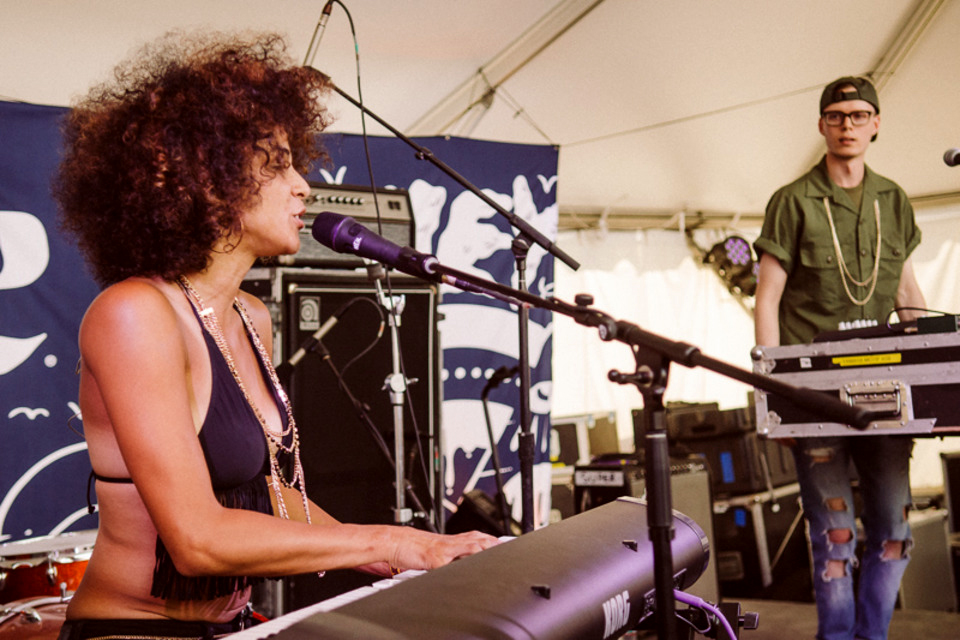 NATURAL SPRINGS
RAISING THE STAKES
While her father instilled a love of R&B, soul and jazz, her mother, Springs said, "had me listening to Dusty Springfield and Bonnie Raitt." Both are represented on the new album, including Raitt's "I Can't Make You Love Me," a song with a special place in Springs' rise.
"'I Can't Make You Love Me' is the song I used for my Blue Note audition. I just went in there and sang it: I didn't know Don Was had produced it! Isn't that crazy? So my dumb ass walks in there and just starts playing," she laughed.
Blue Note was quick to get the 25-year-old recorded, releasing a self-titled, four-song EP in September 2014. But word on the street was already spreading. She was on two tracks of Ghostface G's 2014 release, 36 Seasons, and was featured in his "Love Don't Live Here No More" video. That sultry cameo was enough to reach the Minneapolis home of Prince, who quickly invited to come to Paisley Park to close his 30th Anniversary of Purple Rain celebration.
"Prince picked Roberta Flack's 'The First Time Ever I Saw Your Face' for me to play," she said. "His band backed me and he watched us from the side. It's something I'll never forget."
NATURAL SPRINGS
The video of Springs' 'People Make the World Go Round' from 2018's 'Indigo' (with Presidente Was on bass)
NATURAL SPRINGS
EVERYTHING THAT RISES MUST CONVERGE
Now the rise was accelerating and she worked on her first full album, 2016's Soul Eyes, with guest appearances by trumpeter Terrence Blanchard, drummer Vinnie Colaiuta, and producer and keyboardist Larry Klein. Tours were gaining visibility as she opened for Gregory Porter, James Carter and other performers who were both stars and major artists. In 2018, Indigo was released to greater response, with its supporting cast of trumpets Avashai Cohen and, in one of his last recordings, Roy Hargrove, on "Unsophisicated."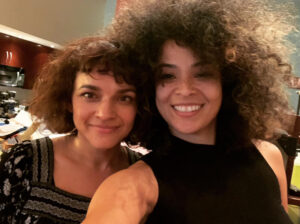 Her turn to celebrate the women who went before surely had the fates smiling from the jump. The winds of good fortune were clearly at her back when, in the bathroom of a New York airport terminal, a circle closed on her first chapter when she met the artist who most inspired her to take her singing seriously.
"Norah Jones is on the same label as me so we kind of knew each other already," she told me. "But then we literally ran into each other in an airport bathroom. I'm like 'Norah!' and she's 'Kandace!' and we exchange numbers. Then about a month later I sent her a text during a break between sets to see if she would play on the record. And when I finished the show she had already responded, 'Yes … Absolutely!'
"We both love Ella," she continued. "So we sat together in her apartment playing around on her upright piano and brainstormed what song to do. And we settled on 'Angel Eyes.' She plays a beautiful Steinway on the record and I play a Wurlitzer, an old 140 A. And we did it live, in a session with Larry Klein, with Clarence Payne on drums and Scott Colley on bass. It's such a great record."
Videos have already been leaking out. The first, a version of Sade's "Pearls," came out the night before we spoke. She said Billie Holiday's "Strange Fruit" and Nina Simone's "I Put a Spell On You" would soon follow.
What follows after that is anyone's guess. But something tells me whatever it is won't change her.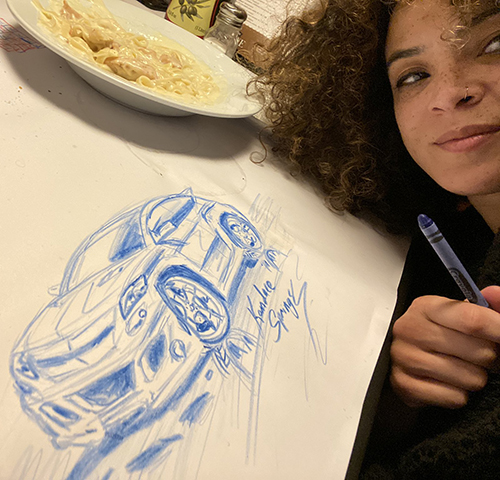 Our conversation eventually gets around to Springs' other passion: cars. She has been obsessed with them since she was a child. Her early ability to draw allowed her to feel the smooth curve of the great muscle car shapes as her pencil and crayon traced their rise and fall from hood to roof to tail. She began working on them as soon as she could and now maintains, refurbishes and resells a wide range of American and European models.
"I own maybe 10 cars, maybe 12," she said, more animated now than before. "I just bought – it was the most spontaneous purchase but a good deal – is an SRT-10 Dodge Viper with a 16 million gearbox 310. It's ridiculous. It's a beast. It's an '03, so it's a third generation Dodge Viper. Then I have a Corvette E7 which is a 2014 Stingray … manual, and a 1969 Cutlass which you'll see on my Facebook page.
"Cars are my passion … man, you don't even know!" she laughed. "I was going to go to auto school, automotive design, or even just like mechanic school. I can't tell you how much I love cars. I'd do fine if someone says, 'Kandace your music career's over.' I'd be like, 'Fine I'll just work on cars.' That's how much I like it."
It's unlikely it will come to that. But it confirms what we hear in how she delivers her music: she's in it for the passion.
---
PHOTOS: Top, Kandace Springs on stage at Yoshi's Oakland on February 19, 2020 with bassist Caylen Bryant and drummer Taylor Moore. Photo by Walter Atkins; Strings and Moore flank Aleesa Springs, the tour's original bassist; Kandace at 2015's Boneroo Concert; a selfie with Norah Jones; and an autographed car and drawer tabletop.
---
---
VIDEOS
Unsophisticated
From the Indigo album, featuring Roy Hargrove
WATCH VIDEO
In Concert with WDR Big Band
Springs in a 2018 performance sings "Novocaine Heart," "People Make the World Go Round," "Afro Blue," "The First Time Ever I saw Your Face," and a half-dozen others.
WATCH VIDEO
Sanborn Sessions
Springs sings her "Love Got in the Way" with Ben Williams on bass, Billy Kilson on drums, Andy Ezrin on keyboards, Jon Herington on guitar, and Alice Soyer on vocal.
WATCH VIDEO