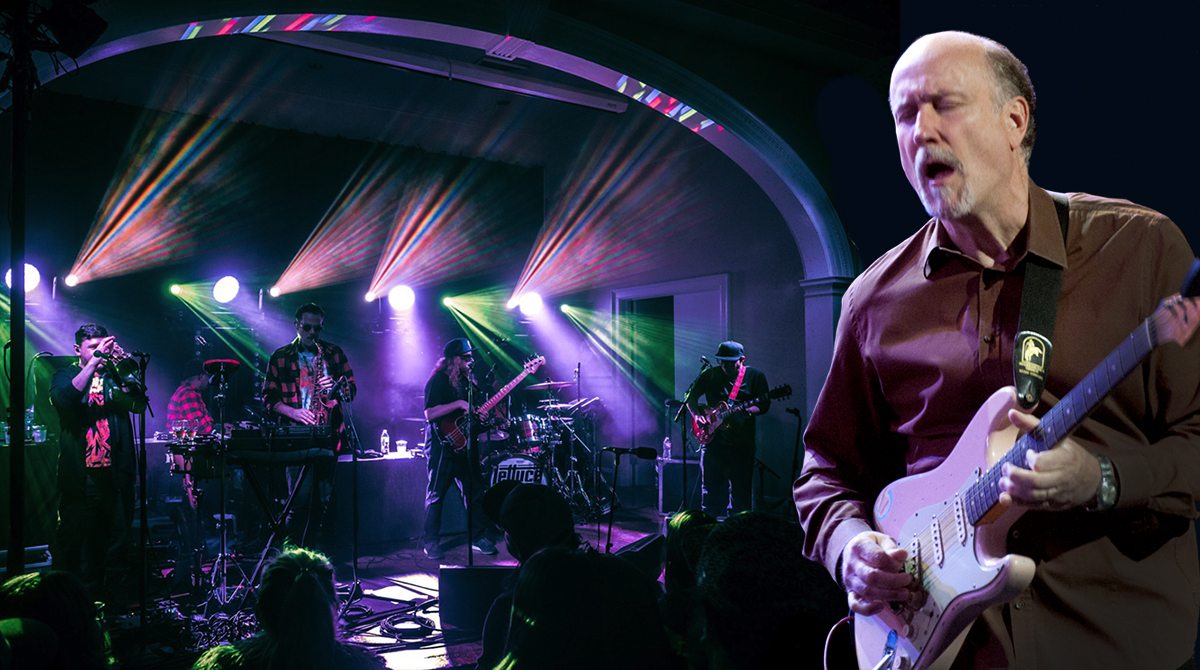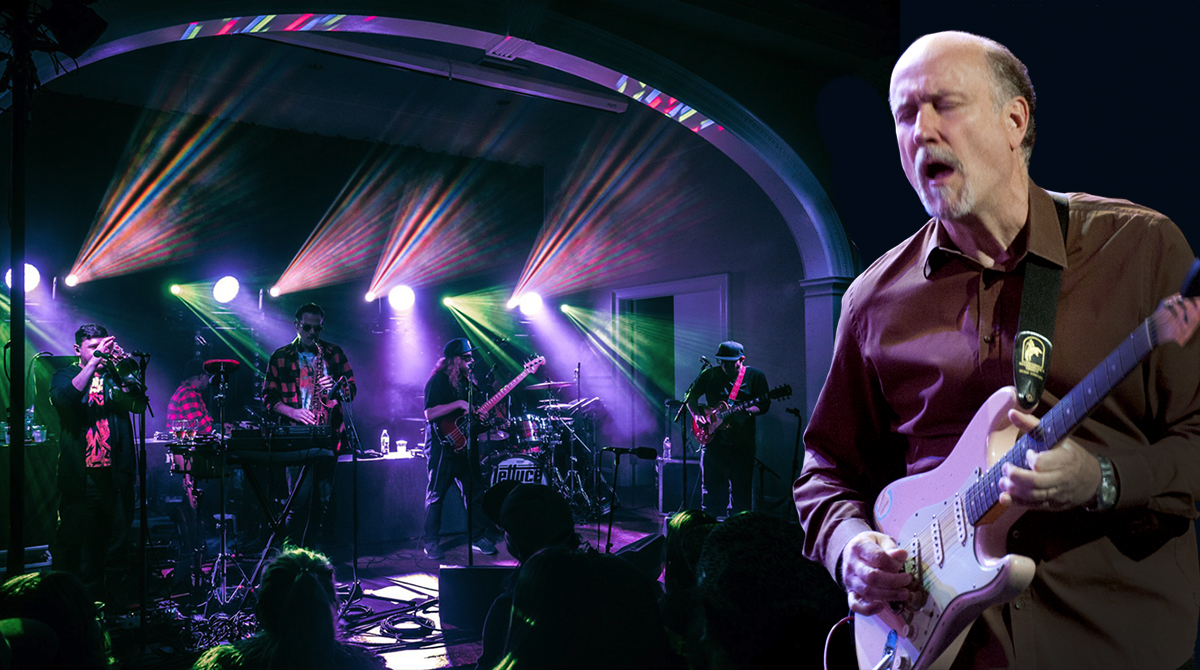 PREVIEW: MARCH 20-24, 2019
Bring in the Jazz-Funk
Lettuce and John Scofield create a fusion septet for five California concerts in Los Angeles and San Francisco.
Though they graduated from Berklee College of Music nearly a generation apart, guitarist John Scofield and the founding members of Lettuce are in the same elite class of jazz-funk masters. On March 20 they'll kick-off a class reunion with one night at the Theatre at the Ace Hotel and four at San Francisco's SFJAZZ Center, March 21-24.
Lettuce was loosely formed in the summer '92 by a half-dozen teenagers in Berklee's Summer Performance Program. Drawn together by the love of funk they rehearsed enough songs to augment their daytime coursework with night patrols to Boston clubs, asking if the owners would "let us play?"
"Let us" became &quotLettuce," and two years later when they were back at Berklee as full-time undergraduates, they were also back as a band, building relationships with fans and venues. Four original members remain – bassist Erick 'Jesus' Coomes, drummer Adam Deitch, guitarist Adam "Shmeeans" Smirnoff and saxophonist Ryan Zoidis. Completing the sextet are longtime keyboardist and vocalist Nigel Hall and trumpeter Eric 'Benny' Bloom.
Among the elders who inspired them was Scofield, a 1973 Berklee grad. In 2002 he would guest on their debut album, Outta Here, and hire Deitch to drum on his Überjam recording and tour. By this time, Scofield had released more than 30 albums and earned special recognition from The New York Times' Ben Ratliff, who wrote that he was managing "to do what jazz performers seemingly can't: reach the young audience," hailing him as "one of the most pervasive influences in jazz guitar since the early 1980s."
SEVEN TIMES FIVE
"We have a great, great chemistry with John, and can jam all night with him," said Coomes about the upcoming California tour. "He's become our very good friend over the years. It's crazy to hear myself say that, because when we were in Berklee we looked up to him like a god. He's definitely a mentor."
Coomes was hesitant to commit to the program setlist, not sure exactly what Scofield had in mind.
"It's going to be a lot of his stuff," he said. "I guess I could say we'll do songs that we've always wanted to play with him and wish he would bring back. He's letting us play some of our favorites, more John Scofield fusion-y type of stuff: songs that were some of our favorites from back in the day when we first listened to him. It's going to be somewhat different for a Lettuce show but it's still going to have a lot of energy and some edge."
Scofield's scores of releases along with Lettuce's seven albums (see list at right) ensure a wealth of source material. Hopefully they'll include one from Lettuce's most recent recording, a 2017 Miles Davis tribute entitled Witches Stew. A landmark for the band and the genre, it is a unique jazz-funk window into Davis' fusion era. And, it happened by accident. The band was set to perform at the 2016 Catskill Chill in Lakewood, Pennsylvania, when the promoter came up with an idea.
"He wanted to get something cool for the VIP tent so he asked us if we would also do a Miles Davis tribute," Coomes recalled. "Eric Bloom's our phenomenal trumpet player and the fact that he was down to even attempt that was cool. Honestly when we went to do the show, none of us had any concept of putting it out. We thought we'd do this for this VIP tent and – because anything Miles-related is so sacred – hope not too many people heard about!
"But when we listened to the recording that we'd made of the show we thought, 'This is sick! So we put it out."
For jazz fans, Witches Stew is a highlight of the band's discography. The album, especially Bloom's beautiful work on the opening Miles Runs the Voodoo Down, stands as an accidental response to Donald Fagen's famous critique of Brew. In 2006, he told Don Breithaupt during interviews for Steely Dan's 'Aja', "I liked In a Silent Way, but Bitches Brew just sounded kind of funny. … It sounded like [Davis] was shooting for a funk record, and just picked the wrong guys."
In its review, AllAboutJazz wrote, "Lettuce prove up to the task." In fact, it continued, "their homage suggests [that] were he still living, [Davis] might well look to the band for inspiration as he did Jimi Hendrix and Sly and the Family Stone at the time of the original recordings."
Clearly these were the right guys. But Scofield might be a better judge of the album's merits. From 1982-1985, the Ohio-born, Connecticut-raised guitarist toured and recorded with Davis, boosting the visibility of his already well-established career. His discography is a syllabus for studying jazz guitar and how to play everything from traditional jazz to post-bop, funk-edged jazz, r&b and funk-oriented electric music.
His most recent album, Hudson, is a 2017 collaboration with Jack DeJohnette, Larry Grenadier, and John Medeski celebrating the Hudson Valley where they all now live. It features Scofield and DeJohnette originals alongside inspired readings of Dylan, Hendrix, The Band, and Joni Mitchell in a blend of jazz, rock, soul, and other forms.
BACK TO BASSISTS
Surely part of the success of Witches Stew, and Lettuce in general, is bass player Coomes, who grew up in a musical family. His father, Tommy Coomes, was a member of the 1970s contemporary Christian music group Love Song, helped develop Maranatha Music, and now leads worship at many events for Franklin Graham festivals with his Tommy Coomes Band. His son sampled a variety of instruments before picking up the bass guitar and was rewarded when he noticed family members weren't covering their ears when he practiced.
"Just imagine," he said. "You're pretty young and from a musical family and you've been trying to figure out an instrument you're whole life and, so far, everybody had said everything sucked. Then you play a bass and everybody's like, 'Yes! You're good at this!' But I had no idea what to do with it: I could barely play it at first."
He was committed, however, and his natural affinity for it began to strengthen with dedicated practice. Among those that inspired him were Paul Jackson, best know for his work with Herbie Hancock, and Motown legend James Jamerson.
"And then my dad took me to see Chick Corea with Eric Marienthal, Dave Wiekl and John Patituci and you hear this music that's just so incredible – like opening up a universe filled with light and stars – so many stars.
"Shortly after than, John Patitucci shows up at our house for dinner!" said Coomes, the wonder of it all still clear in his voice. Turns out Coomes' godfather, guitarist Roby Duke is one of Patitucci's closest friends.
"So he gets his bass out and sits down with me. I'd only had my bass for six months or a year and now John Patitucci is showing me how to play."
Coomes would go on to be Berklee-trained and like all the superb members of Lettuce, ply their trade in the widening field of funk, jazz, r&b and hip hop.
"It feels like since we started playing the funk has gotten infinitely bigger in our society," concluded Coomes. "You hear the influence of the funk in pop music, with a break beat or some sort of funky thing, and I think a lot of that had to do with hip hop, which has taken a lot of elements from the funk. So, now people are falling in love with those elements, and through that falling in love with the funk again."
Those who make it to L.A.'s Ace Hotel on March 20 and the Bay Area's SFJAZZ Center on any of the following four nights will feel the funk and a lot more, as one of the modern era's supreme jazz guitarists and one of the country's best funk bands bring it all together.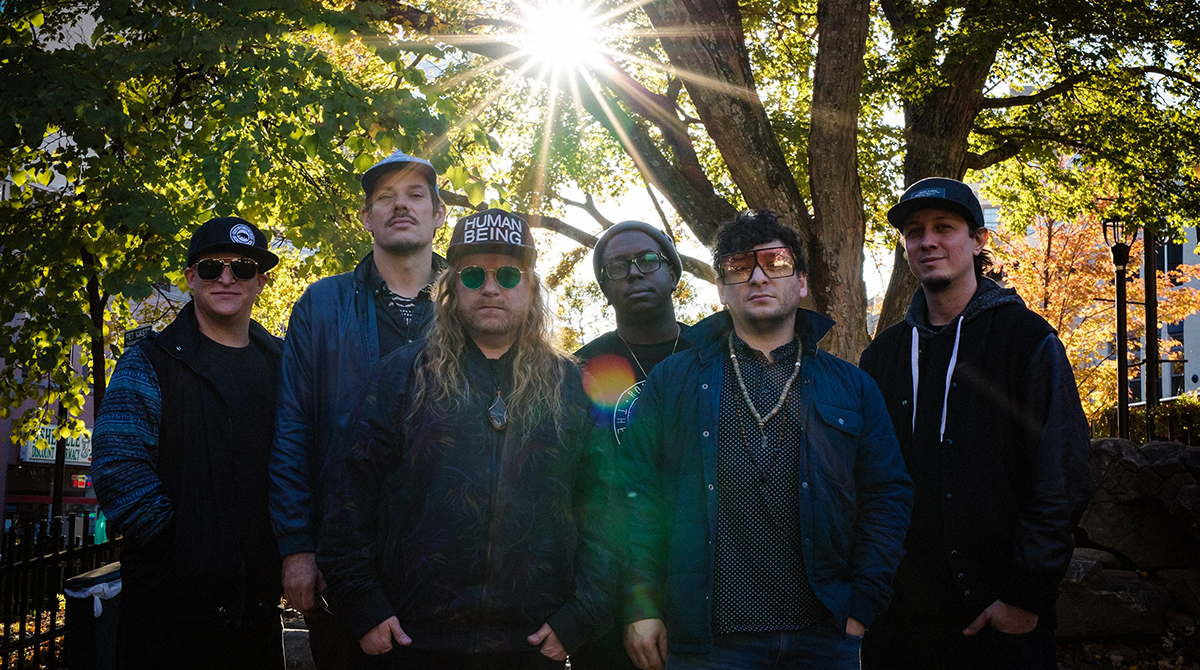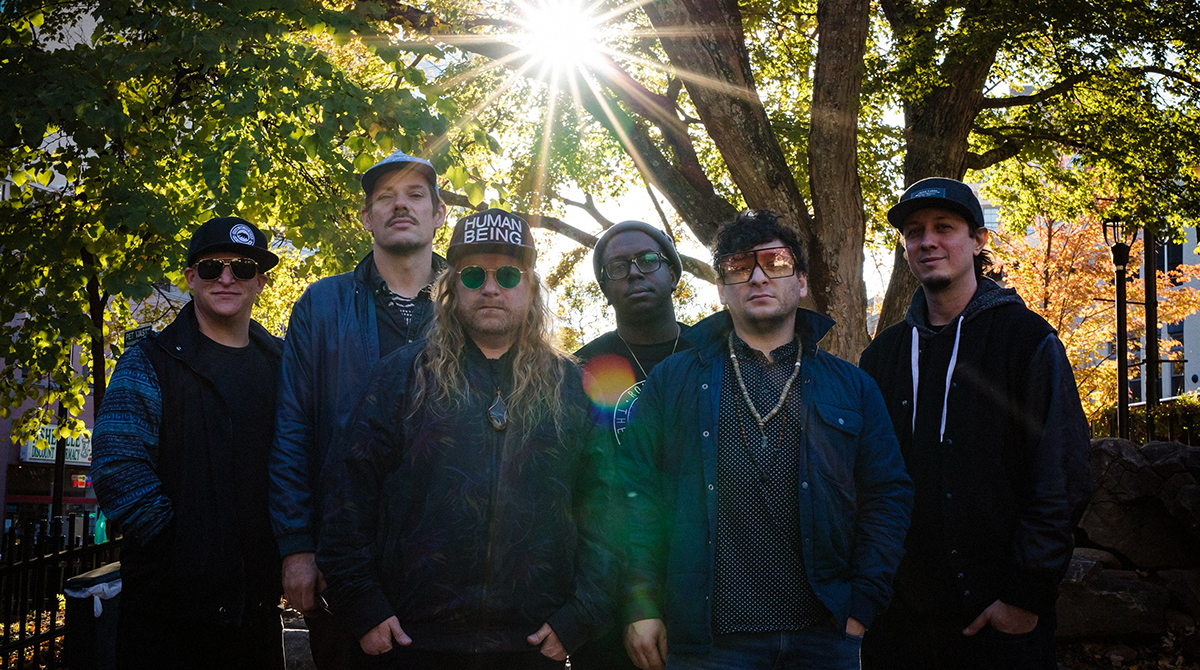 ---
PHOTOS: Top, Lettuce in action – Benny Bloom, Nigel Hall, Ryan Zoidis, Erick Coomes, Adam Deitch (obscured) and Adam Smirnoff – with John Scofield, inset, far right; Above, left to right, Smirnoff, Zoidis, Coomes, Hall, Bloom and Deitch.
CAP UCLA presents
An Evening with
Lettuce & John Scofield
Wednesday, March 20 at 8 p.m.
The Theatre at Ace Hotel
929 S. Broadway, Los Angeles
Thursday-Sunday, March 21-24
SFJAZZ Center
201 Franklin Street, San Francisco
---
LETTUCE | DISCOGRAPHY
Outta Here
Released July 16, 2002
Velour Recordings
Live at Blue Note Tokyo
Released: 2004
Rage!
Released April 18, 2008
Velour Recordings
Fly!
Released June 19, 2012
Velour Recordings
Crush
Released November 6, 2015
Lettuce Records
Mt. Crushmore
Released November 11, 2016
Lettuce Records
Witches Stew
Released October 13, 2017
Lettuce Records