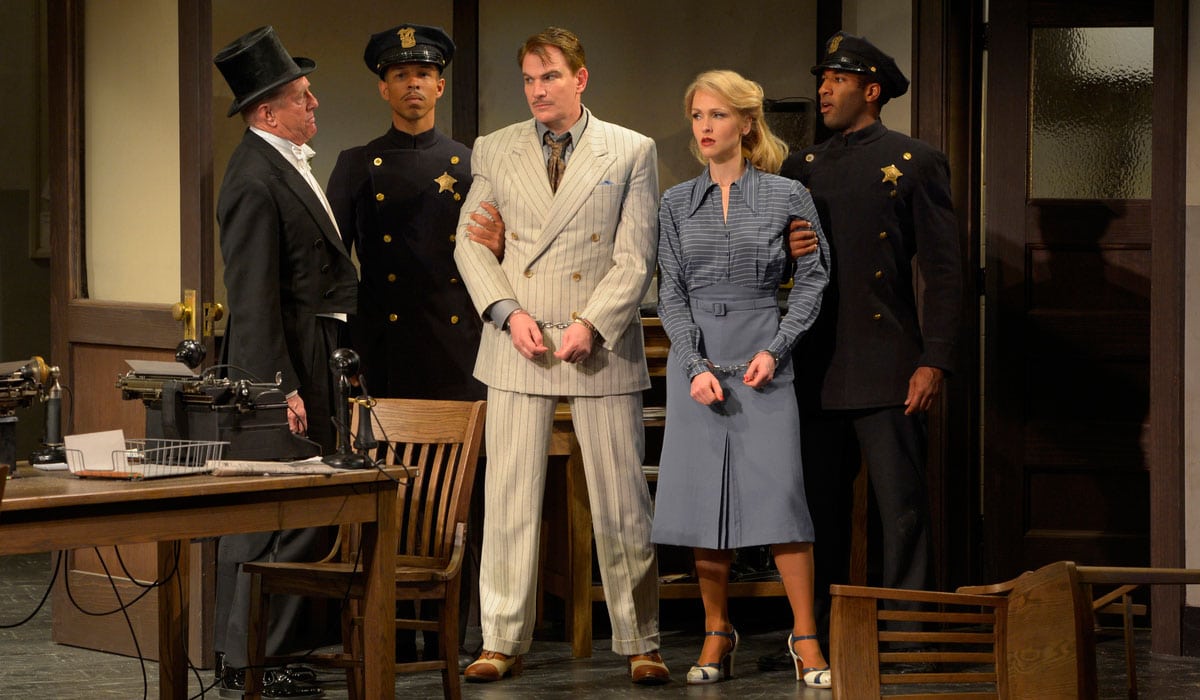 LOVE AT FIRST FIGHT
Can Jenn Lyon and Douglas Sills give John Guare a 'Girl' to remember?
by CRISTOFER GROSS
In 2003, Britain's National Theatre asked playwright John Guare to create a new stage comedy by 'marrying' the 1940 film His Girl Friday with the 1928 play that had inspired it.
"It was Nick Hytner's first season [and] he asked if I'd consider taking The Front Page and His Girl Friday and marrying them," Guare said in a 2011 interview.
Guare thought it "an absolutely fascinating proposition," but with only three months between securing rights and starting rehearsals, he was forced to hurry and felt the script didn't work. Generally, critics agreed with him.
A decade of revisions and revivals later, Guare's adaptation, also called His Girl Friday, opens the La Jolla Playhouse's 2013 Season on June 2 under Artistic Director Christopher Ashley's direction.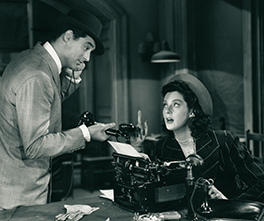 Casting a giant shadow over His Girl Friday the play have been the stars of His Girl Friday the film. Cary Grant was hitting his stride with a devilishly debonair persona that gave his characters disarming weaponry for winning hearts. It was co-star Rosalind Russell's second big show, after Little Women, and again showed off her perfect blend of independence and susceptibility. Her onscreen chemistry with Grant was real, and, after meeting for this project, they remained lifelong friends.
While Guare has had plenty of fine pairings populating his play, Ashley's leads, Jenn Lyon and Douglas Sills, just may take Guare's vision from modest success to unforgettable event. Both actors have demonstrated deftness in both drama and comedy, with the intuition to mix them perfectly to sound a play's deeper resonances while delivering its big laughs.
On the other hand, in terms of their chemistry, they had never met or seen the other's work.
The road to La Jolla
The film of His Girl Friday began as another straight remake of Ben Hecht and Charles MacArthur's Broadway hit, which had already been adapted to the screen in 1931. In the men's-club atmosphere of a criminal court press room, the hours count down to the next morning's execution of a man convicted of murder. Newspaper reporter Hildy Johnson arrives to say farewell to the fellas before he quits the business to get married. His Machiavellian editor Walter Burns, however, manipulates him into an eleventh hour investigation of the conviction, which ends up exposing corrupt judges and politicians.
Director Howard Hawkes was having trouble casting the remake and one day, with only a "Walter" to audition, had his female secretary read Hildy's part. Hawkes heard something, and had Charles Lederer turn the play's man-to-man combat into the film's battle of the sexes. Hildebrand was now Hildegard, and to add spice, she and Walter were former spouses who had continued to work together after divorcing four years earlier.
The testosterone-fueled power plays of The Front Page now felt more like the playful sparring of Much Ado About Nothing. The sex change would also land His Girl Friday on the top ten list of "Comedies of Remarriage," a genre coined by philosopher Stanley Cavell. The "remarriage comedy" allowed courting couples to navigate towards the altar spouting the intimacies and innuendoes otherwise impossible for pre-marital pairings, and unacceptable to the censoring Hays Office. Not surprisingly, Grant's special charm got him cast in half those top ten titles, including The Philadelphia Story, also released in 1940.

Sills and Lyon
Lyon is perhaps best known for her role opposite Timothy Olyphant in the FX Series "Justified." But she had already won Southern California theatergoers' hearts for four roles at South Coast Repertory, including the period comedy Born Yesterday and a show-stealing turn in Noises Off [review].
When Sills, the charismatic, Tony-nominated star of Broadway's Scarlet Pimpernel and Gomez in the recent national tour of The Addams Family, first saw her, she was into her second week of rehearsals. Due to a death in the family, he had been forced to arrive after the others.
Sills had helped give the same SCR one of its most popular productions as an irresistible Benedict opposite Nike Doukas in Much Ado, after playing the Grant role of C.K. Dexter Haven in its earlier Philadelphia Story. He got his first look at Lyon already in character as someone she calls "the smartest one in the room and unapologetically so."
Could a behind-the-scenes battle-of-the-sexes be in store for Ashley and company? Was this to be La Jolla's private, backstage sequel, with Lyon getting a week's head start under her belt?
Far from being put off, Sills was immediately on board.
"I arrived to find this tremendous powerhouse of a leading lady just knocking it out of the park already," Sills told me a week later. "She's just incredibly facile, and smart, and beautiful, and comedic.
"And, as in a relay race," he continued, "you want to run your lap very well, because when she hands you the baton, she has set the bar very high."
On the distaff side, the feelings were mutual.
"Just being in rehearsal with him I can barely keep a straight face," Lyon said in a separate interview. Clearly Sills' powers were still sharp. "I am so honored and delighted everyday to have the opportunity to share a stage with him. If I can be his match, I will be so happy. Can you tell I'm shamelessly in love? It's embarrassing."
The better halves
Lyon said she has loved the film since she was a little girl, and watched it again when she heard she was up for the part.
"I've always been a fan of screwball comedy because of the pace and the fact that the women run the show and are a match comedically to the men they play against," she said.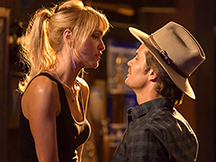 Like Lyon's character on "Justified," a show that relies strongly on powerful women, Hildy balances her relationships with her self-respect.
"She wants to be able to have what the men have but still be valued as a woman who is compassionate and kind. But in her world there has been no way to do that," Lyon said.
"In terms of strong women characters, she has it all in spades and as opposed to many women that I've played, she doesn't lead with her sexuality. It's in her arsenal but she rarely uses it. Her feminine wiles are housed more in her facility with language, her capacity for empathy, and her ability to multitask. She swings for the fences on every at bat and that's so thrilling to play."
Donald Sage Mackay, who plays Bruce Baldwin, Hildy's new fiancé and the main brunt of Burns' chicanery, was also impressed by Lyon.
"Working with Jenn in rehearsal is like watching a young Lucille Ball at work: an absolutely brilliant comedienne who comes to rehearsal an hour before anyone else. She's so incredible that you can't even remember Rosalind Russell in the role and yet, at the same time, she is honoring and channeling all of the great actresses like Hepburn and Myrna Loy that came before her."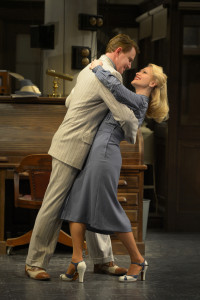 For his part, Sills sees Burns as "a character who doesn't pander to the audience. He's not there to be liked. So he has some unattractive characteristics, which are in opposition to that indescribable, innate charm that draws people to him. That can't help but make the heart – or the molten lava – of the story more attractive and more magnetic. We're rooting for the two of them to find each other again. That's what the story's about, basically."
If anyone can give Burns that quality, it's Sills. Night after night in Much Ado, his connection with the audience seemed to make each viewer react as if directly engaged by him. With catlike dexterity, he straddled the fourth wall rather than broke it, with audience members occasionally uttering unconsciously in response.
"Douglas is so dynamic and believable in period plays because he completely inhabits the style, the way people spoke, the elegance of movement, but he's never without emotional truth," Doukas, his Much Ado co-star, told me. "When you share the stage with him you can count on him being there with you. And he is always trying new things to keep the moments alive."
"I think I do have an awareness of the audience, concurrent with the performance, and not outside of it," Sills said. "It definitely isn't static. It varies."
If anyone can forecast whether the chemistry between these two will crackle or fizzle, it's SCR Founding Artist Richard Doyle, who has worked with both: Lyon in Born Yesterday and Sills in Philadelphia Story.
"Both are gifted, generous pros," he said. "I'd say Doug tends to wear his characters like well-fitting Armani, tailored to his many strengths. I think of Jenn as slightly more mercurial, creating a well thought-out structure and fully inhabiting that character. They are both large personalities, and in any story they tell, their personas will occupy some of the same space as their character."
That bodes well for La Jolla's title rematch of this famous battle of wits, for another shot at the remarriage of Hildy and Walter, and for Guare's vision of marrying The Front Page and His Girl Friday.
Also in the cast are Patrick Kerr (Earl), George McDaniel (Mayor), Matt McGrath (Bensinger), Mary Beth Peil (Mrs. Baldwin), Bill Christ (Woodenshoes), William Hill (Sheriff), Bethany Anne Lind (Molly Malloy) Dion Mucciacito (Diamond Louie), Jonathan McMurtry (Reverend), Steve Gunderson, Kevin Koppman-Gue, Evan D'Angeles, Dale Morris, James Saba and Mike Sears, and MFA students Michael Hammond, Chaz Hodges, Gerard Joseph and Ronald Washington.
PHOTOS (from top) Douglas Sills and Jenn Lyon in the La Jolla Playhouse production of His Girl Friday surrounded by, left to right, George McDaniel, Gerard Joseph, and Ronald Washington [Kevin Berne]; Cary Grant and Rosalind Russell; Nike Doukas with Sills in "Much Ado About Nothing" (2001) [Photo by post author]; and Sills and Lyon as Walter and Hildy.