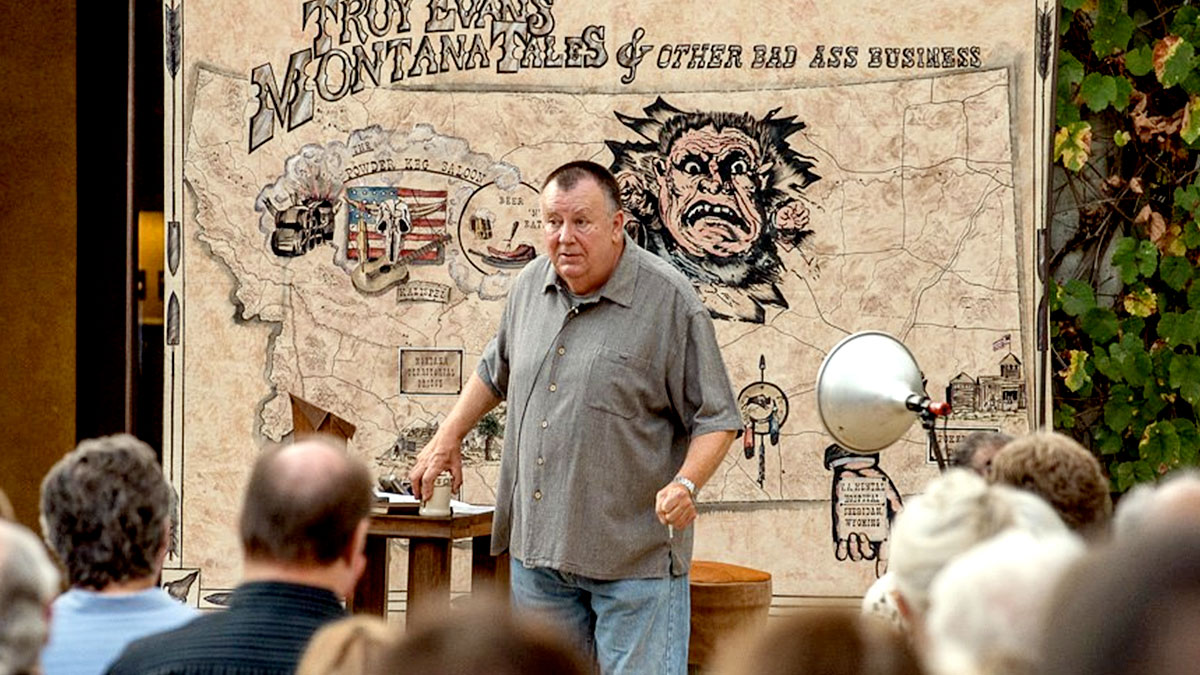 UNIVERSAL SOLDIER
In 'Montana Tales and Other Badass Business,' Troy Evans shares powerful stories of wild times in country and on stage.
by CRISTOFER GROSS
On the battlefield, with proper training, a soldier can defuse any explosive device. But the stress, frustration, and unfocused anger that same soldier carries home could be so powerful and well hidden that it goes undetected until it detonates without warning.
Actor-storyteller and Vietnam Veteran Troy Evans told the Los Angeles Times, "It never occurred to me that my government would send me 13,000 miles to kill people if there wasn't a very good reason. . . . An experience like that is incredibly damaging. When I got back, I was completely out of my mind – and I didn't know it. I was so hurt, so angry, so ashamed. I was also incredibly violent."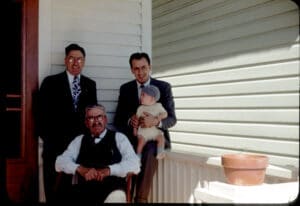 Evans' "Montana Tales and other Bad-Ass Business" incorporates stories about his youth in Montana that ended with 16 months in the 25th Infantry Division. His time in Vietnam left him with a Bronze Star, National Defense Service Medal, Vietnam Service Medal, Combat Infantry Badge, Gallantry Cross, and a hair-trigger temper that earned him a prison term for aggravated assault. It's unforgettable theater and a look at how one man finally found a way to disarm and channel his rage into storytelling.
He will perform "Montana Tales" on August 11, 2012 at the Audubon Center's Deb Park (4700 North Griffin Ave.) in a performance to benefit the Southwest Museum of the American Indian.
I met Evans in 1985 when he appeared in a play called Bing and Walker. Evans' backstory was unknown to me then, but as Arthur Walker, he created a character that has been indelible. Evans' thick-necked, hulking figure and agreeable disposition were well-suited for Walker, whose powerful body, and the childlike mind that kept it in check, were reminiscent of Steinbeck's Lenny. Walker's ambition was simply to be honestly loved by someone and treated as an equal by the others.
Diane, played by Ann Hearn, was a 15-year-old runaway who allows the lonely man-child to become infatuated with her without making it clear that she is only passing through. When her time to move on arrives, it breaks his over-sized heart and prompts a surprisingly articulate rush of raw emotion and wounded dignity that touched every audience member. If he was not deserving of her love, he still deserved her honesty.
Hearn remembered those climactic scenes with Evans.
"Troy was always amazing as an actor. But it's funny that my biggest, strongest impression was hearing him tell his stories at a small venue. Never had I heard anything of such power and fascination," she told me. "And, even being married to an incredible storyteller like Stephen [Tobolowsky], Troy still remains a high bar with those talents."
I first heard Evans tell his stories in 1989. Walker was gone, but the wonder, the hurt, and the emotional heft were very much on display. In his one man-show, just as on stage or in his 50 film and 400 TV appearances that have made him a familiar face (from "China Beach" to "ER" to Phenomenon), he always taps a universal.
For a Theatertimes story on the upcoming benefit, I Evans asked where his storytelling skills and material come from.
"In 2010, my father, Leo B. Evans, was invited to Iwo Jima for the 65th anniversary of the Army Air Corp landing there to begin the air assault on Japan. He was in a Veterans Administration hospital at the time suffering from advanced dementia. I went in his place," he told me.
"In the spring of 1945, 30,000 men died there in 30 days," he continued. "One third of all Marines killed in WWII died on Iwo. My dad flew 33 missions including the first air attack on Tokyo, the Nagasaki mission, and the last air attack of the War. In addition to his air awards he earned flying the P-51 Mustang, he was awarded a Bronze Star for ground combat on Iwo. I will never forget being on that tiny island trying to picture the epic horror that occurred there.
"About this time I started reading about the history of the early days in Montana at the time of the big Gold and Silver strikes of the 1860s. In 1860, there were less than 300 Europeans in the area we now call Washington, Idaho, Wyoming, and Montana. Within weeks of gold being discovered on Grasshopper Creek in Bannack, Montana territory in 1862, 10,000 rough cases descended on the area. Murders were taking place every day, and the miners chose Henry Plummer to be sheriff.
"A reign of terror consumed the next year with miners continually being killed for their gold, and the gold shipments being stolen by road agents every time until a citizens committee determined that Plummer was in fact the head of the outlaw gang "The Innocents." The Vigilance Committee hung Plummer and about 75 of his closest associates. Things became much more peaceful. In a couple of years the gold petered out and Bannack and Virginia City became quiet little towns. A muleskinner who ran a small freight line became Sheriff. His name was John Troy Evans, my great-grandfather.
"These two groups of information inspired me to revisit my stories, with these stories as the underlying origin of what I am."
The Audubon show will be a great setting for an evening ramble alongside one of America's great character-actors, characters, and storytellers. Tickets for are only $25. More information here.
Photos: Troy Evans performs at the Audubon Center in Pasadena in 2012 (photo by Martha Benedict, top); Evans, seated right on his dad's lap, with his grandfather Troy, and, seated, his Great-grandfather John Troy in Butte, Montana, 1948 (inset).