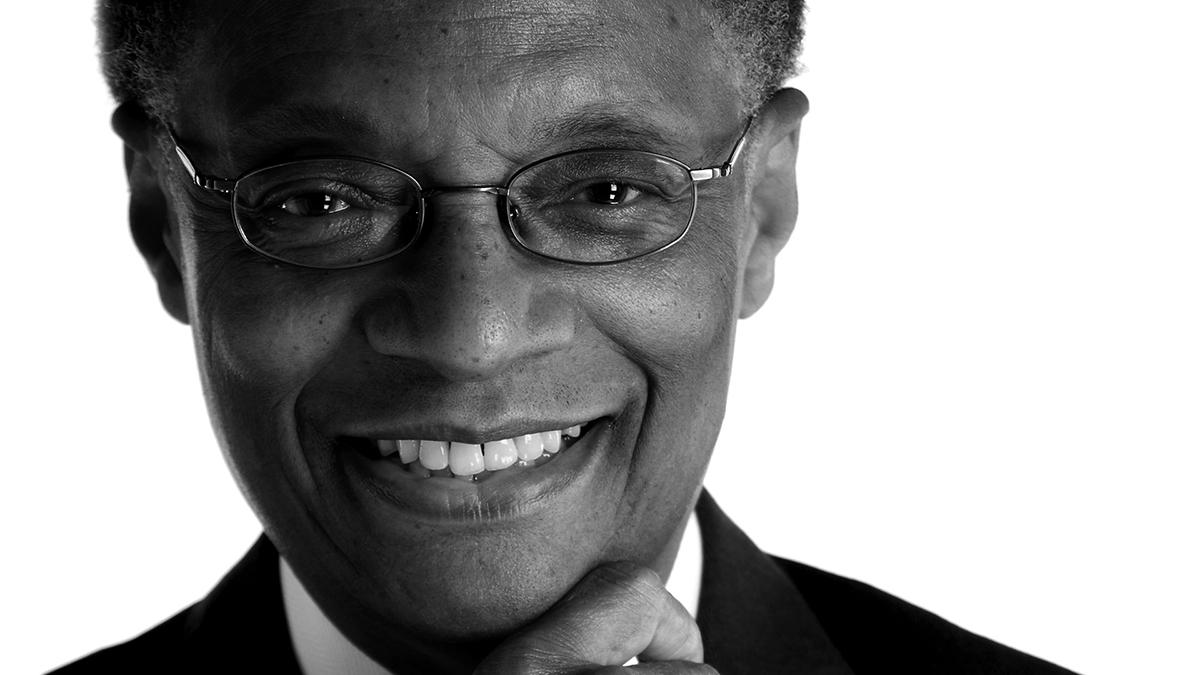 HAVING AN 'IN'
Ramsey Lewis
The 'Legends of Jazz' Man Celebrates a Gold Record's Golden Anniversary.
In writing about jazz artists for Segerstrom Center for the Arts (SCFTA), I frequently turn to a 2006 PBS program for background. The 13-segment Legends of Jazz features interviews with and performances by 30 jazz artists, including many I have profiled.
For a single assignment in 2015, however, I had reason to watch every episode. Ramsey Lewis, the show's host, was on a tour marking the 50th Anniversary of his breakthrough album, The In Crowd, that would bring him to Costa Mesa for SCFTA's first 'Jazz Weekend,' October 9, 10 and 11. He and Sergio Mendes were scheduled to share the bill on Saturday night.
A personal thank you seemed the place to begin.
THEATERTIMES – I want to start by thanking you for your Legends of Jazz series. I've used it many times to research people I've gone on to interview. Coincidentally, Legends of Jazz debuted a few months before your one previous Segerstrom Center appearance, when you inaugurated its jazz venue, the Samueli Theater, in November 2006.
RAMSEY LEWIS – Oh, really? [Laughs] That's great.
THEATERTIMES – You're now on tour celebrating the Golden Anniversary of the Ramsey Lewis Trio lp recorded live at the Bohemian Caverns in Washington D.C.
RAMSEY LEWIS – Yes. This is the 50th Anniversary of the release of The In Crowd. It's a major event for me, though I couldn't have imagined what it would become when I recorded it. In those days it was Redd Holt on drums and Eldee Young on bass, and it was our 17th album, coming out in 1965. Fortunately every one of our albums in those days sold a few more than the previous one, and the record company was glad to keep us on. We were on tour in Detroit when I got a call from the record company and I'll never forget it. It must have been August or September and they said, "You know this record you put out in June? I think you've got a hit!"
Well, in 1965, to say that to a jazz person, it doesn't compute. "What do you mean, I said?" And he said the stores can't keep it in stock! We're pressing them as fast as we can.
So, it changed the way I lived – literally and figuratively. Up until that point we were playing mainly nightclubs, which was fine, you know – jazz guys played nightclubs in those days. But we would pass places where Ella Fitzgerald was playing concerts and the hotels where people like Ella stayed, and think one of these days we're going to play that venue. We're gonna stay in that hotel. Well, The In Crowd opened all that up.
And people wanted more of that kind of music. I wasn't prepared to do more of that kind of music, but the record company was like "No no no. The way that happens now is you gotta give the radio stations this, and do that . . ." and so on and so on. And so we did Wade in the Water, a studio album, that was under the hypnotic gaze of the record company. Then it was, "Now you gotta give them a live album, like In Crowd." So we went out to Howard Rumsey's Lighthouse there in Southern California and recorded. Redd said, you know, we gotta get one of those tunes where people hopefully will get involved, and I think it was Redd who suggested "Hang On Sloopy." Anyway, we played it and Howard Rumsey's Lighthouse lit up. And it was very successful. It came out in 1966, so I guess it's the 49th anniversary of that one.
THEATERTIMES – "Hang on Sloopy" had already been a big hit for The McCoys. Was "In Crowd" already a hit before you?
RAMSEY LEWIS – Dobie Gray did "The In Crowd." That's the version we learned the song from. And "Wade in the Water" was a song I had been playing in a gospel version in our church since I was 10 years old. Of course, not like the way I played it on the record. So those three songs – "The In Crowd," "Hang on Sloopy," and "Wade in the Water" – stayed in my mind and it got to the point where people always wanted to hear them. "The In Crowd" especially. It seemed to cross all genres, and it got to the point where I thought people might be getting tired of it, I mean 10, 15 years later. And so I went a couple concerts and didn't play it and all hell broke loose. They stopped and made us come back.
THEATERTIMES – "The In Crowd" came just as the idea of being 'hip' and 'cool' was being embraced by the public, and phrases and behavior of musicians and artists were being adopted by people who wanted to be among the elite vanguard setting that trend. Maybe knowing and liking this song about the "in crowd" was an easy way for people to feel they were part of it.
RAMSEY LEWIS – Exactly. I mean I didn't realize that at the time, but "I'm in with the In crowd" was how people wanted to see themselves, especially a lot of new jazz fans.
THEATERTIMES – What's remarkable is that while most things that catch on as part of a wave quickly sound outdated, that song feels timeless. You really put the best of hard bop and soul and pop together into it. And, having the live performance with the 'crowd' sounding so into it, clapping along, really draws the listener in. Are you playing through the whole lp on this tour or taking prime cuts from it?
RAMSEY LEWIS – We're going to play some of the songs from there, but a lot of people don't know the whole lp, because they got the song on a "Best of" or compilation album. So we will be playing some songs from that album, and others, but also some new stuff.
THEATERTIMES – Oh, good. So some stuff from In Crowd, some from Sloopy and then new stuff.
RAMSEY LEWIS – Yeah. Yeah.
THEATERTIMES – Who is in your band on this tour?
RAMSEY LEWIS – I have a permanent band: Henry Johnson on guitar, Joshua Ramos on bass, and Charles Heath on drums.
THEATERTIMES – Is Charles from the famous Heath family?
RAMSEY LEWIS – As a matter of fact he is. He's a cousin of Percy Heath and "Tootie" Heath and all, yeah.
THEATERTIMES – The original Ramsey Lewis Trio formed out of your first group, The Cleffs, and played together about ten years before releasing The In Crowd. Then Holt and Young left in 1966 to form Young Holt Unlimited, which had several hits beginning with "Wack Wack." They came back for a reunion in the 1980s?
RAMSEY LEWIS – Yeah, we did one reunion tour and it was fun. I thought we would extend it and do more than we did. But in those years we had all changed and it wasn't this Brotherly Love like it began with. And, after the tour was over, we hugged each other and said Okay, see you later.
THEATERTIMES – Well that first decade-plus was a great period for everybody. You were just kicking those albums out in those days. Man . . .
RAMSEY LEWIS – Oh my God.
THEATERTIMES – And they were all good, too, which is . . . I just interviewed Poncho Sanchez, who's going to be part of this SCFTA jazz weekend, on Friday night, and I asked if he had a favorite among his dozens of albums, and he said, "I like 'em all for one reason or another, and I'm blessed to say they're all pretty good . . ." That's something to be able to say. But you've got 80 albums and they're all pretty good.
RAMSEY LEWIS – [Laughter] Well, you know, back in the '50s and '60s we were putting out two albums a year. That's what the Chess brothers were saying – you know, every six months you gotta give us a new album. But they weren't working the albums. People would buy the new album, and you'd only sell a limited amount but that amount was satisfying them, the record companies. It wasn't until The Beatles and some of those rock groups were putting out an album every year and a half or whatever it was that we said how come they don't put out an album every year? So one thing led to another and when The In Crowd finally came out, the handwriting was on the wall that with just a little work the album would have legs. Actually I've probably put out about 60 or 65 new albums. The other 25 or 30 are "Best of" or compilations and that kind of stuff.
THEATERTIMES – You'll be sharing the bill on Saturday with Sergio Mendes.
RAMSEY LEWIS – Love Sergio Mendes! Love his music. And when he first hit the scene [sings syncopated] "And … I … think I'm goin' out of my head. . ." Oh, yeah.
THEATERTIMES – You had an album in 1962 called Bossa Nova, which, AllMusic recently said "embraced the sun-kissed Rio groove to create one of the Trio's most unusual and engaging LPs." What got you into that?
RAMSEY LEWIS – We were just assigned to put out something different than the one before and we were in San Francisco and we met these people, I forgot who they were now.
THEATERTIMES – Are they on the album? I think it was Josef Paulo and Carmen Costa.
RAMSEY LEWIS – Yep, they're on the album. And one said you ever thought of bossa nova? And we started talking and Redd especially liked the drum and percussion parts, and I liked the lyrical part. It was so lyrical. So I got into the music of Antonio Carlos Jobim and other writers, composers from Brazil. The record company said go ahead and do it and to this day I love it.
So when Sergio Mendes came out with it, of course he had another little snap to it, I just loved his music.
THEATERTIMES – On the night before you and Sergio appear, it's Poncho Sanchez and Eddie Palmieri. So the weekend really has what Jelly Roll Morton called "the Spanish Tinge." Do you know Palmieri?
RAMSEY LEWIS – Yeah. I like the energy of his music. I like the creativity and I always liked what he did. I'm not one of these jazz guys that says, Oh I don't like that because it's not jazz or whatever. If somebody is playing their music really, really well, whether it's Latin or blues or whatever, I love it and I buy their records. And, Eddie Palmieri and Poncho Sanchez and Sergio Mendes are all part of that group of Latin players whose music I really, really like.
THEATERTIMES – I also want to get your take on a favorite of mine, who passed too soon and isn't very well known today. I know you worked with Minnie Ripperton.
RAMSEY LEWIS – Oooo. Minnie Ripperton was a sweetheart. She was a background singer at Chess Productions and she would do background for various artists, and it was Marshal Chess, Leonard Chess' son, who heard her voice and then Charles Stepney, the producer for a lot of acts down there, told Marshall, "You haven't heard anything. Minnie come in here. She can sing four octaves like she's drinking a glass of water!" And Minnie stood there and did these four octaves and it wasn't straining. It wasn't stringy. It was a beautiful sound and everybody went Wow. And so Charles told Marshall, we ought to do an album. And so Marshall got the okay to go and spend some money on Minnie. But in Chicago and especially down at Chess, everybody loved her. She was soft-spoken, great sense of humor, I can't say enough positive stuff. And so talented. Of course she left Chess and went with another label and she had a couple big hits with Epic or somewhere. Then unfortunately she got sick. But she left us with a talented daughter.
THEATERTIMES – Yeah. I'm not sure people know that Maya Rudolph's her daughter, or for that matter who Maya's mother was.
RAMSEY LEWIS – Many people do not connect it, no.
THEATERTIMES – Let's talk a little about what's happening with you these days, aside from the tour. Is Taking Another Look a repackaging of Sun Goddess, your hit 1974 album with Earth, Wind and Fire coming out this year or did it come out in 2011?
RAMSEY LEWIS – This is the Deluxe Edition. We put it out for a minute and we decided we didn't want it to be out at that moment and that was what you saw in 2011. And so we added some more tunes to it and we put another cover on it and we're calling it the Deluxe Edition and that's what's coming out this year.
THEATERTIMES – Well, I still have my original lp with the woman's face on the cover. There is a radio program called "Legends" on KKJZ in Los Angeles on Sunday nights. Is that audio from the PBS series?
RAMSEY LEWIS – Those are shows that I've done that they're picking up. Totally different from the PBS Series. I did it here in Chicago. Oh God, I I don't know how many years, I must have done many years of one a week, so there are a whole lot of them out there.
THEATERTIMES – You're one of the few jazz artists who have had a high visibility career for more than 50 years, like Armstrong and Gillespie, Brubeck and Rollins. But I would venture to say that, unlike the earlier legends, you've seen things change more radically during your lifetime in terms of how people obtain your product. The upheaval in how artists and audiences connect from the 1970s to the 2000s is quite different than what happened between the '20s and '50s. Where do you see jazz these days, relating the audience and genres?
RAMSEY LEWIS – Well, as you know, technology killed us. The kids found you could get this that and the other without buying a record, and that hurt a lot. Because it used to be we would tour to sell records. The big profit for us was with the records. Now it's flip-flopped. Now we tour to make money.
THEATERTIMES – Hence you see major artists autographing in the lobby during intermission in order to cell CDs. That just shows you.
RAMSEY LEWIS – Yep, yep, yep. But I think it's about to change. I read somewhere where one of the big conglomerate companies are going to open 200 record shops.
THEATERTIMES – Well, if it does, I've got a turntable. Though, I admit it's capable of converting vinyl to digital!
RAMSEY LEWIS – Hah! Okay.
THEATERTIMES – It's certainly a pleasure talking to you and always good listening to you. I'm really looking forward to the show in October.
RAMSEY LEWIS – So you going to come backstage?
THEATERTIMES – Yeah, I'll definitely do that. I'll be the one with that 1974 lp with the golden lady on the cover.
RAMSEY LEWIS – [laughs]. Okay. Looking forward to it.
---
RECORDINGS
---
Purchase recordings mentioned in interview
Click image to shop Amazon for CDs and LPs or the Apple Music button for iTunes digital.
The In Crowd The Ramsey Lewis Trio
Hang on Sloopy | Wade in the Water The Ramsey Lewis Trio
Sun Goddess Ramsey Lewis | Earth Wind and Fire
Taking Another Look Ramsey Lewis
---
VIDEOS
---
Crowding
Ramsey Lewis Trio perform 'The In Crowd' WATCH
Wading
Ramsey Lewis Quartet perform 'Wade in the Water' (Incorrectly titled 'In Crowd')WATCH
Reuniting
CBS News profiles the Ramsey Lewis Trio's 1983 Reunion WATCH
Highlighting
A representative showcase of Lewis' 13-segment 'Legends of Jazz' series. WATCH

---
VITALS
---
Ramsey Emmanuel Lewis Jr. was born in Chicago, Illinois, in 1935, began taking piano lessons at 4, and at 15 joined a seven-piece group, the Cleffs, that provided his first experience with jazz. When the Cleffs broke up, he and its drummer Isaac "Redd" Holt and bassist Eldee Young formed The Ramsey Lewis Trio.
Their debut, in 1956, was Ramsey Lewis and the Gentlemen of Swing. Albums followed, sometimes two a year until their 16th became a huge hit in 1965. The lp, The In Crowd, shot to No. 2 on the album charts thanks to title single, a cover of the recent Dobie Gray hit, which reached No. 5 on the pop charts. Their follow up cover of The McCoys' "Hang On Sloopy" was another chart topper in 1966, signaling the end for Young and Holt, who formed Young-Holt Unlimited. Cleveland Eaton and Maurice White joined for the third successive hit, Wade in the Water, that same year. White would leave a few years later to form Earth, Wind & Fire, with whom Lewis would record his 1974 pop-funk hit, Sun Goddess.
In 1983, Lewis returned to the studio with Young and Holt for the album Reunion. The next year he collaborated with Nancy Wilson on The Two of Us; in 1988, he recorded with London's Philharmonic Orchestra for the album A Classic Encounter; and in 1989, Lewis and Dr. Billy Taylor cut a set of piano duets in We Meet Again.
In 1990, he began hosting the weekly syndicated radio program "Legends of Jazz," which spawned PBS' Legends of Jazz series in 2006. Each of the 13 episodes featured a different instrument or style and included interviews and performances by artists such as Joey Defrancesco, Dave Brubeck, Chick Corea, Kurt Elling, Benny Golson, Pat Metheny and Tony Bennett.
In 1994, Lewis appeared on the Red Hot Organization's compilation album, Stolen Moments: Red Hot + Cool, alongside other prominent jazz artists Herbie Hancock and Roy Ayers. The album, meant to raise awareness and funds in support of the AIDS epidemic in relation to the African American community, was heralded as "Album of the Year" by TIME magazine.
In 1995, Lewis launched the side project Urban Knights, in which he collaborated with a handful of successful crossover jazz stars, including Grover Washington, Jr., Earl Klugh, and Dave Koz.
More recently, he has been touring with Earth, Wind & Fire vocalist Philip Bailey, John Pizzarelli and Dee Dee Bridgewater as well as doing dates in celebration of the 50th anniversary of The 'In' Crowd, which brought him to Orange County in October 2015, and was the reason for our interview.
That same year, he returned to the electric piano for a reworking of Sun Goddess called Taking Another Look – Deluxe Edition. Released that July, it features the same new electric quintet that appeared in Costa Mesa: Henry Johnson on guitar, Michael Logan on keys, Joshua Ramos on bass and Charles Heath on drums. The CD also features three bonus tracks, with Dr. John adding Cajun-style funk on "Jungle Strut," the jazz fusion funksters Kung Fu on "Tambura," and TAUK with an amazing take on "Sharing Her Journey."
Lewis still lives in Chicago, the city of his musical roots. He has seven children, fourteen grandchildren, and one great-grandchild.