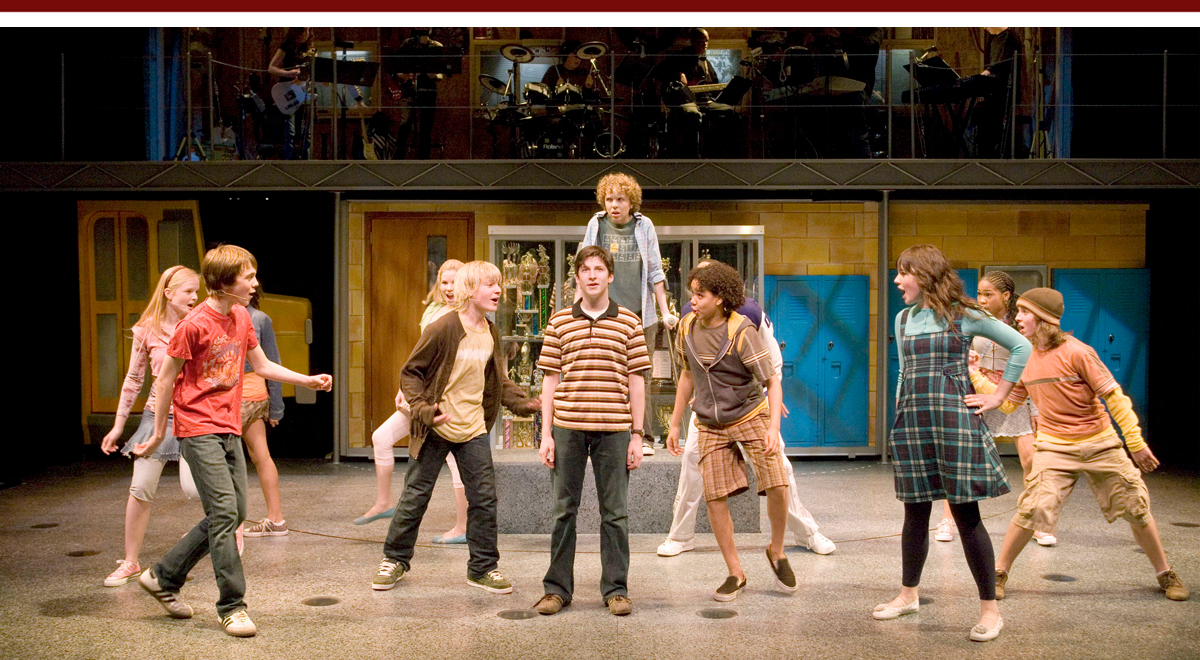 13
music and lyrics by
JASON ROBERT BROWN
book by DAN ELISH
musical direction by DAVID O
choreography by MICHELE LYNCH
directed by TODD GRAFF
MARK TAPER FORUM
December 22-February 18, 2007
CAST Aaron Albert, Ricky Ashley, Caitlin Baunoch, Molly Bernstein, Jenae Burrows, Emma Degerstedt, Jamie Eblen, Julia Harriman, Jordan Johnson, Tinashe Kachigwe, Max Atom Kuehn, Tyler Mann, Matthew McFarland, Sara Niemietz, Ryan Obgurn, Rachael Page, J.D. Phillips, Ellington Ratliff, Chris Raymond, Charlie Rosen, Alex Scolari, Chloe Smith, Christian Vandal, Nehemiah, Williams, Seth Zibalese
PRODUCTION David Gallo, set; Candice Cain, costumes; Mike Baldassari, lights; Duncan Robert Edwards, sound; Zachary Borovay, projections; Carol F. Doran, wigs; James T. McDermott/Elizabeth Atkinson, stage management
HISTORY World Premiere
---
Ricky Astley (stripes), center, Tyler Mann (behind him), and cast members
Craig Schwartz
Dog eat dog world
Dogeaters, now at the Kirk Douglas Theatre through February 11, is Jessica Hagedorn's sprawling sampler of life in the pre-Aquino Philippines.  Adapted from her 1990 novel of the same name, it emerged on the regional theater scene about a decade ago: developed at Sundance, read at South Coast and birthed at the La Jolla Playhouse.  Here, Jon Lawrence Rivera, with an invested cast and energized staging, looks like he may have the grasp to focus this kaleidoscope of a story.  But ultimately the tumble of colorful characters and story shards so fill the viewfinder that little comes through besides a vague sense of darkness.
After an inventive, if clumsy, opening device to provide audio snapshots of the Philippines in 1982, Rivera shows a sure hand in choreographing this multi-faceted piece. A veritable mob of cast members covers a re-configured Douglas stage with seating on four sides. There are stairs through and walkways behind the several ringside rows, and the director makes good use of it all to separate the plot threads of assassination, a substance-abusing hustler (Ramon de Ocampo), a beauty queen turned rebel (Esperanza Catubig), the self-obsessed first lady Imelda Marcos (Natsuko Ohama), the power-hungry general (Dom Magwili) strong-arming the maleable locals and gullible foreigners, and more.
Hagedorn connects many of these floating dots with pop culture reference points.  Often it is done with two announcer-personalities (wonderfully played by Lisa Del Mundo and Orlando Pabotoy) who are recurring comic guides. They weave in and out as speakers, soap opera stars broadcast over the radio, or as news bulletins. The play is also unified by the tone Hagedorn and Rivera create, of an outpost filled with bullies and their sad-beautiful victims. Whether oppressed by working conditions, drug and alcohol dependence, macho brutality, or a preference for night's dark quarter, every character is part of what Hagedorn, in one of her redeeming poetic flourishes, calls the "vaudeville of doomed love."
Clearly Hagedorn has created in Dogeaters a densely populated love-hate poem to her homeland at its time of tectonic shift. Her Philippines, still wearing its colonial era in its Spanish religion and Hollywood obsessions, should have been the backdrop for a powerful, impacting drama. We meet a number of interesting characters, but never feel like we're getting past the introductions. The presence of Rainer Fassbinder (Nick Salamone), the self-destructive filmmaker who carries the personification of Europe in moral decay, feels as squandered here as his real life was.
Out of the crowd of characters' lurching progress, one POV touchstone does emerge. But it comes at the end, too late to help organize the relative weight of all these dramatic pieces. The character, a woman (well articulated by Minerva Vier), is returning from the United States after 20 years. She provides summarizing perspective by tying together -- or snipping off -- loose ends with a weary appraisal about things not having changed much. The woman, a writer, represents Hagedorn herself.  Publishers Weekly called the novel "in many respects a thinly disguised roman a clef." On stage, Hagedorn has been more successful in disguising her stand-in. In doing so she has stunted the natural tent pole that might have given the story needed shape and greater gravity.
DOGEATERS
by JESSICA HAGEDORN
directed by JON LAWRENCE RIVERA
KIRK DOUGLAS THEATRE
January 14-February 11, 2007
CAST Robert Almodovar, Gino Aquino, Christine Avila, Esperanza Catubig, Ivan Davila, Fran de Leon, Liza Del Mundo, Ramón de Ocampo, Antoine Reynaldo Diel, Golda Inquito, Alberto Isaac, Kennedy Kabasares, Dom Magwili, Natsuko Ohama, Giovanni Ortega, Orlando Pabotoy, Elizabeth Pan, Ed Ramolete, Nick Salamone, Minerva Vier
PRODUCTION John H. Binkley, set; Marya Krakowiak/Dianne K. Graebner, costumes; Steven Young, lights; Bob Blackburn, sound; Kay Cole, choreography; Andrea Iovino/Scott Harrison, stage management
PRODUCERS Playwrights' Arena, TDRZ Productions, Inc., Search to Involve Pilipino Americans (SIPA)
---
Esperanza Catubig, Gino Aquino and Dom Magwili
Craig Schwartz
Destination unknown
At least nominally opposed to fame, the Unknown Theater (1110 N. Seward Street on Theater Row) has, in the short time since its 2005 founding, mapped out an ambitious corner of theater in which to make a name for itself.
There's a refreshing energy of purpose to this group and an admirable attention to detail – from the stunning website to the what's-your-hurry warmth of its bar lounge to the Pullman-car comfort of its seats. Play selection, on the other hand, is not cushioned. It soon becomes clear that Unknowns are less focused on their own popularity than on the forgotten scripts they think still resonate. This has evolved into an aesthetic that incorporates past and present, theater and jazz, and a willingness to perform unheard of work like Kenneth Patchen's Don't Look Now which due to critical support (and a set that will be heart-breaking to strike) is now in a January 4-21 extension after its November-December run.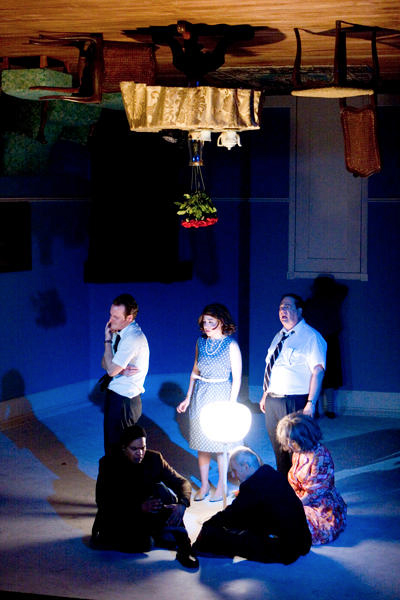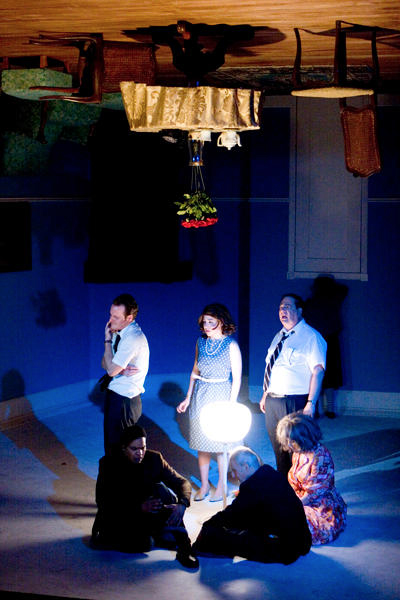 Patchen (1911-1972), a gifted mid-Century poet, was himself a synthesist. His blending of poetry and jazz helped set the stage for the beat movement, making him a logical object for Unknown illumination. But his identity as anarchist and pacifist is what gives Don't Look Now its edge. The play, one of two published in Lost Plays of Kenneth Patchen, is a whirling threat warning for an America adamantly "assuming" its primacy in a good-evil paradigm we helped blur by ushering in the nuclear age.
A five-member family – father (Morry Schorr), mother (Angela Paul Stern), daughter (Diana Wyenn), son-in-law (Kyle Ingleman), "aunt" (Carol Herman) – along with two guests -- representing past and present culture (a vaudevillian-magician played by Carl Moebus and a '50s artist-type played by Craig Johnson – have been visiting together in the parents' penthouse when their world is turned upside-down by events outside their awareness. A form of erasure begins, and the tightening encroachment of dead space threatens to mute them entirely.
Why this is occurring is not clear, nor is it the point. Patchen's message is that our greatest danger is mindless acquiescence. Shards of free verse fly from one character past another to land in broken mosaic. These create shifting snapshots of the world a half-century ago, but in many ways still apply today.
However, Covics has encouraged or allowed his company to populate the deck with unfathomable characterizations of people who stay cartoonish through often shrill, manic projectile-speech. Even with abstracted exchanges of free-jazz inspired dialogue, hysteria should rise out of character, rather than the character to be revealed through hysteria. When an actor does get his hands around a scene, as Johnson does in recalling one poignant memory, we feel the kind of detail a poet of Patchen's precision had in mind for the piece.
Covics' blocking is generally good, especially in the light of the challenges of dealing with all characters on stage at all times, without a single prop (okay, there's a notebook) for them to use. He sets up some nice pictures, employing a telling symmetry, and gets some great physical comedy out of Johnson's pantomine dance with Wyenn, a dancer who gamely takes one for the team more than once by dropping limply to the floor. But on the whole, the delivery does not seem grounded in specific choices that build characterization. And while the set, script, setting and musicianship still make this a unique opportunity to discover the unknown script of a writer known for poetry, there is certainly more color to be found in it.
Artistic director Covics has staged and designed the set and lighting. The set will not be described here because it defies – not description – but something else. Suffice to say, it is a cube without an exit, which presents its share of lighting and sound challenges. Covics has deftly overcome these. Though no light rigging is visible upstage of the proscenium, the stage is evenly lit with enough cues to tell the 90-minute drama without compromise. Ironically, though this puts the cast inside a virtual speaker box, the acoustics tend to squash the voices when they are overlapped, which in turn is exacerbated by the tendency for shrieking. Speaker boxes, however, are the saving grace for the excellent three-piece combo, tucked house left, who deliver great period jazz underscoring through a clear sound system.
The space, the set, the writing and the enlightened infusion of jazz music into the production do make the visit rewarding. The accommodating company follows the performance with a post-show Fifth Wall series. On this night another jazz group – Sincere Parity – performed. With the talent, vision and dedication the group exhibits, they'll likely not be Unknown long.
DON'T LOOK NOW
by KENNETH PATCHEN
directed by CHRIS COVICS
UNKNOWN THEATER
January 4-21, 2007  (extension of first run November 10-December 17, 2006
CAST Carol Herman, Kyle Ingleman, Craig Johnson, Carl Moebus, Morry Schorr, Angela Paul Stern, Diana Wyenn.
MUSICIANS John Wicks, Peter Adams, and  Dylan Cooper
PRODUCTION Chris Covics, set and lights; Shelby Janes, costumes; Deborah Greenfield, movement; Steven Cox, assistant director
---
Cast
Photographer
Sloppin 'em down
If you like your comedy scrambled, with a side of bacon, Greg Kotis' Pig Farm at South Coast Repertory may meet your minimum requirements. Many in this matinee audience laughed up the afternoon snack like a gag bag of pork rinds. But, after a week rooting through our notes and memories, we still find too much trifle and not enough truffle in the mud being slung on SCR's Julianne Argyros Stage through January 28.
Martin Benson's direction pushes his players to reach for laughs, not trusting that the script can deliver them more naturally. Odd, since it was Benson who first showed the script's promise in a reading on this stage more than a year ago. That seated rendering, sans the slapstick and scenery, forced the play to reveal its true heart, or the absence of one. What many heard in Kotis' voice was a Sam Shepard foreboding cut with Steve Martin silliness.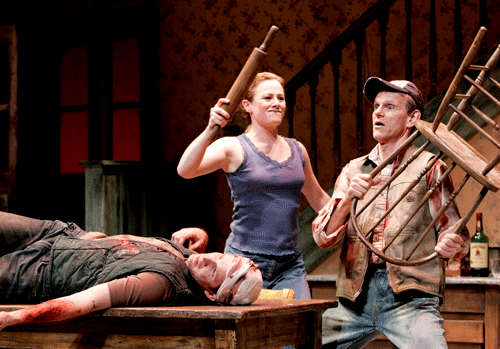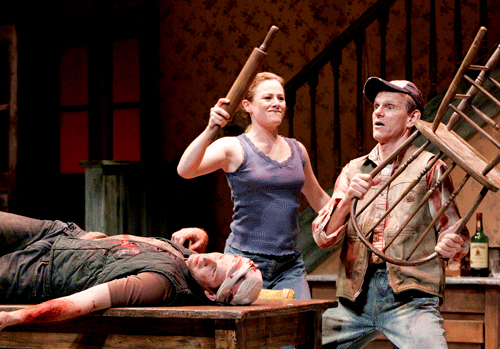 Here, however, the silliness has been supercharged with the kind of antics that made Smokey and the Bandit a classic. Apparently, this has been the case in the Pig Farm's only previous mountings: a 2006 East Coast-West Coast co-premiere between Manhattan's Roundabout and San Diego's Old Globe. The New York Times' Charles Isherwood, who sensed Martin McDonagh ambitions in the New York production, nevertheless felt "the humor here is of a far more dopey kind, relying on truckloads of mugging." (Coincidentally, Benson was responsible for SCR's superior staging of McDonagh's The Lonesome West).
Kotis, book-writer for the hit musical Urinetown, may have something to say about the excesses of government oversight. But, it would take a rabid Libertarian to find consistent anti-government meaning in this two-hour, two-act, one-joke farce. After all, Kotis portrays these farmers as such willful abusers of common sense environmental care that they are the perfect examples of why we need government oversight. Since that makes the political dimension moot, we're left to rely on the comedy.
The story involves a couple, Tom (Steve Rankin) and Tina (Blake Lindsley), who run a run-down pig farm upriver of the nation's capital. The house Thomas Buderwitz has designed for him, while a wonder of detailed stagecraft, paints them as dismal failures at running their business. It's a rainy -- and therefore muddy -- night when Tom has to deal with Teddy (JD Cullum), an EPA agent who is up for the count. Living with Tom and Tina is Tim (Brad Fleischer), a dense young oaf, just out of adolescence, who is meant to bear a simmering Brando brutishness. In a plot requiring increasingly heavy machinery to turn, Kotis weaves a number of deceptions into the story: love tryst, snout-count twist, and more. Lindsley has more success than her housemates at making something of her character, who does have some believable motivation here. What moments of clarity Tom and Tim get are quickly lost in the stomping, teeth-clenching and shouting.
On another level entirely is Cullum, who nearly makes his outsider character feel like the play's center. It might be argued that his character calls for the kind of stern foolishness that Cullum gives him while the others need to be broader. As a G-man, he has license to play the gruff deadpan we associate with Joe Friday and Elliott Ness. But, as the slapstick film 'Airplane' shows, it works because at its center are the Tom-like characters played straight by Robert Stack, Leslie Nielsen, et al. With an even more ludicrous script, playing it real earned Nielsen an entire comedy franchise. Cullum proves it could work here.
As always, SCR has brought plenty of board to the boards and erected a faultless set. Julie Keen's costumes, Christina L. Munich's lights, and especially Tom Cavnar's grunting sound design are spot on. The fight choreography apparently cause some sparring themselves, between "write-in candidate" Rankin (who was added after the programs were printed) and SCR fisticuff specialist Martin Noyes. Whoever is responsible, they feel, as they did on 'Ridiculous Fraud,' to be more choreography than fight.
Despite personal misgivings, the majority seemed entertained. One man's yucks are another man's muck.
PIG FARM
by GREG KOTIS
directed by MARTIN BENSON
SOUTH COAST REPERTORY
January 7-28, 2007
CAST JD Cullum, Brad Fleisher, Blake Lindsley, Steve Rankin
PRODUCTION Thomas Buderwitz, set; Julie Keen, costumes; Christina L. Munich, lights; Tom Cavnar, sound; Steve Rankin/Martin Noyes, fight direction; Patrick Pearson, asst. director; Randall K. Lum, stage manager
---
Brad Fleisher, Blake Lindsley and Steve Rankin
Henry DiRocco