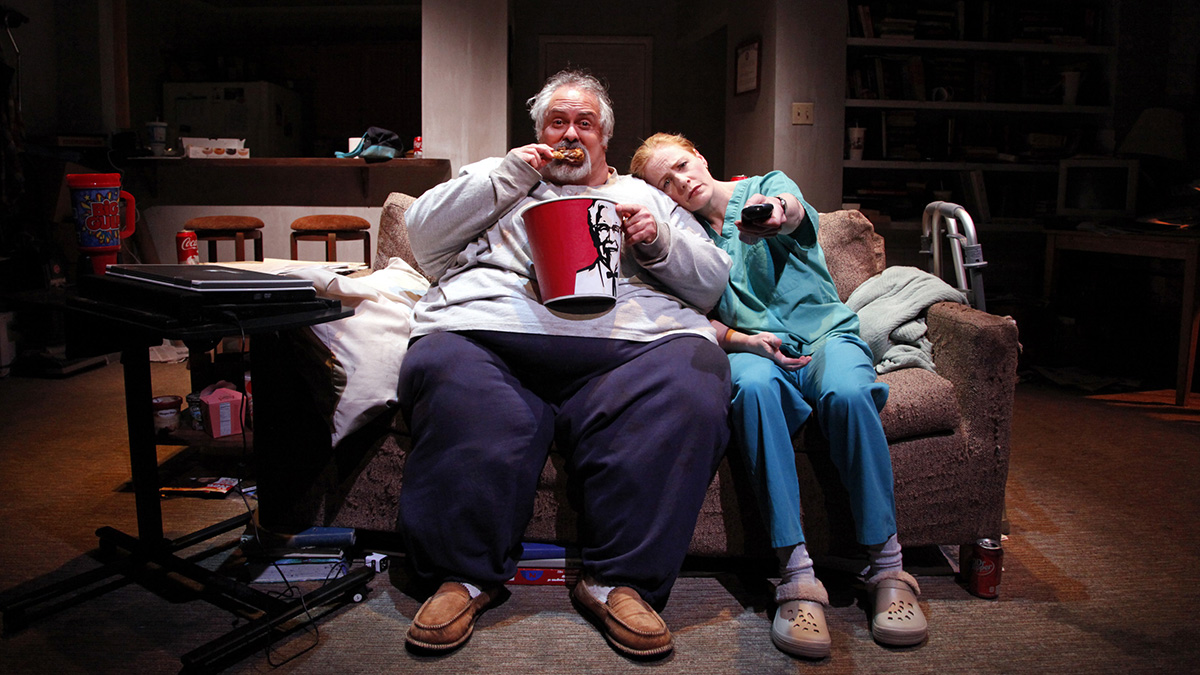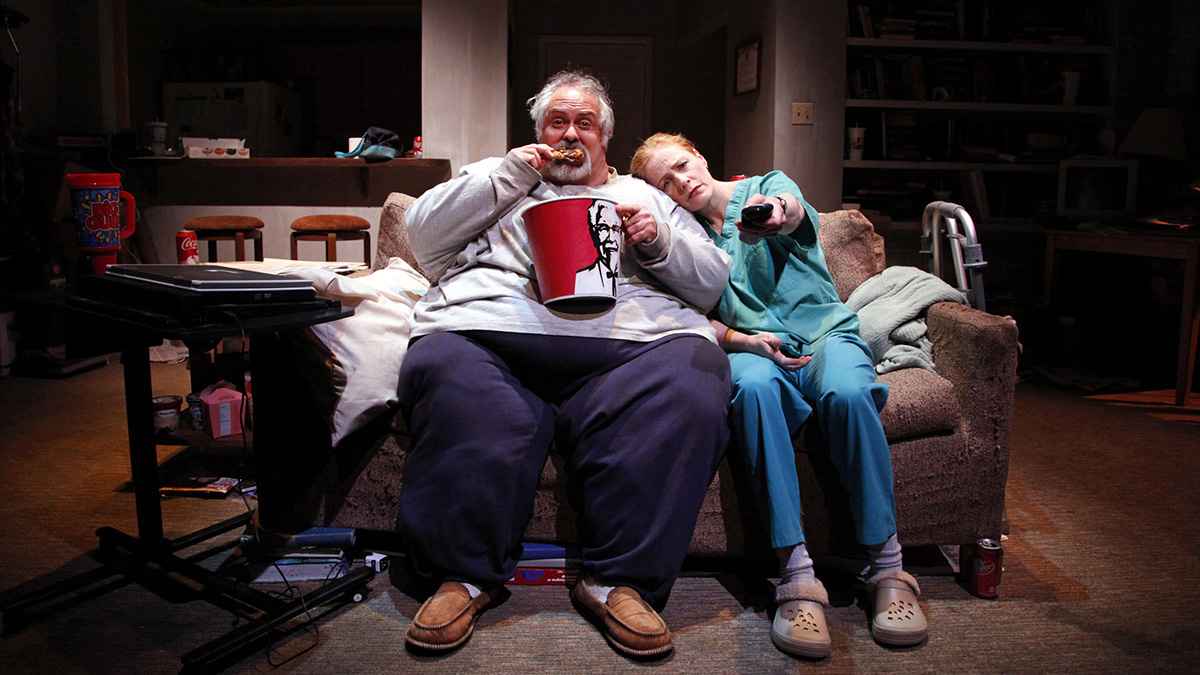 NO SMALL PARTS
The Brothers Arkin get swallowed by whales
by CRISTOFER GROSS
L]/dropcap]arger-than-life characters, from Achilles and Lysistrata to FDR and Harriett Tubman, are literature's meat-and-potatoes. How the everyman reaches greatness, or how the mighty fall, fuels both inspirational stories and cautionary tales that share what it means to be human. In Herman Melville's Moby Dick, it's not the beast that brings us back but the outsized obsession of Captain Ahab.
Oversized characters, on the other hand, are a harder fit. Whether in theater, literature, film, or TV, once a body crosses the 600-lb mark, as the Duke put it, "they don't get around much anymore." As a result it's very rare to have one of these tragic figures rise in the ranks of fiction. John Kennedy Toole added one in his 1980 novel, Confederacy of Dunces, and won a posthumous Pulitzer for his efforts. But we're still waiting for someone to get around to getting his slothful sleuth, Ignatius J. Reilly, up on the screen.
Anyone who has leafed through the Guinness Book for Records has likely stopped at the sad story of Robert Hughes, the one-time "World's Heaviest Human," who died at 32 weighing half a ton. He was buried in a coffin the size of a piano case.
In the past decade, these cases have inspired two fictional characters. A decade ago, in the first season of the long-running television mystery "Monk," we met Dale "the Whale" Beiderbeck, an 800-pound, bed-bound financial wizard prone to crime. This weekend, we meet Charlie, the central character in Playwright Samuel D. Hunter's The Whale, opening at South Coast Repertory and running through the end of the month.
By strange coincidence, the 2002 TV whale and the 2013 theater whale are played by brothers Adam and Matthew Arkin, respectively.
Adam, 56, was first to notice what surely qualifies for its own page in the record book.
"I didn't even think about the coincidence until Adam mentioned it to me," said Matthew, who turns 53 next week. "I actually never caught that episode of 'Monk.' I knew he had played that character, but I didn't really know much about it."
"I expect that our experiences in the process have been drastically different," he added. "Because of the innate differences between doing something like that for film, where you can cut, take care of problems, and so on, and the challenges of doing it on stage, where the illusion has to last, and logistical problems have to be solved, with no possibility of a break."
Both Arkins, sons of actor Alan Arkin, are veterans of stage and film. Adam preceded his brother at SCR, starring in the premiere of Donald Margulies' Brooklyn Boy, and returning for the readings of Richard Greenberg's Our Mother's Brief Affair and Steven Drukman's The Prince of Atlantis, in which Matthew played his brother. Matthew, who was in the New York cast of Margulies' Dinner with Friends when it won the Pulitzer Prize, made his SCR debut in the full production of Brief Affair, [review] and went on to co-star in Prince [review] with John Kapelos.
Either would be quick to point out that the stage, with its preference for promoting use of the imagination, is less fond than film of elaborate makeup and prosthetic devices to create character. However, when the physical condition is either the cause, or manifestation, of one's behavior, the drama demands it be front and center. And so, the younger Arkin is embarking on an eight-show-a-week regimen of serious weight-gain. To do it, SCR brought in Kevin Haney, an expert whose collaboration on makeup for Driving Miss Daisy earned him the Academy Award in 1990.
Haney's Broadway work includes turning Bernadette Peters into a witch and Robert Westenberg into a wolf for Into the Woods, turning Robert Morse into Harry Truman for Tru, and helping with Mandy Patinkin's nightly sex-change for David Hare's obscure musical The Knife. He agrees that stage and cinema are different animals.
"Film is a series of moments often shot out of context of the whole," he said. "There is usually time to touch up the makeup to make sure it looks good for that shot. Theater is a whole slice of time. We can't walk on stage and do a touch up, so it has to be glued in really well."
Regarding the costume portion of the transformation, he credits SCR's Costume Department for doing "an amazing job creating a lightweight but realistic fat suit – one of the best I have encountered. We are using new techniques, to have the bulk built up with a reinforced, extremely lightweight and soft cast polyfoam, similar to what I used on the Wolf makeup in 1989, combined with a reinforced silicone skin."
The costume and make up takes an hour and a half to put on, and another hour to remove. Add in the two-hour run time and that's four hours in which Arkin cannot use the men's room – assuming he gets through the door.
"First the neck and facial prosthetic is applied to my face with adhesive," he explained. "The edges have to be meticulously glued down and then blended carefully around my eyes with makeup. Additional tiny wig pieces are applied around the edges of my goatee, my sideburns and the nape of the neck to cover the sides of the pieces. When that is done, it is time to put on the suit.
"The first layer is a baseball player's athletic support with a cup, so that the straps of the suit don't cause damage to sensitive parts. Then a thermal undershirt and a cotton onesie to prevent the ice packs that are worn to keep me from overheating from having the opposite effect and giving me ice burns. Those are the layers that can be washed between each show, and it's a good thing, 'cause even with the cooling system, I'm pretty soaked with sweat by the end.
"Over the onesie goes a neoprene vest with two huge pockets front and back to hold the ice packs. Then the bottom half of the suit goes on, and is stretched tight and hooked into a series of fasteners on the vest to stop it from sagging. It is so heavy that, throughout the show, I have to resist it pulling me down into a crouch. Then I put on neoprene cuffs, which also contain ice packs for my wrists, and the top half, which also stretches and is fastened to the vest to keep it from riding up when I sit. That adds to the crouch effect. All of these layers are fairly tight as well, so that they don't shift around too much, but it makes normal breathing a conscious effort. The neck line of the top half then has to be tucked carefully under the neck line of the prosthetic, and then I can get into my sweat pants, shaking the various layers down and tucking them in. Then I put on the shirt, two pairs of socks, and my slippers. All done: Piece of cake."
Of course, then it's time for the real work to begin, and Arkin waddles on stage to act. While we can debate whether there are any small parts for actors, there are relatively few like those assumed Adam and Matthew Arkin.
---
The Whale ran at South Coast Repertory March 15 through 31, 2013. Read the review posted March 21, 2013.
PHOTOS top - Matthew Arkin and Blake Lindsley in The Whale (Debora Robinson); center - Matthew and Jennifer Christopher; bottom - Adam Arkin in 'Mr. Monk Meets Dale the Whale'