---
The Home
Offstage Right is the name of a house in Lake Arrowhead. It was purchased in May 2001. It had been a rental and suffered from neglect. The color of its exterior paint brought to mind Tom Waits description of "a 1958 monkey-shit brown Buick Super." But its living room had more glass than an orca tank.
Relying on the expertise and energies of newspaperman handyman Frederick Schoemehl, work began that summer. With minimal assistance from the owner, Schoemehl replaced decks, wiring, circuit panels and propped up a living room corner that had sagged more than a half-inch due to water rot.
The Memorial Garden
Offstage Right is two lots on a south-facing slope that was originally subdivided around 1920. The second was purchased undeveloped so the property and its view were protected against future development. That lot was designated 'Olivia Park,' in gratitude to the parent who spearheaded the generous loan of funds to purchase the second lot – an impossible extravagance for me to fund any other way.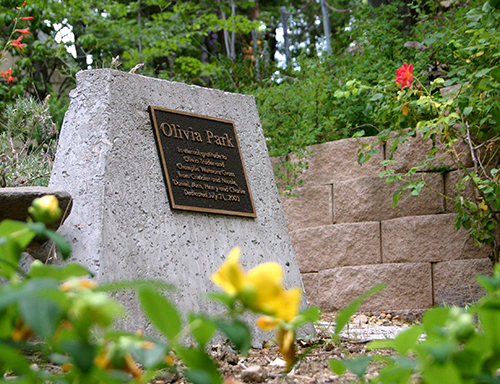 'Olivia Park' was dedicated on July 21, 2003, which was when its plaque was presented to Olivia Gross on her birthday. It would take another decade building the upper pad and a sidewalk to it before the plaque could be installed, but then it was a memorial park as Olivia had died February 1, 2008.
The idea of adding plants as memorials would continue. In Summer 2015, a new neighbor seemed despairing when we met for a chat. He was off to visit a close friend who was now in the final week of fighting cancer. Diagnosed two years before, he had battled positively but now, at just 40, he was at the end. My impotent offering was that he might be comforted by knowing his energies would be honored in a new plant in the memorial garden.
So distraught was the neighbor that I didn't think the remark had been heard. A few weeks later I heard people walking around on the pad in the middle of the park. The curtains were drawn and so as not to disturb this rare and desirable visit, I didn't peek to see who it was. Later that day I saw the neighbor, who said it had been him, showing his friend's widow the memorial garden. I hadn't spoken to him since the day of that last visit, and hadn't realized the man had died. He said that when he had told her I'd be putting something out there for her departed she had started crying and so he wanted to show her the location.
I immediately went out and bought several plants, including a hibiscus for the memorial. For a few days a delayed planting it. The garden is principally made up of natives, which the hibiscus is not. There are two types of hibiscus – a tropical that yields flowers destined for the hair of hula dancers and a higher elevation version that can withstand the winters. This was the second variety. Still, it would not fit with all the others. Another problem was it really needed lots of sun.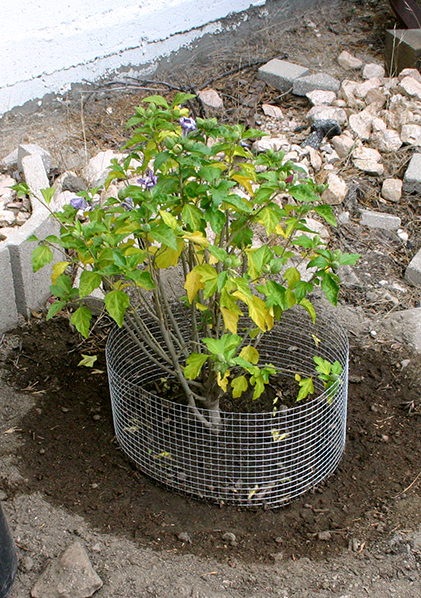 Finally I decided to make a nice variegated ceanothus the memorial plant for the neighbor's friend and put the hibiscus in a special place below the basement picture window, beside a "Purple Robe" Locus tree that also has beautiful flowers. I planted it and took the photo that appears at right.
The inspiring theater director Mark Rucker also died that summer. At only 56, his accidental death sent a shock through the theater community, numbing the thousands who knew him. Later that Fall, as the idea of writing a tribute biography of Rucker [which can be read here] became a project, I wished I had thought to add him to the memorial garden. It wasn't too late, as fall plantings are good for plants.
Then I thought of the hibiscus. When had that been planted? So, I went back through my photos to find the picture taken on the day I finally planted the hibiscus. By this point I'd pretty much forgotten where I'd filed it. I finally found it among a batch of raw photos. Its file name began with the date it had been taken: August 25, 2015.
Building a new plaza
This year I will be updating this page with text and photos to show the progress of the latest installment in the development of Offstage Right.
Stay tuned as the walls and expectations rise.