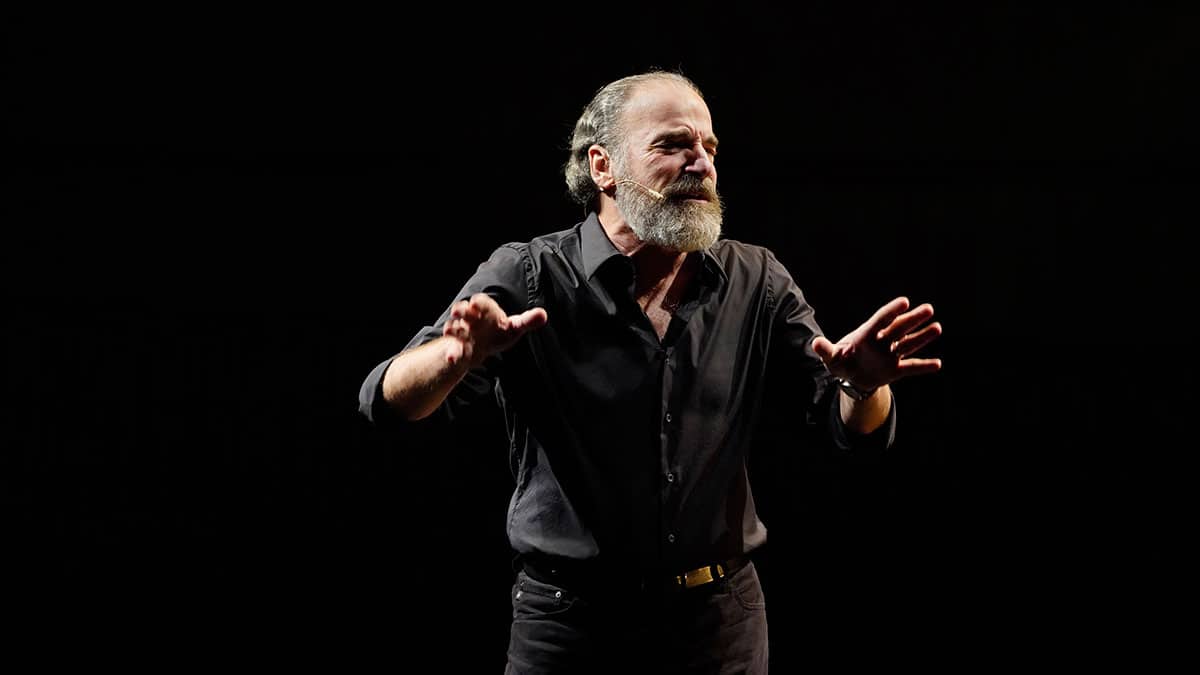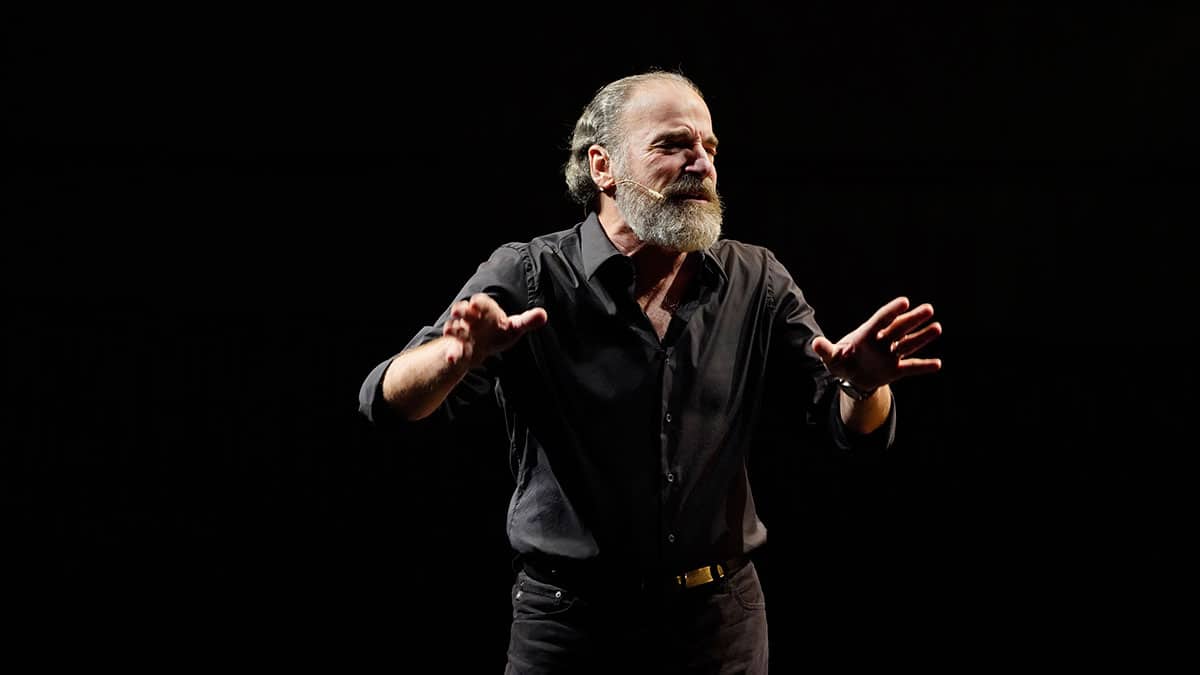 ARRANGEMENTS OF SHADOWS
Abetted by a dozen gifted songwriters, Mandy Patinkin casts
a memorable, wistful look at collective memories in 'Diaries'
by CRISTOFER GROSS
With culture now changing at techno-pace it's hard to imagine any contemporary artist will resonate with those living hundreds of years from now. On the other hand, vast changes have occurred since the times of Shakespeare and Homer and their work still grips and informs us. So, using the Bard as the high bar, one 20th Century creative artist whose craft and vision should still earn admiration in the 23rd Century is Stephen Sondheim. And, the best shot his canon has to go the distance may well be his transcendent 1984 musical, Sunday in the Park with George.
Ostensibly about impressionist painter George Seurat, it takes in a wider landscape to explore the nature of art and its personal toll on visionary artists. Still deeper, it touches on the act of creation itself. So, even if our children's children's children have resolved the origin-of-the-universe question by then, creativity surely will be a subject that fascinates them.
The actor who first manifested Sondheim's Seurat is Mandy Patinkin, whose current 30-city concert tour, with pianist Adam Ben-David, stopped at Musco Center for the Arts last Sunday, November 24.
Though best known for his current run as CIA Division Chief Saul Berenson on Showtime's "Homeland," or the Spanish swordsman Inigo Montoya in The Princess Bride, the 66-year-old Patinkin had drawn to the Chapman University performing arts center, a nearly full house made up largely of those who understand his undeniable ranking in musical theater history. For them, this would be no ordinary Sunday, for not only was Patinkin of Sondheim royalty, he has key roles in the legacy of several Broadway composers, including creating the role of Ché in the Andrew Lloyd Webber-Tim Rice musical Evita.
The diarist's journal
Among Patinkin's recordings are three called Diary, all released in the past two years. These, and his October 2019 release Children and Art, provide the bulk of the concert's 19 selections. They are the work of a dozen songwriters, from Laurie Anderson to Meredith Willson, and from sources ranging from Queen's Night at the Opera to Elmer Bernstein's Carmen Jones opera. Two writers – Sondheim and Randy Newman – made multiple appearances.
A rousing rendition of Willson's Ya Got Trouble from The Music Man, his 1957 Broadway hit, got things started. This was not Robert Preston's charismatic con man, whose warning must both scare the townsfolk and charm them into investing in his bogus marching band scheme. This was the stern prophet, whose cautionary address invites audience participation in a show of articulation and stamina. The Musco crowd responded with restraint befitting Willson's Iowans, and was congratulated by Patinkin for bettering the San Francisco audience. Perhaps a case of too many "stuck-up jockey boys."
The song was nostalgic, not only for those of us who remember how it cheered our light-opera-loving folks a half-century ago (Patinkin, born six weeks after me, turns 67 this coming Sunday), but for its evocation of the lost world of their folks at the dawn of the 20th Century. In this way, "Diaries'" tone and theme, that embraced warm, wistful, even rueful recollections, was established. Patinkin now turned to the master of recalling in song the sound the early 1900s, but with wry irony under the placid surface with Newman's "Dayton, Ohio 1903." Still, Patinkin's sincere delivery made it okay to enjoy this gentle ode to simpler times without cynicism. As we age, face the waning of the light, and occasionally rose-color our past, we can be excused. After all, these song sketches are bound by the diarist's memory and not the journalist's morés.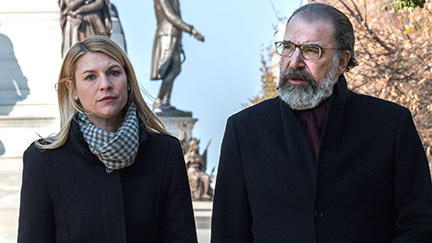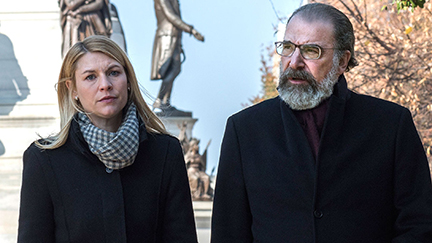 The next memory was very personal for Patinkin. "Buckingham," Patinkin explained when it concluded, was written in April 1978 by him to document his nervousness over the first date with Kathryn Grody. Their marriage, approaching its 40th Anniversary, he added with sincere candor, is the achievement he cherishes beyond any professional recognition.
The memories turned sepia now, with songs of the middle aged diarist awakening to the reality of the dominion of loss. First to strike this reminder concerns the disappearance of a child. The closing track of Newman's 2017 album, Dark Matter, is "My Wandering Boy." It is inspired in part by an old song entitled "Where is My Wandering Boy Tonight" (which also inspired My Wandering Boy by Julie Marie Myatt). It fits the concert's tonal throughline, which like life darkens as time left becomes time lived, yet is brightened by both greater understanding and acceptance.
The songs were uniformly beautiful and moving and in Patinkin's renditions, unique and personal. He moved into Freddie Mercury's "Bohemian Rhapsody," again a showy performance in which he covered all the voices. It ends with the protagonist's weary, misguided recognition, "Nothing really matters … to me." Patinkin made the resolution seem thoughtful and wise before rendering Newman's wary look at America in "A Few Words In Defense Of Our Country," from 2008's Harps and Angels.
After a more-spooky incantation of Anderson's spooky "From the Air," off her Big Science album, it was his version of Rufus Wainwright's "Going to a Town," which he amended to reference Jerusalem rather than America. Patinkin now came to a series of deeply affecting musical curios: Teitur Lassen's doleful "To be of Use," Bernstein's "Beat out Dat Rhythm on a Drum," and Mark Anthony Thompson's "My Mom," a vivid visit with a living-but-lost parent.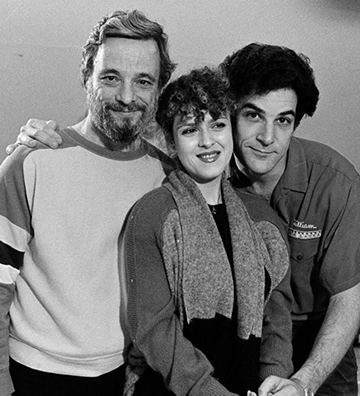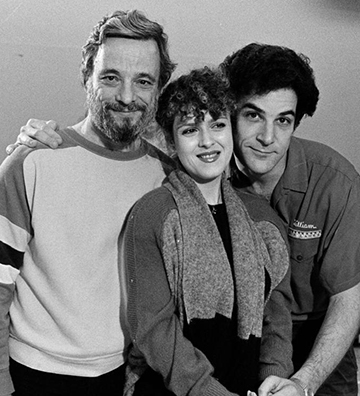 Now came what the audience had come for. Patinkin Sings Sondheim isn't just the title of his 2002 live album, it is why his audiences revere him. But it began with a tease, just a taste of Merrily We Roll Along's pensive recall of youthful optimism, "Good Thing Going," that soon segued into Harry Chapin's "Taxi," a forlorn tale of ambition blunted by pursuit of easy escape. Another elegy for missed opportunity followed with a return to Sondheim and "The Road You Didn't Take" from Follies. A trio of songs from exceptional songwriters of a generation ago followed: Harry Nilsson's simple "Mournin' Glory," Lyle Lovett's quirky dream song "If I had a Pony," and Tom Waits' "Kentucky Avenue" off Blue Valentine. Waits' youthful speaker is brimming with energy and encouragement for a wheelchair-bound friend, promising to free him or her in a burst of shared delinquency and then escape together to New Orleans. This added another episode to his theme of how memories serve us, whether for simple recall or protective revision. Here our character leaps back to a time of aid and selflessness, no doubt skipping the part where the impossible promise went unfulfilled.
What might have been a gloomy afternoon was having the opposite effect on me. A carefully curated collection of songs had become a docent tour of contemporary memory through American music. The dark tones of these song-stories and the dim stage lighting were of a piece. The last stop on our musical museum tour would be the grand gallery. The final two songs from the monumental Sunday in the Park. "Children and Art" and the show's climactic coda, "Sunday in the Park (Reprise)," reminded us how one artist can transform an empty canvas into a source of wonder and enrichment, and how another can turn an empty stage or an ordinary Sunday into an amazing journey into collective consciousness.
---
Photo: Mandy Patinkin, photographed by Joan Marcus (top); Claire Danes and Patinkin in "Homeland" (first inset); and Stephen Sondheim, Bernadette Peters and Mandy Patinkin in rehearsal for 1984's Sunday in the Park with George (second inset).