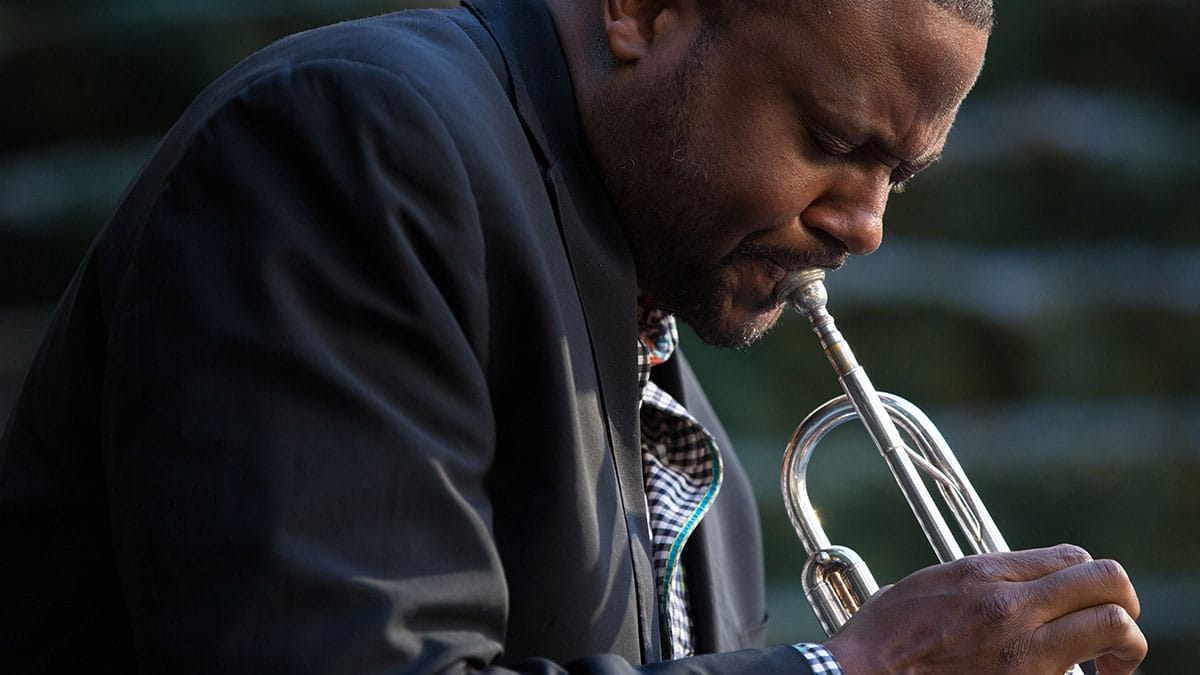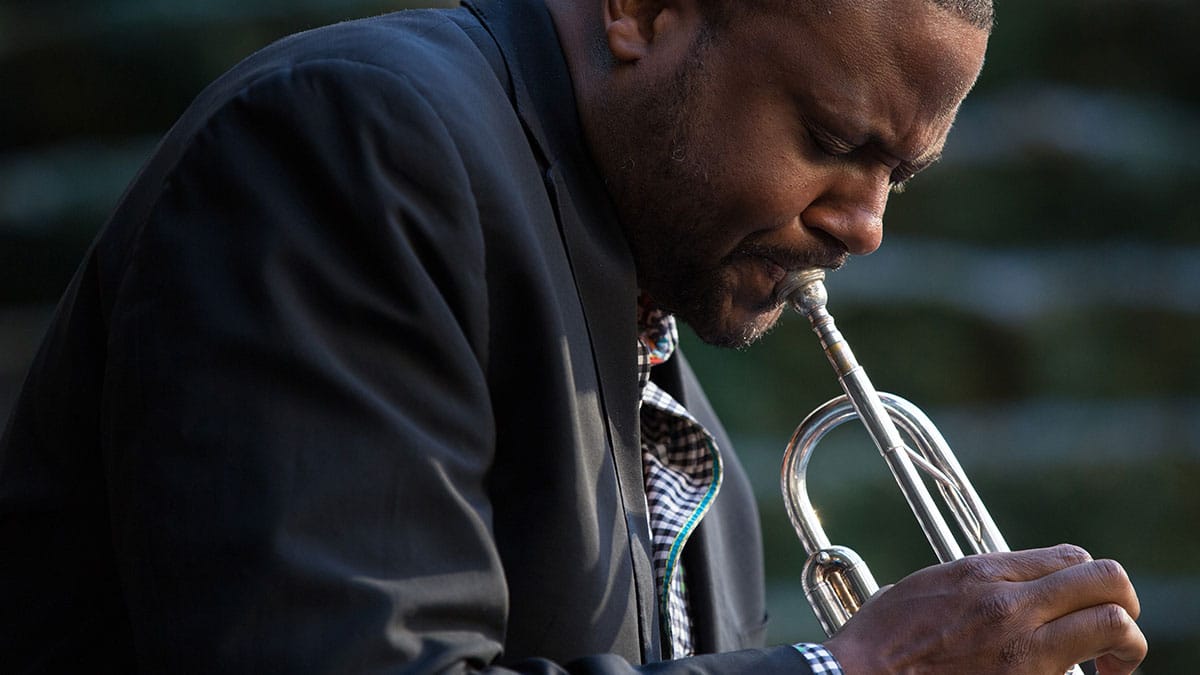 A JONES FOR MILES
Musician, composer and educator Sean Jones is in
the trumpet chair for SFJAZZ Collective's 2016-17 tribute tour to Miles Davis.
by CRISTOFER GROSS
In 1988, Sean Jones was a 10-year-old learning to play drums in Warren, Ohio when he heard that his grandfather played trumpet during World War II. That, and copies his band instructor gave him of Miles Davis' landmark 1959 Kind of Blue and year-old Tutu, convinced him to switch instruments.
Today he is a Grammy-nominated musician-composer with a long-standing quartet and a seven-album discography who chairs the Berklee College of Music Brass Department. He is also in his second year with the SFJAZZ Collective, an octet organized by the San Francisco non-profit dedicated to jazz promotion and education. Each year since 2004, its changing membership has explored the music of a different jazz great, and for 2016-17 it's the man Jones has said is "probably the single most powerful influence on me as an artist."
The Collective begins its international tour next month. Its second stop will be Costa Mesa's Segerstrom Center for the Arts on Friday, October 7, in a double bill with Jazz 100. (See program info at right.) The set list will be drawn from a 16-song repertoire: an arrangement of a different Davis composition and a new composition from each member. The 16 songs will be recorded during a multi-night stand at the SFJAZZ concert hall in late October for release before Christmas.
The group's 2016-17 line-up is as it was last year. Joining Jones are drummer Obed Calvaire, trombonist Robin Eubanks, bassist Matt Penman, tenor saxophonist David Sánchez [interviewed previously], pianist Edward Simon, vibraphonist Warren Wolf, and alto saxophonist Miguel Zenon, the one original member from 2004. (For more on the history, read my 2006 Orange County Register interview with Joshua Redman).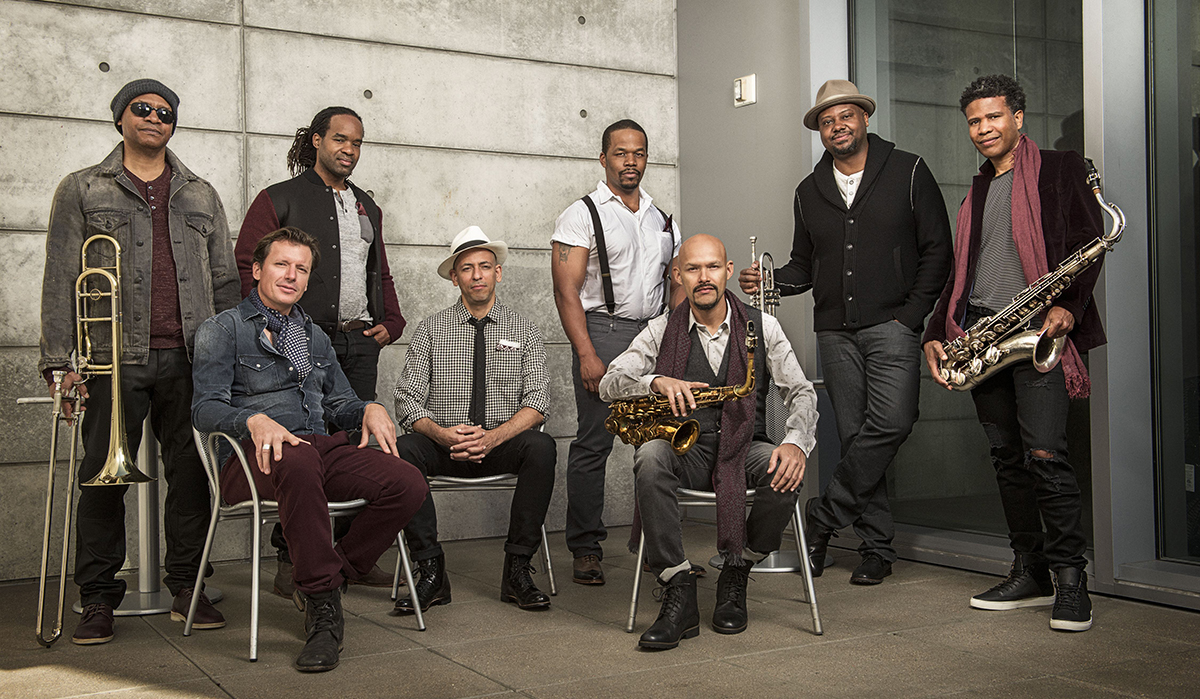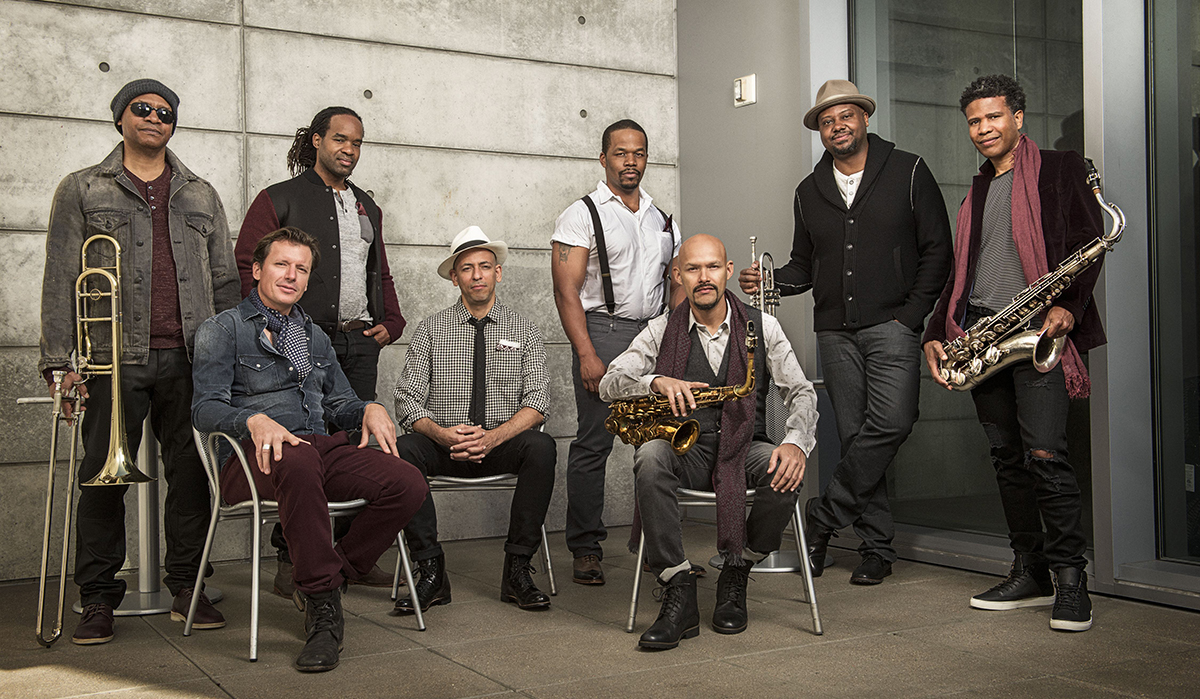 A team of leaders
In a recent phone interview Jones said that he has always admired the Collective. He likes that the members are composer-arrangers committed to education, and even though each leads his own group they are a true collective with no real leader.
"All those things kind of speak to who I am as a player and as a musician and as a person," he said. "And it's a natural fit for me. Since I've been able to take over the chair position at Berklee College of Music there are certain pockets of time that I have in the school year that allow me to do some of my own touring and work with a group like the Collective."
Despite the different composer focus each year and a changing membership, an identifiable sound has emerged through the Collective's catalog: Ornette Coleman (released in 2005), John Coltrane (2006), Thelonious Monk (2007), Wayne Shorter (2008), McCoy Tyner (2009), Horace Silver (2010), Stevie Wonder (2011), Herbie Hancock (2012), Chick Corea (2013), Joe Henderson (2014) and Michael Jackson (2015).
"Yeah, I think the group has definitely maintained a certain kind of a thread," Jones agreed. "When you're able to rehearse for multiple days, seven or eight hours a day, that's a luxury that you normally don't have. You can work out some really complex music, not just be able to get the notes together but create more of a conceptual way of playing over this complex music.
"It's one thing to have music that's complex," he continued, "but most of the time when you hear the complexity that's all you get: you don't get the feeling from it. It's just kind of hard for the sake of being hard. This group has been able to make what is extremely difficult acceptable to the ear of the average listener."
On the corners
The decision to honor Davis was made before Jones joined in 2015, when his contribution to the Jackson year was an arrangement of "Rock With You" [LISTEN] and an original called "Franklin and Fell."
"'Franklin and Fell' is kind of a play on another tune that I wrote called '60th and Broadway,' which is a dedication to my time at Lincoln Center," said Jones, who, beginning in 2004 after receiving his Masters from Rutgers University, was lead trumpet for several years in the Lincoln Center Jazz Orchestra. "I figured since I'm going to be at SFJAZZ for the foreseeable future, why not do a tribute to that corner."
Arriving in 2015 to replace departing multi-year veteran Avishai Cohen, who coincidentally is part of the Jazz 100 tour, meant Jones would be on board for the Collective's first salute to a trumpeter. He couldn't have been more ready.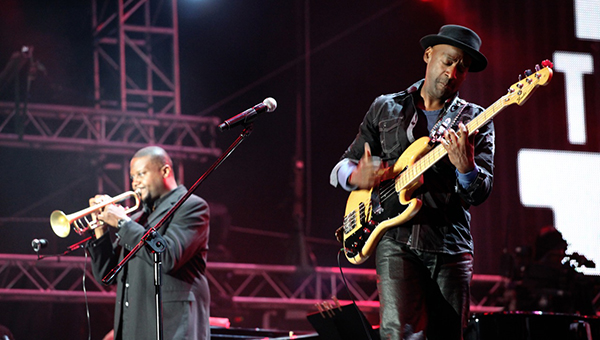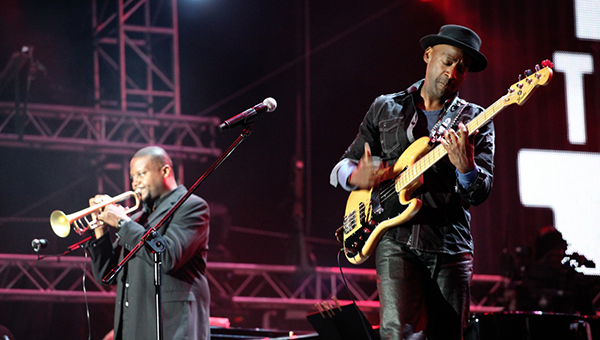 "Yeah, I've done a few Miles Davis tributes," he said. "I did 'Tutu Revisited' as part of a Marcus Miller band, which was all the music from Tutu. [Read Theatertimes' interview with Marcus Miller.] After that we did the Miles Davis Tour with Herbie Hancock, Wayne Shorter and Marcus. Then I did a couple concerts with Terrence Blanchard that were a tribute to Miles' collaboration with Gil Evans, with music from Miles Ahead, Sketches of Spain, and Porgy and Bess. And recently I've been doing the Miles Davis Electric Band with Vince Willburn. So it's kind of funny, man, I've been able to play like almost every aspect of Miles' career."
Jones was clearly in a better spot to pluck the obscure gem from among "the stuff he actually wrote. Unfortunately but fortunately, Miles didn't write a whole lot of music himself."
"Actually it was funny," he said. "I was waiting to see what everybody else went with and thinking of going with something from the mid-'70s, early '80s Miles selections, because I don't think people really truly know about stuff like On the Corner, Jack Johnson and those types of things. But when I realized that no one in the band had chosen "So What," I thought, if we do a Miles tribute and don't do 'So What,' that's kind of sacrilegious."
In mid-August he was still working out that arrangement as well as his original. For "So What" he was "kind of deconstructing it and reconstructing it, looking at brightening the classic solo form a little bit, but making sure people know it's 'So What.' It's a delicate balance I'm trying to create."
In the balance
Balancing time between his various commitments is something he seems to have mastered. After November, SFJAZZ Collective will take a winter break before reconvening for the second half of the tour beginning in April. Between those legs of the tour there's his work at Berklee and with his own group, which will hit the road in support of a new live release recorded earlier this year. [He expects the quartet to have dates in Southern California, which will be posted here.] Then it will be time to arrange and compose for another year of SFJAZZ. Artistic Director Randall Kline has floated Duke Ellington as the next honoree, but it's far from set.
"We're not sure yet," Jones said. "We're going to put it to a vote. I'm actually kind of pushing for it to be a woman: Check out some of the music of Mary Lou Williams. Even if we did someone kind of obscure. That would be kind of cool."
---
Sean Jones has created an online "Jazz Trumpet Fundamentals" course through Open Studio Network. Get more information or enroll HERE.
He also teaches a four-day summer course at Berklee College of Music. Click here for information on the Berklee Brass Program with Sean Jones.
---
PHOTOS: Top, and first inset, Sean Jones; second inset, The 2016 SFJAZZ Collective members, left to right, Robin Eubanks, Matt Penman, Obed Calvaire, Edward Simon, Warren Wolf, Miguel Zenon, Sean Jones and David Sanchez (Jay Blakesberg); third inset, Jones (Jimmy Katz); and bottom inset, Jones and Marcus Miller (Joanna Pieczara)
Posted September 2016
Sean Jones Videos
Tribute to Miles
Herbie Hancock (keyboards), Marcus Miller (musical direction, bass, clarinet), Wayne Shorter (saxophone), Sean Jones (trumpet) and Sean Reickman (drums) - Jazz à Vienne 2011
WATCH VIDEO
Berklee Concert
Watch Sean Jones perform with the Berklee Concert Jazz Orchestra
WATCH VIDEO
'Tutu'
Marcus Miller (bass), Sean Jones (trumpet) – 2011
WATCH VIDEO
'So What'
Miles Davis performs the song live on television
WATCH VIDEO