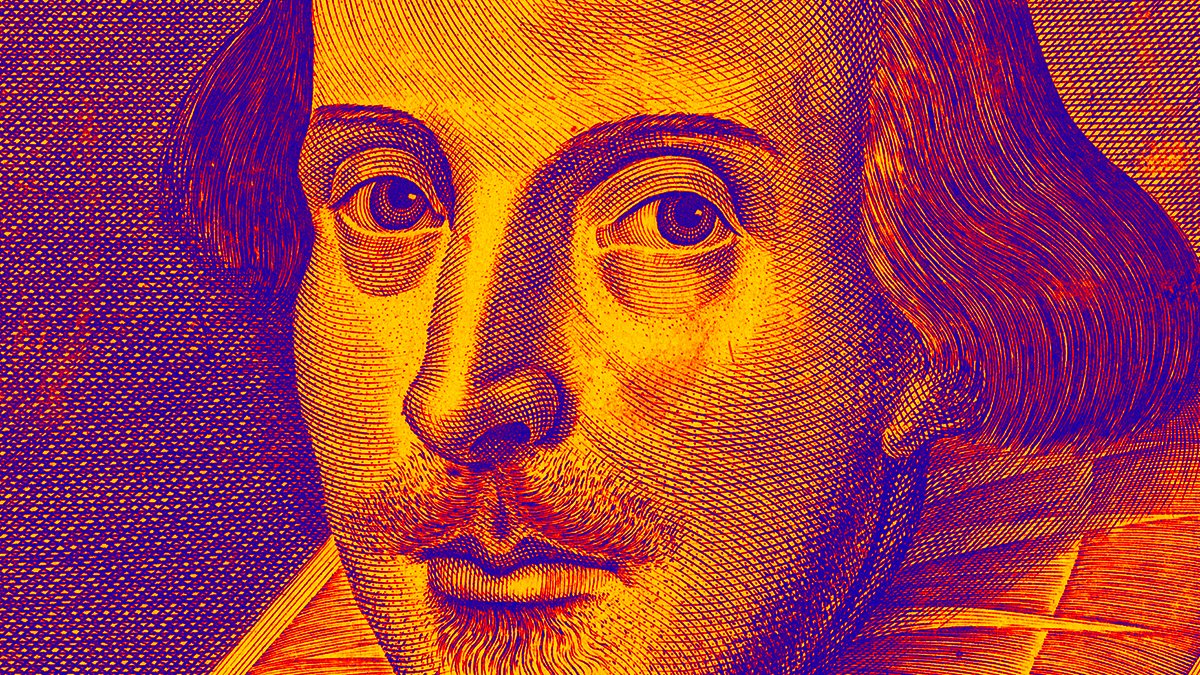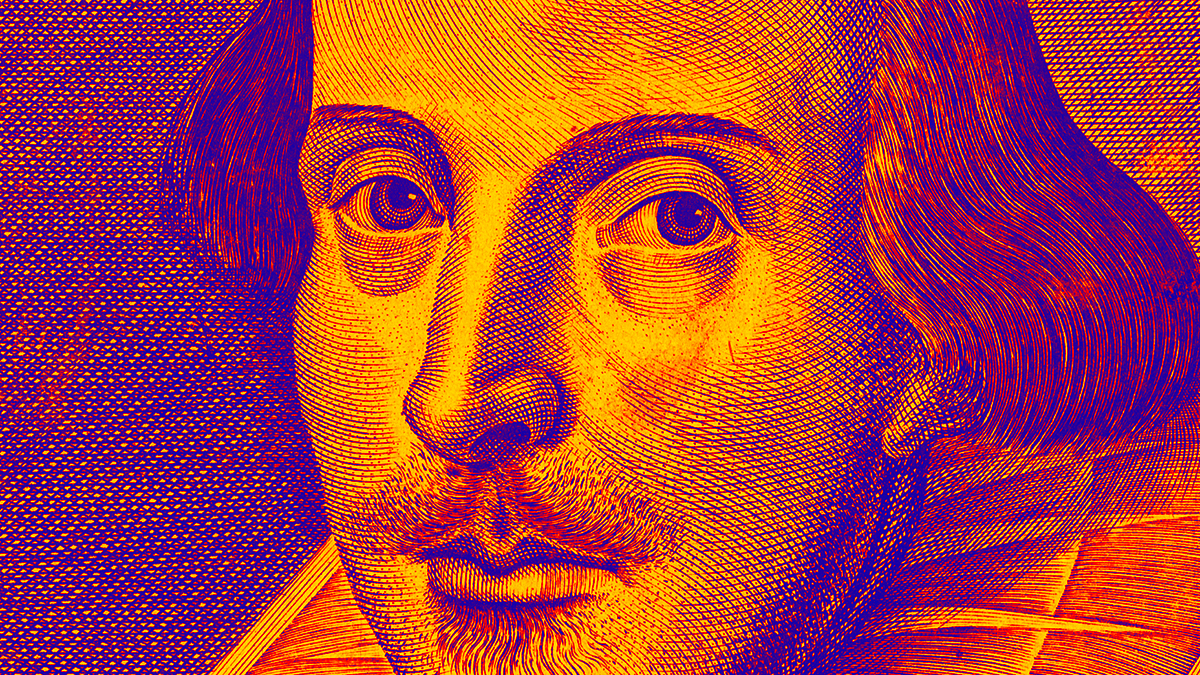 THANK YOU, MR. SHAKESPEARE
For the 400th Anniversary of Shakespeare's death, ten who have spent their professional life in theater share favorite experiences when his words gave the theater life.
---
April 23 marked the 400th Anniversary of the death of William Shakespeare. The body of work he left was so alive with poetry, characters, insight and inspiration, that it continues to keep theaters alive, actors engaged, and audiences awakening.
Over the following pages, ten who know Shakespeare well – from playwright to professor, players to professionals – share some favorite Shakespeare encounters. Some came while researching, others by performing, and others by simply being in a world where this writer's words have a unique power to reinvigorate us.
Thanks to Anne Gee Byrd, Jane Carr, Robert Cohen, David Denman, Geoff & Julia Rodriguez Elliott, Amy Freed, Julie Haber, Donnla Hughes and Dakin Matthews. (To jump to specific contribution, click the name.)
How vital are the plays and poetry Shakespeare bequeathed? In the subtitle of his landmark book on the Bard, Harold Bloom credits him with "The Invention of the Human." Beyond individuals, one can argue that beside the Bible and the Constitution, no other texts contributed to the formation of American idealism. Scholar James Shapiro, in his Shakespeare in America quotes Alexis de Tocqueville, who wrote, " There is hardly a pioneer's hut which does not contain a few odd volumes of Shakespeare. I remember reading the feudal drama of Henry V for the first time in a log cabin."
Today, with the Internet fueling the debate over the credibility of a modest man of modest means, generating works of divine inspiration and omniscience, the statement that best addresses the issue is from Director Daniela Varon. In a round table discussion moderated by Robert Bruestein, she says, "What's remarkable is that anybody wrote these plays. Whether it's a genius like Shakespeare who had a grammar school education … or a more aristocratic genius with a higher level of education is just a tiny difference in degree. For me, it's an inexplicable level of genius."
---
Double-casting Arthur Lithgow
Born and raised in Reynolds Corners, a small town outside Toledo, Ohio , Anne Gee Byrd attended the University of Toledo in pursuit of a speech degree. At a friend's urging, she auditioned for Kaufman and Hart's Once in a Lifetime and was cast. She went on to the University of Michigan for her Master's in Speech. While there she appeared in As You Like It as Rosalind and was hired by Arthur Lithgow, of the Antioch Shakespeare Festival and later the Great Lakes Shakespeare Festival, when he brought a troupe to perform at the Toledo Zoo's theatre. She opens in Samuel Beckett's Endgame this weekend at the Kirk Douglas Theatre.
Here she recalls a famous night in American theater, also described in John Lithgow's Drama: An Actor's Education. Anne Gee was Costume Designer for the season at the Great Lakes Shakespeare Festival, and her new husband, the late David Byrd, was acting in the company. Following her recollection are related excerpts from Mr. Lithgow's biography and a story about the book when it was released in 2011.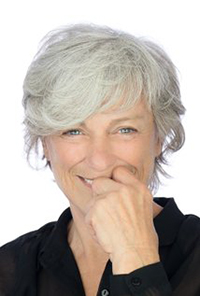 Akron, Ohio. Arthur Lithgow is artistic director. It is the days of true repertory and Ken Ruta is playing Petruchio. And at the beginning of the season says he must be at his sister's wedding on a given date. Arthur is playing Baptista. Arthur doesn't cast an understudy or change the playing schedule. When the wedding date comes he announces that he will play Petruchio for that performance. Petruchio and Baptista have a scene together. No problem: Put a coat rack on the stage. Arthur came in with Baptista's robe over his Petruchio costume and after saying Baptista's lines took it off, hung it on the coat rack, and as Petruchio spoke to the coat rack. A side note. Arthur, who was quite bald, fashioned himself a toupee out of hemp rope strands.
In 2011, the Akron Beacon Journal's Richard Heldenfels wrote about John Lithgow's newly released biography, including what the same scene had meant to Arthur's young son, watching from the wings with his sister Robin.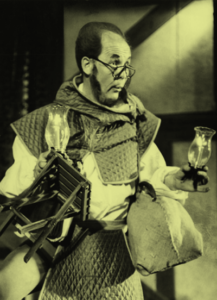 He played Baptista in an orange hat and the cloak; for Petruchio, he removed the cloak and hat, putting them on the rack. "Then he and every other character would relate to the coat rack as if it were Baptista, still onstage with them," John says. When Petruchio was supposed to exit, Arthur would put back on the hat and cloak, and continue as Baptista. Arthur explained the trick before the play began, went about his business and "the crowd ate it up." And John learned that lesson: "Make a pact with an audience, and they'll follow you anywhere."
And, something about Shakespeare and the nature of memory, from Mr. Lithgow's biography.
My father was producing Shakespeare on an epic scale. In the summer of 1951, in league with two of his faculty colleagues, he launghed "Shakespeare Under the Stars," otherwise known as the Antioch Shakespeare Festival. It was to last until 1957 … Were the shows any good? In those days I thought they were magnificent. … As the years passed, I began to doubt my childhood impressions. How good could the productions have been with such hasty rehearsals, such threadbare costumes, and such an untested troupe? …
But then one day, only a few years ago, I received a package in the mail at my Los Angeles home. It contained an audio cassette. … I popped the cassette into my car's tape deck as I drove to work. Out came the scratchy sound of a scene involving a dizzy barmaid named Mistress Quickly, a sullen servant named Jack Rugby, and a manic Frenchman named Dr. Caius. Dr. Caius was played by my father. The scene was spirited, fast-paced, and riotously funny. … I pulled my car over to the side of the road. For a half hour, I sat by myself in a Proustian reverie, listening to the sound of marvelous actors, performing for me from the grave, 50 years after the fact.
Mastering the house
Born in Essex, England, Jane Carr made her film debut with Maggie Smith in The Prime of Miss Jean Brodie. She moved to the United States in 1987 while touring with the Royal Shakespeare Company's production of The Life and Adventures of Nicholas Nickleby. She played Mrs. Brill in Mary Poppins on Broadway (2006-09) and was Miss Shingle in the original cast of A Gentleman's Guide to Love and Murder.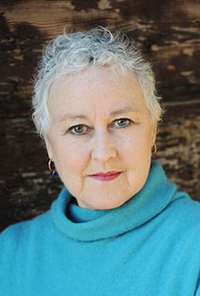 I won a scholarship to a performing arts school in London when I was 10 years old. We would learn an ordinary scholastic curriculum in the morning and in the afternoon we would take fencing, dance, speech and drama. Shakespeare class was held on a Wednesday between ballet and tap. We learned speeches to perform for our end of term exam. I remember the head of school saying, "Your Juliet would be quite nice on television but it doesn't go beyond the second row."
I was cut to the quick.
The next time I attempted Shakespeare was playing Phoebe in As You Like It for the Royal Shakespeare Company directed by Trevor Nunn and John Caird. I had just come off a big West End hit comedy when the RSC called with an offer of two plays, a modern comedy and the Shakespeare. I was full of fear and trepidation on my first day of rehearsal. The "second row" comment had stuck and as I had only performed in new comic plays up to this point I wondered if I had the stuff.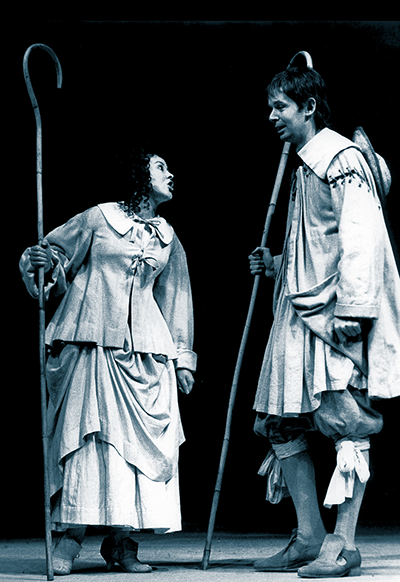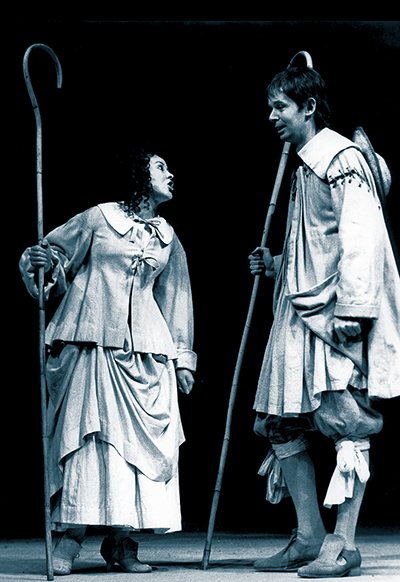 As I grew more comfortable around the third day, I found myself saying aloud to the directors in excitement, "I could do a great bit of business here!" The room seemed to go quiet. Had I made an enormous faux pas? This was The Royal Shakespeare Company! One didn't suggest ! However, Trevor said "Let's see it." I demonstrated. "Very funny," he said. "Let's keep it in." I breathed a huge sigh of relief. From that moment I knew that performing Shakespeare had no mysterious approach but was to be brought to life like any other play (although considerably better written than most).
My best memory of a Shakespeare production in the U.S. was The Merry Wives of Windsor, (Ontario), directed by my great friend the late Roger Rees. We opened by singing "O Canada." The Fords ran a dry cleaner. The whole production was topical, witty and clear. The play was enhanced by the setting, not drowned by it – an important distinction. Actors just telling the story and relishing the verse. In rehearsal, to encourage us to work as a company we played, "Sonnet Ball." Having memorized, "Shall I compare thee to a Summer's Day," we would slap a hackey sack up into the air, saying just one word of the sonnet and it was up to the next actor to keep it aloft and pass it on to the next. Thus we learned how to pass the text. He gave us an art project to do with the play as a subject, helping us to understand how we saw the play as a whole.
These and many more games and improvisations are things that we had both done in our days with the RSC when there were eight weeks of rehearsal. It is a misfortune in these days that rehearsal times are set to a minimum allowing no time for such useful fun. I'm convinced that it makes for better productions. Roger was a truly wonderful director. He also understood actors with a flawless insight because he was such a terrific one himself. We never acted together in Nicholas Nickleby; we were in different RSC productions at different times, but everyone thought we did. We didn't disabuse people. In a way we were both members of The Crummles acting troupe, playing Romeo and Juliet in an old-fashioned style with everything going wrong.
I go down memory lane and think how my love Shakespeare was solidified by the time spent with the RSC. I studied hard and had the good fortune to learn from all around me. Wonderful directors who gave me the confidence to try new things and improve as an actor and verse-speaker. A company full of the most fabulous actors helped each other during rehearsal and beyond. We were always encouraged to make suggestions. Sometimes they were good ones and sometimes bad, but it kept everyone thinking and involved. If something didn't work in performance fellow cast members were almost always open to a new perspective from a colleague. There never seemed to be any 'stars' just actors all working toward a common goal. We did voice warm ups before every show whispering lines of sonnets to each other whilst wandering all around the theater auditorium. We would gradually get louder and use full voice. I learnt to be heard everywhere.
Far beyond the second row.