WE GATHERED TOGETHER
The Pacific Playwrights Festival has a Very Good Year.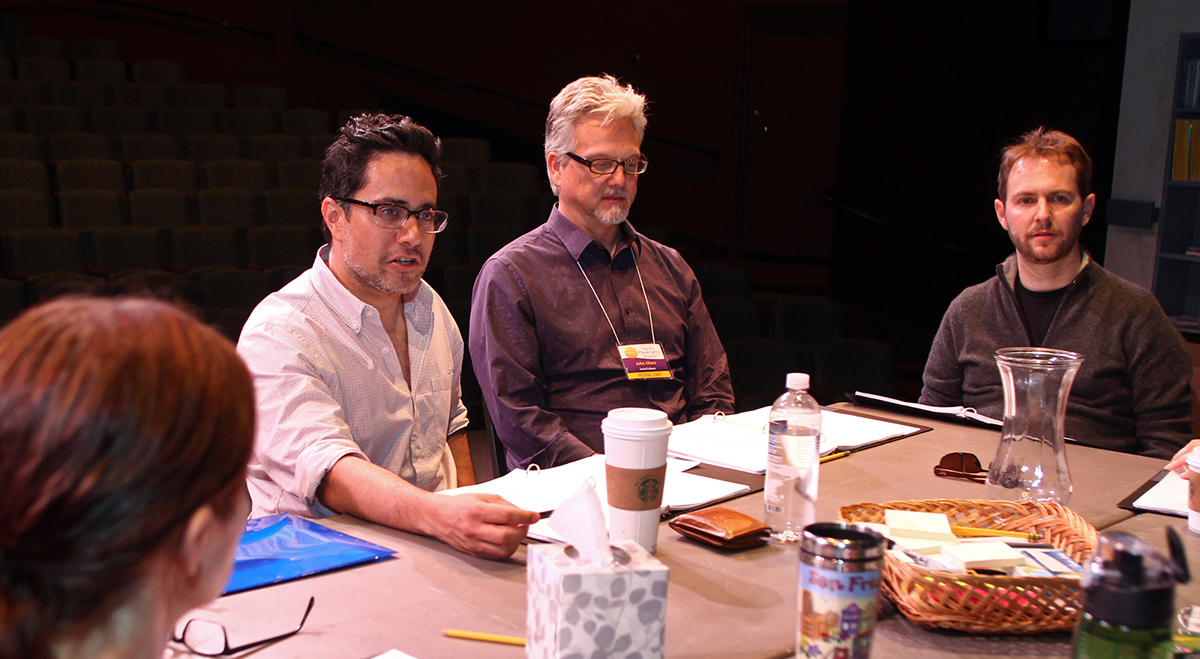 Over the last weekend in April, many of the American theater's artistic directors, literary managers, and dramaturgs congregated in Costa Mesa, California for South Coast Repertory's 17th Annual Pacific Playwrights Festival.
Seven new plays – three in the midst of fully produced runs and four receiving single-performance readings – could be attended in the 48 hours beginning at 1 p.m. Friday, April 25. According to the theater, more than 2,000 did that. In the audience were 165 industry folk representing nearly 50 theaters and presenting organizations, nine agencies, four universities, three service organizations, and two foundations.
More than 100 actors, playwrights, directors, designers and stage management staff worked behind the scenes and a record 48 playwrights were there to enjoy the work of their fellow dramatists.
The productions, all of which have been reviewed at Theatertimes.org, were Samuel D. Hunter's Rest, Rachel Bonds' Five Mile Lake, and Adam Rapp's The Purple Lights of Joppa Illinois. Find the reviews here.
The readings were Theresa Rebeck's Zealot (directed by SCR Artistic Director Marc Masterson) and Eliza Clark's Future Thinking (directed by Lila Neugebauer), read consecutively on Friday; Rajiv Joseph's Mr. Wolf (directed by Matt Shakman) on Saturday morning; and Melissa Ross' Of Good Stock (directed by Lynne Meadow) on Sunday morning. It immediately followed a panel discussion with four of the writers moderated by playwright Julie Marie Myatt.
SCR gives the readings incubation protection from the invited media, who may not review them. It's a safeguard I helped codify as the theater's Director of Public Relations, and then enforce for the first seven festivals. It still leaves room for some post-festival reflections.
Festival feasting
When consuming more plays than meals in a two-day stretch, it is fair to look for commonalities of theme, tone, topics and structure. Most scripts straddled the ever-popular drama-comedy overlap, providing hearty laughs on their way to honest resonance. Among those tilting more towards comedy were Future Thinking, Clark's tale of a SciFi-series-obsessed fan (Arye Gross) meeting the show's star, a 20-year-old Lolita (Justine Lupe), at Comic-Con, and Ross' Of Good Stock, in which the three very different daughters of a New England novelist (Tessa Auberjonois, Kathleen Early, and Katie Lowes) spend an epiphanic weekend with their partners (Noah Bean, David Denman, and Evan Handler) at the ancestral home. The darker plays were Rebeck's Zealot, in which a male British diplomat and a female American diplomat differ over how to resolve an incident in the Mideast, Joseph's Mr. Wolf, Hunter's Rest, and Rapp's Joppa Illinois. Somewhere in the middle was Bonds' beautiful Five Mile Lake.
A theme running through many of the plays was loss of, or estrangement from, a loved one. This was the bind that tied the father and daughter in Joppa [review and the parents and their missing girls in Joseph's Mr. Wolf. The loss to dementia of someone very present was the keel line under Hunter's Rest [review]. SCR Founding Artist Richard Doyle and veteran company member Lynn Milgrim made this a memorable production, creating the couple with one memory unable to share its past.
Anchoring Acting
Doyle's and Milgrim's work was the rule rather than the exception. Underpinning the writers' showcase was an equally impressive acting showcase. These supporting artists were able to quickly get at the heart of their characters and, with scripts in hand, perform with textual precision balanced by an intuitive looseness that might be hammered out of them during a full rehearsal period. While all seven casts were uniformly superb, each attendee likely had his or her personal favorites. Here are mine.
In Ms. Clark's comic fantasia on celebrity worship, Lupe and Gross gave these new creations remarkable truthfulness while mining all the humor. For the haunting Mr. Wolf, Kaitlyn Dever provided a convincing young teenager convinced she was a superior prophet by a misguided mentor. From her opening scene with the formidable John de Lancie in the title role, she would first maintain and then slowly loose her disassociation, reluctantly easing back after 12 years, into the family formed by the excellent Jon Tenney, Laura Heisler, and Mia Barron.
Post-festival viewing
Thanks to Howlround, the Sunday morning panel discussion was streamed live and is now archived for viewing here. Joining Ms. Myatt that morning, and now keeping the Festival spirit going, are playwrights Rachel Bonds, Eliza Clark, Rajiv Joseph, and Adam Rapp.
---
Photo: Laura Heisler (back of head), Playwright Rajiv Joseph, SCR Associate Artistic Director John Glore, and Director Matt Shakman, at a rehearsal for the 2014 PPF reading of Mr. Wolf.