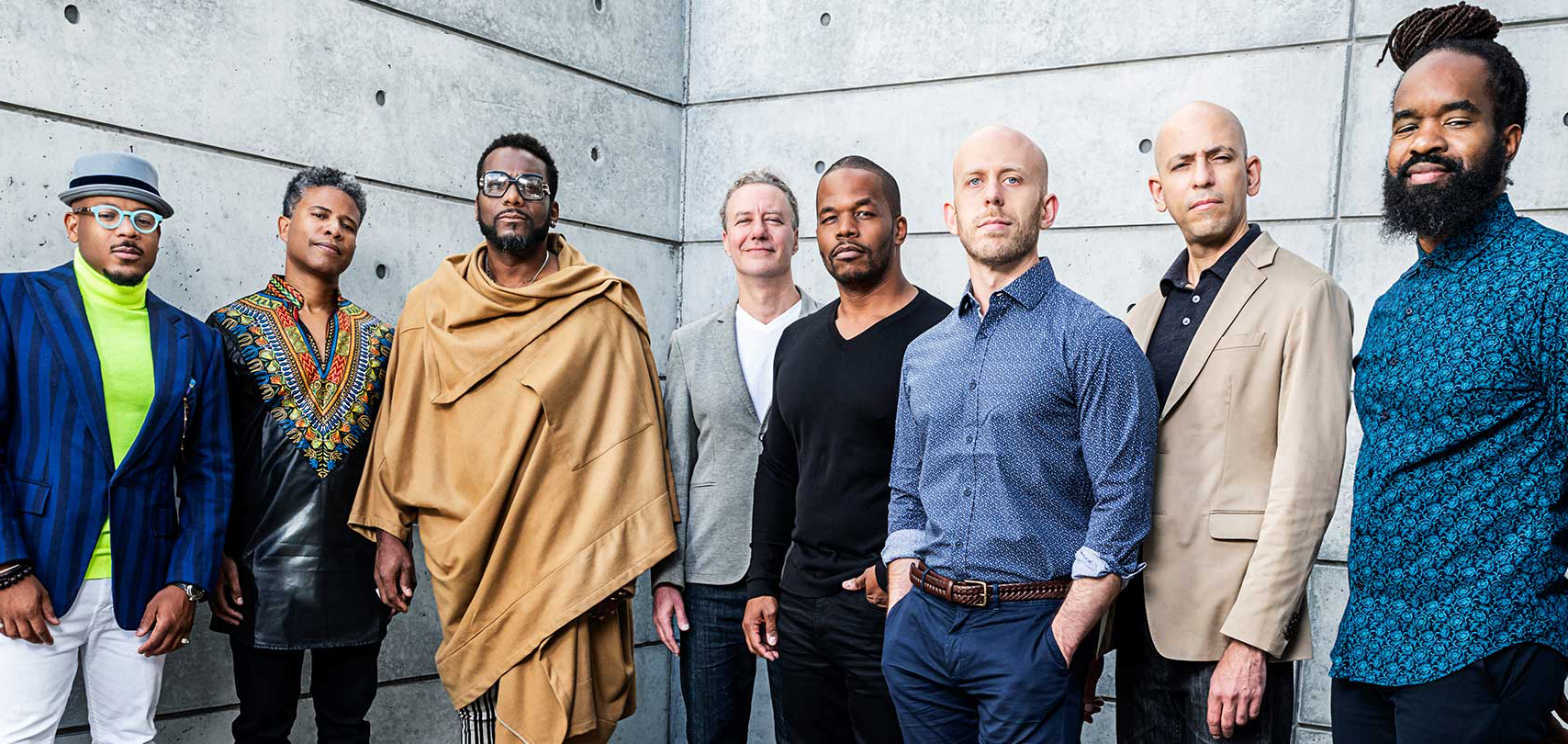 PREVIEW
SFJazz Honors Miles, Stone Milestones
Vibraphonist Warren Wolf previews octet's October 25 Segerstrom Center concert.
In 1969, Miles Davis and Sylvester Stone had milestone years. SFJAZZ Collective, which by design has a milestone year every year, is marking the half-century anniversaries of those artists' landmarks with fresh arrangements of music from Davis's In a Silent Way album and Sly and the Family Stone's Stand!.
SFJAZZ Collective, the Bay Area-based octet of jazz luminaries, launches its 15th Annual tour this month, with the second stop Costa Mesa's Segerstrom Center for the Arts. Opening the evening will be Lisa Fischer and Baton. For tickets and more information visit the SCFTA website.
The Collective is the touring-and-recording flagship of the Bay Area's non-profit SFJazz. Since 2004 it has annually assembled an A-list band of four horns, vibraphone, piano, bass and drums. Each year's octet has chosen a modern-era jazz legend to celebrate. Among them have been Ornette Coleman, John Coltrane, Wayne Shorter, and Thelonious Monk. A few years ago, they stretched out to jazz up the songbooks of Stevie Wonder and Michael Jackson. From each honoree's catalog each member chooses a tune to arrange, then adds an original composition to create a 16-song program that, after three weeks of fall rehearsals, they tour to select U.S. and European cities. The final few concerts, onstage at SFJazz, are recorded, with the best takes released on a limited edition CD.
Playing through changes
This year, the composition of the group as well as its arrangements will go through the biggest changes in its 15-year history. In addition to shifting focus from one composer-instrumentalist to two – one of whom was celebrated in 2016 – they are celebrating specific recordings, one of which derives its muscle from its lyrics. With two albums for the eight musicians to cover, something had to give.
"We are eliminating the original composition factor," said vibraphonist Warren Wolf, a member since 2013. "I'm going to arrange 'Peaceful/Shhh' on In a Silent Way and the Sly tune 'Sex Machine.'"
Stand! is the source of numerous indelible Family Stone tracks: the title track, "I Want to Take You Higher," "Sing a Simple Song," and "You Can Make it if You Try." The lesser known "Sex Machine" is not to be confused with the James Brown hit of the same name.
"Definitely not the same 'Sex Machine,'" Wolf laughed. "The original is actually an instrumental. I decided to feature our bassist and our guitarist and let them be out front by themselves on this tune. Sometimes a bassist can just be buried in the back, because it's all about the horns."
The easing into artists whose legacy is built largely on vocals – Wonder in 2011 and '12, Jackson in 2015, and now Stone – may have had something to do with the first change to the band's instrumentation. For the first time, SFJAZZ Collective will feature a vocalist, newcomer Martin Luther McCoy, and a guitarist, Adam Rogers. This has prompted a musical chairs game that leaves the band composition as two horns, vibes, piano, bass, guitar, drums, and singer. In addition to Wolf, McCoy, and Rogers, the 2019 lineup is drummer Obed Calvaire, Etienne Charles on trumpet, pianist Edward Simon, bassist Matt Brewer, and David Sánchez on tenor saxophone.
The Warren Wolf story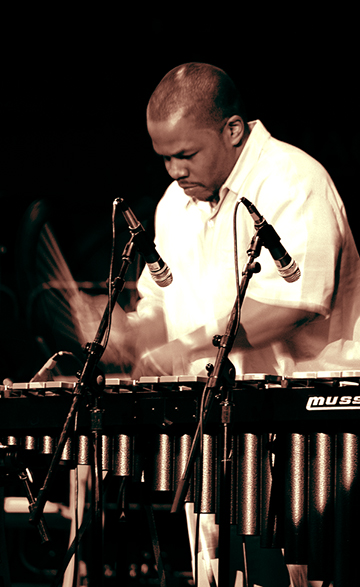 Wolf, right, joined the Collective for its 10th Anniversary, which resulted in SFJazz Collective 10, a compilation record of selections from its first decade.
His first year of arranging and composing would come the following season, when the object of affections was saxophonist Joe Henderson.
"It was a brand new experience for me," he said by phone from his home in Baltimore, where he was born, raised, educated and now lives after returning from Boston, where he attended Berklee College of Music and starting his career.
"I was ready," he said, then quickly added with a laugh, "but I wasn't. All I knew was I was going into a band full of great musicians. Some were good friends of mine, some I'd never played with. I just knew they were writing some pretty intense charts – a lot of movement involved. And the creative process behind each band member was pretty mind blowing."
He grew up studying vibraphone, marimba, drums, and piano under the watchful eye of his father Warren Wolf Sr., who was a great source of encouragement. He studied classical composers from Bach to Shostakovich and jazz artists from Charlie Parker to Bobby Hutcherson, the original SF Jazz Collective vibraphonist.
Ater eight years studying classical music at Peabody Preparatory school with the Baltimore Symphony's Leo LePage, and his high school years at Baltimore School for the Arts studying with the Orchestra's John Locke, he headed to Berklee, where he studied with Caribbean Jazz Vibraphonist Dave Samuels, continuing to work on vibraphone, drums and piano, all the while getting deeper into jazz. He led a quintet with Boston-based trumpeter
Jason Palmer and after graduating Berklee in 2001 became active on Boston scene, returning to Berklee's percussion department two years later as a professor.
The special SFJazz vibraphone legacy
"Bobby Hutcherson was a legend," he said of his predecessor, who left SFJazz in 2007 after four years. "He did something completely different with the vibes, something Milt Jackson and Lionel Hampton and the others were not doing. He took vibes out of the swing era and started playing in the modern way."
The Collective's second vibraphonist, from 2008 through 2013, was Stefon Harris [Read Theatertimes interview].
"Moving ahead – there are many others I'm skipping – Stefon Harris came along somewhere in the late '90s and he totally just make the vibes fun again because here he is, a young guy coming up, and there weren't many guys before him who really stood the instrument out and made it visible. So I feel very privileged to be among the next generation to really put the vibes out there."
Hutcherson died in August 2016 at the age of 75. SFJazz held a Memorial Concert in November that featured performances by many greats including his musical keyboard partners McCoy Tyner and Joey DeFrancesco, drummers Brian Blade and Peter Erskine, and the 2016 SFJAZZ Collective.
Reporting on the event, Richard Scheinin referenced the Collective's enduring vibraphone legacy: "Hutcherson's essence has become part of the jazz landscape; you could hear that truth all night, whenever vibraphonist Warren Wolf played. He's 36 years old, the latest vibraphonist with the SFJAZZ Collective, and there's a shimmer and glow to his sound, a focus and flow to his lines – kind of Bobby-like."
Wolf describes his style as "more like a horn player."
"I've checked out some vibe players in the past but I've always gravitated towards horns because I want to sound like a horn player playing the instrument."
The final founder farewell
Part of embracing SFJAZZ Collective is getting our arms around the concept that members come and go and line-ups are fluid. Members began rotating out after the first year, but over the past decade and a half we would spend long stretches with a few. We were able to get to know the brilliant drummer Eric Harland over eight seasons (2005-2012) and trombonist Robin Eubanks over 11. (Harland's "Development" remains one of the band's most enduring originals.)
Not only does Eubanks depart this year, so does the trombone. In the case of the alto saxophone, which is the other of the original four horns to go in favor of the essential addition of vocalist McCoy and guitarist Rogers, saying goodbye to Miguel Zenon has even greater significance. Zenon was the last of the original founding members from 2004.
"Yeah, it's been 15 years," said Wolf with a touch of awe. "Fifteen years to be in any band is a very long time. We all have our own projects that we really are dedicated to and Miguel's one of them. He's been nominated for multiple Grammys over the years and he has a phenomenal quartet and he also leads a big band from time to time. We're gonna really miss him, but he was a true God in White in the band. He really brought a lot … raised everybody's musicianship in the band. Every time he brought a new composition we were all just like 'Wow … Ok. But it helped us out – just raised the musicality."
It's worth noting that Wolf has done his share of raising the musicality. His contribution to the Miles Davis tribute, which was an audience favorite at the Segerstrom Center in 2016, is a piece entitled "In the Heat of the Night," whose title allows there's an echo of great '60s film scores in its sultry tempo and cooling vibe and saxophone runs.
"Yeah, I appreciate that," Wolf said. "I put a lot of thought into that even though it's very simple."
What's next for Wolf
Today SFJAZZ is only part of Wolf's packed calendar. He plays piano in the Rachael Price Group, drums with alto saxophonist Tia Fuller, the Donal Fox Group and is frequently touring with Christian McBride's Inside Straight.
"What he does on vibes is pretty incredible," McBride told a writer. They've worked together since 2007 in Inside Straight, and McBride co-producer one of his Mack Avenue recordings. "You can't hear Warren and not be highly impressed."
Upcoming is work with "Cecile McLorin Salvant, who comes to the Hollywood Bowl next year with her project.
"She has a 90-minute composed operatic piece called 'Ogresse,'" Wolf said. "I'm playing vibes and marimba. And I'll be going back out on the road with Inside Straight. Also, I'll be releasing my fourth record on Mack Avenue, which will be going pretty much in the area of Roy Ayers, kind of more of a groove band, it won't be a lot of traditional jazz music like the previous recordings."
For more on Warren Wolf, visit his website WarrenWolfMusic.com.
---
Photos: top – SF Jazz Collective for 2019: Etienne Charles, trumpet; David Sanchez, tenor saxophone; Martin Luther McCoy, vocals; Adam Rogers, guitar; Warren Wolf, vibraphone; Matt Brewer, bass; Edward Simon, piano; Obed Calvaire, drums. Inset, Wolf.