Building a reputation
In October 1986, just a year after he briefly quit acting, Soul Man had provided the biggest boost since Screwball. That was followed by roles of increasing size in fairly big movies with big stars: The Couch Trip with Dan Aykroyd, Walter Matthau and Charles Grodin (1988) and The Experts with John Travolta (1989), were two examples. Throughout the Nineties he would star in several films, beginning with Coupe de Ville (1990), in which he played one of three brothers with Patrick Dempsey and Daniel Stern. Two years later, it was in A Midnight Clear, a significant war picture in which he co-starred with Ethan Hawke, Gary Sinise and others.
Then, in 1994, Black and Marlens, the couple behind the "Growing Pains" episode and Soul Man, gave him a third boost, casting him in a new TV series called "These Friends of Mine." That name would change to the first name of the show's star, Ellen Degeneres, and launch her, the show and Gross into the national limelight.
During its first season he was visiting the store used to rent "Ellen's" set furniture when he met Lisa Schulz, a brilliant match with a Fine Arts degree. They began dating a year later and in 1999 were married.
The turn of the century would bring big changes to the real world that informed Gross' art. Joseph took his mysteries to the grave in 1998, and in March 2002, at only 54, Mike died. His mother followed her husband in 2010 and Susan hers in 2014.
"It's unbelievable," he said quietly. "These people. You look around and you can't believe they aren't on the planet anymore." Some balance would be restored in 2006, when Lisa and his daughter Sophia arrived on the planet.
He was still gaining ground professionally, with high-profile films like Stephen Spielberg's 2002 Minority Report, in which he played Howard Marks, the potential killer arrested in the film's opening scene, and a recurring role on "Six Feet Under." A return to SCR for the world premiere of Donald Margulies' Brooklyn Boy in 2004 led to his Broadway debut.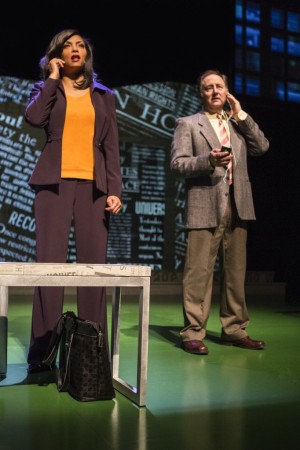 His special sense of character was proving invaluable to playwrights like Margulies.
"Arye brought such warmth, humor and decency to the role of Ira Zimmer in Brooklyn Boy, at South Coast and on Broadway, that he was the first actor I thought of a few years later when I was casting Mr. Abramowitz in the Geffen Playhouse premiere of Coney Island Christmas" Margulies said. "He did the very first reading of that play, and remained in the role through two other readings as I developed the play with director Bart DeLorenzo."
What gets him excited about a new project, he said in December, is discovering "what the play is, and the deepest intentions of the writer," to get at "what it is that the character does and how he tries to do it."
Gross began researching Peter Ford well before rehearsals for Future Thinking's 2014 Festival reading, which, like the upcoming premiere, was directed by Lila Neugebauer, a longtime friend and colleague of Clark's.
"Future Thinking involves the world of fantasy, Comic-Con, graphic novels and fantasy fandom," he said, "So I began reading comic books, trying to find the cosmology that comes close to what is intimated in the play. The cosmology of the world within the TV show is deeply ingrained in Peter's being, as deeply as any religion for a true believer.
"I know from talking to colleagues who've spent a bit more time at Comic-Con and other conventions that there are fans of an actor but there are also people who are fans of the character. They are not interested in what's happening with the actor. If they ask, 'What's next for you?' and you tell them 'I'm going to go do a play in Williamstown,' they stop you. 'No, no, no. What happens to the character?'"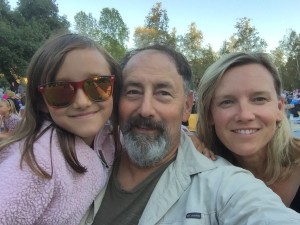 Clark said that "the part of Peter, maybe more than any part I've ever written, is so difficult to play because you have to straddle that line where the audience thinks this person could be dangerous but they want to believe in him. I don't think this play would be what it is without Arye. He is such a gift to this story."
In performance, it can be a gift to an audience member, allowing fleeting glimpses of ephemeral characters to burn lasting impressions. It happened to Shallat, now acclaimed television director Lee Shallat-Chemel, with decades of major credits including "Arrested Development," "Gilmore Girls" (where she was an Executive Producer), and ABC's current "The Middle," where she's been the main director for the last seven years.
"Back in the summer conservatory program we were doing scenes from Lear and I cast him as Edgar. In the scene where Edgar poses as a crazy person, the lines sound nonsensical. When most actors do that, it isn't hooked into anything real and sounds like a lot of blather. It's very difficult to play anything meaningful there. But Arye found a visceral reality and the scene became filled with pathos and meaning. And it just blew me away. I had never seen, really, any actor do that. I'll never forget it. It's still in my head.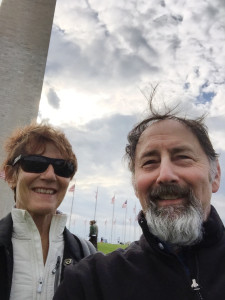 "There's some moral core that he has," she added. "And Edgar has a very profound moral core. When a person who has that moral core taps into a character with that moral core, we can realize the character fully."
"There's a Yiddish word that best describes Arye the man and the actor," said Margulies. "Heimische, meaning homey, down-to-earth, unpretentious."
So, maybe, in the end, it isn't that the gap between character and actor is close enough to spark by contact. The quality of an actor's characters depends on the quality of his or her character. That is defined by life's immeasurables: the emptiness of a mysterious father's silence with his son, the boundlessness of a generous father's love for his daughter. We rely on artists to venture into those regions and to articulate for us what they find. That's the stuff that inspires theater's fire, and helps us see ourselves better.
Cristofer Gross
2000s
STAGES THEATRE COMPANY

Managing Artistic Director
Seven Girlfriends (film – April 2000)
'Roman' with Laura Leighton, Tim Daly, Olivia d'Abo. Written and directed by Paul Lazarus
Gone in 60 Seconds (film – June 2000)
'James Lakewood,' with Nicolas Cage, Angelina Jolie, Giovanni Ribisi, Robert Duvall
'Citizen Baines' (TV Series CBS – September 2001)
1 Season; Six episodes aired
Shel Eidenberg,' with James Cromwell and Embeth Davidtz
Burning Down the House (film – 2001)
'Bob Washington', with Rene Auberjonois, Mick Fleetwood, Orson Bean
'Six Feet Under' (HBO TV – 2003)
'Frank Muehler'
'Chekhov X 4' (play – February-May 2004)
The Antaeus Company
Various, directed by Sabin Epstein, Stephanie Shroyer, Michael Michetti and Andy Robinson
'M. Butterfly' (David Henry Hwang play – June-July 2004)
East West Players
'Rene Gallimand,' directed by Chay Yew
'Brooklyn Boy' (Donald Margulies play – September-October 2004)
South Coast Repertory
'Ira Zimmerman,' directed by Daniel Sullivan
'Brooklyn Boy' (January-March 2005)
Manhattan Theatre Club/Biltmore Theatre

'The Winchester House' (Julia Cho play – May-June 2005)
Theater @ Boston Court
'John Bergin,' directed by Chay Yew
'Grey Gardens' (HBO TV – April 2009)
'Albert Maysles,' with Drew Barrymore, Jessica Lange
'Our Mother's Brief Affair' (Richard Greenberg play – April-May 2009)
South Coast Repertory
'Seth,' directed by Pam MacKinnon
2010s
'Harvest' (film – 2010)
'Benny Monopoli,' with Robert Loggia, Barbara Barrie
'Circle Mirror Transformation' (Annie Baker play – January 2011)
South Coast Repertory
'Schultz,' directed by Sam Gold
Atlas Shrugged Part II (film – October 2012)
'Ken Danagger,' with Samantha Mathis, Jason Beghe
'Coney Island Christmas' (Donald Margulies play – November-December 2012)
Geffen Playhouse
'Mr. Abramowitz,' directed by Bart DeLorenzo
'Mrs. Warren's Profession' (Bernard Shaw play – March-April 2013)
The Antaeus Company
'Mr. Praed,' directed by Robin Larsen
'Parfumerie' (E.P. Dowdall adaptation of Miklos Laszlo play – November-December 2013)
Wallis Annenberg Center
'Mr. Sipos,' directed by Mark Brokaw
Commencement (2013)
'Nate,' written and directed by Steve Albrezzi
'Above the Fold' (Bernard Weinraub play – January-February 2014)
Pasadena Playhouse
'Marvin,' with Taraji P. Henson, directed by Steven Robman
'Stupid Fucking Bird' (Aaron Posner adaptation of Chekhov's 'The Seagull' – June-August, 2014)
Theatre @ Boston Court
'Sorn,' directed by Michael Michetti
'After the Revolution' (Amy Herzog play – March-May 2015)
Center Stage
'Ben Joseph,' directed by Lila Neugebauer
'Uncle Vanya' (Anton Chekhov play – October-December 2015)
The Antaeus Company
'Ivan Petrovich Voinitsky,' directed by Robin Larsen