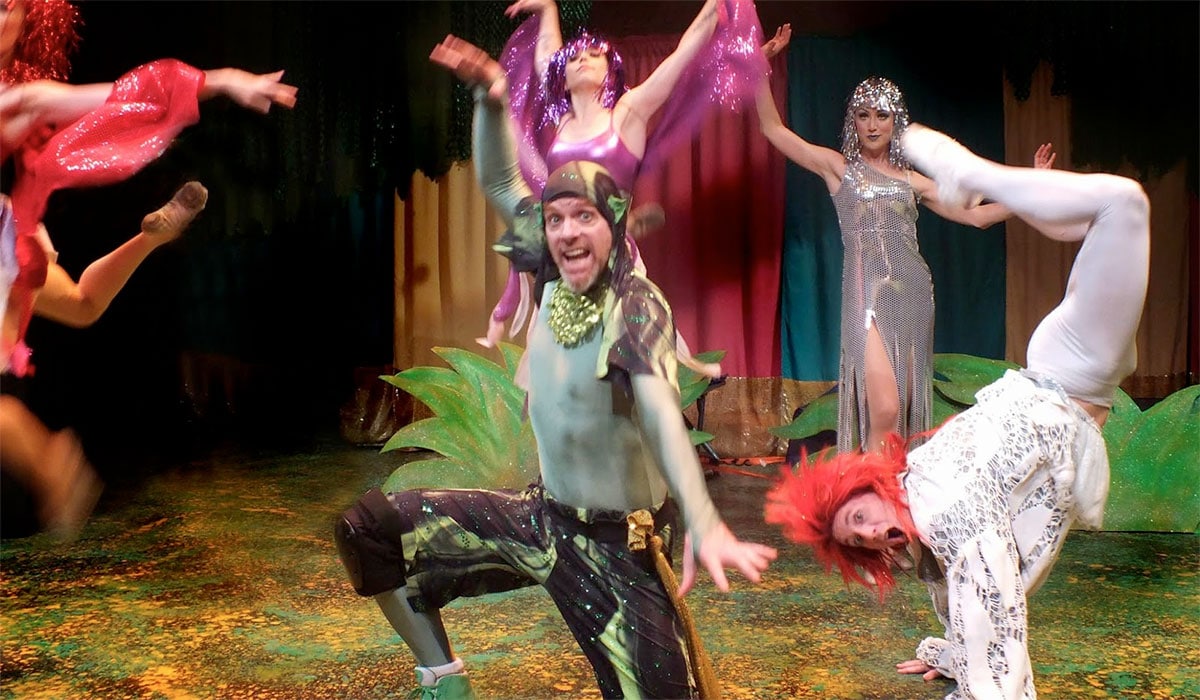 STAYIN' ALIVE
Shakespeare OC goes from Polynesia to Polyester in 'Midsummer'
by CRISTOFER GROSS
To launch his first summer season as Artistic Director of Garden Grove-based Shakespeare Orange County, John Walcutt offered two musical variations on Shakespeare's A Midsummer Night's Dream.
The first was a homegrown Polynesian affair produced by SOC in association with Garden Grove's own Hitia O Te Ra Polynesian Dance Troupe. It was popular enough to earn a two-performance return engagement.
The second was a polyester import from L.A.'s Troubadour Theater Company. The Troubies, a theatrical snake-in-a-can that turns playhouses into parties, have a repertoire of a couple dozen original works that mix classic plays, classic rock, and off-the-rails improv. Each year they make a stand at Burbank's Falcon Theatre before storming several other SoCal venues. Walcutt hopes to make Garden Grove one of their annual stops.
The inspiration behind their take on the classic Shakespeare comedy springs from the disco era grooves of the Saturday Night Fever soundtrack. In standard Troubie entitlement, it becomes A Midsummer Saturday Night's Fever Dream. The music is primarily identified with the Bee Gees, but also includes one-hit-wonders by Yvonne Elliman, The Trammps and others. The album, according to Rolling Stone, was "the ne plus ultra of mainstream disco," so popular it "knocked Fleetwood Mac's Rumours off the top of the charts and stayed there for six months straight.
Fever Dream gets underway with cast member Lisa Valenzuela warming-up the crowd with a late '70s sing-along that shows off the Troubie band, a powerhouse of L.A. musicianship under the direction of drummer Eric Heinly. It's hard to believe all the music coming out of the quartet as they revive Tavares' "More Than a Woman," the Gibbs' "You Should Be Dancing," Walter Murphy's "A Fifth of Beethoven," KC and the Sunshine Band's "Boogie Shoes" and others. Kevin McCourt's keyboard provides everything from funky organ to orchestral synch, and Dana Decker diddles his bass-strings into rhythmic ecstasy while guitarist Linda Taylor muscles her way to the heart of every tune – whether it's showing the way to wah-wah on Peter Frampton's "Show Me The Way" in the pre-show, or scruff-chording the opening bars of "Jive Talking" during the show.
After a full-cast "Stayin' Alive" puts the company onstage and the audience on notice, the play begins. Because the Troubies strain their Shakespeare through a cheesecloth of pop culture asides, breaks for latecomers and flyovers, and enough booger and boner jokes to satisfy a frat initiation, the plot can get trammpled in the rush. Still, for those who need a night of Shakespeare like a Marx Bros' night at the opera, this is it.
We begin in Athens, where Duke Theseus (Morgan Rusler) is preparing to wed Amazon Queen Hippolyta (Suzanne Narbonne). Egeus (Mike Sulprizio) asks him to force his daughter Hermia (Katherine Donahoe) to marry the man of his dreams, Demetrius (Joseph Keane), instead of Lysander (Tyler King), the man of hers. Demetrius hopes such a hitching will finally shake off the lovesick shadowing of Helena (Beth Kennedy). Unable to sway the elders, Hermia hies into nearby woods with Lysander, Demetrius, and Helena on her heels.
In the forest, Faerie King Oberon (Rusler) and Queen Titania (Monica Schneider) are having a spat, which Oberon will win with a love potion he sends his aide Puck (Matt Walker) to find. With it dropped in her sleeping eyes, Titania will awake to fall for the next creature she spies. Having secretly observed Hermia's plight, he directs Puck to save a drizzle of the potion to help sort out her situation.
The third group of characters are tradesmen who are preparing to stage their version of "Pyramus and Thisbee" at the big wedding. Walker is back as Peter Quince, the adapter-director. His cast includes Rick Batalia as Bottom, Rob Nagle as Flute, Mike Sulprizio as Snout, and Valenzuela back as Starveling.
The narrative wobbles its way through the two-and-a-quarter hour like a medicine show with warped wheels, breaking down every time a siren or firework goes off or an aircraft flies overhead. It's all part of the spontaneity and the crowd loves feeling part of a truly unique evening that is completely in the moment. On the other hand, the acting is actually very good, and the singing and dancing are so exciting, that the break-out moments, which can feel routine after awhile, feel like time taken away from what really makes the troupe superior.
Among the dancing, the lissome captain Narbonne sets the barre high. She, Schneider, and Donahoe, a superb musical theater creature, kick the chorus work up a notch. Batalia is an improv fireball, and Kennedy is the next generation Carol Burnett, a fearless champion in the land of the musical comedy goofball.
Among the talented company's side projects are many notables. Guitarist Taylor has worked with Art Garfunkel and others, including the guitar work on Terri Lyne Carrington's Grammy-winning Mosaic project, a landmark for jazz fans. She has her jazz fusion CD, which is a treat in that neglected field. And Liz Beebe, unrecognizable flitting about faerieland in Night's Fever, is lead singer of L.A.'s acclaimed Dustbowl Revival.
PHOTO. Grand Troubie-Poobah Matt Walker, center, eyes the hurricane amid Midsummer's Suzanne Narbonne, Liz Beebe, Monica Schneider and Joseph Keane (from left) | Chelsea Sutton