BALANCING ACTS
Aaron Posner's adaptations are a wonder
by CRISTOFER GROSS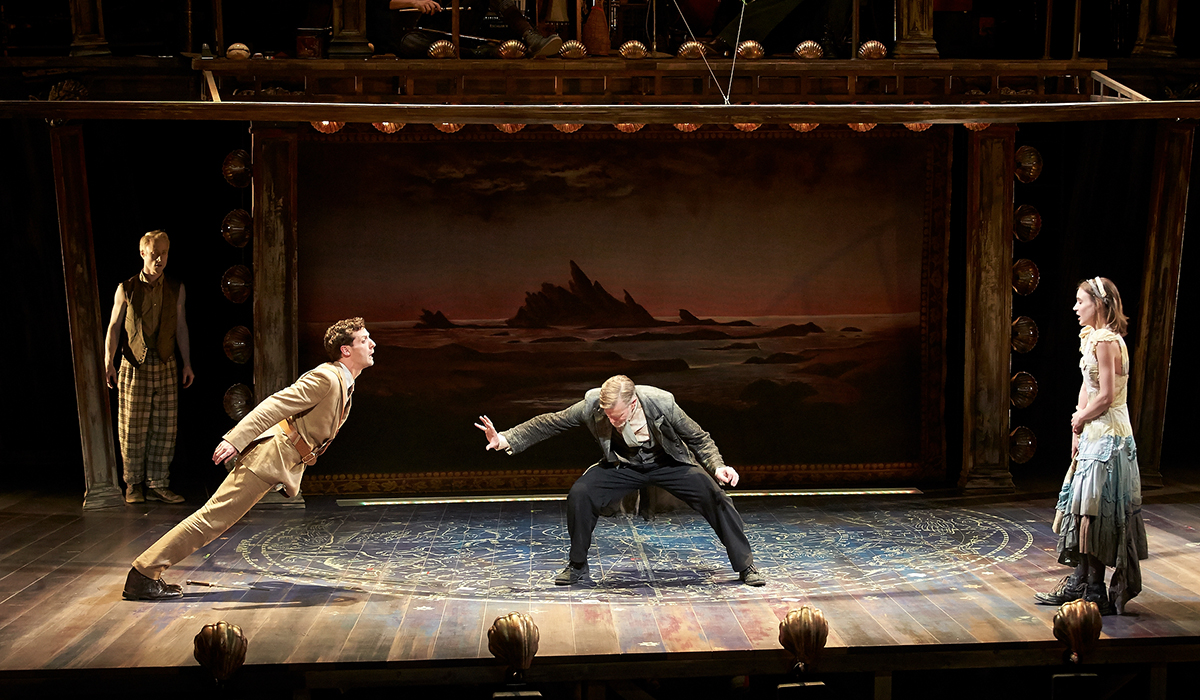 In the way Prospero's magic attracts new life to Miranda's parched world in The Tempest, Aaron Posner and Teller are using it for an inviting, big-tent concept of the play.
In Shakespeare's The Tempest, the Duke of Milan, deposed and cast off with his daughter, has used his powers to draw passing strangers to the isolated island where he masters his art. The strangers represent needed opportunity for Prospero's daughter Miranda, who will exclaim Oh Wonder! How many goodly creatures are there here! How beauteous mankind is!
In the way Prospero's magic attracts new life to Miranda's parched world, Aaron Posner and Teller, the mute, diminutive half of magicomics Penn and Teller, are using it for an inviting, big-tent concept of the play, beginning its West Coast premiere tonight at South Coast Repertory. It is a co-production with the Smith Center in Las Vegas, where it premiered in April, and American Repertory Theatre in Boston, where it ran in May and June of 2014.
Among the adaptation's ambitions is attracting the passing stranger to experience the magical world of theater. To do that Posner and Teller, who co-adapted and co-directed the production, have something up their sleeves. In addition to Matt Kent of Pilobolus Dance Troupe, singer-songwriter Tom Waits, and top designers, their collaborators include veteran magician Johnny Thompson. As Teller said earlier this year, "The Tempest is a story about a magician. So there ought to be some magic in the darn thing!"
"We knew that this was all going to be about the balancing act," Posner told me earlier this year. "We've been very gratified to hear people and reviewers say, literally, 'What an amazing balancing act.' We knew that as you add magic and music and movement into an already rich text you need to make sure it didn't turn into an excuse for a magic show or a Tom Waits concert interrupted by people talking funny. We needed to make sure we were fully respectful of all the elements and got them all speaking to each other in an appropriate balance."
Posner said that achieving that balance "has taken years of conversations and workshopping and trying things. It continued through the rehearsal process and the production at ART, and we have new ideas for the production at South Coast. It's an ongoing process as we fine tune and we continue to strike those balances."
Read the entire interview with Posner here.
This is Posner's second headline-making contribution to Southern California theater this year, following his adaptation of Chekhov's Seagull. Stupid Fucking Bird, also a West Coast premiere, was directed by Michael Michetti at Pasadena's Theatre @ Boston Court in June. It quickly earned rave REVIEWS and an extension.
While Bird does not employ magic, it does directly engage the audience in the way an experienced illusionist does, establishing a direct link before undercutting it with manipulation. It is evident from the play's opening moments, when actors stroll onto the stage with houselights up and survey the audience. Eventually one actor says we'll start when somebody tells us to.
SCR was fortunate to get a shot at the third leg of the production, which had been rumored to be on its way to Broadway after Boston. The connection is SCR Artistic Director Marc Masterson, who knows something about using magic to attract the attention of strangers. Before his interest in theater, he was practiced in the art of deception.
"I did children's birthday parties from the time I was 11 until the time I was 17," he said. "And then performed at magic conventions and stuff like that. And my girlfriend was a magician."
"Aaron started talking to me about Tempest when it was just a concept, and I had just come to SCR at that point," said Masterson, who met Posner in the early 1990s when he was running The City Theatre in Pittsburgh and Posner was a co-artistic director of Philadelphia's Arden Theatre Company.
"We started working together and did a number of projects when I was in Pittsburgh and then later when I moved to Actors Theatre of Louisville," he said. "He's prolific as both a director and an adapter and as you saw with Stupid Fucking Bird, he's increasingly moving beyond adaptation to where there is much more of an original voice of his own in that play."
So, while audiences keep their eyes on the illusions, levitation, appearances and disappearances on stage in Costa Mesa, a grander balancing act will be at play: giving the faithful their full draw of Shakespeare while attracting the attention of those who will hopefully become converts. As Prospero was prompted to reach out by his daughter Miranda, Posner is partially prompted by his daughter Maisie.
"We can ask audiences to step up and in and be part of the process and to enjoy the dizzying nature of simultaneous realities," he said. "I don't know that we exploit it in the theater as much as we can.
"Amazement is my favorite word in the theater," he added. "My 3-year-old daughter is named Maisie partly because of its connection to amazement. The capacity for amazement, for wonder, for disbelief, and to find yourself in awe: that's fun and theatrical."
PHOTO: Prospero suspends Ferdinand's advances in a scene from Posner and Teller's Tempest with, left to right, Nate Dendy, Joby Earle, Tom Nelis, and Charlotte Graham | Smith Center/Geri Kodey