2007 IN THE REARVIEW
A 'Quality' premiere and revival of 'Dear'
Are among the year's stand-outs
The number of quality productions attended by Theatertimes in 2007 was higher than usual, which made the 'Rearview' recognition process both easier and more enjoyable.
These personal citations of appreciation are intended to be made each January for the just-concluded year and are based the opinion of Theatertimes' lone critic. They may salute a landmark production that is seen as historic or simply note an individual achievement, even if it came in an otherwise forgettable production.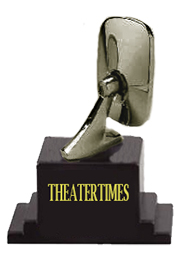 The Geffen Playhouse premiere of The Quality of Life by Jane Anderson was not only my favorite new play experience of the calendar year but also one of the favorite productions period. It also was part of a rare bit of theater world serendipity, when, the day after attending a matinee of Quality I headed to South Coast Repertory for Donald Margulies' Shipwrecked. It was Margulies who took the seats in front of me and April Hong, who'd joined me to see Melody Butui, her co-star in The Jenny Chow. After saying hello and introducing April, daughter of the legendary James Hong, and before I could get around to telling him about the great play I'd seen the previous day, he introduced his guest, Jane Anderson.
Among the other highlights of the busy year were Daniel Aukin's staging of Elmer Rice's 'The Adding Machine', a production that would be atop a best of list any year, and the dreamy Noise Within revival of 'Dear Brutus', directed by J.R. Elliott and featuring many of ANW's company. The same for Ed Begley revival of his own musical about Cesar Chavez and , Cesar & Ramon, with outstanding lead performances by Danny Bolero and Crissy Guerrero.
[one_half last="no"]
PREMIERE:
'THE QUALITY OF LIFE'


by Jane Anderson | Geffen Playhouse
---
REVIVIAL:
'DEAR BRUTUS'


by J.M. Barrie | A Noise Within
---
MUSICAL:
CESAR & RUBEN


Ed Begley Jr. | NOHO Variety Arts Center
---
DIRECTOR:
DANIEL AUKIN


The Adding Machine | La Jolla Playhouse
---
FEMALE LEAD:
MEGAN GALLAGHER


The Constant Wife | Pasadena Playhouse
---
MALE LEAD:
HOON LI


Yellow Face | Mark Taper Forum
---
FEATURED FEMALE:
MELODY BUTUI


Shipwrecked | South Coast Repertory / Geffen Playhouse

[/one_half]
[one_half last="yes"]
FEATURED MALE:
MITCHELL EDMONDS


Waiting for Godot | A Noise Within
---
SET DESIGN:
RALPH FUNICELLO


Restoration Comedy | Old Globe Theatre
---
SOUND DESIGN:
ANDY MILTON


Assassins | Sight Unseen Theatre Company
---
COSTUME DESIGN:
KIM DeSHAZOK


Calling Aphrodite | International City Theatre
---
LIGHTING DESIGN:
CHRIS COVICS


Don't Look Now | Unknown Theatre
---
ENSEMBLE:
ANTAEUS THEATRE
Tonight at 8:30 / part I and II
[/one_half]